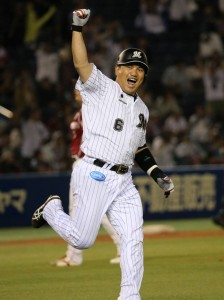 This week in Lotteland began with a well-pitched, strategic, tight loss on the road to hated Daiei and step-by-step devolved into a jamboree of ecstatic pinstriped gents dancing across the plated. Or is that evolved? Regardless, it was one hell of an interesting week.
Daiei Game 1
Mr Hard Luck Loss Ayumu Ishikawa vs Rick Vandenhurk, who has never lost in his 1+ years in Japan – I'd call that a premier pitching matchup.  The game lived up to expectations as well, with only 14 total baserunners between both teams.  Unfortunately the reputation of both pitchers also lived up to expectations as Yuki Yanagita hit a 2-run shot off the foul pole that was just a bit unbelievable, and Vandenhurk allowed just a single run to the PL's highest scoring team in a 2-1 Daiei win. 
Daiei Game 2
A matchup of young Kota Futaki vs MLB returnee Tsuyoshi Wada, just like three weeks prior.  This game could not have been more different than that game, though – back in April Futaki-kun went 5 perfect before coughing up a few runs in the later innings.  In game 2, Futaki was rocked early by a first inning Imamiya (!) solo shot followed by a 3-run Hasegawa blast.  After that first inning mess, Futaki pitched really well, allowing just one more run in the next 5 2/3 frames.  However, Katsuki relieved Futaki in the 7th and was beat up for 3 more runs, while Wada allowed just 1 run through the first 7 innings.
A strange thing happened, though – Daiei kantoku Kudo kept Wada in for the 8th even with a 7 run lead, and Wada just about coughed that lead up.  First, a Yahoo Auction Dome HR special by Despaigne, then after a Kakunaka walk a 2-run Iguchi shot to much the same spot, followed by Navarro's first Lotte homer, a no-doubt oppo jack.  Our Marines would not win this one, but at least we made the Hawks feel kinda bad.
Operation: Ruin Wada's Stats is now a success.

— Steve@ロッテのゴールデンイヤー! (@lovelovemarines) May 11, 2016
Daiei Game 3
Ace Wakui vs Nao Higashihama in the final Fukuoka game – last time Wakui pitched in Fukuoka, he gave up a pile of runs, but the Chiba attack piled on much much more to win going away.  This time, only three gents on both squads combined to do much of anything at the plate, but those three players were absolutely decisive.  Kiyota worked a 2-out first inning walk, then Despa hammered a really bad hanger into deep left for an early 2-run lead.  Daiei quickly came back thanks to a bottom-first RBI double from Uchikawa, who tied the game in his next AB with a solo shot.
Innings 4-8 featured just 3 baserunners combined as both pitchers really settled in.  Top 9, game still tied at two.  Katoh led off with a single, a Nemoto bunt pushed him to second and brought up rookie Hirasawa, who debuted earlier in the game.  It's a perfect chance for him to be the hero, low chance of an inning ending DP – Iguchi PH, K.  Sigh…  But never fear, Kiyota's got it!  A single to center, Katoh in easily, 3-2 Chiba lead!  Holding the game would of course go to reliable Nishino, who shuts down the Daiei attack to earn the save (OK he allowed a pair of walks and an HBP and I was sweating bullets watching the game but it's a WIN dammit).
Rakuten Game 1
There's FAR too much that went on in this game to list in detail.  Both games in this home set with the Eagles were not really "good" games in the sense that they were well-pitched, strategic affairs.  Were they fun?  Oh yeah.  
Last we saw Rakuten Our Marines were busy scoring 14 runs in the final 4 innings in Sendai, including a mind-boggling 8 in the 9th off closer Yuki Matsui.  The bats picked up where they left off in that game, as Kiyota-double, Despa-single, Kakunaka-homer, Navarro-triple, Daichi-single in consecutive at bats meant an early 4-0 Lotte lead.  But usually reliable Jason Standridge got lit up for 6 runs in less than 3 innings, so the war to see who could destroy the other team's pitching stats more was ON.
Rakuten pitchers never did get Kakunaka out in this game, and the 3-4-5-6-7 hitters (Kiyo, Despa, Kakunaka, Navarro, and Daichi) batted a rather stunning 14-22 with 7 walks and 10 RBI. Daichi's bases-clearing double in bottom 6 tied the game at 12, but for innings 7-9, quiet. The Masuda-Uchi-Nishino-Matsunaga combo finished the end of the game without allowing a run, setting the stage for extra inning drama.
That drama came in the guise of New Friend Yuki Matsui.  As one would expect for the closer, he came on in the 9th and pitched a perfect frame other than a walk.  Nashida-kantoku kept him in for the 10th inning and the middle of the lineup, and I've already told you all you REALLY need to know about the middle of the lineup on this Saturday.
A Kakunaka walk and Navarro infield single put Matsui in a tight spot.  Captain Daichi had 5 RBI at this point, but he's bunting – yes.  Tamura grounds out, Kakunaka caught in a rundown but he's back at third safe, Miki (PR for Navarro) out.  Good ol Iguchi delivers the inevitable, fatal blow as his single sent Kaku-chan in, the team racing on to the field, and sad Rakuten fans home.  25 runs, 42 baserunners, almost 5 hours, one Chiba Victory!
Rakuten Game 2
Was it possible for game 2 to deliver the sort of excitement that Game 1 did?  Actually… yes!  Maybe even more so.
The Baby-Faced Killer made his second start of the year after a pretty decent first start a week ago, but this one was not decent at all as he was rocked for 5 runs in 6 innings (on 9 hits and 2 walks).  Meanwhile Rakuten starter Kamata cruised through the first two turns through the Lotte lineup, the only blemish being another Kakunaka blast, his second in two games.  Karakawa left the game in a 5-1 hole, and Kamata dispatched Shogo and Kiyo quickly to start bottom 6.  
This, as the kids say, is when Shit Got Real.
Despa started the festivities with a single, then ((deep breath)) Kaku-chan walk Navarro walk Daichi walk (Despa scores) Kamata –> Yokoyama Iguchi pinch hit walk (Kaku-chan scores) Katoh IF single (Navarro scores, nice play TBH) Yokoyama –> HamayaHosoya (KEI!) PH Grand Slam Shogo walk
WAIT WHAT?  Hosoya PH Grand Slam???!!  Yessir, he blasted that puppy to dead center, capping a 7-run inning, turning that 5-1 deficit into an 8-5 lead WOW.
Check out the ouenseki going CRAZY.
細谷やべええええええええええ、ロッテやべえええええええ pic.twitter.com/TJnG5uMtiu

— たじさん (@chumaaan) May 15, 2016
That's some drama.  But there was MORE drama because Matsunaga was TERRIBLE in the 7th (along with Masuda), coughing up all of that hard-earned lead. Never mind, we figured this game wouldn't end so easily.
Nishino and Ohtani propped up the pen quite well – just one hit over three innings.  But with an 8-8 tie, another run was needed.  Bottom 11, here comes Yuki Matsui again, in steps Hosoya (KEI!), he he launches ANOTHER bomb but it's just off the top of the fence.  He's at second.  Shogo bunts him over, Matsui walks Kiyo, but it only delays the inevitable as Despa singles to left, another SAYONARA WIN!
Amazing weekend!  Good baseball?  No.  Great fun?  YES.  The two teams combined for 42 runs and 81 baserunners in 2 games, both sayonara wins.  The 22 runs Lotte scored is a new NPB record for runs in consecutive sayonara wins (obscure stat of the day).
Lotte pitching may be looking a bit dodgy at this point, but the 14 come from behind wins (out of 23 total) shows it's impossible to say they are out of the game until the last out is gloved.  
[x_share title="Tell the World" facebook="true" twitter="true" google_plus="true" reddit="true"] [x_author title="About the Author"]