On 10 April 2022 at Zozo Marine Stadium, 20 year old Lotte fireballer Roki Sasaki served up the best pitching performance in Japanese baseball history, if not the history of professional baseball, with the first perfect game in NPB in 28 years. I've fortunately lived a long enough life that I could be in attendance for this amazing game, and I am quite sure I will never witness another game pitched this well.
Sasaki is just at the very beginning of his career to boot. Sometime in the second inning I turned to my friend sitting next to me and asked, you think Roki is going to have a perfect game some day? Seems likely, right? "Sure, seems likely". Nobody really thought it would be that day. After all, Sunday's game was just the 14th regular season start in his career. His first home win just came the previous week vs Seibu (in an 8 inning, 1 run, 13 K performance) and he had yet to have a career complete game. Without researching it more, I can't imagine there are too many players whose first career CG is also a no hitter, let alone a perfect game.
It's hard not to drift into hyperbole when talking about Sasaki's perfecto. Perfect games are somewhat more common in MLB than NPB but even so, it's been 10 years since the last there. Roki's the youngest perfect game pitcher in any major professional league in the world at 20 years and 5 months. It's only the 4th perfect game in NPB in the last 50 years and the 16th in history. It's difficult to compare stats across leagues, but his 106 game score is the highest for a 9 inning game anywhere (beating out Kerry Wood's 20 K game and Max Scherzer's near perfecto)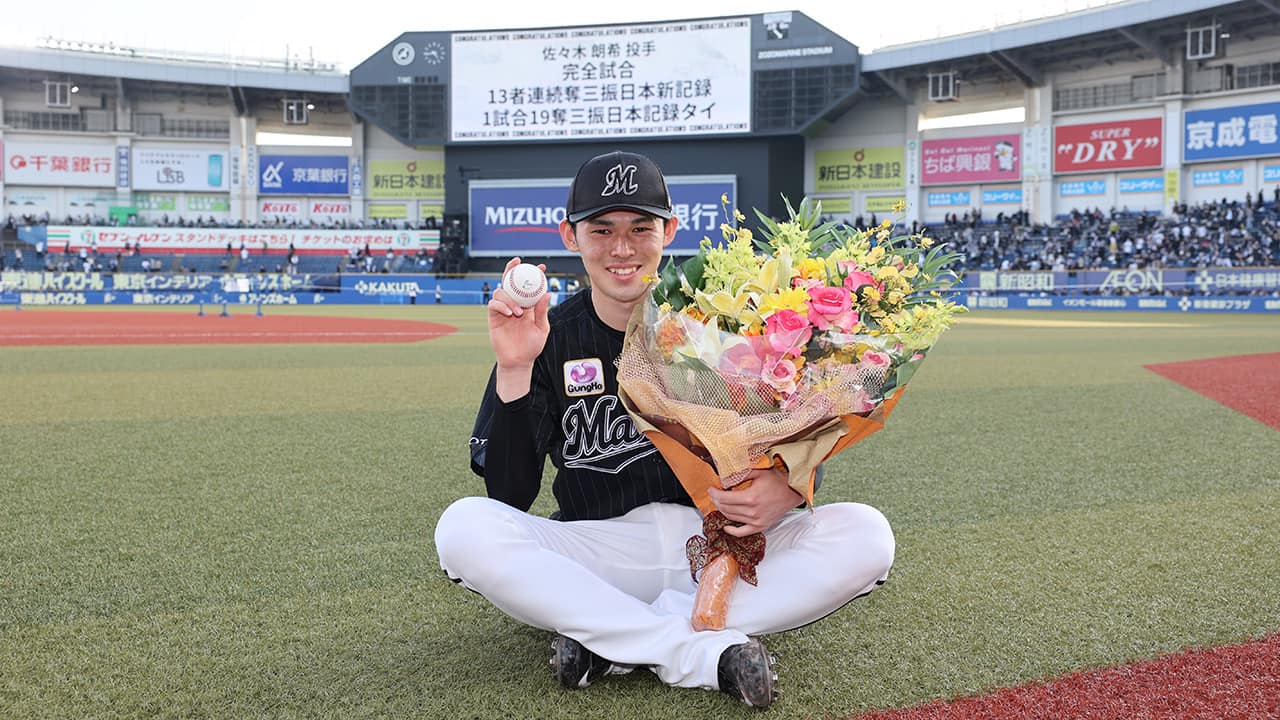 In case you think this is "only" a perfect game, young Roki also obliterated a 64 year old record for consecutive strikeouts with 13 batters in a row sent down. The previous record was set in 1957 by Hankyu's Takao Kajimoto and again in 1958 by Toei's Masayuki Dobashi. The last player in NPB to throw even 8 consecutive strikeouts was Seibu's Fumiya Nishiguchi over 25 years ago – and he bested that very old record by a whopping 13 punchouts. Even in MLB the record is "only" 10 consecutive strikeouts.
Roki racked up these 13 consecutive Ks on just 55 pitches (43 strikes, 12 balls). The first 8 were all swinging strikeouts starting with arguably the best all-around hitter in Japan, Masataka Yoshida (who would strike out 3x on the day, something he hasn't done in 4 years) and the final was on three pitches to left fielder Ryo Nishimura. Kotaro Kurebayashi ended the K streak with a somewhat well hit ball to center to start the 6th – basically the only decent contact Roki would give up on the day.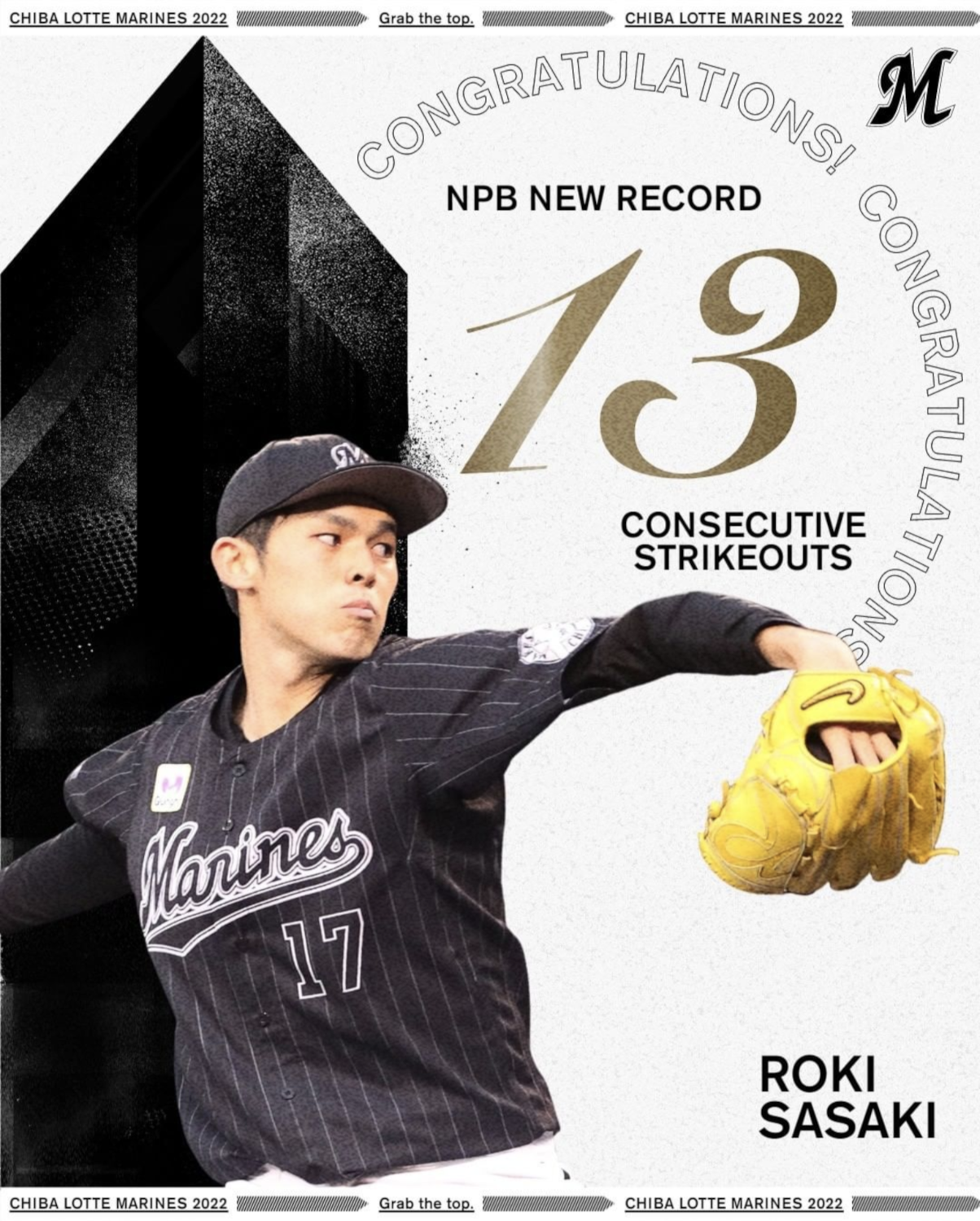 Lots of no hitters and perfect games hinge on big plays in the field or lucky bounces – this is not one of those games. I was asked by a Twitter friend, when did we start thinking about a perfect game? Honestly, around the 4th inning. Shunta Gotoh got to a 3-0 count to lead off the 7th, but two pitches later flied out very weakly to shallow right.
By the start of the 9th inning, Roki had racked up 18 Ks in total on 95 pitches, only needing to finish up the bottom of the order to wrap up the game. For out 1, Keita Nakagawa grounded an 0-2 pitch to Adeiny Hechavarria at third for an easy out. Out 2, backup infielder Tatsuya Yamaashi grounded the first pitch to Yudai Fujioka at SS, who delivered a safe though a teeny bit offline throw to Toshiya Satoh at first. For the 27th and final out…. pinch hitter Yutaro Sugimoto. Raoh was last year's home run king for the PL champs and feasted particularly mightily on Lotte pitching, OPS'ing 1.400+ with 13 HRs. Young Sasaki would need to face the Final Boss to make history. But this boss was no match for Roki, as Sugimoto went down swinging on 3 straight forkballs for the 19th K of the game. Those 19 Ks also tied a long standing NPB record, and bests Lotte Hall of Famer Choji Murata's previous team record of 16.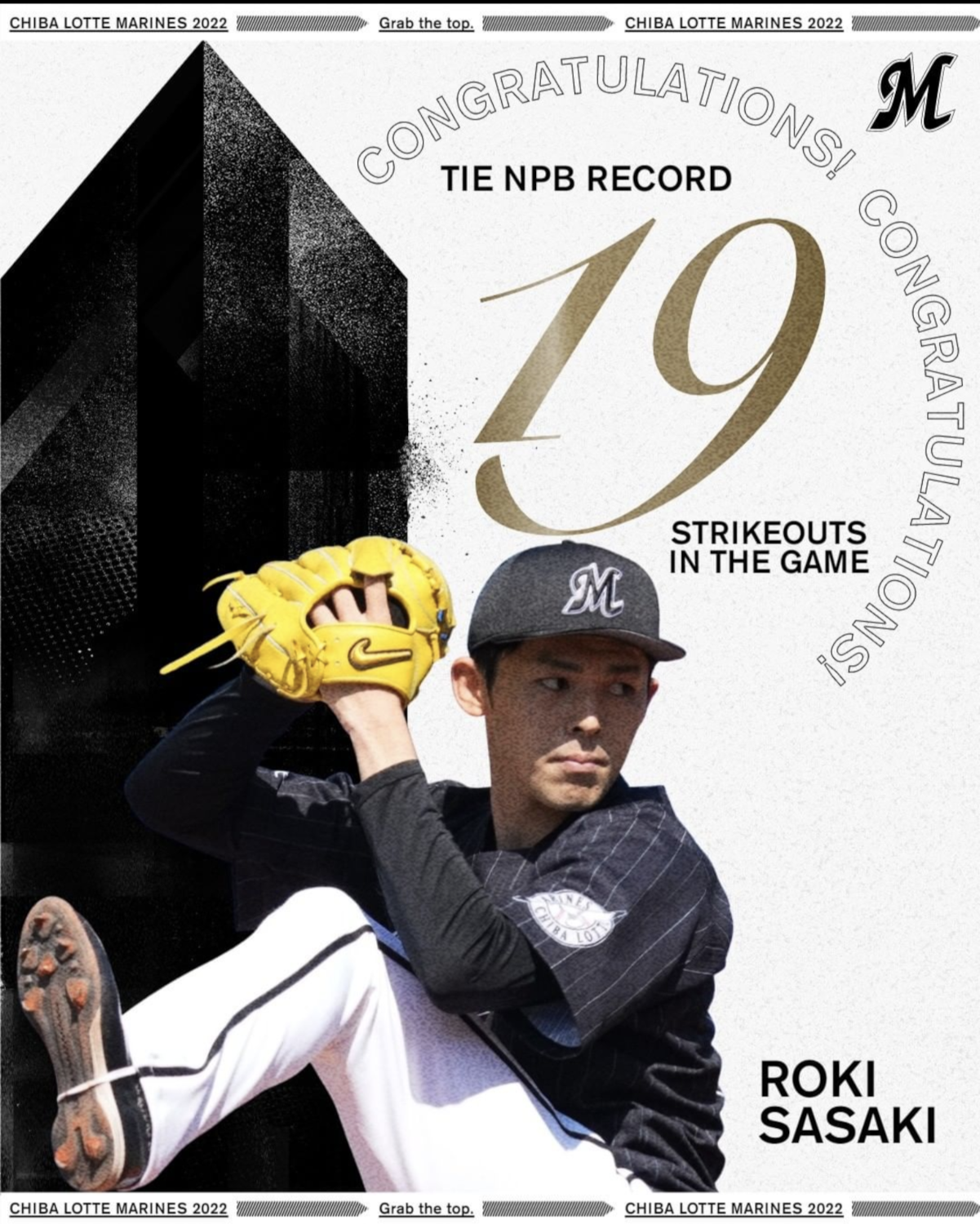 News of Roki's accomplishment spread quickly all over not just Japan but the global baseball loving public. News applis buzzed in with breaking news alerts – NHK, Yahoo, Line, but also ESPN. The news was broadcast on the signboards at JR Kaihin Makuhari station (local station for the team). A local Chiba newspaper went to press with a special edition. The game was top news on all the stations. Every sports newspaper splashed Roki's feats all over the front pages.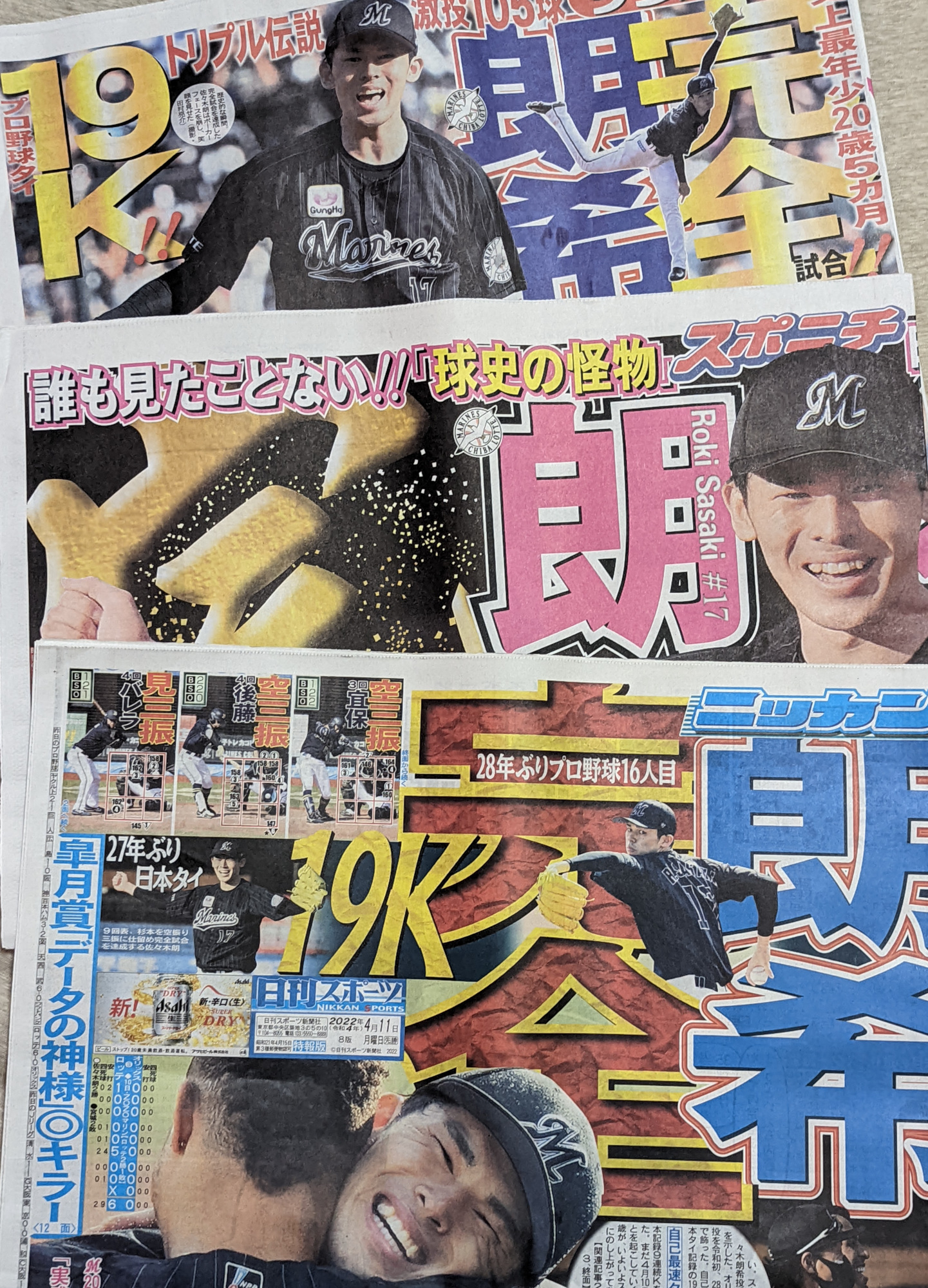 Praise must also be given to Roki's battery mate, 18 year old rookie Kou Matsukawa. Not only did Matsukawa call a steady game in just his 7th professional game out of high school, but he also provided 3 runs on a bases-loaded double that just went off the top of the center field fence. We all expect continued great things from this very young battery in the future.
Of course it is extremely unlikely that Sasaki will ever approach quite this level of performance in a single game again (never say never, though), but his cool and composed demeanor coupled with his almost subdued reaction to the game makes me think mentally at least he's ready to serve up his very best in his next start, and for many years to come.
You can watch all 27 outs of this amazing game below thanks to the Chiba Lotte official YouTube channel.