---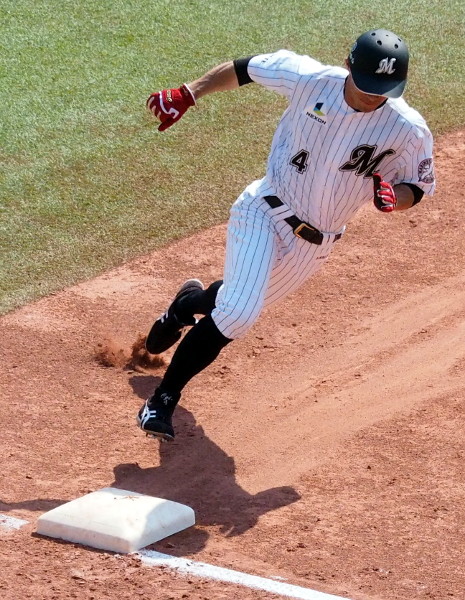 About Steve
I'm Steve, a lifelong baseball fan originally from Texas. I grew up an Astros fan, acclimatized to teams that promised so much and delivered so little. Somehow I remained an optimist – "Wait till next year!"
I've loved watching Japanese baseball since my first game, which was actually the first day of my first visit to Japan back in 2002. It was a Giants-BayStars game at Tokyo Dome, and I went with a new friend I had just met that day. I began my love affair with the Marines on a subsequent visit in 2003. I met a Marines fan at a Marines-Kintetsu Buffaloes game in Osaka Dome. He showed me the ins-and-outs of Marines fandom, and the fans' perseverence in the face of decades of futility (like my Astros!) grabbed my heart.
The Marines have since then transformed from a perennial afterthought to a a title-winning team with a large and passionate fanbase. Since then I've transformed from a dude who loved visiting Japan on holiday to someone who lived here briefly in 2006, and permanently since 2007. I can always be reached at steve@welovemarines.com and on my Twitter @lovelovemarines. I'm hiding shyly in the outfield most games, too.
About Craig
Hello. I'm Craig, the newest contributor to We Love Marines. I started following the Marines from the start of the 2012 season. I actually contacted Steve through this site, and he was kind enough to meet me for a game in the ouenseki. From the first game, I was hooked on Marines baseball. Since then, Steve has shared a lot of his Marines and Japanese baseball knowledge with me. I hope I can return the favor by contributing to this site, and providing at least a small fraction of the insight that you're used to from Steve.
Now, a little about me: I came to Japan with my wife in 2012. She is originally from Chiba, much of her family lives all around Chiba-ken today. I met my wife while we were both living in Hawaii, but I was born and raised a New Englander. I grew up in Connecticut, and went to school in Boston. I am a lifelong Boston Red Sox fan, the scars of the pre-2004 Sox still remain with me.
My love of baseball was passed down to me from my father. As a kid, I always enjoyed watching baseball with my dad. It didn't matter if it was catching a game at Fenway, or listening to the banter of Sox announcers Don & Jerry in front of the TV. I also have fond memories of going to Yale Field to see the AA New Haven Ravens, and summers watching the Harwich Mariners of the Cape Cod League. Now, I'm glad to share my love of baseball and Chiba Lotte with my son Kenta.
I hope you all enjoy my posts, and let's go Marines! You can follow me @ChibaCraig on Twitter.
---