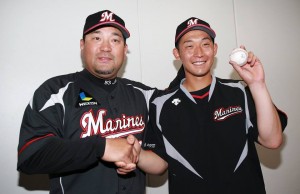 Our Marines ended the week an even 3-3, still snugly sitting 2.5 games behind PL leaders Daiei and 1.5 up on 3rd place Hamu.
Seibu @ Lotte, 17 May
Lotte 5, Seibu 2
WP: Ayumu Ishikawa S: Yuji Nishino
LP: Isamu Satoh
Notables: Hosoya (KEI!) 2 RBI, Despaigne 2 RBI
Seibu @ Lotte, 18 May
Lotte 0, Seibu 3
WP: Yusei Kikuchi
LP: Kota Futaki
Notables: Futaki-kun – 10 K, 1 BB in 6 IP in the loss
Seibu @ Lotte, 19 May
Lotte 1, Seibu 2
WP: Kona Takahashi
LP: Hideaki Wakui
Notables: Kakunaka 4-4, Wakui's first loss of season despite 8 K, 2 ER
The offense pretty much took a holiday in the 3 game set at QVC vs Seibu.  Strangely enough, it wasn't Hard Luck Ayumu with the lack of run support – he got the only win – but Young Futaki and Ace Wakui, both of whom pitched well, certainly well enough to win most games, especially with the highest scoring offense in the PL backing them up.
Alas, Our Marines could only take 1 of 3 at home.
One nice note about Ayumu – his 1.45 ERA is second in the PL, though he's just 1 IP short of qualifying for the official lead.
Lotte @ Orix, 20 May
Lotte 4, Orix 6
WP: Chihiro Kaneko
LP: Jason Standridge
Notables: Iguchi 2-Run PH single, Kakunaka 2 RBI, T-Okada 2 HR for Orix
Lotte @ Orix, 21 May
Lotte 10, Orix 3
WP: Ryota Sekiya
LP: Kazuki Kondo
Notables: Lotte 1-5 batters – 12-21, 9 RBI, 9 runs scored
Extra Notable: Rookie Sekiya wins his first career start, first Lotte pitcher to do so since Fujioka
Lotte @ Orix, 22 May
Lotte 5, Orix 1
WP: Yuki Karakawa
LP: Yuki Nishi
Notables: First win of 2016 for The Baby-Faced Killer
The series in Osaka showed a return to form for the bats after the somnolence of the Seibu series.  I was a bit worried that the offensive slump was continuing but the last half of game 1 and all of game 2 and 3 proved otherwise.  
The really cool thing about the weekend games was how well some different faces pitched.  Sekiya in particular was a real treat as his call-up was somewhat unexpected in the first place.  I certainly expected to see him at some point in time this season but to get the start, win, and pitch well in May is a real boost to the rotation.  He finished the game with 6 IP, 3 ER, 6 K, and retired the last 11 batters he faced.
One cool thing about Sekiya – his catcher on Saturday was his old catcher from his high school days at Nichidai San, Yuta Yoshida, where both of them  were stars for the 2009 Summer Koshien winners.  How cool is that?  
Good ol Karakawa really surprised on Sunday with a 6 IP, 0 ER performance.  Four walks in those 6 innings, but still.  That's 2 Quality Starts in out of 3 for him so….?  Is he back to being an effective pitcher?  I have my doubts, but it's really lovely to see.  
I can't forget to say anything about Kakunaka, too.  He went 9-14 in the last 4 games of the week, raising his batting average to .335, second in the Pacific.  It's not BABIP madness, either – he's way above his career averages for walks, doubles, stolen bases, leads the league in triples, and is just .002 off the league lead in OBP.  Let's not forget he's just turning 29 this week, too.
Farm Notes
I don't normally talk too much about farm notes, but I need to make an exception in this case.  On Friday, "Aja" Inoue ripped off a cycle vs ni-gun Hamu at Urawa.  It wasn't a natural cycle – homer, double, single, triple – but not only is a cycle exceedingly rare to begin with, Aja is, er, not the swiftest of runners so a triple is really rare.  He tacked on another single for good measure, too.  His comments to the media:  "Oh really?  I didn't notice."
Since his exile to Urawa, Aja has posted a .433/.500/.733 line with 7 doubles and 3 HR.  I don't think he's staying down there much longer, but who does he replace at ichi-gun when guys like Hosoya are batting so well?
One other standout at Urawa – Ryuzo Hijii.  Drafted as an Ikusei catcher and promoted to regular player, Hijii has played all over the field, most recently in the OF (including CF at times).  This month, Hijii has batted .383/.439/.750 with 6 homers, including 3 games in a row with a homer.  Good chance he's going to see a look again at ichi-gun later this year.
[x_share title="Tell the World" facebook="true" twitter="true" google_plus="true" reddit="true"] [x_author title="About the Author"]