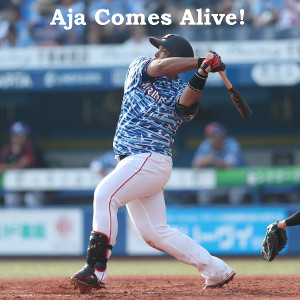 We were talking in this space last week about the performance of the infield so far in 2018, and I pretty much glossed over the contributions by first baseman Seiya "Aja" Inoue to the team's success so far. Perhaps that is a bit unfair – he does lead the team in RBIs and as I mentioned is (was) tied with Matt Dominguez for the team lead in HRs on the season. As Craig has pointed out to me many times, he's been batting really well with RISP so maybe I should be promoting him a bit more?
Aja was removed from the ichi-gun roster two weeks ago due to illness. Last Thursday, in his second game as an active player in ni-gun, he went on an absolute tear at Yomiuri's ni-gun stadium, lighting up Giants pitching for 8 RBI on 4-4 batting with a grand slam. He was not eligible to return to ichi-gun until Saturday's game at the 'Zo vs Seibu, but boy was the wait worth it.
Saturday's game 2 of a 3 game set vs Lions probably shouldn't have been played as a constant rain turned all the base pits and the mound into mud holes. Lotte starter Mike Bolsinger struggled with his footing all day, which contributed to a no-out, first inning 3-run dinger by Seibu's Asamura. The game was delayed 4 times as field crews tried to make the ground playable, and to be honest I thought there was little chance it would happen. After the second delay in the third inning, Seibu starter Imai walked the bases loaded, clearly struggling with the conditions as well. Aja stepped into the box with two outs, quickly took a pair of strikes but worked the count to 2-2. Then, his moment:
[vimeo 276577887 w=640 h=360]
A come-from-behind Grand Slam! Those runs would prove to be the game winners as the rain forced a cancellation after Seibu batted in the 5th. What a wonderful return to ichi-gun for Aja.
In game 3, Aja almost etched his name into the Lotte record books. I'll spare you the gory details of how Our Marines, er, did not win this one but suffice it to say it was not for lack of effort by one "A." Inoue. A second inning single by Aja did not lead to a run, but in the fourth inning he left a ball juuust to the left of the LF foul pole before putting a ball off the top of the fence. It took a weird bounce off the wall, and soon the heaviest Japanese player in the league crashed into third with his first career triple.
In the bottom of the 6th, Aja led off with a monster hit to right center, easily 135m+. Check it out:
[vimeo 276695932 w=640 h=360]
If you are counting at home, that left him just a double short of the cycle, which would be the first Lotte cycle since Julio Zuleta in 2007. For sure he would have another chance to get that double, and in the bottom of the 7th he came up again:
[vimeo 276698982 w=640 h=360]
Look at that! I was almost disappointed at that lovely 3-run homer! 10 feet shorter and it's a double for sure, but instead it crossed over for his 10th of the year. The sad part is Inoue had one more potential chance for the double and to keep the game alive as he stood in the on-deck circle in bottom 9, but Kakunaka grounded out and the chance never came.
We at We Love Marines have been fans of Aja for some time, but he's certainly not lived up to what we had hoped he could be – until now? If he continues on this upward trend, both his and the team's fortunes could brighten considerably.