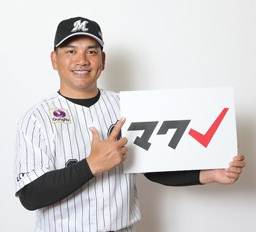 The 2018 Chiba Lotte Marines season is in full swing. New skipper Tadahito Iguchi's squad looks much different from 2017's team, who finished with arguably the worst season in the 67 years of franchise history. At this point last season, Itoh's Marines couldn't hit, couldn't pitch, and certainly couldn't get many W's but this year? Lotte finished the Interleague series at a very respectable third in the standings, is sitting just over .500 for the season, and a mere 5 games out of first with well over half the season to go. In short, the Seagull is pretty healthy.
I completely refuse to dwell any more on last year, but the big question is – what's changed? Strangely enough, not all that much vs 2017's team, or even 2016, in terms of personnel. American pitcher Mike Bolsinger has been far and away the newcomer with the greatest impact, as he is tied for the league lead in wins (8), is second in ERA (2.06), and leads in Quality Start % (9/10 starts). He's been quick to credit his teammates for his success, saying in hero interviews how his team always gives him tons of run support and how much support his catcher Tamura gives him. In short, he's been a great pickup for Lotte.
The other newcomer with a big impact is rookie second round draft pick Yudai Fujioka, who arrives via Toyota in the industrial leagues and Asia University. He's been the starting SS since opening day, has started every game, and posted a .259/.330/.356 line along with 6 SBs. SS has been a big hole for a while – Daichi made the All-Star team several times at the position but his arm strength is not well-suited to the position – and a rotating cast of characters filled the role last season. Fujioka's been far from perfect – he leads the league in errors, which is not all that surprising for a rookie SS I suppose – but he demonstrates real skill both at the plate and in the field, and looks to be the team's SS for many years to come.
---
Management
Surely the biggest difference is right at the top – the leadership of Iguchi-kantoku. From the start, runners had the green light any time they saw fit. The result was a lot of stolen bases early on – and a lot of runners thrown out as well. On balance the effect has been way more positive than negative – runners take extra bases, stretch long singles to doubles, take chances with steals – all at a pace much higher than before.
Iguchi has also kept the starting lineup more or less fixed for the entire season, something that was a big problem even in the playoff years under Itoh. 1-2-3 in the order has been T OGINO-Fujioka-Shogo basically all season. Daichi moved to third and started every game, "Aja" Inoue started the lion's share of games at first before heading to ni-gun due to illness, Tamura has played every game (and most of the innings), while Kiyota has played almost every game in right. This lineup has produced consistently all season – every player's batting statistics are improved if not greatly improved over the same time period as last year.
---
Fielders
Notice some of those names – T OGINO has always been talented but has never come close to playing a full season, he's been a rock in CF and is 5th in batting in the PL right now. I didn't list Kakunaka before – he missed the first month of a season with a compression fracture in his neck, but since his return he's been better than ever, recently completing Interleague play as the overall leading hitter at .412 BA. Daichi moved from SS to 2B last season, and it turns out the arm that was too weak at SS is just lovely at 3B, perhaps from having time to plant then throw? But both to the eyes and to the fielding statistics, he's been been great at the hot corner.
Probably the biggest revelation has been 4th year infielder Shogo Nakamura. Shogo started 2017 even more horrifically than the rest of the team (which is saying a lot), going completely hitless until his exile to Urawa in May. He returned in the summer a changed batter: patient, successful. For the rest of the season, Shogo batted near .300 (.275 for the season, counting his hitless ABs early) with a near – .800 OPS along with 11 steals. This season he's been flirting with the top-5 in BA all season (currently at .299) and is 4th in the league in steals with 17. He's a sure-fire All-Star selection if not a Golden Glove choice, something early last year we Lotte fans would have found unlikely.
The only bad spot so far on offense has been the total lack of power – less than 30 HRs as a team at this point. The leaders so far in HRs are Aja with 7 – not so many, but he has paired that with a large number of RBIs and a good BA with RISP – and newcomer Matt Dominguez. Dominguez has 7 HRs on the year as well, 6 of them coming the same week and basically nothing since. Matt plays a nice 1B and obviously has a lot of power, but the very low BA has kept him on the bench. This lack of HR power is probably the only reason Our Marines are not sitting in 2nd place or so right now, so hopefully a solution can be found.
---
Pitchers
Expected ace Hideaki Wakui started the season strong but got demolished in 3 of his last 4 starts. Despite that, and despite a back end of the rotation that has been a cast of rotating characters, the starting pitching has been surprisingly great. A lot of credit there is due to the aforementioned Bolsinger, but also the return of 2016's ERA champ Ayumu Ishikawa to the form that made him one of the best pitchers in the league for years. This year Ayu went 4-0 in interleague with a 1.01 ERA in 26 IP, has had a QS in 10 of his 12 starts, and has posted a 1.08 WHIP and a 2.28 ERA on the season. He's unquestionably the ace of the staff. The surprise contributor is second year pitcher from Togane, Chiba – Yuki Ariyoshi. Ariyoshi was one of the few bright spots last year as a middle reliever, and last month he was converted to a starter. In those starts he's been great, only allowing 2 runs total in his 3 interleague starts (0.98 ERA!). It's still early days as a starter for him but I expect he will continue to be effective through the summer months.
Out of the pen, Naoya Masuda, Takahiro Matsunaga, and Tatsuya Uchi have been extremely effective all year, with Masuda in a middle relief/setup role, Matsunaga as a LOOGY/setupper, and Uchi as the closer. Masaki Minami and Yasuhiro Tanaka have also provided many quality innings in middle relief. To my eyes Matsunaga has been the key man out of the pen so far, and should surely be an All-Star this season as well.
---
Prognosis
As I see it, the main variable going forward is the starting rotation. While the top has been as good as any in the league (if not better), 12 different arms have started games this season with wildly varying results. Given the low-power offensive environment, some rotation stability will be the key to a successful summer and hopefully a climb up the PL ladder. It's an enjoyable team to watch, win or lose, but we of course want to see much more winning in the Makuhari summer breeze.