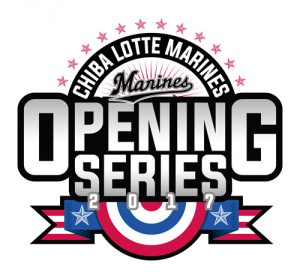 The 2017 Chiba Lotte Marines season is about to get underway – time for us to take a look at how Itoh-kantoku's guys are shaping up.
I can hear your comments already – "Steve, isn't it cheating to write a season preview after the first week of the season has already been played?"  I must admit – Well, yeah, of course it is.  In this case, though, nothing much has changed now versus what I would have written a week ago, so please go with me and pretend that this is dated 31 March, OK?
Great, thanks.

Starting Pitching
The pitching staff led by coach Eiji Ochiai is unquestionably the strength of this team.  Six-time All-Star Hideaki Wakui is back for another season and is set as the team's ace and opening day starter.  Fourth year starter Ayumu Ishikawa is fresh off his first ERA title and Samurai Japan appearance – pencil him in as the second ace (quite a luxury!)  From there the rotation understandably fades a bit: Yuji Nishino moves back to the rotation after 3 years out of the pen.  The Baby-Faced Killer blossomed late last season after 3 consecutive terrible seasons – Ochiai will be relying on him as the 3rd or 4th starter.
Jason Standridge was coaxed out of retirement to rejoin the team for one last season – he's in the opening day rotation (and was rather ineffective on Wednesday).  I think this is a mistake, and he's a better option in long relief or as a replacement starter.  The 6th starter is rookie Chihaya Sasaki, expected to make a big impact out of Oberlin University (and in fact, winner of his first career start).
Other starter options include:
The very promising Kota Futaki, who has been extremely effective in ni-gun this season and should be in the starting rotation in ichi-gun (IMO)
Number 2 draft pick Tomohito Sakai from Osaka Gas in the industrial leagues.  He was projected as first round talent in last year's draft, and we can expect to see him sooner rather than later with the big team
Second-year righty Ryota Sekiya, who showed moments of brilliance in his rookie campaign
Chen Kuan-Yu, nursing some injuries now but certain to see some starts if for no other reason than he's the only real lefty starting option
Relief Pitching
Other than a dearth of lefty arms, the Lotte pen is really solid. With Nishino's move back to the rotation, closing duties fall to Naoya Masuda, former closer and All-Star last year.  I like the move, Masuda doesn't have the out pitch that Uchi or Nishino does but he is reliable and throws strikes (2.4 BB/9 last year).  Speaking of who, Tatsuya Uchi is the setup guy, and probably would be the closer if not for perpetual health issues.   Takahiro Matsunaga is the lefty fireman and in fact the only lefty option after former first round pick and current middle reliever Takahiro Fujioka was shipped to Urawa after a pair of poor outings this week.  Tomohisa Otani is back at full health and should be in the solid form he has displayed the past three years.
The other setupper is Masaki Minami, who had a bit of a breakout year in 2016 but is currently fighting a minor shoulder ailment in ni-gun.  Yuta Ohmine continues to bounce from role to role, but he was perfect in preseason action out of the middle of the pen and will probably stick there all season unless the need for a starter comes up.  The real wild cards are second year righty Taiki Tojo (ignore his ERA from 2016, it's heavily distorted by one outing) – utterly dominant in the preseason and so far with 7 punchouts in 4 innings of work this season – and rookie Yuki Ariyoshi.  Ariyoshi was picked in the fifth round last year out of the industrial leagues, is originally from Togane, Chiba (not terribly far from Marine Stadium), and has yet to allow a professional run through both preseason and the first week of the season.
*I'll discuss a bit more in a separate post, but through the first 6 games the pitching overall ended up a bit below expectations but overall not bad.
Position Players
Three Lotte players made the Pa-League Best 9, led by Katsuya Kakunaka and his second career batting title.  He was joined by Captain Daichi, who narrowly won his second Best 9 at SS but will be moving to 2B for the 2017 season.  The third winner was Tatsuhiro Tamura, who emerged as clearly the best catcher in the PL if not all NPB.
Those guys are great, and there's no reason to believe they aren't going to repeat that success for the 2017 campaign.  After them, though – hmm.  Despa is gone, poached by the evil Hawks against his wishes (and I am not being dramatic here, by all accounts he wanted to re-sign in Chiba but the Cuban government dictated his shift to Kyushu.  Well, that and a massive payday.)  The front office signed a pair of foreign players to take over his production, Astros farmhand Matt E Duffy (starting the season at third base after a productive preseason) and Jimmy Paredes (DH and occasionally in the OF).  Itoh has been batting Paredes in the cleanup spot, which seemed mystifying given his minor league track record (80 HR in 4400-ish career ABs across all levels) and looks really dodgy at this point in the regular.
The infield looks pretty good to my eyes, though where everyone actually plays is more than a little up in the air.  First base is fan favorite Seiya "Aja" Inoue, he of the perpetually great spring and little opportunity during the regular (great news – he's tearing the cover off the ball so far this season).  As I mentioned, Daichi moves to second which seems like a better position for him to me.  Starting shortstop is Shogo Nakamura, which sounded like madness before the season started as he a) fell off a cliff offensively in the second half last year b) looked TERRIBLE at the move to short this spring.  I hate to say it but that view looks to be an accurate one as he's not only not starting but is back in ni-gun as of this writing. Starting SS SHOULD be Taiga Hirasawa and he will get plenty of chances, though for now it looks like he'll be splitting work with Shota Ohmine and Ryo Miki. The mystifying thing is that Kei Hosoya is not on the ichi-gun roster, though the way he is tearing it up in ni-gun, that will change very quickly.
Outside of Kakunaka, the outfield is staffed by Ikuhiro Kiyota (looking to rebound after an utter disaster of a 2016), T OGINO (unfortunately for yours truly, already in ni-gun after 5 miserable ichi-gun games), Shota Ishimine (always looks like he should be better than the results he actually gets), Shohei Katoh (see Ishimine, though I still feel his talent has got to translate to ichi-gun performance at some point), and Yoshifumi Okada (defensive wiz but a black hole offensively).  There ain't a whole lot of relief in the pipeline either – Ryuzo Hijii is the most likely candidate as he's shown lots of power in Urawa and is just 21.  Katoh and/or Kiyota really, really need to step up.
I don't really need to say much about catcher – Tamura is locked in for years there, I would imagine – but his backups are the very capable Naoya Emura and the very disappointing Yuta Yoshida (he of the 0-30 2016 at the plate and dodgy defense).
---
Outlook
The vast majority of prognosticators have Our Marines somewhere around 3rd this year.  That's reasonable, after all that's how they finished the past two season, but I think the upside is much higher than that.  The pitching is up there with the best of the PL (aka Daiei) due to the sheer depth of the quality arms available, though outside the big names the dominant arms are not there as they are in Fukuoka.  Lotte to my eyes clearly has no worse than the second best staff in the PL, which given how pitching-friendly Zozomarine is, should keep the guys in almost every game.
The main problem is with the bats.  Despa's 24 homers isn't that much to replace in theory, but it's way more than anyone else still on the roster provided last year.  The only other player with a ton of power is Inoue, and he's both inexperienced and a line drive hitter rather than a home run hitter.  I expect Duffy could hit 20, Hosoya can hit double digits as well when he finally makes it to the roster, but more power is needed from… someone.
So what are my calls? Here we go:
Sasaki will be in the running for rookie of the year all season.
Kakunaka will not win another batting title, but will bat .300 with continued defensive improvement.
Taiga will see 200+ at-bats and hit 6-8 HRs and for decent average.
Tamura makes All-Star again and wins another Best 9.
Aja finally gets his breakout season – let's say .800+ OPS.
Futaki puts up a sub-3.00 ERA and 9 K/9.
Finally, Chiba surprises many by taking second in the PL and hosting a home Climax Series for the first time since 2007.
[x_share title="Tell The World" facebook="true" twitter="true" google_plus="true" reddit="true"] [x_author title="About the Author"]