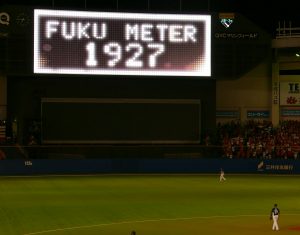 The 2016 version of Our Marines aren't going anywhere – for now, at least. As of this writing Chiba sits 9.5 games behind Hamu in second and 8 up on Rakuten in fourth with just 18 games to go. To my mind, that's the very definition of "stuck in place".
Fortunately that is a good place to be stuck in. That position is a virtual lock for A-Class for the second consecutive year (first time in 31 years that has happened), 3rd time in 4 years under Itoh-Kantoku, cinching an extension for the skipper for the 2017 season. Lotte legend Saburoooooo has announced his retirement (more on that later) while Iguchi and (Oretachi no) Fukuura have said they'll be fighting on another year. There's not a lot of drama in the games remaining to be sure, but that can make for some relaxing, fun games.
[x_line]
Orix @ Lotte, 1 September
Orix 4, Lotte 6
WP: Chen Kuan-Yu S: Naoya Masuda
LP: Nobuyoshi Yamada
Notables: Chen's first win of the season, Iguchi 3-run jack
Seibu @ Lotte, 2 September
Seibu 1, Lotte 1
WP/LP: Nobody
Notables: Return of Uchi
Seibu @ Lotte, 3 September
Seibu 8, Lotte 9
WP: Ryota Sekiya S: Naoya Masuda
LP: Makoto
Notables: The T OGINO/Shota Ohmine show
Seibu @ Lotte, 4 September
Seibu 4, Lotte 9
WP: Brian Wolfe S: Tatsushi Masuda
LP: Hideaki Wakui
Game 3 of the Orix series was an enjoyable romp due to fine pitching by expected-to-be-a-starter-in-April-but-been-in-ni-gun-all-year Chen Kuan-Yu and an early Lotte offensive explosion. Up 3-0 after 2 innings, Iguchi smacked a really fat Yamada offering and put it deep into the Orix ouendan. With 2 men on, that's a 3-run homer and a 6-0 Lotte lead. Chen yielded a run on three consecutive singles in the 4th for his only run of the game – the other three Orix runs came via a 3-run homer by rookie Masataka Yoshida off a very rusty Fujioka (making his first appearance in 6 weeks). The outcome was REALLY never in doubt – 6-4 Lotte win.
Game 1 of the Seibu series featured a fine pitching match between New Ace Ayumu and Seibu's ace Kikuchi – and indeed, this game lived up to the pitching duel that people expected coming in. Both starters went 8 strong, only giving up a run each, and the final results would come down to the strength of the pens. Masuda, Uchi, Takano, and Matsunaga all got into a bit of trouble, and in Matsunaga's case it was more than a bit of trouble with a bases-loaded jam in top 11, but none of the guys allowed a run. Our Marines had a golden chance to sayonara in bottom 12, details no longer important but suffice to say it just didn't happen. Tie game, nobody happy.
Game 2 would have pissed me off if it were April as sloppy pitching turned a 7-1 lead into a 9-8 nailbiter, but given the current circumstances this one was just messy fun. The bulk of the weight was carried by T OGINO (2-4 with a run and 3 RBI), Hosoya (Kei! (2-run double that proved to be the winning hit)), and Shota Ohmine (3-4 with an RBI triple and 2 runs scored). Our rookie Sekiya started and pitched merely OK – 5 earnies in 7 IP, though I thought in general he pitched better than that line shows. Still, the kitty-cats clawed to within a run after a 3-run Mejia blast in the 8th off the usually reliable Minami, but the even more reliable Masuda sent down the side in order in the 9th to seal the win.
Game 3 ended up a far, far more interesting game than I thought it would be at first, as intermittent ace Wakui looked thoroughly disinterested (a la late season 2014) in giving up 3 runs via a Mejia 1st inning blast. But Wakui settled down – only damage after that inning came off the mighty bat of Okawari-kun – and Our Marines fought back to make this a close affair. In fact, were it not for one great play I think Chiba would have taken this one – but that play was perfect for the time and place. Bottom 6, bases loaded after Hosoya (Kei!) drilled a ball off Brian Wolfe's foot and into the OF – PH Iguchi strikes out vs emergency reliever Takekuma. Hot hitter Ohmine has a chance to do damage, and he crushes a gapper, but Seibu cap'n Kuriyama lays out for an insanely good catch to protect the Lion lead. The good guys would not threaten again, and the series would end 1-1-1.
After another 10 games or so, once the climax situation is officially clinched, I think we'll see a lot of young players spelling the guys who have played all season. Hopefully that spot can be clinched soon so Our Marines can face whoever we face in CS Stage 1 fully rested.
[x_share title="Tell The World" facebook="true" twitter="true" google_plus="true" reddit="true"] [x_author title="About the Author"]