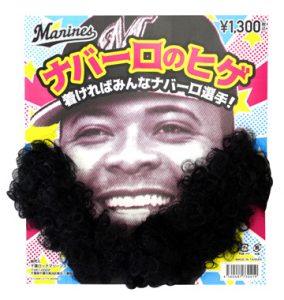 Remember when the bullpen was the one constant we could always rely on to step up even when the starting pitching was, er, less than ideal? That's (generally) still the case, but, my caveat is important. Of the four Lotte losses since the end of interleague, 3 of them are directly the result of middle relief collapses, including 2 this week. Frustrating, but that's baseball, and the pen's track record leads me to think things will get back to normal soon.
Lotte @ Daiei, 27 June
Lotte 9, Hawks 6
WP: Hideaki Wakui LP: Shota Takeda
Notables: Navarro 3-5 + HR + 4 RBI, Wakui CG, Big Hit Festa
Lotte @ Daiei, 29 June
Lotte 6, Hawks 7x
WP: Yuito Mori LP: Yuji Nishino
Notables: Navarro 2 HR + 4 RBI, Despa 2-run HR, bullpen implosion
Lotte @ Daiei, 30 June
Lotte 1, Hawks 2
WP: Shu Iwasaki LP: Yuki Karakawa
Notables: Despa RBI double, Karakawa 9K in 6 2/3 IP
[x_line]
A series with so much promise ended with a whimper. In game 1, Our Marines raced out to an early 9 run lead vs Daiei in Tokyo Dome thanks to, well, a whole lotta people but especially the 4 RBI + HR from Navarro. Those pesky Hawks ran it back a bit, mostly due to some terrible D. Wakui finished out the complete game and was a bit gassed by the end – his 4 runs yielded were partially due to that but also a highly misplayed ball with two outs in the 9th that should have ended it. Still, a good game.
Game 2 was a mighty frustrating one, friends. Rookie Sekiya had his 4th win in 5 career starts in the bag, really he did, thanks to excellent control and a fierce changeup that had batters looking foolish. And he got run support, too – a Navarro 2-run jack, then Despa, then another Navarro-2 bomb. But the bullpen entered, Matsunaga threw meatballs, Hawks hit 'em, Masuda came in for Matsunaga, threw meatballs, Hawks hit those too. But the big play came again on D, as OKADA of all people misplayed a ball in CF trying to make a play at the plate. It was just a sad mess all around once Sekiya left.
Game 3 is the simplest sort of game to discuss – theirs beat ours, straight up. The Baby-Faced Killer, fresh off an absolutely terrible start in Tokyo Dome to finish Interleague play, threw like the BFK of old, ringing up 9 Ks in 6 2/3 innings. Unfortunately he just couldn't get Uchikawa out – The Chin accounted for both Daiei runs, and Hawks starter Iwasaki allowed only a first-inning RBI double by Despa. All games in this series very winnable, which is great to say in April, but not so much in late June when trying to reel in a tough team like the Hawks.
[x_line]
Orix @ Lotte, 2 July
Lotte 6, Orix 0
WP: Ayumu Ishikawa LP: Takahiro Matsuba
Notables: Ishikawa: Complete game shutout win, Katoh: 2-run triple
Orix @ Lotte, 3 July
Lotte 3, Orix 4
WP: Brandon Dickson LP: Tomohisa Otani
Notables: Tamura: 2-run double, Despa 2-2 w/ 2 BB & RBI
[x_line]
Game 1 gave the world yet another brilliant start from arguably the best pitcher in the PL this year, our 3rd year man Ayumu Ishikawa. He leads the league in ERA at 1.63 and wins with 9, is very close in WHIP, and his control has been impeccable all season. And you know what? That's exactly what he delivered on Saturday, your pedestrian complete game shutout, 7 hits, 2 walk, 6 Ks, Orix bats no chance.
The end of the brief 2 game set featured a battle of Americans on the hill, and Our American Jason Standridge had the upper hand through 5 innings thanks to really good control (it's been his bugaboo this season) backed by a 2-run Tamura double. Jason faltered a bit in the 6th, giving up a pair of runs, and was pulled for the 7th for last year's stalwart Otani. Much like the M&M twins in game 2 in Fukuoka, Otani fooled nobody, and quickly gave up a pair of runs and the lead. Shockingly, the Buffs pen held backed by even more shockingly solid D, and the series ended in a 1-1 tie.
In fact, the loss plus the streaking Fighters' sweep in Fukuoka means Chiba slips to third for the first time since the season's early days, but the gap above B-Class remains a chasm. This week features a pair of three game sets vs Seibu at home, then Hamu on the road.
[x_share title="Tell The World" facebook="true" twitter="true" google_plus="true" reddit="true"] [x_author title="About the Author"]