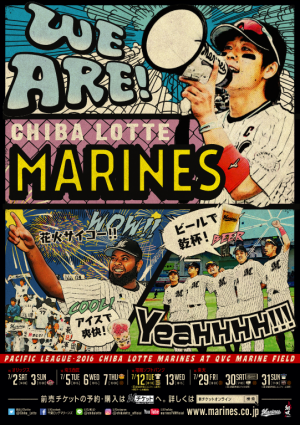 July hasn't always been the kindest month to Our Marines. The summer collapse has become somewhat of a tradition around here. Maybe it's due to some unique home field advantage we get from the brutal early-season Marine Field conditions, but it always seems that our PL opponents hit their strides and overtake us the weather warms up.
This year's team is different though. It's no wonder considering we saw 7 Marines participate in this month's All-Star festivities, our most since 2005. There's been no Great Regression in the Lotte economy, just a slight trade deficit in the wins/losses sector. We went 9-12 in July, 8-11 since our last post here on WLM. Two July losing streaks of 6 and 4 games sure felt like certain doom, but we are still 9 games above .500 coming out of the month. Yes, we're 10 games out of first place, but we have an 11 game lead for the final post-season spot.
That brings us to the title of this post. Unlike years past, our only really glaring problem this year is the bullpen. This is especially rich considering that was our only constant strength for the last half-decade. The series this past weekend serves as an example. Our bullpen spoiled a scoreless pitcher's duel on Friday, giving up a combined 9 runs in the 8th and 9th innings to fall to Rakuten 9-0. The next night, our closer Nishino couldn't hold a 4-2 lead in the 9th, eventually resulting in a 5-4 Eagles win in the 11th. Nishino had a particularly terrible 8.10 ERA in 8 July games, but has really looked shaky since late spring. Ohtani took the 11th inning loss after Nishino's blown save, as last year's 8th inning man has gone the same way as his closing companion, sporting an inflated 3.81 ERA himself on the season.
There are some positives in the bullpen though. 2012 Rookie of the Year and 2013 PL saves leader Naoya Masuda appears poised to possibly fill the closer's role, sporting a 1.40 ERA, with 14 holds, 3 wins, and 4 saves while looking the best he has in 3 years. Masaki Minami has also put together a 1.85 ERA in 43 2/3 IP of late relief. If we get Uchi back from the injured list soon, we may have enough depth to keep this bullpen stitched together.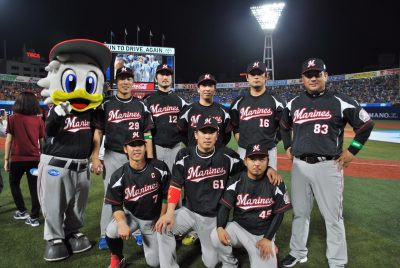 On the other hand, the starting pitching is actually in the best shape I've ever seen it in 5 years as a Lotte fan.
Ishikawa
(10-3, 1.69 ERA) and
Wakui
(9-4 2.36) are doing just fine being their awesome selves.
Karakawa
is coming around, having given up just 4 ER in 21 IP over his last 3 starts. Young
Futaki
(6-7, 4.94 ERA) went through a bit of a rough patch at the end of June and early July, but has recovered to keep his place in the rotation. Minus the two starts during said rough patch (8 IP, 16 runs allowed), he has a 6-6 record and 3.69 ERA.
Ryota Sekiya
is putting together a splendid rookie campaign, going 3-1 with a 3.66 ERA in 9 starts. Eyes are on
Jason Standridge
to fill out the rotation, hopefully showing us more of his early season form (2.08 ERA in his first 47 2/3 IP) after some mid-season struggles and injury issues.
We started with the bullpen, but let's finish with the bats. I saved the best for last here. Our offense is tied for tops in the PL with the Fighters for total runs scored. 2012 batting champ, and perennial OBP machine Kakunaka (.333 BA) currently leads the PL batting title race by 26 points. Captain Daichi is 5th in the PL with a .303 BA, but his .808 OPS is topped by Despaigne's .814 OPS and team-leading 15 HR. June's PL Player of the Month Tamura is batting .331 over the past 2 months, and is reliable as ever calling games and throwing dudes out from behind the plate.
Despite the overall successes, the other 5 day-to-day positions are a bit in flux. With Kiyota struggling down on the farm, T.Ogino, Katoh, and Okada have been platooning in center field and right. Navarro was getting hot coming into the month, peaking with a sayonara RBI in a sweep of the Lions the first week of July. Since then, he's cooled off considerably to the point of sitting on the bench going into August. With Navarro's struggles and our revolving door at 1B, the infield lineup has become anyone's guess on a daily basis. Hosoya has been the most consistent, getting the majority of playing time at 3B. Otherwise, it's been a mix of Iguchi, Nemoto, Fukuura, Shogo, with a dash of Miki and maybe soon the recently called up rookie Taiga Hirasawa as well.
[x_share title="Tell The World" facebook="true" twitter="true" google_plus="true" reddit="true"] [x_author title="About the Author"]