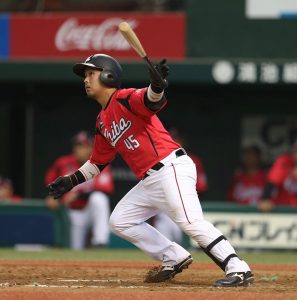 Our annual sojourn into the unknown wilderness of the Central League is complete. It's time to take care of essential business – beating up on the rest of the Pacific League. First up, our eternal rivals from the other side of town, Seibu.
Lotte @ Seibu, 24 June
Lotte 7, Lions 6
WP: Ayumu Ishikawa  LP: Kona Takahashi
Notables: Daichi HR, Lotte 6-run comeback
Lotte @ Seibu, 25 June
Lotte 9, Lions 10
WP: Shota Takekuma  LP: Masaki Minami
Notables: Despa 2 massive HRs, Kakunaka 4-6. Terrible game.
Lotte @ Seibu, 26 June
Lotte 10, Lions 4
WP: Jason Standridge  LP: Shinsaburo Tawata
Notables: Tamura (!!!) HR, Katoh 4-5
[x_line] Our Marines had to face history in Game 1 – in the 11 years of interleague play, Chiba was a perfect 0-11 in PL games following the break.  This time Itoh-kantoku had Second Ace Ishikawa ready to go in Maebashi, but Lions sent hometown hero Takahashi to the mound to counter in the intermittent rain.  Coming into this game Ayu had only given up 10 ER total on the season, and due to weather or wind or rust I am not sure, but the Seibu bats hung half that season total on him in just 5 innings of work, all of it via the longball.  That's two HRs by Mori, one by Mejia, and one by Asamura if you are keeping count.  
It's not that Ayumu's control was bad, he was throwing strikes (6Ks, 1 BB in those 5 IP), they were just getting hit.  It happens.  Takahashi was a bit of a mess in the early innings, getting really lucky in the first on a Navarro fly-out at the warning track with a pair on, not so lucky in the second with a Daichi solo shot to right, and eventually coming completely unglued in the Lotte sixth as Lotte batted around for six runs – all after two outs – via a pair of walks and six hits.  This is the 2016 Lotte specialty – huge, demoralizing, comeback innings.  I love it.  Lions scratched a run back in the late frames but Masuda/Nishino closed it out.  Lotte 7, Kitty Cats 6, interleague hangover losing streak OVAH.
Game 2 was a prime example of Why They Sell Beer At Stadiums. Despa mashed the hell out of the ball (a pair of bombs to the concourse in left), Kaku-chan Kaku-channed, Our Marines put 23 baserunners on (16 hits) and scored a filthy 9 runs including yet another huge comeback – but.  BUT.  This game was simply played terribly by both teams.  Bad fielding, shoddy pitching, stupid decisions (sending Despa home on a shallow fly to left, anyone?), 4 runners thrown out at home, the eventual winning run scoring as a direct result of terrible fielding with two outs in the bottom of the 10th, Chiba being unable to score in the TOP of the 10th despite loading the bases with no outs, Chiba failing to score in the 5th despite 4 hits.  I could go on, but then I would need another one of those stadium beers.  Lotte 9, Kitty Cats 10.
The rubber match in game 3 made everything A-OK, though.  An absolutely massive game at the bottom of the order by Katoh Shohei (4-5, 1 RBI, 2 runs scored, now batting .295 on the season) and my guy Tamura (4-5, 3 RBI, 3 runs scored, big 2-run jack to left) led to a huge Lotte win.  The Kaku-Despa-Navarro combo that has been so lethal this month was pretty quiet, but the slack was more than picked up by the aforementioned duo as well as the super hot Hosoya (KEI!) in the leadoff spot (3-5, now batting .307 on the season and a likely choice for an all-star slot next month).  Lions kept it close, frawing to within a run bottom 6, but a 4-run 9th (let's call it the "Yuki Matsui special") shoved this one solidly into Column Win.  Lotte 10, Kitty Cats 4.
The gap between the haves and have nots in the PL is very clear now, with Daiei, Lotte, and Hamu the obvious A-class (Daiei is in the A+ class, I must admit).  Our Marines play a 3-game set this week against those same Hawks to see exactly how well they stack up against the best.
[x_share title="Share this Post" facebook="true" twitter="true" google_plus="true" reddit="true"] [x_author title="About the Author"]