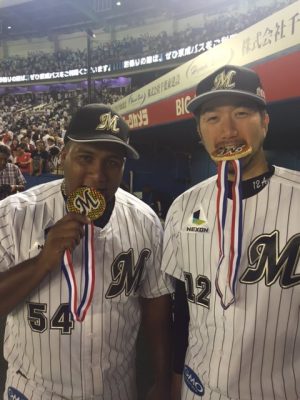 It looked like Our Marines were back on course for a successful summer campaign after we won our first 7 out of 10 games in August. Around mid-month it became clear that barring anything crazy we'd be locked in at 3rd place for the rest of the season. Our post-season status was secured by a lead of double digits in the standings. Looking up in those same standings, we sat and nearly double digits back of catching the two PL leaders.
With an eye on October, Itoh-kantoku used this opportunity to try out a variety of guys who otherwise might not be given a chance (or second chance) this late in the season. Consider it a quasi-open sen as far as personnel management goes. Kitoya returned from ni-gun with hopes of salvaging his 2016 season. Rookie Taiga Hirasawa has been displaying his very raw talent at at shortstop. The corner infield spots have become a daily mix of old and new.
In the midst of all this though, Our Marines dropped 9 out of 10, with Rakuten creeping up on 3rd place at 6.5 games back. Chiba won 2 of 3 to close the month and still holds onto a 6.5 game lead. With 22 games to go, it's not exactly panic mode, but there is some bed wetting happening in Lotte fandom. At the very least, It would be nice to have some inspiration going into the stretch run.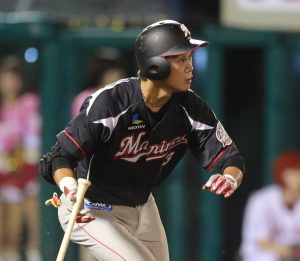 Not much had changed as far as our top offensive producers go since we posted our July review.
Kakunaka
had a monster August, and still leads not only the PL, but now all of Japan with a .349 BA. Actually, waiting four paragraphs into the post to mention Kaku's month is burying the lede. His .411 batting average, 1.059 OPS, 3 HR, 16 RBI in August should earn him Player of the Month honors.
After hitting 9 HR this month Despaigne is leading the team with .500 SLG, good for 4th best in the PL. Despa's OPS is also 4th best in the PL at .867. Captain Daichi still has the second highest batting average on the team at .295, good for 8th best in the PL. Not only has the trio of Smackunaka, Despa (ii ne) and Capt. D been consistently anchoring the lineup since April1, they somehow upped their game for their best collective month in August. With all the inconsistency around them in the lineup his month, I don't want to imagine how many more games we'd have dropped in August without their production.
1 Read any one of our posts from this year, and you'll see consistent numbers.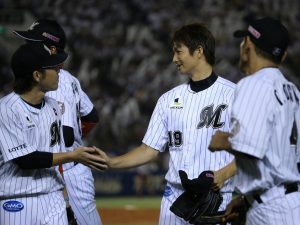 On the pitching side, Karakawa had the best month for a Lotte hurler. Yes, the pride of Narita is having himself a comeback year. Yuki tossed a complete game 6-hit shutout early in the month in a win over Rakuten. He gave up just 2 runs in 22 innings in August, totaling 4 earned runs in 36 1/3 IP while going 3-1 in July and August combined. It's the summer of Karakawa!
The bullpen situation seems to be settling a bit, with Masuda getting all 7 Lotte saves during the month, and Minami settling into the set-up role. The starting pitching has been a bit of a mixed bag (to be kind), with front men Ishikawa and Wakui having a couple of uncharacteristic poor starts in August. Ishikawa did have one complete game shutout that I mentioned in the photo caption above.
GAME OF THE YEAR?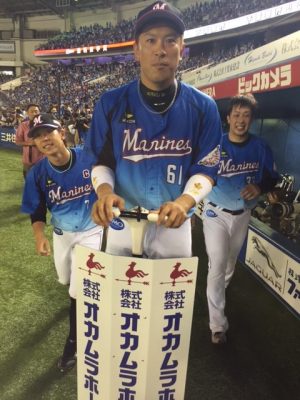 There was one memorable moment in an otherwise forgettable month. It's going to be tough to top the night of August 14th for game of the year. Our Marines and SoftBank were engaged in a pitchers' duel, with Wakui tossing 8 scoreless only to be matched by the Hawks Iwasaki doing the same. The Hawks finally got to Wakui in the 9th, plating a pair of 1-out runs and chasing Wakui from the game. 2-0 Hawks.
Lotte was down to their last out with no one on in the bottom of the 9th. Kakunaka worked a long AB into a base-hit to center. Tying run at the plate for Despa. Despa drew a walk, bringing up Fukuura as the go ahead run. A collective groan echoed through the stadium when Fukuura grounded to first for seemingly the final out. Then a bobble by Akashi at first, but he recovered with plenty of time to get Fukuu…NO! ANOTHER BOBBLE! The ball rolled behind Akashi! Everyone is SAFE!
Next up, Captain Daichi lines a ball to right…it hangs up in the air…the RF Fukuda bends down to try and fetch it before it hits the turf and…the crowd erupts as the ball deflected of Fukuda's glove and through his legs! TWO RUNS SCORE. TIE GAME 2-2!
On to the 10th inning and the man who got the whole thing started with his 2-out hit in the 9th. This time Kakunaka is up with the bases loaded and 1-out, our best contact hitter up with a chance to win the game by merely putting the ball in play. Kakunaka would not let us down, lifting a fly ball to center plenty deep enough to score Shota Ohmine. SAYONARA MARINES! 3-2 FINAL! The cherry on top came after with the heroes Kakunaka, Daichi and Minami (WP), cruising the stadium ground in Segways, followed by a Marine Festa 1,000 fireworks show. It was the perfect summer night to be at the stadium.
[x_share title="Tell The World" facebook="true" twitter="true" google_plus="true" reddit="true"] [x_author title="About the Author"]