Let's whip out the usual travel checklist:
– Half day off on Friday: check
– Nice outfield seats in hand: check
– Train tickets, hotel: check
– Uniform, flag, towel: check
– Voice rested, ready to be destroyed my cheering at maximum volume: check
– Camera packed, all charged up: errr…
Yup, road trip time. I had never been to Nagoya, really – just sort of passed through with the occasional 30 minute stop en route to somewhere else like Ise or Nara. I checked the schedule when interleague games were posted and saw a nice weekend series versus Chunichi, so I though sure, why not? And I had a GREAT time, too, except I forgot to pack one teeny little thing.
– Lotte victories: BZZZZZ!!!
You can't have it all.
I made it to the stadium for Friday's game a wee bit before first pitch. I was quite impressed with how easy it was to navigate the subway to get there and the route to the stadium once at the station. At Nagoya Dome-Mae Yada station there is an impressive bit of photo history of the Dragons and all sorts of posters of past and current players. Neat.
My seats weren't exactly in the outfield ouendan but pretty close. The area was a big mix of Chunichi and Lotte supporters with generally more Lotte supporters than Chunichi. As is usual at these interleague games (except for Kyojin games) everybody was really friendly and eager to strike up a conversation. I ended up sitting with a group of locals about my age, 3 guys and two girls. The guys were all Lotte fans and the girls were wearing Lotte black but one of them confessed she's really a Chunichi fan, but wanted to support Lotte for the novelty of it. Fair enough.
They couldn't believe I came all the way from Chiba for a game (and in fact for Friday's game I didn't see anyone I recognized except for the ouendan leader) – I told them I was originally from Texas so, yup, my name was now Texas.
"Hey Texas! Are we going to win?"
"Yee ha!"
The game started off just dandily. Ohmine was on the hill after a several week ni-gun demotion to work on his tendency to pitch like the best guy on the team for several innings and then get killed like it was, well, me pitching. Nishimura pulled an odd trick at the start of the game that I have been stewing over ever since (since done again at Jingu) – he put Ohmine in the 8th spot and registered Murphy as the CF. Before the team took the field he substituted Murphy with the real CF – Okada, in this case. I suppose it was to put righty or lefty in depending on the actual matchup but it seems like a huge bit of overthinking to me.
Anyway – Ohmine was pretty decent on the night, certainly good enough to win with only 1 earned run in 5 innings of work. Why only 5 innings? Well he came up to bat with one out and a runner on second so out he goes. Immediately out went pinch hitter Aono as well, so basically Ohmine was pulled for nothing.
Lotte took a 4-1 lead in this game thanks to some great batsmanship by Imae – 2 doubles and a single, 3 RBIs. His second double was in the top of the 8th and came off a play where Chunichi CF Cesar went full tilt into the wall to catch Imae's liner, hit the wall violently (had to come out of the game), and 2 runs came in. The other RBI was provided by a solo shot by Ohmatsu in the 6th – after which my new friends and I hugged, danced, and sang together like fools. Even the Chunichi/Lotte fan girls were enjoying the runs.
"Texas! Let me buy you a beer! Yeeeeee!!!!!!"
As these things happen, one moment you are the hero, another, the goat. Yabuta started the 8th as the 5th – 5th! – Lotte pitcher of the evening. He's been solid, but not this night. First he gave up a leadoff walk to Araki, was bailed out by a DP, but then walked Morino again. He was not looking good. Blanco stepped to the plate, smashed a ball at Imae, the man who had provided virtually all the offense to this point, Imae, with a chance to bail out his struggling pitcher, Imae… dropped it. Oh. Next up to the plate is Wada and predictably – first pitch – way gone. Way.
Sheesh.
I curl my lip in disgust. After a minute or so passes one of my new friends turns and looks at me:
"OH! Texas is angry!"
"…So desu…."
From that point on we entered a weird zone. The Lotte offense could manage nothing in the 9th, so it was up to the bullpen again – and the 6th and 7th Lotte pitchers, Kentaro Hashimoto and Kodai Matsumoto. It sure got… interesting in the bottom of the 9th as the two combined to walk a pair, leading to a Morino single in front of a charging Ohmatsu in left. Ohmatsu gets to the ball quickly to hold the runner at third – bases loaded, 2 out. Blanco is up again, Chunichi fans are going wild. Blanco takes a pitch from Matsumoto, drives it over Tsuyoshi – it dives, Ohmatsu gives chases, sprawls… and comes up with it! Whoa! We go CRAZY.
It's now in extra innings – we're past the 4 hour mark, mostly because of all the pitching changes but also because Chunichi starter Chen was working s-l-o-w-l-y early on. Seriously, the top of the first took over 15 minutes and only 3 batters came to the plate. No wonder it was past 10pm at the top of the 10th!
Our Marines could again do nothing at the plate. We were tired. Fans were tired. My neighbor looked at me – "Texas! Are you tired?" "NO!!!" I lied.
In comes Kobayashi, perfect on the year. He gets the job done in the 10th, but thanks to no offense again he's back out in the 11th. He's tired – he hasn't gone more than an inning all year, and it showed. Sure enough, Chunichi got men on, sure enough, Blanco came to the plate again with a chance to win it, sure enough, single through short. 5-4 in 11, 4:45 game, home fans all happy. Us, not so much. Well, except for the two girls in Lotte black next to me – in the 9th the girl next to me said, "Um, I gotta support Dragons now. So sorry." I totally understood.
It was a fun, if looooong game and at the least I had a great time cheering with the away fans.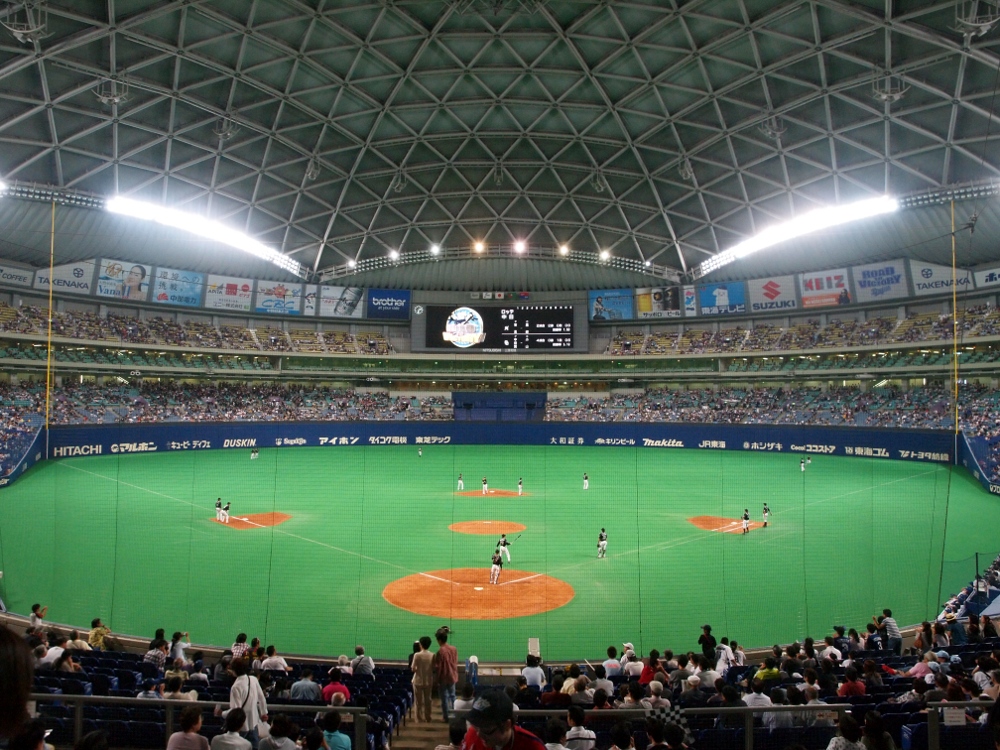 All the elements were in place for a Saturday comeback. I was well rested, the team was well rested, the fans traveled in from out of town in huge numbers, and quite frankly, we have a damn good team. Yoshimi was on the hill and he's been great. The offense leads all baseball in runs scored. Yeah, it was all there. Two big problems, though:
1) Yoshimi was dead horrible.
2) The offense looked basically like this – Kim Tae Kyun.
In retrospect, not the best recipe for success.
Tsuyoshi had his second horrible day in a row, this one with 4 Ks and no hits. Yoshimi gave up 6 earned in less than 5 innings work, ick. Some days we could recover from that, but not this day. Lotte had a huge chance in the 3rd with bases loaded and one out, Tae Kyun coming to the plate. He smacks a ball that looks like a high shallow pop – but it just keeps going up, out, out, out, out, eventually getting reeled in at the center field warning track. It was about as high and long as you could hit a ball and keep it in the park.
Familiar faces kept streaming by – first was my usual buddy John (as expected), then some people I met after the game the night before, then some friends I know from online, then some Chiba Marine stadium staff. It looked like a home game with all the familiar faces! It helped that for this game I was somehow sitting front row of the ouendan – so if you watched the game on TV I can assure I was on the broadcast the whole game. It was the perfect storm of TV exposure – they always show the Lotte ouendan, I was front row, they like showing me on TV, and we had a very cute girl sitting next to us.
Of course, was also not surprised to hear a) "Hey, Texas! How's it going?" b) "Oh! I saw you on Chiba Terebi last weekend! You shook hands with Imae!"
Lotte was down 6-3 late in the game when Tae Kyun singled in another run to make it 6-4. Unfortunately Chunichi got the run back in the bottom of the 8th, so in the 9th Lotte needed to stage a 3-run comeback. With one out Imae singled, them Iguchi flied to left for out two, leaving all of our hopes up to Tae Kyun. He was facing Iwase, who had given up only one run in 16+ innings on the year. It was a tough matchup, but Tae Kyun was up to it. He smashes a ball deep, right at the left center fence…. and over! All of a sudden it's a 7-6 game!
But this isn't a fantastic story as I mentioned up front – pinch hitter Aono strikes out to end it. Yuk.
I spent quite a bit of time socializing with the Osaka ouendan after the game as both they and the Chiba contingent came out in force. I actually ran into some old cheering friends I met several years ago but hadn't seen since last year at Koshien. So really the results of the games were, um, less than optimal but it was a damn fine weekend of baseball nevertheless.