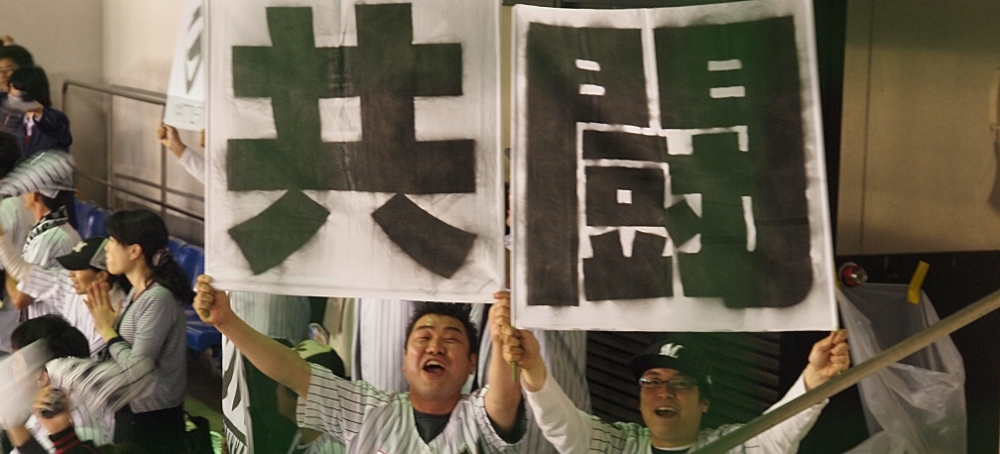 Late in Tuesday's game with Los Gigantes del Yomiuri I had a chat with one of the Chiba Marine security guards I know in passing.
Him: "This feels good."
Me: "Yeah, yeah it does."
Him: "I went to both of the games in Tokyo Dome. Bad, very bad."
Me: "Mmm."
Him: ((pauses)) "This feels REALLY good."
Let's put it another way – I certainly didn't feel any worse after Wednesday's close to the 2010 Interleague games with Yomiuri. 3 shutouts in a row, undefeated at home since May 5, our young ace Naruse on the hill – I loved our chances. Turns out I was right to love out chances as Naruse gave up but one run on 5 hits with 8 Ks and the offense beat the Yomiuri pitching staff into a pulp – AGAIN – as Lotte poured it on in a lovely 8-1 victory. It felt REALLY REALLY good this time.
Sure, cynics might say the overall series ended 2-2, but consider this:
1) Lotte lost by two runs in each of the Tokyo games. Yomiuri lost in Chiba by an average of 9 runs.
2) Yomiuri ran out to big leads at home only to have the pitching implode late, requiring a visit from closer Kroon. Lotte's pitching at home had such a hammer lock on the Giants bats that Nishimura substituted freely in the late innings with people who rarely saw action in close games (Furuya, Aono).
3) Yomiuri belted 8 HRs in that dank batting cage-like Tokyo Dome yet could only manage a single run on a sac fly in a normal park. I can't be bothered to do any research on the topic but I suspect their home/road HRs splits are extremely heavily tilted towards home.
So the standings may say we tied them but the moral edge must go to Our Men of Lotte. Sweet.
In this game Yomiuri actually cranked out all of their offense in the top of the first. Sakamoto hit a leadoff double and was eventually brought home by the aforementioned Ogasawara sac fly. Lotte grabbed that run right back in the bottom of the first thanks to three hits capped by a timely single by Iguchi (scoring Tsuyoshi, who is now up to an insane 54 runs scored this year and a .364 BA/1.016 OPS). Lotte took the lead in the bottom of the second with a single by Saburo and a great double by Fukuura (in the DH spot – now batting .324 w/a .883 OPS but without enough ABs to qualify for the leaders).
Lotte completely busted the game open in the 4th thanks to 6 singles including 5 in a row off Yomiuri starter Dicky Gonzales. The real highlight came via the first NPB RBI for rookie CF Yoshifumi Okada, who got the start in his second ichi-gun appearance ever. It was a bit eerie to see a nice rookie patrolling CF, delivering clutch hits, and stealing some bases (Okada had 2 SBs in the game). For one game, at least, it felt like our Ogino (Ta-Ka-Shi!) was back – alas, not for another 6-7 weeks.
When I got home after the game I watched Yakyuu Suki News on J-Sports – one of the talking heads labeled Okada as "S-Okada" for "Speedy Okada" (as opposed to Orix's T-Okada, which could be Timely Okada after that 3-run walkoff HR he had on Wednesday. But I digress.). It was a great debut, hopefully he can continue to fill in nicely until Ogino/Hayasaka can get back in the lineup.
Lotte capped the scoring in the 6th with a sweet RBI triple by Tsuyoshi (scoring Okada) and a sac fly by Imae. Naruse went the distance on 133 pitches, guaranteeing the Giants wouldn't get more than that one early run. Is 1 run given up over 4 games/38 innings good or what? All the starters recorded at least one hit tonight as well as the team racked up 15 hits in all. Tsuyoshi, Kim Tae Kyun, Saburo, Fukuura, and Satozaki all had multiple hit games.
For this game I sat with some friends in one of the great home ouendan picnic boxes. These are perfect if you are with a few other Lotte maniacs and want a spot to enjoy the game together. I got to get all loud with the normal gaiya ouendan (though separated as the boxes are attached to the infield, not outfield section) – even got to share long distance high fives every time we scored. Good stuff.
Up next is the last road trip of interleague – first to Nagoya to take on Chunichi and then to Jingu for the Swallows. Being the maniac that I am, I'll be at all 4 road games!