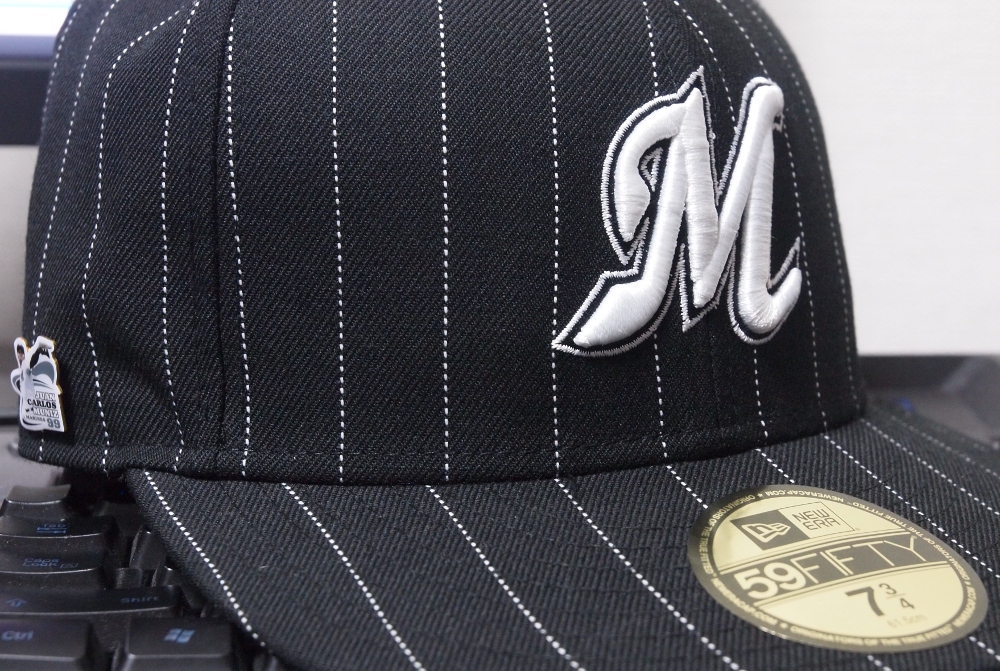 I took a break from writing, the Marines took a break from winning.
Actually, the first week I didn't write anything was due to the games running so-o-o late. Lotte played 12 inning games on consecutive nights (tying one, losing the other very very badly in the 12th), the second of which went so late I barely made the last train (12:15am – a 5h30m game!). Later that same week Lotte won a game in the 10th – 5 hours into the game. In the 10th!
I was tired, so I took a break.
After the post-interleague break – Lotte finished 4th this year, stumbling to the finish after being 1st with a bit over a week to go – the Lotte offense is still on break. In the three games played since Pacific league play has restarted, the Marines have scored a grand total of 4 runs. Great.
But I know the problem – my headgear. See, after we joyously crushed the Kyojin at home at the beginning of the month I treated myself to a new hat – the one in the picture. Since then, I've worn the hat 6 times to games, and we've lost all 6 games. This cannot be coincidence!
Evidence:
Kobayashi had not given up a run before I bought the hat (the BH era). In the after hat era (AH) he has blown two saves and taken the loss in another game – in 5 appearances!
BH – Yoshimi was great in 2 appearances – he seemed like a real nice pickup. AH – he's been shelled. Tonight he got beat up by Orix – 5 runs, 3 ER. 3 consecutive losses!
BH – Iguchi and Nishioka were great. AH – Iguchi has been horrid except for his 4-6 + sayonara HR game vs Hanshin, and Nishioka has been nowhere to be seen.
BH – we won 4 in a row with three shutouts. AH – 3-7-1.
And the kicker – I have worn the hat in 6 of the 7 losses!!! (The one loss sans hat is easily explainable by needing to resort to our worst pitcher – Kawagoe) I DIDN'T wear the hat to two of the wins (10 consecutive hits + 10 runs vs Yakult, sayonara HR by Iguchi) and I watched the third on TV.
I'm telling you, it's the hat. And I am going to wear this damn hat until we win a game! If we lose again against Orix tomorrow, you know who to blame.