Sure, Spring Camps have opened as of this week, but I'm talking about Blog Spring Camp.
I went into a bit of a hiatus after the end of last season (as you may have noticed). Because I had to go on a business trip the last week of the season I missed the last game. When I returned the season was over, no more games, players scattered to the winds, staff out of the country (including great guys Frank and Larry and our kantoku Bobby). I had many pictures to share and I wanted to discuss the goings on of the Climax Series(s) but it sorta of seemed inappropriate.
It was much like someone hit me with a water balloon at my birthday party instead of giving me cake.
So I let the time pass, let things settle, the calendar turn to 2010 and lo and behold – a new season is already here. But much like the players I'm a bit rusty, so it's Blog Spring Camp time. Apologies in advance.
It's been a very eventful offseason with many player losses and additions and an entire new coaching staff brought in. I'll get to the "remaking" of the franchise's image in another post (distasteful as it is for management to want to remove all vestiges of the most successful coaching staff in team history) and look at some of the other, lighter changes. Satozaki isn't swinging for the fences on the first day of camp, is he? (Wait, yeah, he probably is.)
Uniforms
If you haven't seen them yet, the team is sporting all-new duds this year. For reference sake, here's last year's unis: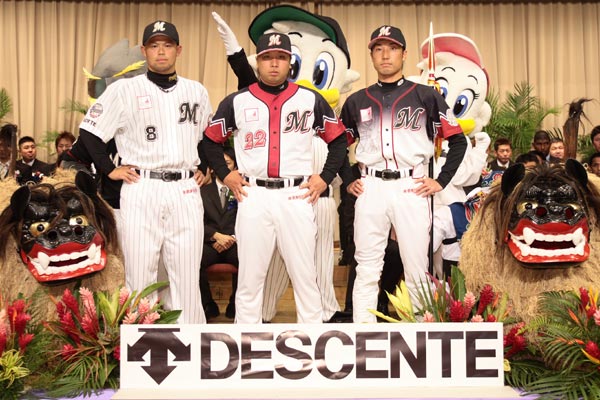 And here are the 2010 unis: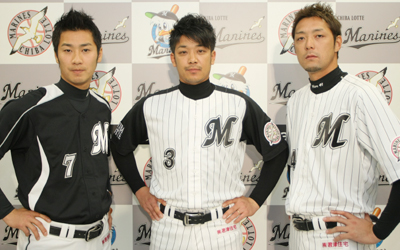 The primary home uni looks quite similar to the recent primary uniform, though I have yet to see them side-by-side to make a comparison. I really never liked the late-model road unis so pretty much anything is an upgrade, but I'm still not sold on them. I saw it in the Marines shop today and it doesn't look bad, but I think it will have to grow on me. My all time favorite is the old light blue road jersey like this one:
And I am also very partial to the all-black 2000-2004 road unis. Anyway.
The new alt home jerseys, though, I don't much like at all. They look too much like practice jerseys, something you see an ikusei player snagging fly balls in.
I'm sure all of them will look fantastic once we start winning games, though!