The last home game of Marines was a rainy day. The game started at 6 :15 p.m. Rain kept falling and hard wind blew sometimes. Supporters put on rain coat or held umbrellas. Many Marines supporters showed up and cheered up for Marines. Marines were 5th of the Pacific league, and the opponent, Rakuten, is battling for 2nd place. Rakuten wanted to seal their 2nd place because only first and second place of the league can host post season games at their home ground. Winning last home game meant a lot for Marines because legendary coach, Mr. Valentine, and legendary pitcher, Komiyama, were leaving this team. All Marines wanted to win this game for the two.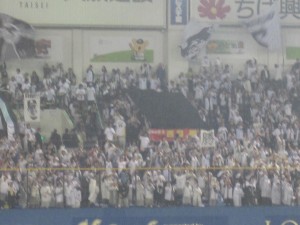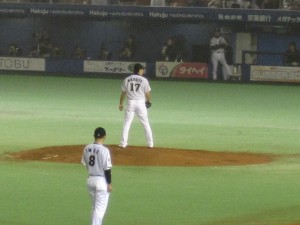 Marines starters seemed determined today. The starting pitcher of Marines was Naruse. Naruse was caught on 2nd , and Rakuten led 2-0. Saburo hit home-run on the bottom of the 2nd . The following inning Marines tied the game 2-2. On 8th , both Ohmatsu and Imae hit 2 base hits and led the game 3-2. Hashimoto got a four ball and Satozaki hit a 3 base hit that sealed the game 5-2.
On the 9th inning, Sikorski got 2 out, and coach Valetine called Komiyama. Many Marines funs chanted his name. The Rakuten next batter was Seguignol. Komiyama saved the game, and recorded his name in Japan professional baseball history as the oldest pitcher who saved a game.
After the game, Komiyama and Valentine made heart-warming speeches. Komiyama expressed his appreciation to Marines funs and his wish that he wants to come back as a pitching coach. After Komiyama`s speech, people chanted "Valentine, Valentine, and Valentine." The legendary Marines coach, Valentine raised his hand to respond to funs. He started reading his poem, saying, "I always feel soft breeze of Chiba on my cheeks. Marines Ouenka is always in my ears. Loves of Marines funs are always in my heart. I will never forget Chiba Lotte Marines and love you all. At the end he said, "Anata-tachi wa ichiban desu (You are the number one)." They were the heroes of Marines. We will remember you, and our soul will always be with you.
P.S
I was quite impressed by the old couple, sitting behind of me. By the way, I was under no roof (Naiya-seat). From the beginning of the game (18:15 p.m) to the very end (22:30 p.m), they were there even though rain got harder and harder as the game went on. They were probably over 70 years young. Under such condition, it was even hard for young people to keep watching the game.
"Love Love Love Love Marines♪"