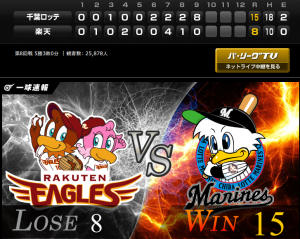 There is something I really needed to see on Thursday. The big win you see in the score next to this text? Yes, that, but specifically that 9th inning. What a glorious way to win a game!
Let's go back a bit.
Craig pointed out the mess that was Sunday's game at the tail end of his optimism fest a few days back. Our Marines looked to shake off that bit of nastiness with a great performance from Ayumu in game 1 of this week's series in Sendai, and that is exactly what we got – a no run, 7 IP performance. The bats were really held in check by Shiomi of all pitchers, but Navarro Ganbarro eked out a 4th inning RBI that looked to be enough to seal a win. Ishikawa –> Matsunaga –> Masuda, and this held true. But formerly reliable Nishino imploded yet again in the 9th, giving up 3 hits including the walk-off on just 11 pitches. That's 3 blown saves in the last 5 games for Nishino, 6 ERs yielded in that time, and a full-on bullpen crisis.
Future young star Kota Futaki hit a little bump in the road to awesomeness in game 2, as he had to leave in the 5th inning after giving up four straight hits culminating in back-to-back Ginji and Wheeler jacks and 5 ER. The pen kept the game close, but the almost entirely Despa-and Shogo-based offense could only get 3 runs off of Mima and the boys, so game 2 ended up as the first 3 game losing streak of the year.
Game 3
I can say that without a doubt this is one of the stranger games I've ever seen. Lotte Ace Wakui faced new import Jake Brigham, and for innings 1-6 this game looked much like what one would expect a normal baseball game between two professional teams to look like, as first Rakuten took an early 1-0 lead, Chiba tied it on a Katoh (yes!) timely, only for Wheeler to take Wakui deep for a pair of runs, Navarro and Kiyota to tie the game on a pair of timelies… You get the idea, normal game stuff.
The lucky 7th is where things got… Interesting. First, Our Marines charged ahead with a pair of runs on a Despa timely and a Navarro sac fly (which was reallllllly close to a grand slam) – wait. I can't overlook that Despa timely. It was a shallow fly between short and left, both fielders had a play, neither actually wanted to make that play. Should have been no runs and one out, but it was a run, and the Navarro sac fly made it a 5-3 game.
It needs to be mentioned that Shogo took a pitch off the freaking skull in the middle of all that, but stayed in the game.
Wakui is usually good for anywhere between 120 and 983 pitches, so it was pretty surprising to see his control gone in the bottom of the frame. Never mind, here comes Matsunaga, who promptly loads the bases with 6 straight balls before getting a punch out. In comes the rock-solid Masuda, who throws a delicious high meatball to a hungry Wheeler, who devoured it for a go-ahead grand slam. Oh boy. That 5-3 Lotte lead rapidly turned into a 7-5 deficit.  
Top 8, reliable veteran Kam Mickolio takes on the bottom of the Chiba lineup, dispatches Kiyota and pinch hitter Okada (?) by K, before being taken yard by Big Hitter Nemoto (??).  Another Shogo hit (his third of the game) followed plus a swipe of second, allowing Katoh (!!) to tie the game with a single.  CRAZY.
Uchi takes over bottom 8, good ol Uchi, my favorite pitcher Uchi, Uchi gives Rakuten the lead by allowing a dinger by grizzled vet Kaz Matsui (who is pretty close to finished as a player, except when he plays Lotte, apparently).  Unexpected…
Young Rakuten closer Yuki Matsui takes over.  Navarro draws a walk with one out, Daichi singles him to third, and KIYOTA ties the game on an infield hit!  Can the bats do more?  Yoshida draws a walk from an 0-2 count to load the bases for Nemoto – no! Iguchi is in to pinch hit AND HE BREAKS THE GAME OPEN with a 2-run single!  Shogo up next, he's reached in all 5 appearances and may I remind you he got hit in the noggin not 2 innings previous – SWING AND GONE!  a 3-run jack, it's a 5-run lead now.
Still just one out, Matsui pulled for rookie Ishibashi.  Katoh at the plate – he smashes one off the fence, just missing another homer.  Despa singles him in because of course he does, Navarro draws another walk, Daichi another, Kiyota another WAIT that's too many and yet another run!
Folks, so many times Our Marines looked done in this game only to fight back.  And again.  And again.  But 8 runs, on the road, after massive, repeated bullpen failures – we can never forget that this team can score a ton in a hurry, and even when the pitching is a mess, the bats will give the team a chance at victory.
Still – 8 runs!  In the 9th!  Against a really good closer!  That alone just about washed the previous three games' stench away.
As an Aside
Now that we've played through about 6 weeks of the season, it's interesting to compare the season so far for our hero for many years Imae, and basically his young replacement, Shogo. Keep in mind that it's early going.
[x_image type="none" float="none" src="http://www.welovemarines.com/wp-content/uploads/2016/05/Selection_011.png" info="none" info_place="top" info_trigger="hover"]
All of us Lotte fans will always love Imae and wish him well, but at this point young Shogo has proven to be a more than capable replacement at the plate. And, Shogo is just 23 to Imae's 32.
[x_share title="Tell The World" facebook="true" twitter="true" google_plus="true" reddit="true"] [x_author title="About the Author"]