Our Marines went 4-1 this past week, sweeping a pair of games in the Seibu Dome and taking two of three in a home set over the Fighters. As you may recall, one Marines blogger (OK, it was me) took a positive approach toward Lotte dropping three of four the week prior to last. Well, it turns out the reasons for my optimism going forward actually played out as expected this past week. Young Futaki proved effective against yet another Pacific League foe; Ayumu Ishikawa threw another solid seven in his second start since returning from injury; and Yamaico Navarro continued living his debut dream sporting a .959 OPS in his first seven games.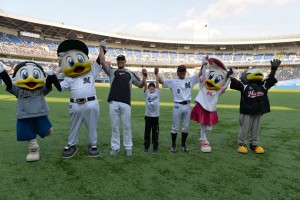 Lotte took both games against the Lions this week thanks to quality starts by Ishikawa & Futaki, and one big offensive inning in each game. Ishikawa gave us 7 innings of 1 run ball in the first game, improving his record on the year to 2-1 with a 1.69 ERA in 3 starts. Our Marines scored 4 runs in the 4th inning, en route to the
5-2 win
. The runs came on a
Despa
2-run HR, a Navarro RBI double, and
Tamura
sac fly.
Futaki took to the mound in game 2, following his roller coaster start last week against the Hawks. Futaki showed no hangover effect from last week exiting the game with a 5-1 lead after 6 IP, eventually earning the win in a 7-2 Lotte victory. Captain Daichi, Kakunaka, and Shogo Nakamura each knocked in a pair of runs in the winning effort.
The bats mentioned above have come up big a lot so far this year. Even with Navarro not having enough ABs to quality, Our Marines still have 3 batters in the top 10 in the PL OPS ranks: #2 Captain Daichi .895; #7 Kakunaka .860, #9 Despa .843.
Things kept on keeping on as Our Marines headed home to VERY WINDY MARINE FIELD for a three game weekend set with the Fighters. A 5th inning 2-run Kiyota HR was the difference in game 1, with Lotte taking the win 4-3. Wakui improved to 5-0 2.59 with 7 innings of 2-run ball. The only worrying part about this game was Nishino's near blown save, giving up his 4th run in his last 4 innings as closer. Let's hope he turns it around soon, lest he lose the closer's duties to Uchi – 1-0, 8 holds, 11 IP, 1 ER, 3H, 2BB, 13K.
Lotte took the win the next day, claiming game 2 5-1 over Hamu. Nemoto had the big hit of the day, a 2 run double in the 2nd. Nemo finished with 2 hits and 3RBI, with Okada and Navarro each adding RBI singles. Jason Strandridge got the win on 6 2/3 innings, 2 ER. That was just Jason's 2nd win of the year, as his 2-3 record falls short in representing the true value of that he's contributed to the rotation so far this year, averaging over 6 2/3 IP per start with a 2.43 ERA.
The week ended on a less than positive note, as Yuta Ohmine seems headed out of the rotation after being charged with a 5 runs in 1+ IP in the Fighters series finale. Our Marines couldn't mount a full comeback against Shohei Ohtani, despite tagging him for a 4 run 4th inning on a Tamura 2-run triple, followed by RBI singles from Okada and Navarro. Ohtani went on to retire the final 19 batters of the game, giving Hamu the 9-4 win. Then there was rookie Taiki Tojo's debut inning pitched, a hitless scoreless 7th inning. So naturally, he stayed out to get tagged for 3 runs in the 8th.
Annnnnnway, let's end this on a cheerful note with a little WE ARE! from Saturday's win. If you listen closely, you may even hear Steve & I in the triumphant chorus of Marines faithful…
[x_video_embed type="16:9″][/x_video_embed] [x_share title="TELL THE WORLD" facebook="true" twitter="true" google_plus="true" reddit="true"] [x_author title="About the Author"]