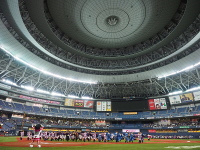 The Men From Makuhari headed to Kansai this week for the first series of the year vs the suddenly strong Buffaloes, winners of 5 straight coming in. But after receiving a beating at the hands of second place Orix in game 1, Lotte rallied to take games two and three to win their second series of the year.
---
Game 1
Lotte 1, Buffaloes 11
WP: Dickson LP: Ishikawa
Game 2
Lotte 6, Buffaloes 4
WP: Standridge LP: Matsuba
Game 3
Lotte 3, Buffaloes 2
WP: Nishino LP: Yamaoka
A recital of the terrible events of game 1 would cause even the most jaded observer to shed a tear, so I won't ruin your day by descending into too much detail. Ace #2 Ayumu showed no control, consistently missing the zone and getting hit when he did find the plate. Staff mates Tojo and Takano fared little better, getting lit up for a combined 6 runs in 5 innings of relief. Chiba scratched out but a single run, this when already down by 8, before coughing up another triplet to lose by 10, the third loss in a row.
That's two straight poor starts from Ishikawa – ~220 pitches thrown in just 8 innings this season. Clearly the lack of regular work this offseason with the team has affected his preparation.
The Orix D did Our Marines a solid in game 2, committing a pair of errors to allow three unearned and the margin of Lotte victory. A massive lineup shift meant perpetually prospective Ishimine led off, and he responded with his first, second, and third hits of the season (scoring twice), earning the hero interview. Starter Standridge had a much better outing than his first start of the season, still having troubles throwing strikes, still getting hit a bit, but able to keep his team in the game by only giving up two earned in 5 innings of work. The bullpen combo of Ariyoshi-Ohtani-Uchi-Masuda took it home, with only Ohtani allowing a hit (he allowed three and a run before getting bailed out by a DP).
The rubber match featured a really great pitching duel between Yuji Nishino and Orix first round draft pick Taisuke Yamaoka, making his first pro start. Our Marines managed a pair of baserunners in the first inning and another in the second before Yamaoka settled in, recording 13 outs in a row from the second to sixth innings (helped by the guys swinging at some pretty marginal pitches). For his part, Nishino delivered the most effective start of the season for a Lotte pitcher so far, exhibiting nice bite on his fork and hitting his locations well. He largely cruised through the first four innings before getting in (and out) of a bases loaded jam in the fourth, and his only lasting damage was a solo shot by T-Okada in bottom 6. Final line – 6 IP, 6 hits, 2 BB vs 5 K and just the one run on 95 pitches.
It looked like Yamaoka might get the win in his first start, but after the Okada HR the Lotte bats came to life – just enough. In the Lucky 7, (Oretachi no) Fukuura led off with a walk and AJA doubled pinch-runner Katoh to third. Newly called up Hosoya (KEI!) then smashed a 1-1 Yamaoka fastball deep into the left field stand, a 3 run blast, and a 3-1 Lotte lead.
Otani-Uchi-Masuda closed it out, not without drama as Masuda gave up a run on three hits to make it a one-run game (don't look too deeply into that – his control was good but was not getting the calls on the edges of the plates, and a potential game-ending double play was missed behind him). Not the prettiest of series wins, but a series win nonetheless.
Notes
Kakunaka left Wednesday's game in the first with an injury to his left side. It's unclear how long he will be out
Thursday's game is the first this season where either Duffy or Paredes did not play, and in fact neither played
Next series is a three game set at Zozomarine vs Seibu
[x_share title="Tell The World" facebook="true" twitter="true" google_plus="true" reddit="true"] [x_author title="About the Author"]