I originally wrote this post as "On Pitching: Lotte vs Kyojin, Interleague Games 3 & 4". It was a bit of a sarcastic title as there was little pitching to be found in that series. Actually, Naruse was quite decent in Saturday's 4-2 loss in Tokyo Dome, if you look past the three HRs he gave up – which were, incidentally, numbers 14, 15, and 16 on the year. I was at Tokyo Dome on Sunday for Lotte's 10-8 loss – yet again, the pitching was purely to blame as Lotte hurlers coughed up 5 HRs. Ohmine took the loss on 4 ER but he actually pitched much better than his replacement, Kodai Matsumoto. The 1st inning HR Ohmine gave up to Abe was probably the biggest HR I have ever seen in person. It was listed at 145m (~475ft) and I don't doubt that for a second.
Despite the 5 HRs given up the Lotte offense made a go of it and tried to wipe out a 6 run deficit in the 9th with blasts of their own. Nishioka started with a 2-run shot (scoring Aono, making his first appearance at ichi-gun since 2007) and Kim Tae Kyun hit his second of the night into the left field stands. The rally would fall two runs short, though.
I was reminded again why I detest Tokyo Dome. Not only is the inside temperature better suited for growing vegetables, and not only are the seats designed for people with extremely short legs, but the beer prices are exorbitant and the security oppressive. After Sakamoto hit his 6th inning homer into the left field stands – about 3 rows directly below my seat, actually – three security personnel came to make sure there wasn't an 'incident'. Of course some of the Lotte fans were egging the guy who caught the ball to throw it back but Tokyo Dome security reacted as if they guy might hurl a grenade, not a baseball. They stayed there for a good 5 minutes, taking names, talking on radios, making sure there wasn't the slightest disruption to their order. What, did they think a Lotte fan was going to try to bean the nearest player – Ohmatsu?
Lotte fans were good and ornery all game, though. Every time turncoat Yomiuri rookie Hisayoshi Chono got out – 4 times in all – all sorts of obscenities were yelled at him. I missed a golden photo opportunity as my camera was in my bag – as the Giants Lucky 7 started and the huge Giants flag was unfurled over the outfield, one young gentleman in front of me stood, gave the thumbs down with his right hand and the middle finger with his left, booing away. It would have been a nicely framed bit of baseball hatery but hey, if the camera isn't ready you can't get the shot.
So with our best pitcher giving up dingers like it's batting practice, our bullpen not named "Yabuta", "Kobayashi" or "Akichika" dishing up fat pitch after fat pitch, and with the news on Sunday that My Favorite Pitcher – the Baby-Faced Killer – would be out for a month with a broken finger it seemed appropriate to complain about recent pitching in 'On Pitching'.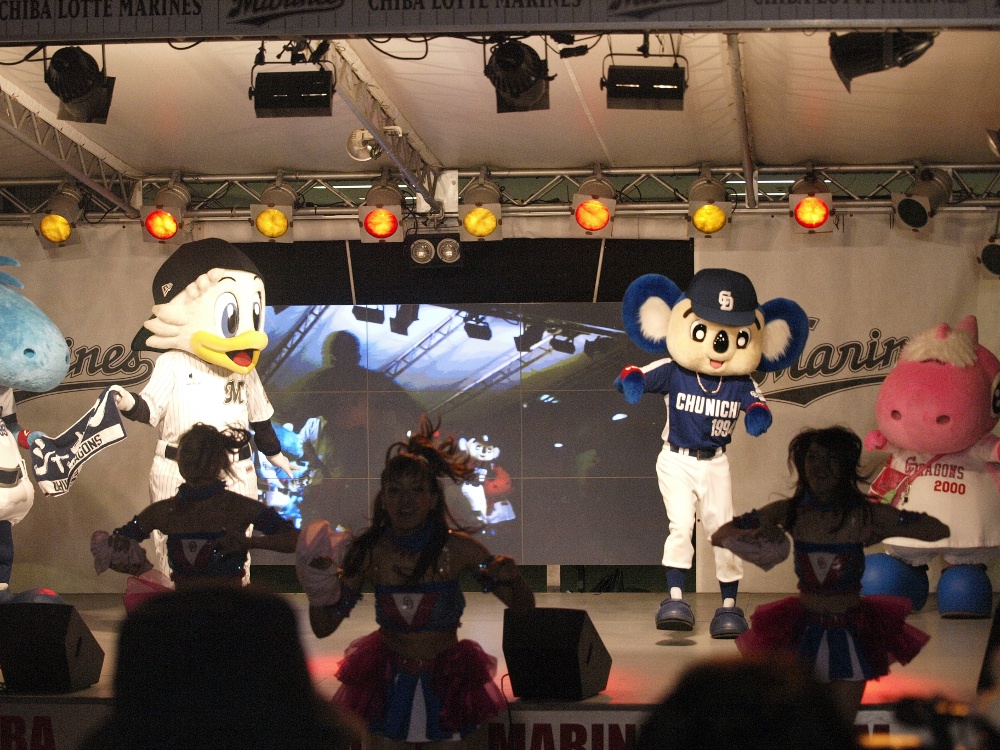 ANYWAY this post is supposed to be about the Chunichi series – and for the Chunichi series the title "On Pitching" is totally un-ironic. For both games I scored 3rd base side picnic boxes so we could have a mini-interleague party. On the Lotte side was Your Narrator and my usual yakyu buddy John, and on the Chunichi side was Nagoya natives Yuko and Kaori. Our friend JK played the roamer role, convinced to support the Dragons (but secretly supporting Lotte in his heart, I am sure.)
The first game was great fun – Shunsuke vs Kenta Asakura with el submarinero delivering some of the best pitching I've seen from him all year. Watanabe gave up but 2 runs later in the game and pitched with real grit – 6 K's in 6+ innings of work. He allowed some baserunners – 7 hits yielded – but did a bang-up job of preventing runners from plating. Chunichi had a nice scoring chance in the second with two on and only one out, but Watanabe coaxed a DP ball out of Tanishige to end the threat.
Lotte got on the board in big-inning fashion in the bottom of the third. A double by Tsuyoshi scored Imae, a single from Kim Tae Kyun scored Tsuyoshi, and Iguchi scored on a single by Fukuura. The inning could have been even bigger but Satozaki struck out with the bases loaded for out three. The third base side boxes – and of course our box – was of a mixed mood. I tried to get our Chunichi fan friends to celebrate our three run inning – after all, who DOESN'T like a Lotte three run inning – but they weren't biting. The box next to us was also mixed Lotte/Chunichi fans so John and I celebrated with them. 3-0 Lotte after 3!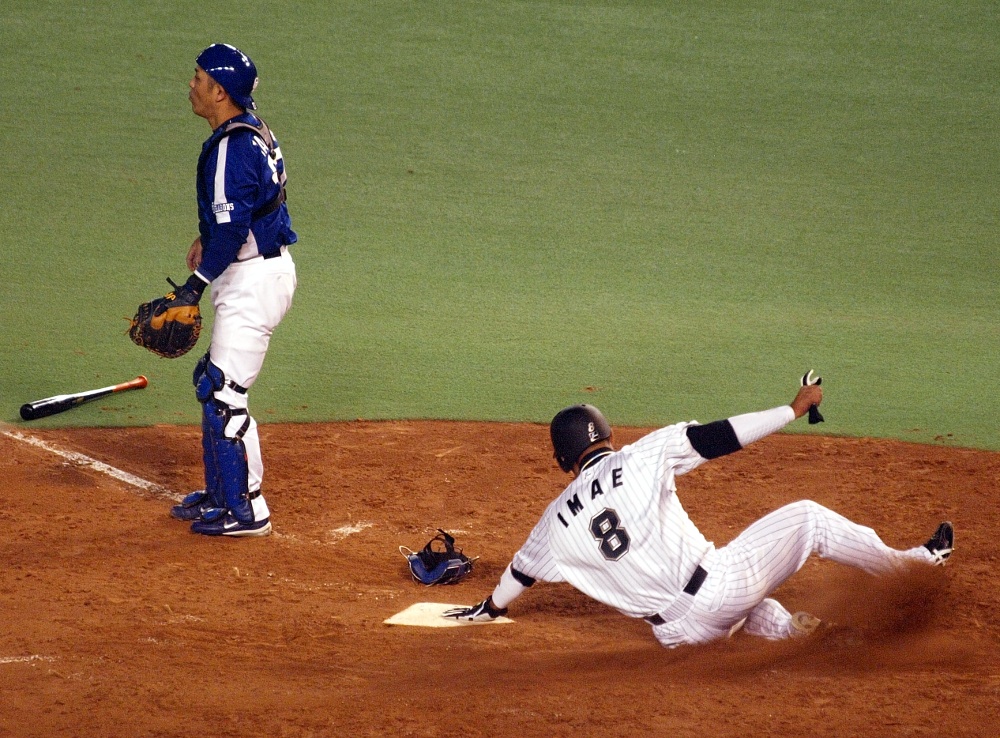 Actually, we were right up against the closed-in 10 person boxes. The one behind us had an older couple, a few 20-somethings, and some teenagers. They were really into the game, which is a bit unusual for people in those boxes, I think. After each run I climbed up and high-fived the whole lot of them. They sang the ouenka loudly with me. It was like a mini-outfield on the third base side!
Chunichi chased Shunsuke in the 7th after a 2-RBI single by Tanishige. In came Itoh (uh-oh) – he shut down the scoring, though, with two outs on two pitches. Doesn't get much better than that!
In the 8th Lotte plated an insurance run. Imae stroked a two-out double and Speedostar Tsuyoshi drove him in with his second double of the night. 4-2 Lotte after 8 – more high-fives with the box behind me, and in comes Kobayashi to close it out.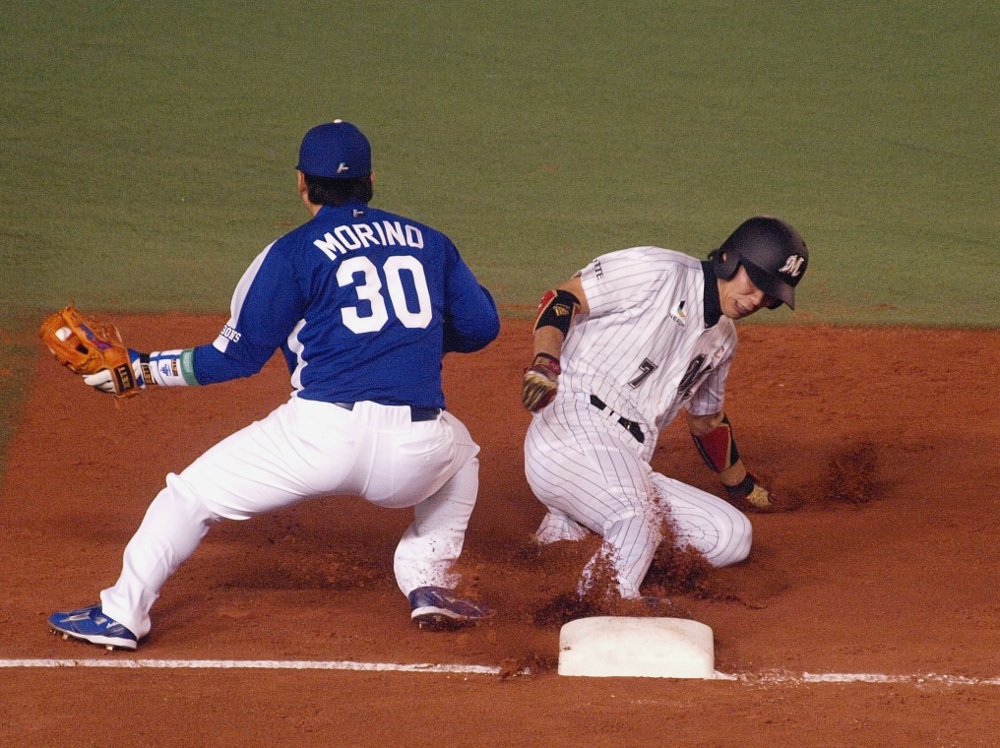 Kobayashi has made a smooth transition from a dominant starter several years ago to a starter-with-issues the last two years and into a dominant closer this year. It's late May and he has still to yield a run. What negatives can possibly be said about that? This night he was great even by the high standard he has set this season – 3Ks on only 11 pitches. 11! It was a no-doubt save of the 4-2 Lotte victory!
We danced the Nishimura dance, we sang victory songs of old and new vintage, we celebrated with high-fives and throat-destroying screams. Chunichi fans weren't happy, but I'm sure even they found it an entertaining game.
After the game I chatted a bit with the people in the box behind me. The older gentlemen said to me "Actually, I am a player's father" Me: "Really, wow! Who?" Him: "Do you know Karakawa?" Me: "AGAGAGAGA!"
Yes, I had spent the whole game singing, dancing, cheering, and high-fiving with My Favorite Player's mom, dad, sister, and family. How awesome is that? I told them how I have met their son several times and how he was always friendly and gracious when talking with me, and how he spent time chatting and taking pictures with me in Ishigaki when I am sure he was tired and wanted to hit the showers. His whole family was really nice, too – obviously core Lotte fans as well – so you can see where he gets the great attitude.
At Kaihin Makuhari station after the game a rather beefy foreign gent in a Marines hat strolled by – as he passed us by he really obviously hid his face from me. I think it was Bill Murphy, though – I guess he didn't want to chat?
Wednesday's game was supposed to be under cloudy skies, but in this case cloudy = rain the whole damn game. The weather forecast said nothing about rain so I was stupidly unprepared and got soaked. But hey, so are the players so I am just being sympathetic, right? Or something like that.
As you can see from the banner the starter for this game was converted reliever Bill Murphy. He's started one other game this year, a victory over Daiei at the beginning of this month. On this night he had a bit of control issues but kept runners from coming home. He went 6+ and only gave up one hit – a double to Wada – but 7 walks. Still, he really looked good, and the walks were mostly spaced out to not present a real threat.
Lotte got on the board first with a double smash off the fence in the bottom of the first by Ohmatsu, scoring Speedostar Tsuyoshi. Ogino (Ta-Ka-Shi!) scored in the third after doubling to lead off the inning. A throwing error by Morino off a Kim Tae Kyun grounder brought him home. Fukuura was intentionally walked by Chunichi starter Yoshimi to get to Ryusuke Minami (starting in right). Minami made him pay with an RBI single that got the score to 3-0 Lotte after 3 innings.
The only Chunichi run came off a bases loaded walk by Itoh (in relief of Murphy), so coupled with the only three hits yielded by the Lotte staff the game was never really in doubt. Kobayashi closed the game out without giving up a run – again! The game ended in a final score of 3-1 Lotte.
This game also featured some spectacular defense. All world rookie Ogino (Ta-Ka-Shi!) made a great flying, diving catch in the 9th inning rain to keep the lead safe. Iguchi also had a great diving stop to prevent a single from going through. Tsuyoshi went deep in the hole to snag a grounder and while still moving towards the third base line planted, leapt, and fired a dead-on shot to first for the out. Tae Kyun went hard towards home after a sac bunt that was popped up, dove, and snagged it in mid air for the out. The team really pulled together to complete the two game sweep of the Dragons.
Up next, the winless-in-interleague Swallows. I like Yakult and I hate to seem them flounder like this, but I hope they don't find their way for at least two more games!
I did get to chat with my new friend again on Wednesday night – Karakawa's father. He saw me in the stands and came out of his box to say hello. After the game I danced the Nishimura Dance with both of his parents (and 10,000 others, of course) – very cool.