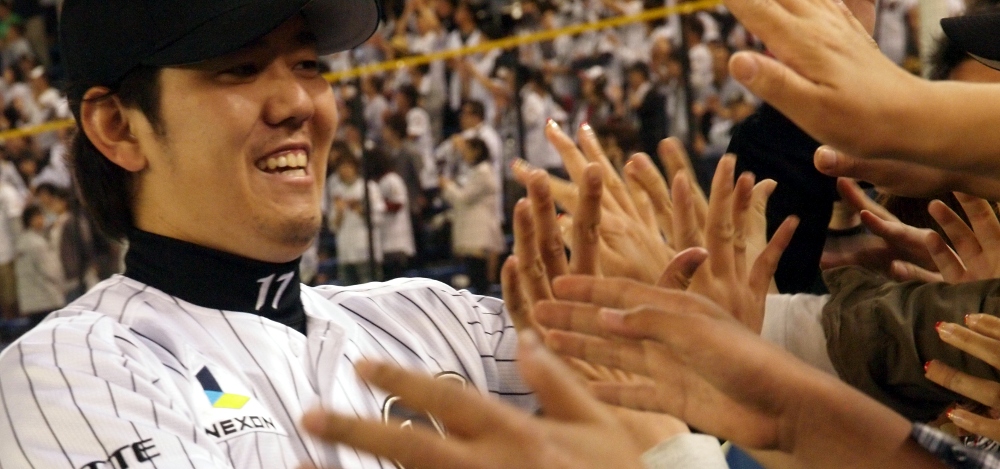 Thou shalt get caught up on posting, Steve! Actually, I have a great excuse – I love love love, love Marines so much I was out of town on a road trip. So even though I went to both of the Lotte games versus Yakult last Friday and Saturday — and took way, way too many pictures on Saturday — I haven't really had a chance to post until now.
Friday's game was not exactly what I would call dramatic. Lotte jumped out to a very early 5-0 lead, put on the cruise control, and slept their way to a 6-3 victory. This game was notable for a few things, though. Most importantly, super impact rookie stole his league leading 25 base of the year – and apparently wrecked his knee bad enough on the play that he will be out for as much as two months (Thanks to Gen at Yakyu Baka for the translation). The game was also highlighted by one of the oddest plays I have seen by a star player in ages.
The scene: it's the bottom the first, score tied at zero. Lotte has had three walks and a double but scored no runs thanks to some odd baserunning. Up comes Saburo – bases are juiced. He lifts a high pop to deep center, Aoki is fixated on it's flight. Well, it LOOKS like he is fixated on it's flight – he's planted his feet and is staring upwards, not signaling to anyone. Ball drops what looks to be from my perspective about 15 feet in front of him – the replay I saw on TV later showed it was a good 20 feet right, too. Why didn't he move? Why didn't he signal for help – the other outfielders may have had a chance. I certainly didn't mind – the error allowed three runs to score on a sure 3rd out. But wait – it was ruled… a hit? Who gets the RBIs on that one? I'll give them unofficially to Aoki.
Actually, as the Lotte players came out on defense at the start of the next inning I tried to get an "Aoki! Aoki! Aoki!" chant going, but I only got chuckles.
With the gift of three runs Lotte decided to add a few more. First Fukuura lines a double into the center left gap – Aoki almost got to it but missed it by just a bit. After a Sato walk Imae lines a single to make it 5-0 – and put us Lotte fans in a state of relaxed bliss. Even our cheerleaders decided they could fly.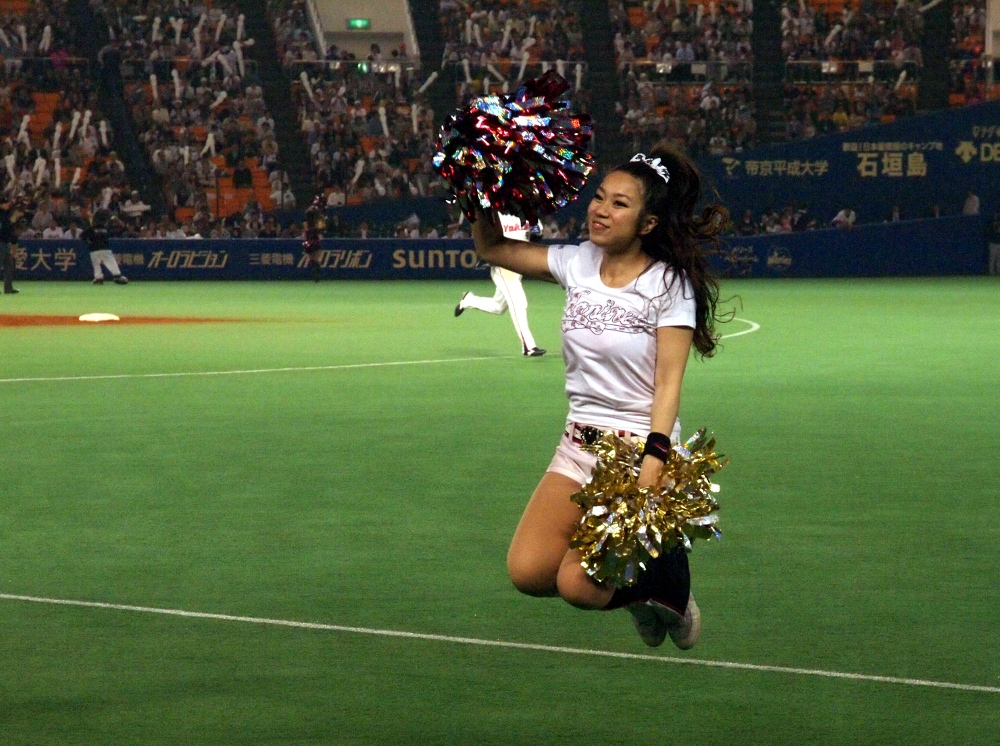 Or jump, whatever.
Naruse was on the hill and he was, well, very 2010 Naruse-like. He was great for the first 6 innings, scattering 3 hits and no runs, but in the 7th he hung another fat pitch that Miyamoto knocked out. It was Naruse's 17th – 17th!!! – HR yielded so far. He's actually on a pace to give up the most HRs in 20 years, yet he has a 3.28 ERA and is striking out batters at over 8 Ks/9. Weird year for our ace.
Since I was in a good spot, I shot some video of Mar-Kun doing the Nishimura victory dance (I think we have three victory songs so far this year) and the indispensable "Banzai!" with the hero of the day (Naruse) at the end of the game.