(I apologize – I wrote this last week but didn't like one part of it so I kept it offline until now)
It's a great time to be a Lotte fan, and just as good a time to be a retailer with a Chiba or Marines tie-in. The Family Mart by my office has 30% off all Lotte stuff. Many of the major retailers are having "Nippon Ichi!" sales – a friend reports one of the local shopping center has "We Love Marines" playing on all floors of the building, with sales, of course. My office elevators have the official victory logo on the LCD screens that show ads. The entrance to my office is plastered with Marines logos and Kaihin Makuhari station is resplendent with celebrations.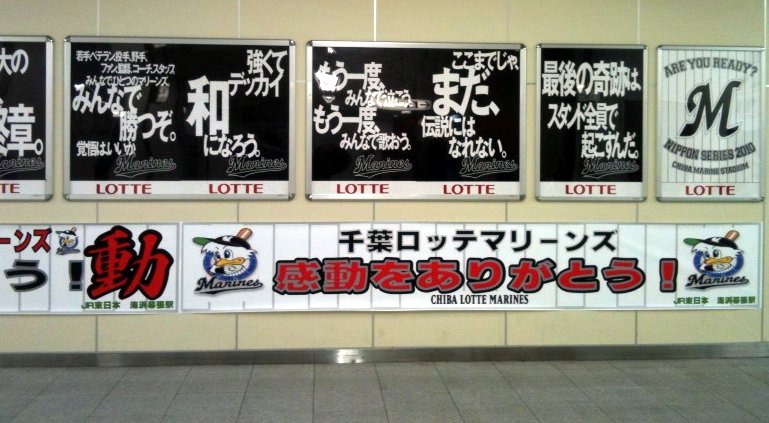 The official merchandise hasn't really started to roll out yet. Expect hats, shirts, towels, flags, cups, stickers, keychains, mufflers, books, DVDs, bags, liquor, jewelry, armbands, uniforms, baby clothes and much, much more. The only stuff I have so far is the towel in the banner photo (which was sold after game 4 or so, though it looks like a victory towel in a way. Strangely enough I seemed to be the only person with this towel at game 5, 6, or 7, and in fact I got really jealous looks by some of the fans at game 7. It's 1000 yen at the store and online, nothing unusual!), the Sponichi special newspaper on the Nippon Series (28 pages) and a Chiba Lotte Nippon Ichi quickie magazine from Sankei Sports I snagged last week. Today I swung by the official store near Kaihin Makuhari station over lunch to see if they had started to sell any good yet. Nope! I decided to ask about it.
Me: "So, no Nippon Ichi goods on sale yet?"
Them: "No, not yet – just the magazines and the Climax Champion goods."
Me: "Any idea on when there might be some hats, shirts, towels, flags, cups, stickers, keychains, mufflers, books, DVDs, bags, liquor, jewelry, armbands, uniforms, or baby clothes on sale?"
Them: "Um, have you checked the official site? Check the official site."
Right. They did have the Weekly Baseball special issue, which is MUCH MUCH nicer than the Sankei one.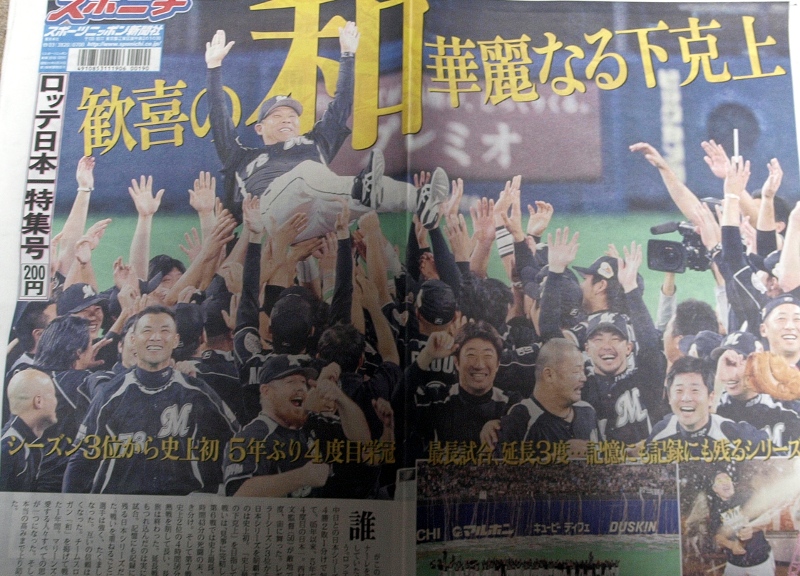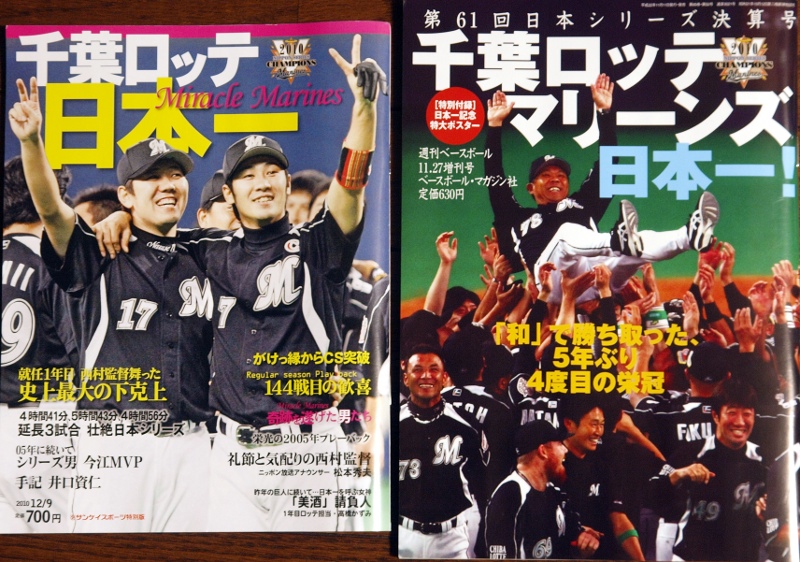 I also snagged this great, pristine Nippon Series poster off of Yahoo Auctions. When I saw this in the station I knew I wanted it; I was just surprised I could get it. I wish I could get the other ones, especially the "Are You Ready?" poster – maybe it will pop up. The seller also included a nice envelope that "Congratulations on Nippon Ichi!" and contained the 4 cards seen below. They have dice on the back as if they were part of a game – anyone have any ideas what these are?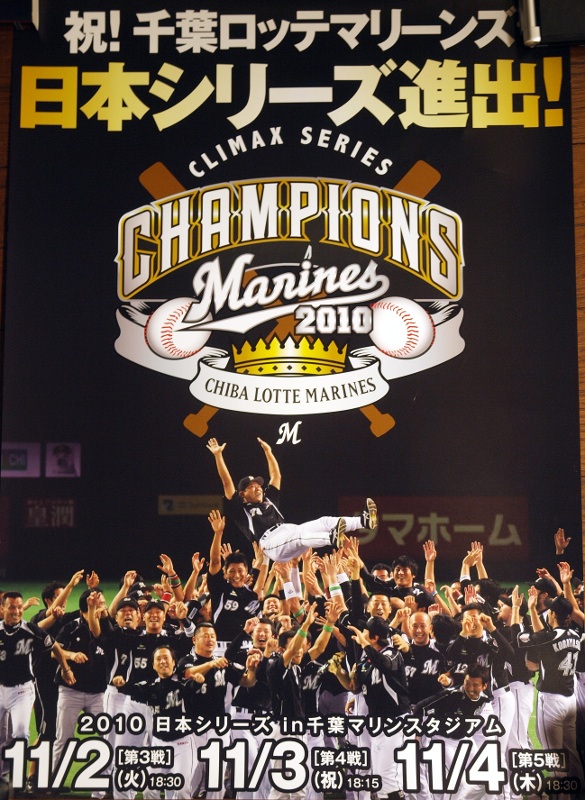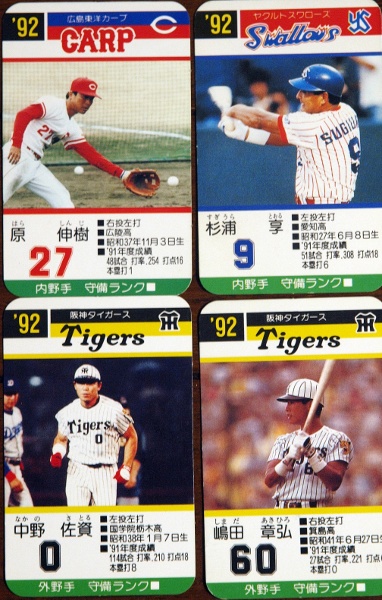 I spent so much time during the series talking about the action (and being nervous about the results) that I didn't spend much time at all talking about how damn cool it was to be a part of the cheering section during this magical run to the title. For me one of the most appealing aspects of the fan experience at an NPB is the social network you build up. When I lived in the US and went to a ton of Astros games I had a great time, but it was a different sort of time. You went with your buddies but didn't really branch out to meet new people. It's quite the opposite here – it seems I meet new people every game (or every few games) and these people become a special category of friends you pretty much see only at the ball park. But you have fun with them at the park!
I think in these 7 games if the Nippon Series I ran into almost everyone I've cheered with this year and quite a few from last year. In fact if there was a singular series of events that led me to really believe that we were going to win in game 7 it was that I ran into SO many people that it just seemed like the last game of the year. I mean, it was for me regardless as I wouldn't have been able to go to game 8 but something about running into so many friends made me feel that Our Marines would win that night. Before the game started I ran into a girl I met last year at Koshien, I ran into a lady who works in the Family Mart next to my office, people I met in Sendai, the Chunichi fans I shared a taxi with at 1am the night before, my friend Taka from Chiba, the girl I knew from Chiba who had tickets for me to swap seats to the visitor ouenseki, sitting in front of me were some guys I met in Ishigaki, my neighbor was sitting close by. I even ran into "Hey Texas!" from the interleague games in June.
Way cool. And this is on top of meeting so many of the people I normally see at games (some of the beer girls who tend to travel to away games, some of the cheerleaders who came as fans, the guys sitting behind me at game 5, in front of me at game 6). I even met the nice mother/daughter cheering team I bounced and sang with in June. It was a parade of awesome memories – a great way to end the season.
The parade is coming up this Sunday in Makuhari – I'll post more details as they come, which hopefully is soon!