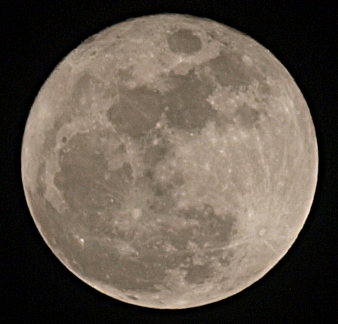 If you told me 2 weeks ago Our Marines would be sitting at 5-2-1 after the first month of the season I'd tell you I'm pretty happy with that. This Wednesday's game, though, was a doozy to sit through. Can't win 'em all, can you?
Actually I've been to both of the first two games in this Rakuten series and watched a good chunk of the last, but I want to get the bad taste out of my mouth with Wednesday's one. The first 7 games of the season had no truly bad pitching performances. Ono's on Sunday was really not good at all, but the bullpen was incredible and we won the game dramatically, so it's hard to fault Ono too much. After all, he did get us in a position to win.
Wednesday, though, was not so good all around. I got to the game a bit late due to work, but strangely I missed only the top half of the first despite arriving at 6:40pm, thanks to Rakuten starter Aoyama's injury after two pitches. Ohmine got the start, but boy did he look rough. Lotte took an early lead due to a freak bloop RBI double by Iguchi in the first (courtesy of really strong winds, as usual) but Rakuten tied it up in the third with a 2-out RBI double by Teppei. They took the lead with two runs in the fourth, but Saburo tied the game back up with a 2-run shot to right. Takasa led off the Rakuten 5th with a HR of his own, which chased Ohmine from the game. Ohmine had a nice spring but his first start looked an awful lot like most of his 2009 starts.
Still Lotte came back with another HR, this time by the red-hot Tsuyoshi. Rakuten scored again in the 6th, though, and this time they took the lead for good. Bryan Corey gave up the run in relief (and took the loss in the game), but really his responsibility in this stinker of a game was far less than many others. Incidentally, I ran into Bryan over lunch on Tuesday afternoon – my office is really close to the stadium.
The Rakuten 7th is where it all went to dust. Rakuten plated 7 in that inning, mostly thanks to Hattori loading up the bases and Itoh walking in not one but two runs, and giving up a few more on base hits. We also had the tragi-comical scene of a close play at first letting a runner score, arguing the call, and allowing another runner in while arguing.
Anyway it's just one game, and even though the bullpen gave up a metric ton in this game they have yet to yield runs in any other game. Did I mention Lotte was 5-2-1 in March? So enough with the negativity.
On the "always entertaining" front, umpire Shiroi was behind the plate, so at least we had that bit of humor going. I always thought he sounded like a bird of prey coming in for the kill (sorry for the poor audio):

The other two games in the series were smashing affairs, both ending in thrilling Lotte victories.
On Tuesday I bought one of the new Ouendan Picnic Boxes. These are 4 new boxes inserted into the stadium this year – they sit right above the gap for the bullpen, right next to the foul pole. I thought they were pretty neat – you sit with all the home crazies and have tons of space. Really, these boxes are at least 50% larger than the already spacious 3rd base boxes. You also get access to Bar Magic, which is nice because they have the best variety of food and drink in the stadium. I like.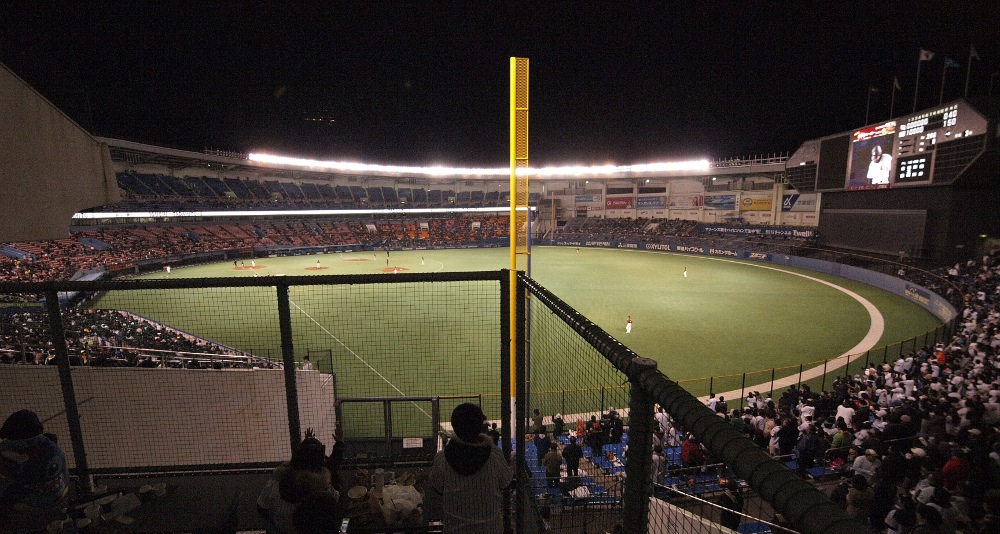 The stadium was really empty on Tuesday – can't blame everyone on account of the frigid, blustery weather – so not so many fans got to start number two for, yep, The Baby-Faced Killer. Or, perhaps more appropriately, The We Think He's The Baby-Faced Killer But He's Really Far Away So We Should Trust The Scorekeeper.
As expected, the Baby-Faced Killer lived up to expectations. Karakawa's last start was great, 11 Ks and 2 ER in victory, and this one was just as nice. He had a shutout going all game until wearing down a bit in the 9th, but he still racked up 9Ks on 126 pitches in 8 1/3 innings of stellar work. That leaves him with 20Ks in his starts this year, both wins. What more could you ask from your 20-year old star?
It was the first time this year we got to see a Karakawa/Linden matchup. Last year, Karakawa famously put a clown suit on Rakuten's Linden at Chiba Marine, frustrating Linden so much he had to pick a fight with Satozaki behind the plate. Karakawa got into his skull just as thoroughly on Tuesday, striking out Linden in his first three at-bats before giving up a walk to him in the 9th when he was gassed.
Lotte got on the board in the first with a Tae Kyun sac fly scoring Tsuyoshi. This was a prime example of a lovely manufactured run – Tsuyoshi singled to lead off the inning, Ogino dropped what was probably intended to be a sac bunt but he dropped it so perfectly up the first base line and is so fast that he beat it out for a hit. Tsuyoshi took third on a SF by Iguchi and Ogino stole second right behind him. Kim hit another SF and the run was in. Nicely played ball!
The game stayed 1-0 until the 6th when Ohmatsu hit a clutch 2-RBI double to score Ogino and Tae Kyun. Lotte picked up two more in the 7th with RBI hits by Ogino and Iguchi, and another in the 8th thanks to a dropped center fly. It was 6-0 going into the 9th, and even though Karakawa gave up the one run then the lead was big enough that Lotte would take the game. Kobayashi made his first appearance of the year and picked up the save (as the bases were loaded when the game ended). It was a great game for me to watch my favorite pitcher! 6-1 Lotte.
Tonight's game was a nice pitcher's duel between Rakuten's Rasner and Lotte's 6th starter, former Orix veteran Kawagoe. Kawagoe scattered 7 hits over 5 innings of work, giving up two runs. Rasner didn't pitch quite as well, giving up 3 runs in the 4th and taking the loss – 3-2 Lotte.
The Lotte pen really did a bang-up job in this one as the combined efforts of Itoh, Murphy, Yabuta and Kobayashi struck out 6 in 4 innings of work, keeping the 3-2 lead quite safe indeed. You know, it feels weird to refer to "Lotte closer Kobayashi" and it not mean "Masahide". Nevertheless, Hiroyuki Kobayashi has done everything asked of him so far this season, picking up saves in both wins this series.
Three series into the year, three series victories. It's on to Osaka this weekend to keep up the great start!