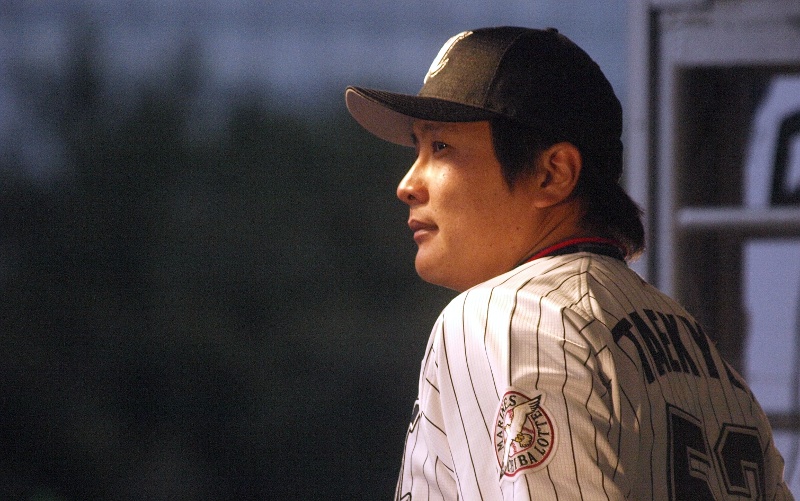 The first series of the 2010 season vs Orix is in the books, and it was a GREAT one for Lotte. Three games in Osaka, 3 wins for the Marines. 25 runs scored on 43 hits. Last year Lotte didn't win their first game in Osaka until August, this year the guys took the first chance they had. It's just shy of 10% of the season complete so there's a very long way to go, but it's hard to imagine how the team could have gotten off to a better start.
For the record, Lotte is 9-2-1 after 12 games, and they lead the league in batting average, runs scored, HRs, ERA – basically any significant statistical category. The pitching has been solid, but so far it's the offensive explosion that's the real story. Right now 5 Lotte batters are in the top 7 in OBP – Nishioka, Ogino, Iguchi, Imae, and Kim Tae Kyun. Ogino leads in stolen bases – 7 already. Kim Tae Kyun has just gotten better and better after his very rough start. He's still drawing a bunch of walks, but now he's collecting a bunch of hits and smacked his first and second HRs of the season this weekend. That's great news when the batter in front of him (Iguchi) is getting on at a .466 clip.
Iguchi, by the way, collected his 1000th career hit on Sunday. Well done!
This weekend also saw three nice starts by Naruse, Watanabe, and Ono. It was really good to see Ono throw a solid start on Sunday after the rather dodgy one he had last Sunday. He got into one big bases loaded, no out jam in the second inning and got right out of it thanks to awesome defense – a DP started by a snag of a line drive by Iguchi and a flip to Kim for the second out followed by an amazing diving snag of a rocket liner by Imae. Lotte piled on the runs after that and never looked back.
Hey, I know the dangers of getting too optimistic early in the season, but I am just so happy to see the team get off to a good start. The Marines are on the road again this week as they travel to Fukuoka to face the Hawks for the first time this year before coming home this weekend for a series with Seibu.