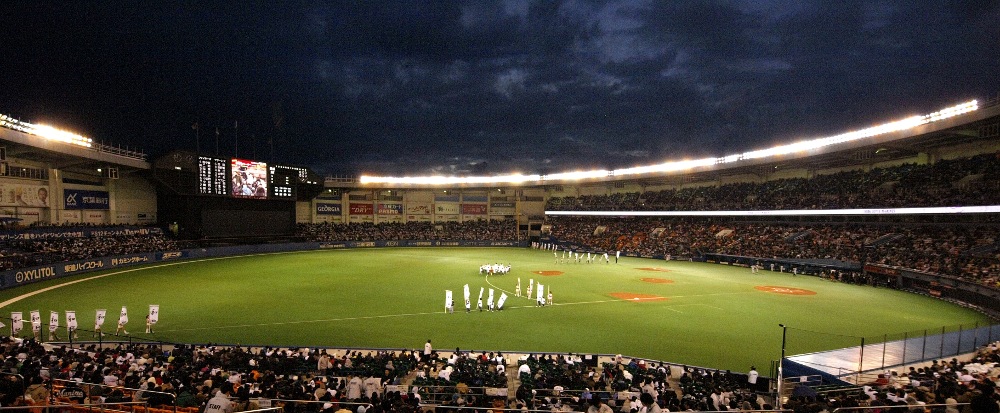 Friday afternoon I took a look at my planner to see what was on for the weekend. It was empty except for one item, in bold, underlined with a star next to it:
1. Baseball
Mmm, home opener. Two years ago the home opener was in late March; it was stupidly cold and raining but we managed to beat Orix. Last year it was much nicer weather, probably thanks to the later April start due to the WBC, but we lost to Seibu. Friday it was again stupidly cold and raining, but not quite as cold or rainy as two years ago. Is there anything to be read into this? Does a win on Friday signify something, somehow?
Nah. But hey, we DID win!
It's a damn good thing the baseball was good, too, as I froze my petite fanny off all weekend. Even the "warm" day of the weekend – Saturday, when it was nice and sunny – was a victim of typical early Spring Chiba Marine winds. I went from work clothes + overcoat on Friday to t-shirt + sweater + uniform on Saturday (bad idea) to t-shirt + sweater + turtleneck + poncho + 2 pairs of pants + hat + heavy wool socks + 10-pack of kairo (hand warmers). Kind of like putting up a fence to stop a flood – better but…
Game 1 – Naruse was back on the hill after his 2-1 heartbreak loss in the season opener, facing Nippon Ham's Yagi. In case you have just started following Lotte or have mercifully blocked most of last season out of your mind, Nippon Ham beat Lotte 9 straight in July including 6 straight in back-to-back series. Early season games aren't super meaningful, but in this case I think the early season games versus the Fighters are a bit more telling. A nice start and Lotte erases memory of their frustrations from last year.
What's a nice start? It wasn't what we got in the top of the first when Naruse served up a hittable pitch to second batter Nioka, who smacked it into the right field stands. Just like that, 1-0. Strangely enough at that point, Naruse had given up 4 hits on the year so far and three of them were solo HRs. Weird.
The negativity didn't last for too long though as Tsuyoshi led off with a triple in the bottom of the first, followed by New Favorite Player Ogino hitting his first career HR to left. NICE! That HR was really such a momentum-swinger for the game, as the guys played the rest of the game with swagger instead of pressing, trying to fight off last year's history.
Lotte tacked on another run in the third as Imae singled and later scored on an RBI single by Iguchi – 3-1. In the fourth inning Imaoka drew a one out walk from the DH spot (incidentally, Imaoka finished this game 2-2 with that walk + 2 RBI, and was 3-3 after his first two games of the year. Nice start!). Satozaki immediately pounded one to deep left, clearing the fence nicely, driving the score to 5-1 and the crowd into delirium. Yagi coughed up another walk, this time to Imae, and Speedostar Tsuyoshi became Powastar Tsuyoshi as he pummelled a pitch to the back screen – 2 more runs, the 3-1 game turned into a 7-1 laugher.
Perhaps this sort of game isn't the most interesting to watch but from the perspective of "let's get a great start to the new season" it was amazing to watch. With the game well in hand so early we could all relax and enjoy the atmosphere. It was helped by the nice picnic box I scooped up for myself and four friends – if you've never been to one of the Chiba Marine picnic boxes I highly recommend it. It's a nice space to relax with your friends – we concentrated on goofing around, chatting with our neighbors (and the beer vendors, good to see so many familiar faces) and, um, staying warm. Shochu + hot water + a lot of standing/cheering/bouncing sure helped.
Just for good measure Lotte tacked on two more in the 5th – Imaoka stroked a nice 2 run double scoring Kim Tae Kyun and Saburo – 9-1. And that's how it would end!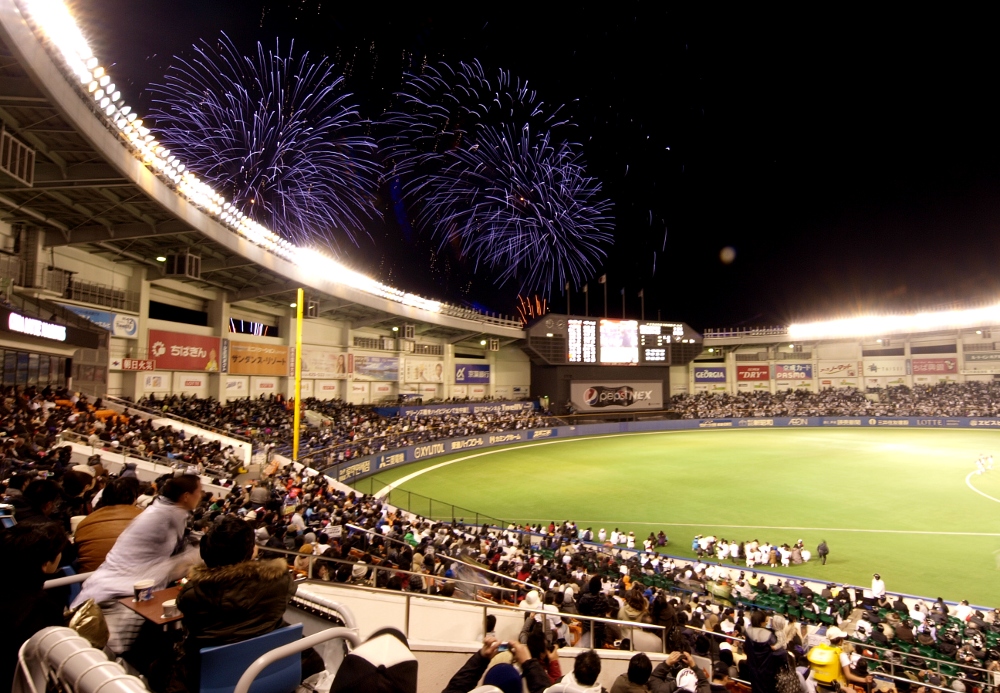 Naruse went 8, giving up only that HR and three other hits. It's the second very nice outing in a row for our ace. New import Bill Murphy cleaned up the 9th in easy fashion, striking out two and closing out the inning in only 12 pitches. I questioned a bit why Yagi would stay in so long while getting pasted, Deanna from the Marinerds blog made a good point to me that the way Naruse was pitching there probably wasn't any point in wasting relievers unnecessarily. True dat.
Game 2 – Not the most favorable matchup on paper, Darvish vs Shunsuke. It was a superb day for a game, though – much better conditions than Friday…. for a time.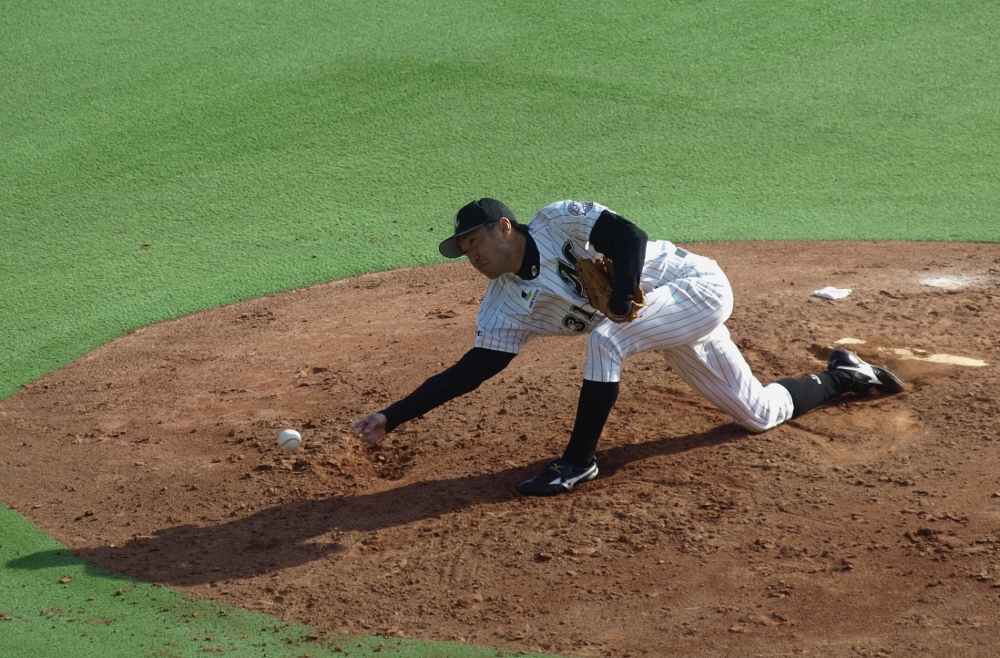 We took seats in the upper deck on Saturday, basking in the nice early spring sun. I like upper deck seats now and then, it's such a different feel for the game. Lotte liked the nice sun as well – in the third Disruption-san (perhaps better known as Takashi Ogino) got on with a single to center. He then swiped second, realized "Hey, there's more bases" and took third for good measure. Our large bat-wielding Korean slugger thought that was swell and brought him home with a sac fly. Smiles all around – and an early 1-0 Lotte lead.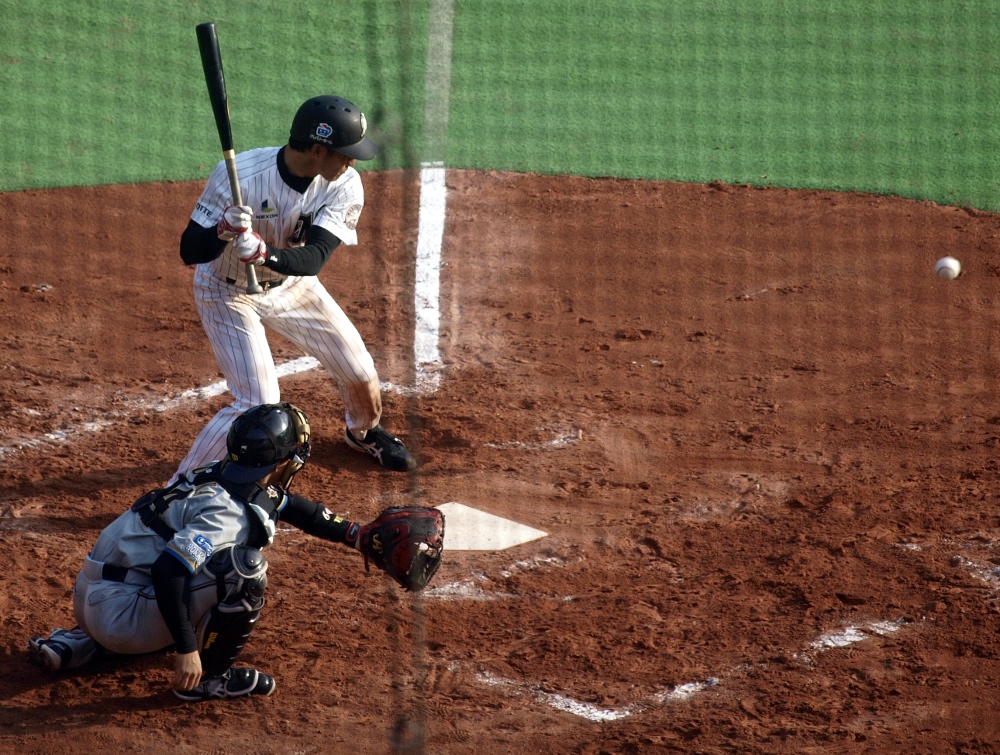 Did I ever mention this rookie guy is pretty good?
I spent a bit more time this game trying to pick up the new ouenka. (Note – the ouenka I have posted now are all the old ouenka. I'm in the process of updating this!) All of them are new this year, even the ones with familiar tunes like Imae and Fukuura. It's a wee bit of work trying to learn them all, especially since they all – gasp! – have actual lyrics this year. Anyway.
The ol Fighters tied it up in the 4th with one run and took the lead in the 5th with two – it's 3-1 Fighters, and did I mention Darvish is on the hill. Ugh.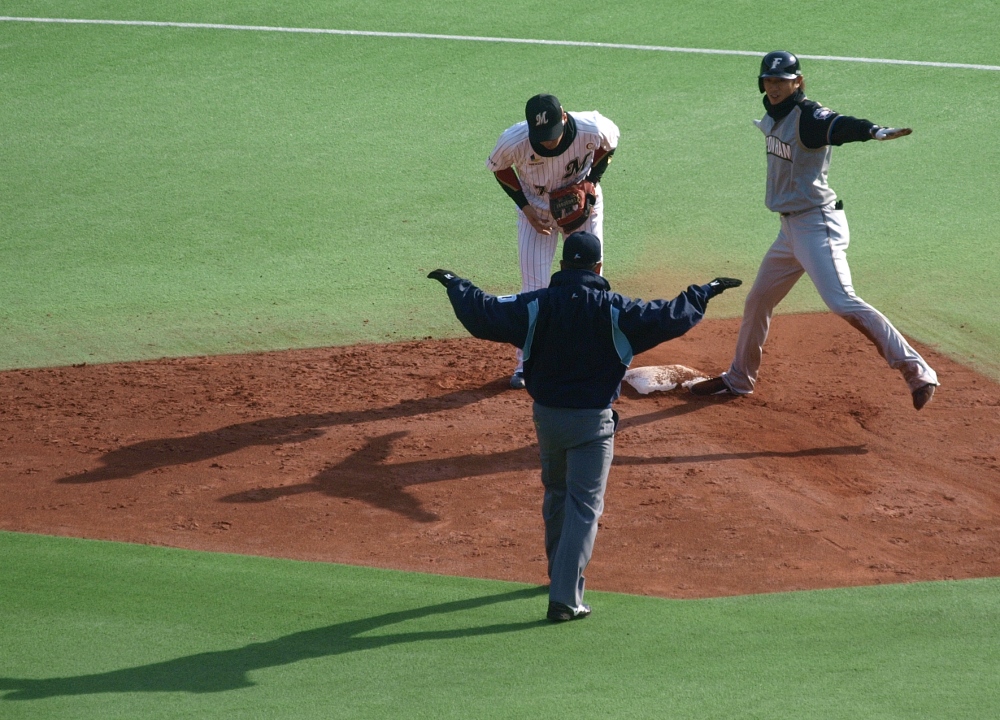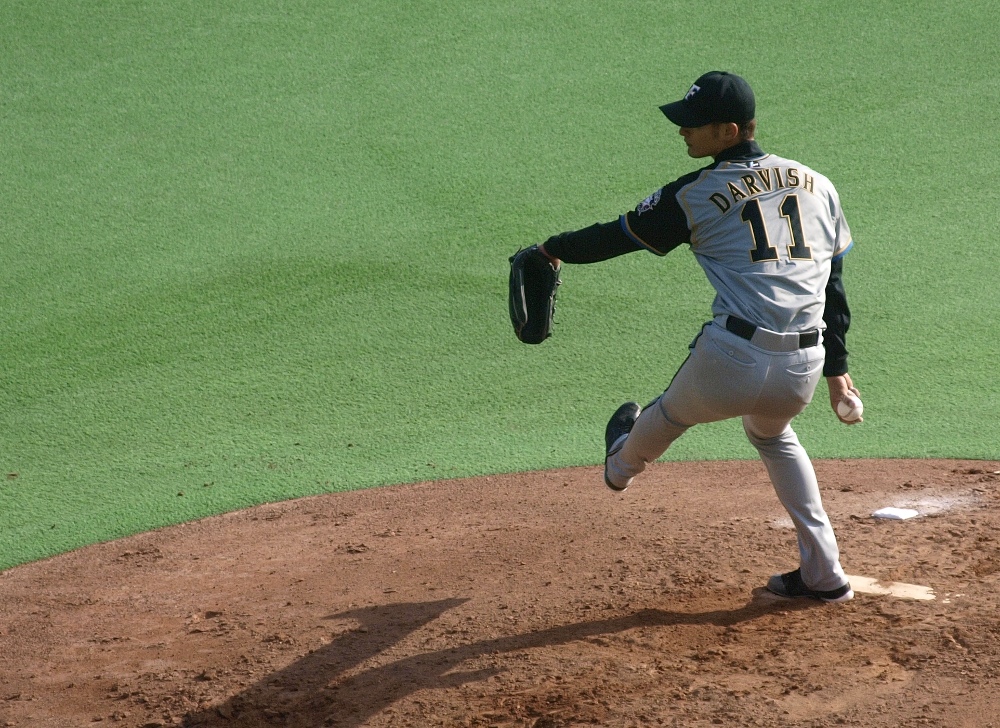 One wouldn't call Shunsuke great or anything on Saturday but I suppose 3 runs over 7 innings isn't too bad. Who was good was the bullpen – once Watanabe left at the start of the 8th the pen took over and really looked great. Hattori, Itoh, Yabuta, and Murphy all pitched in the latter stages of this game and none of them got in any trouble at all. Nice.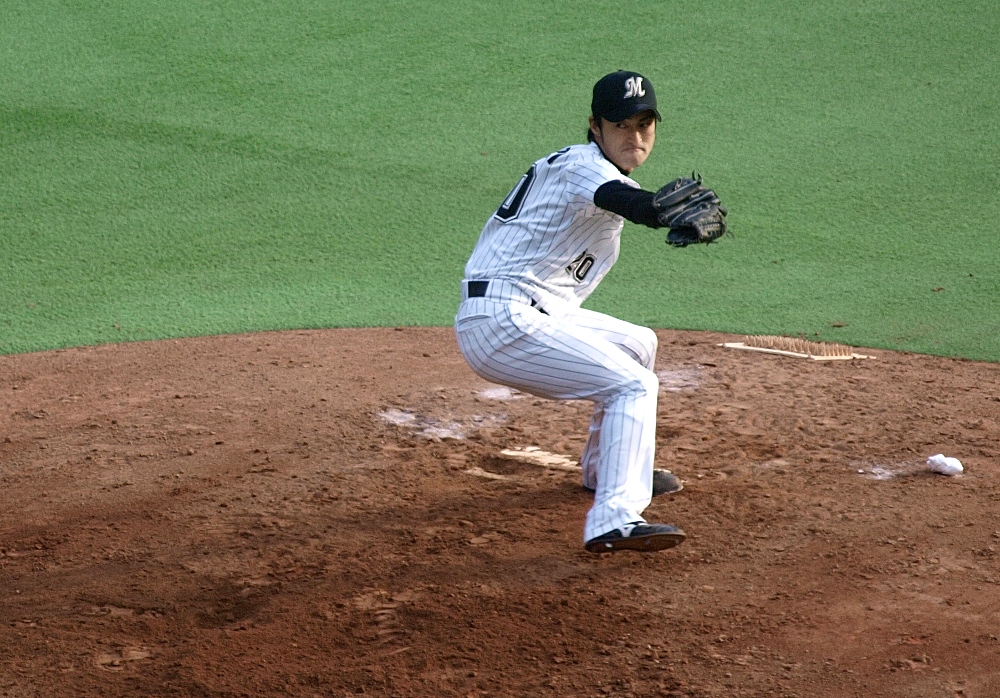 Problem 1 – the sun slipped into some haze and further towards the horizon. Sunny day – gone. a chill crept in, and the winds picked up. Cold. No, very very cold. The upper deck at Chiba Marine is a very bad place to be on a cold windy day as the winds are seemingly much stronger than the lower levels. We were very, very, very cold. I wasn't really prepared for that sort of cold but I really should have known better!
Problem 2 – yeah, still down by two runs. Pesky fact, that one.
The ninth rolls around. The Lotte pen has done its job. Heiuchi steps to the plate at the bottom of the 9th, pinch hitting for Imae. Strikeout. Oh no. Nippon Ham closer Takeda has had a rough go of it since the Japan Series last year but he's got the Marines down to their last out. Hot-hitting Tsuyoshi gets a 1-out single, though, and Ogino (there's that name again) singles as well. Chance time! Break out the new chance theme, which is actually pretty cool, I think. Iguchi steps in, 2 on. Plonk! Takeda pops Iguchi – now it's bases loaded for Kim Tae Kyun.
He's had a pretty bad go of it so far, as I may have mentioned. Not this time – a single to center, easily scoring the two speedy lead runners! 3-3!!!!
No more runs, and freezing to death we go to extra innings.
Let's go to the 11th – Tsuyoshi gets a single to lead off the inning. Ogino tries to bunt him over but pops it up – it drops right in front of the mound (intentionally, I might add). Tsuyoshi was confused on whether he should run or stay, he stayed when he should have run. He's gotta try to get to a base and he goes for first, but Ogino is already on the way there. Ogino is out and the two of them collide – Tsuyoshi's out, too. Literally – he's knocked to the ground and the stretcher comes out. It was really hard to see what happened but on video replay later you could see Ogino smacked Tsuyoshi right in the neck as they collided. Ouch.
Iguchi is up next and he obliterates a ball to left, but it's on a line. It crashes hard into the very very top of the fence for a double. 1 foot higher, game over. Tsuyoshi isn't knocked out, game over.
Iguchi doesn't score, though, and neither does anyone else. 3-3 is the final, which given where the game was in the 9th isn't such a bad result.
Game 3 – Back to the box seats and cold cold cold. My. I wore tons of layers (as mentioned above) but there was ice in the air so it wasn't all that effective. Shingo Ono made his first start of the year, too, and he was cold cold cold as well. He coughed up 5 runs in less than 5 innings of work – three of those runs in the first inning. He was our most consistent starter all season last year but his 2010 campaign was off to a very slow start.
Lotte fought back with single runs in the 3rd and 4th and a Tsuyoshi HR in the 7th, but as the game went to the 9th they were still down by 2. In comes Hisashi Takeda to try to close it out again. Could Lotte get the same success as the previous day?
With one out Satozaki and Imae single, Hayasaka pinch runs for Imae. Tsuyoshi strokes a double scoring Sato – Hayasaka makes a huge, huge turn of third and I think would have scored easily to tie, but he's called back to third to make it 5-4. Ogino is intentionally walked to load up the bases, so it's up to Iguchi. Sac fly ties it, single probably wins it. It's… a strikeout. 2 gone. Up comes last night's hero, Kim Tae Kyun. He's gotta do it. AND HE DOES! Single up the middle, two runners in, and bedlam everywhere. WOW! Another comeback, this time with a win! I'm so excited I destroy my voice so I talk like a voice synthesizer with a broken speaker on Monday. Who cares, it's worth it!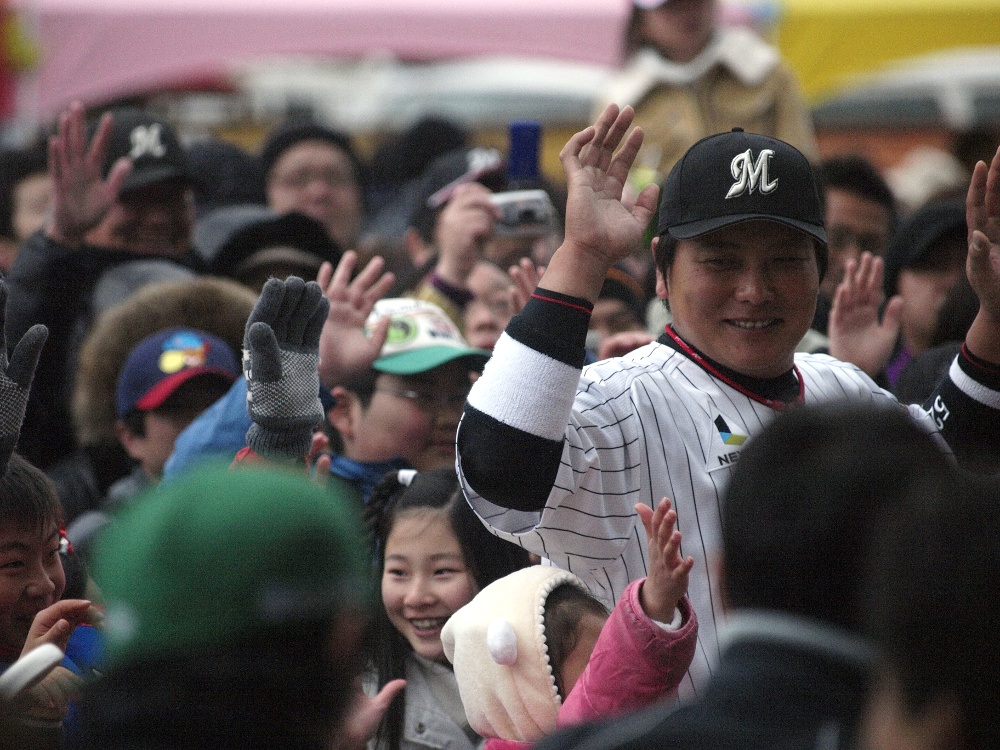 It's another great series win for Lotte – they finish the first two series with a 4-1-1 record. Rakuten is in town for the mid week series, let's see them continue the great play!