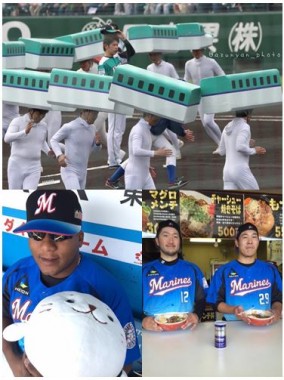 Our Marines went 2-3 on a week that started with a bang, but ended with a whimper – and even some boos. Lotte fell to 6 games back of the first place Hawks, but still hold onto 2nd over the Fighters by 1.5 games, and A-class status over Seibu by 5 games.
Lotte @ Fighters, 24 May
Lotte 3, Fighters 1
WP: Ayumu Ishikawa S: Yuji Nishino
LP: Kohei Arihara
Notables: Alfredo Despaigne 2R-HR (10th HR); Yamaico Navarro 1R-HR (2nd HR); Takuya Takahama 2-4, 2B, 1R; Ayamu Ishikawa 5IP, 0ER
Lotte @ Fighters, 26 May
Lotte 2, Fighters 1
WP: Nishino Yuji S: Naoya Masuda
LP: Takahashi Hirotoshi
Notables: Yamaico Navarro 3-4; Kota Futaki 6IP, 1ER, 8K
Series Notes:
Our Marines added two games to their lead over fellow A-class opponent the Fighters, taking a Tuesday night game in Saporro and a Thursday maintee in Hakodate. Lotte pitching held Nippon Ham to combined 2 runs over the course of 2 the games. On the offensive side, Despa single-handedly topped that run total knocking in 3 RBI in the series. Despa's first inning 2-run shot was enough to put Lotte up for good in game 1. Despa then book-ended the series in game 2 with another winning blow, this time an 11th inning go-ahead sac fly driving in Kiyota.
In addition to the combined 11 innings of 1 run ball from starters Ishikawa (4-2, 1.30) and Futaki (2-5 4.05 with the lowest run support in the PL), the Lotte bullpen contributed 9 innings of 1 run ball in the series.
SoftBank @ Lotte, 27 May
SoftBank 1, Lotte 0
WP: Nao Higashihama S: Dennis Sarfate
LP: Hideaki Wakui
Notables: Hideaki Wakui 9IP, 1 ER
SoftBank @ Lotte, 28 May
SoftBank 10, Lotte 2
WP: Kodai Senga
LP: Jason Standridge
Notables: Hosoya Kei 2R-HR (2nd HR)
SoftBank @ Lotte, 29 May
SoftBank 6, Lotte 4
WP: Yuito Mori S: Dennis Sarfate
LP: Yuji Nishino
Notables: Tadahito Iguchi PH 1-1, 2R-HR (3rd HR); Takuya Takahama 1R-HR (2nd HR)
Series Notes:
Our Marines had a chance this past weekend to tie the SoftBank Hawks for first place in the PL. The first place Hawks had other ideas though, sweeping us out of our own building. There's not much to say about the first two games on the Chiba side of the ledger. We mustered just 4 base runners on 4 scattered hits off of Higashishama in Friday night's 1-0 loss.
In game 2, Lotte left 11 runners on base in a 10-2 loss. Chiba's inability to bring runners home was mostly made moot by Standridge's starting pitching performance – 2IP, 6ER. It was announced after the game that Jason will be headed down to the farm where we're optimistic that he'll work out whatever his recent issues seem to be.
The series finale on Sunday gave the home crowd plenty to cheer about, but a series of unfortunate events at end the game led some in the crowd to send the team off with boos. Starting pitcher Karakawa was only able to give us 4 innings, but by allowing just 3 runs he did enough to keep us in the game despite his clear struggles.
Our Marines were down 4-2 after trailing from the top frame all the way through our Lucky 7, after which Iguchi sent the stadium into a frenzy by smashing 2-run pinch hit 2-out blast to tie the game at 4-4! Immediately following that, Chiba put runners on the corners on a Katoh walk and Kiyota single, and Hawks starter Takeda approaching 130 pitches. Takeda's 131st pitch was a swinging strike 3 by Takahama, unable to follow his earlier home run with a late inning timely, sending the game to the 8th tied at 4.
Current PL batting leader Kakunaka (.346 BA) led off the bottom of the 8th with a base hit, bringing up clean-up man Despaigne. Despa lined a 1-0 pitch to right-center, where Kidokoro laid out for a stellar —as much as it was timely— across the body grab, robbing Despa of a go-ahead RBI and doubling up Kakunaka would had already rounded third by the time Kidokoro returned to his feet. ZANNEN!
Little did we know that an even greater tragedy was about to unfold in the top of the 9th off closer Nishino. SoftBank's Hasegawa got aboard to lead off the inning when Navarro whiffed on a rather routine ball to second. Two pitches later, Matsuda sent a laser beam into the left-field stands to give SoftBank the 6-4 lead. Three batters later, Makihara reached on an infield single, which would have been of little consequence if not for Nishino suffering an awkward looking injury on the play. After all that, SoftBank closer Sarfate struck out 2 in a 1-2-3 bottom of the 9th to complete the Hawks sweep.
[x_share title="Tell Everyone" facebook="true" twitter="true" google_plus="true" reddit="true"] [x_author title="About the Author"]