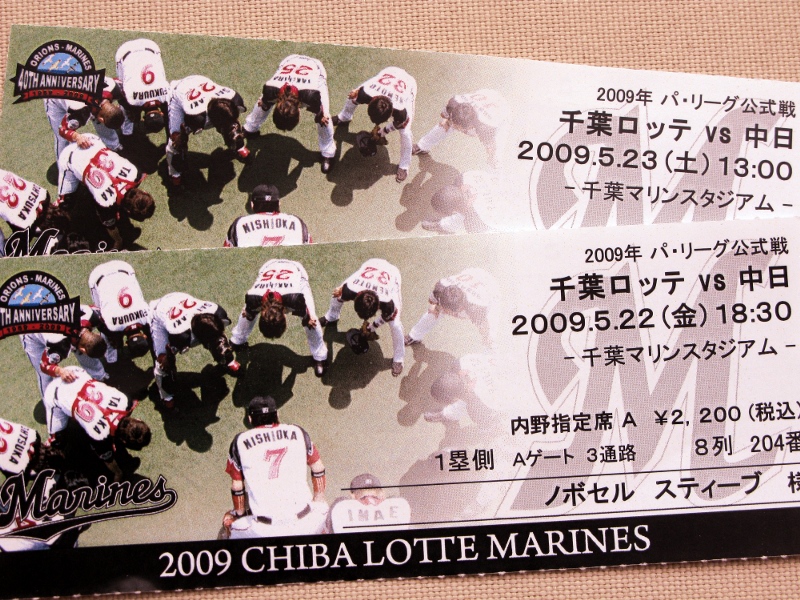 Game 2 of the Chunichi-Lotte series kicked off at the unusual Saturday start time of 13:00 at a hot and sunny Chiba Marine Stadium. Up on the hill was Watanabe Shunsuke, who was looking for redemption after the I-won't-admit-it-actually-happened 18-0 shellacking at the hands of Seibu, a game which he started and took the loss. The good news for Lotte fans today is Watanabe pitched very, very well, leading Lotte to a dramatic 2-1 Sayonara victory.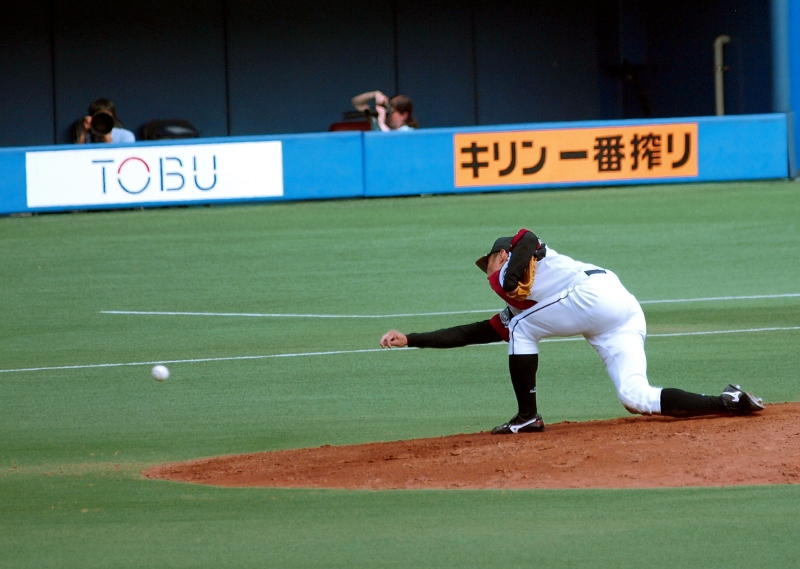 If you don't like pictures this is not the game report for you as I shot a few hundred frames today. I've pared it down to almost single digits, but not quite.
Watanabe came out red-hot, baffling the Chunichi hitters and staying perfect for the first 3 innings. Dragons fans had something to cheer about in the fourth, though, as Watanabe's perfect game ended on a single by Chunichi shortstop Ibata, who was subsequently brought home on a double by 3B Morino.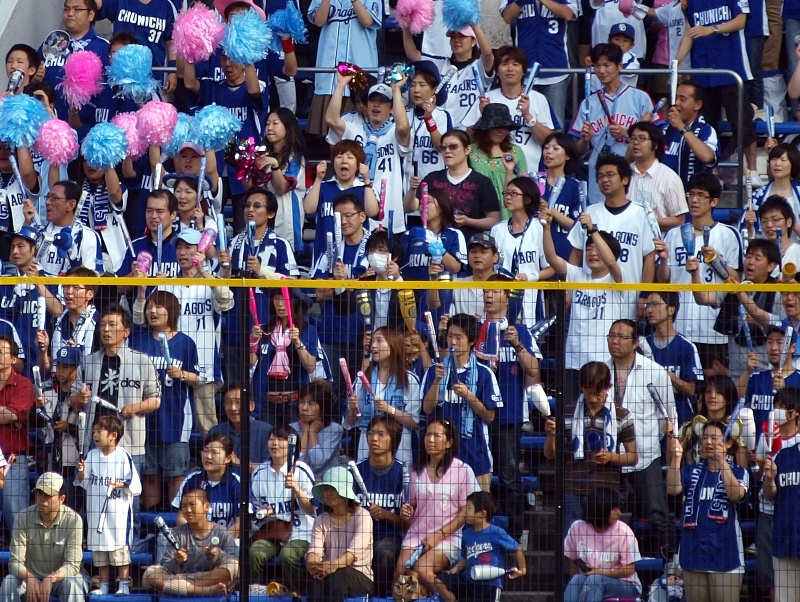 Watanabe was rock-solid after that 4th inning, allowing no further scoring in 8 1/2 innings of work. The lethargic Lotte offense from the previous 2 games continued today, though, and Watanabe remained in a 1-0 hole until very late in the game. A large part of the responsibility for the punchless Lotte offense has to go to Chunichi starter Chen, who allowed many runners on base – including bases loaded in the first with one out, 2 more each in the 4th, 5th, and 6th innings – but each time he got out of the jam to keep Lotte off the board.
Lotte finally got on the board in the bottom of the 8th. Asao came in to relieve Chen, a happy accident for the Lotte faithful. Iguchi led off the 8th with a double, Satozaki bunted him over to third, and after Benny struck out for the second out Fukuura pinch-hit for starting first baseman Hori. Given the previous 2 games of Lotte's offensive futility it seemed likely that Chunichi would get out of the inning unscathed, but Asao did what Lotte bats couldn't do so far this game, bringing home Iguchi on a wild pitch. I must admit, I was laughing – hard – at the irony of tying the game in such fashion.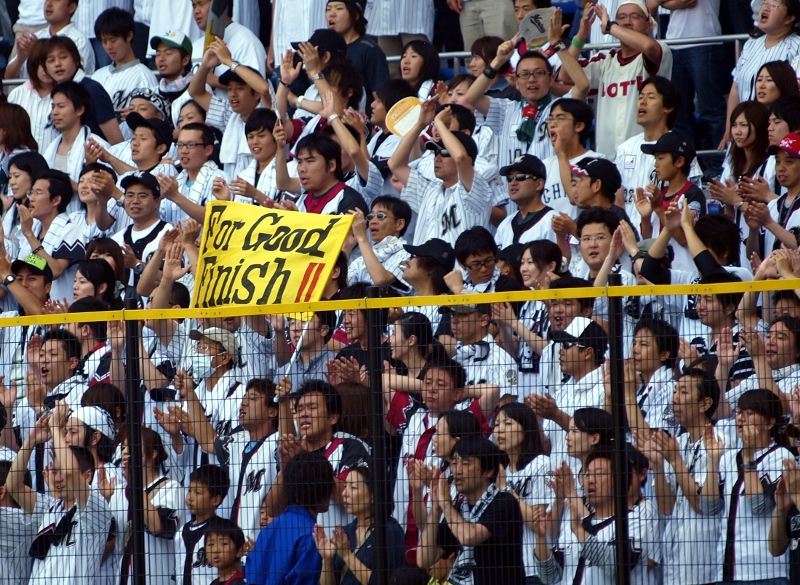 Something about that rather embarrassing way to score a run changed the mood in the stands, and I think changed the mood for the team as well. After the game was tied, with Watanabe still going strong, and the great setup/closer combo of Sikorski/Ogino waiting in the wings, it seemed inevitable to me that Lotte would find a way to win.
Sikorski came in with one out and a runner on in the 9th and shut down the Chunichi bats to take the game tied into the bottom of the 9th. Drama – not new flu – was definitely in the air.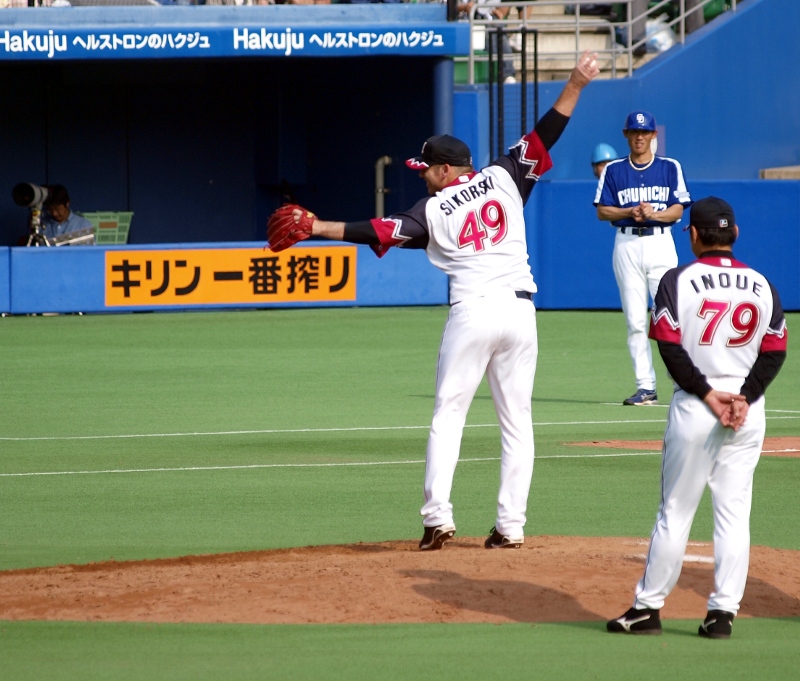 Chase Lambin provided the first manifestation of the new-found offensive confidence, ripping a double down the right field line and diving pure-showman's style headfirst into second. It was an absolutely unnecessary and maybe even dangerous dive, but dammit I LOVED it. What a way to fire up the crowd!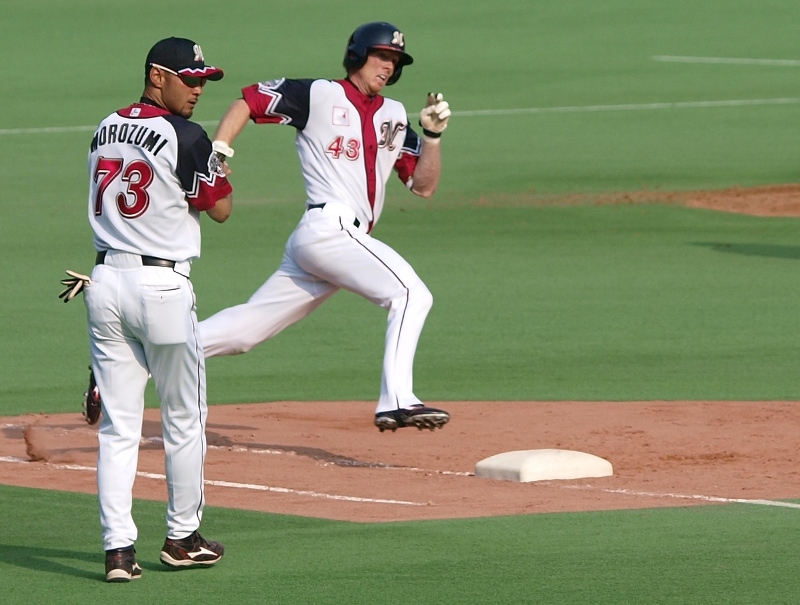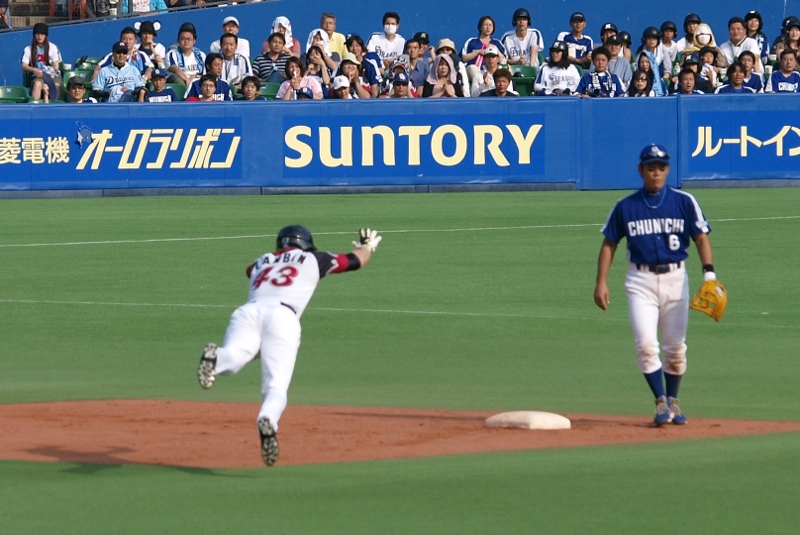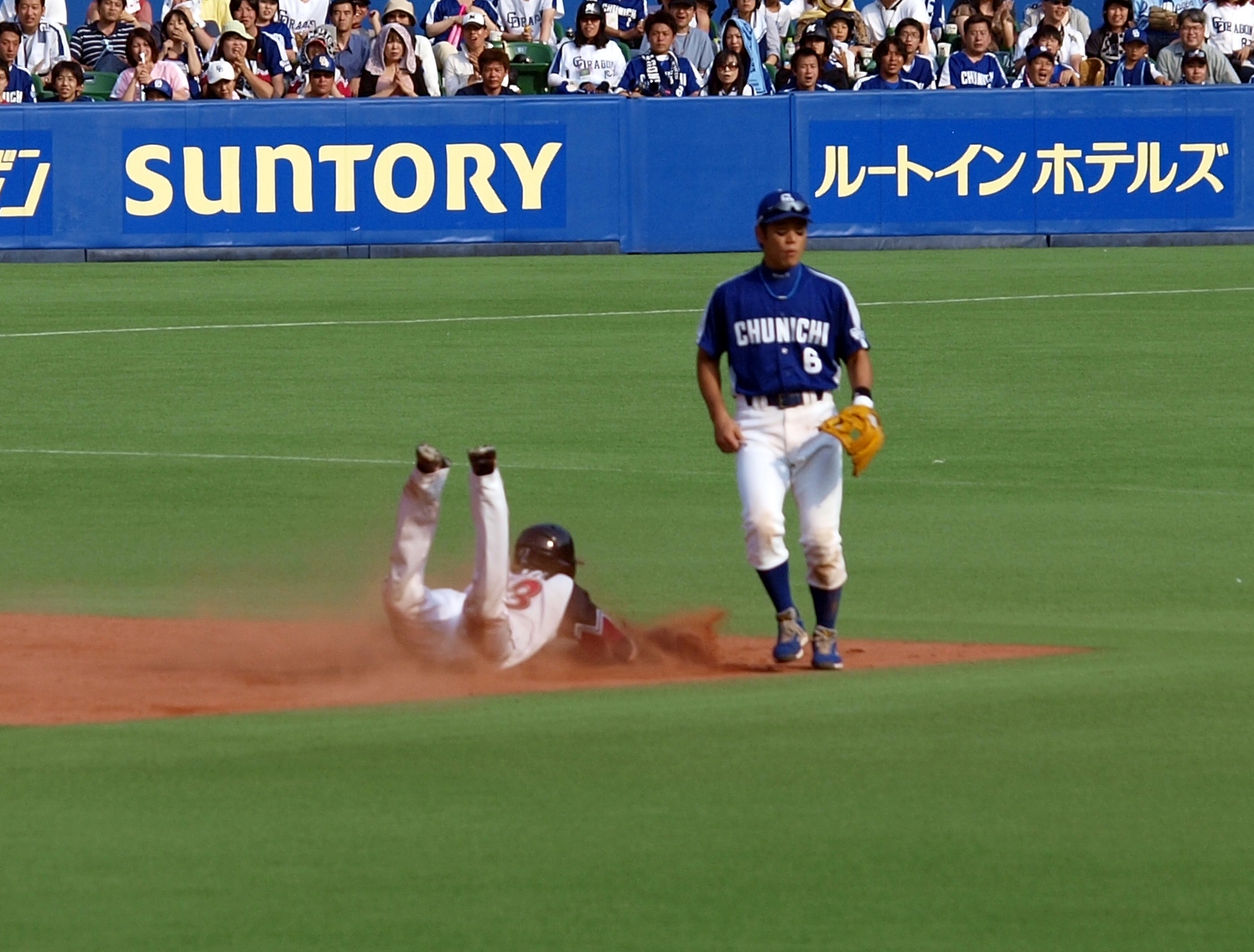 Lambin left a hero for pinch-runner Hayasaka. Chunichi reliever Hirai was pulled for Kobayashi, and the gleeful Lotte fans sang the Flag Theme. I'm telling you, we knew victory was imminent.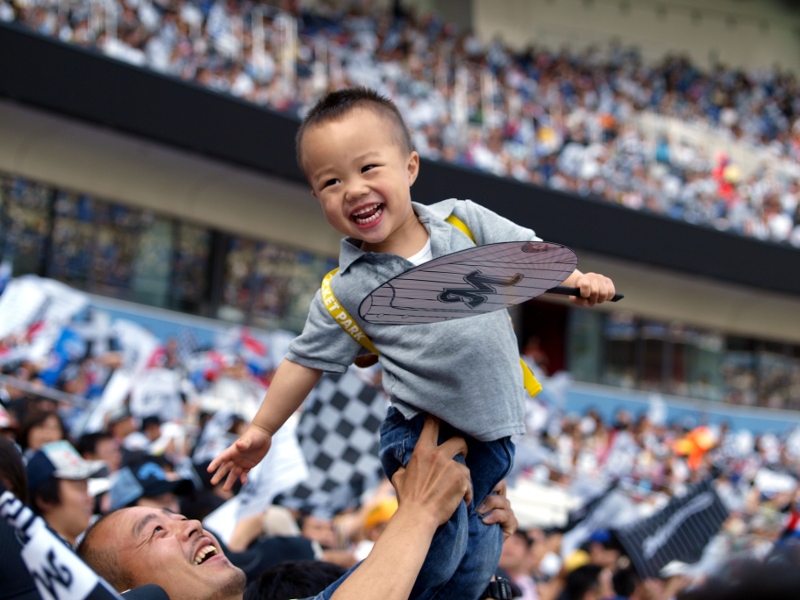 After a intentional walk to Tsuyoshi Ohmatsu came to the plate. He entered the game as a defensive replacement for Takehara in the 8th, so this was his first at bat of the game. He's had a very rough year, batting below .170 coming into the game (after having been below .100 earlier this month). It was now or never time.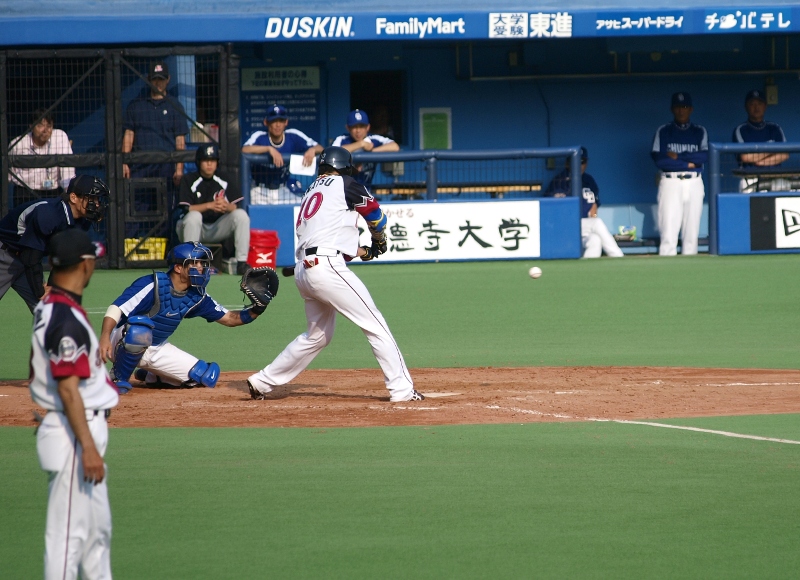 Contact, and the game winning single rolls into left as Hayasaka races home! It's dramatic Sayonara victory for Lotte as the fans dance and the players pour onto the field.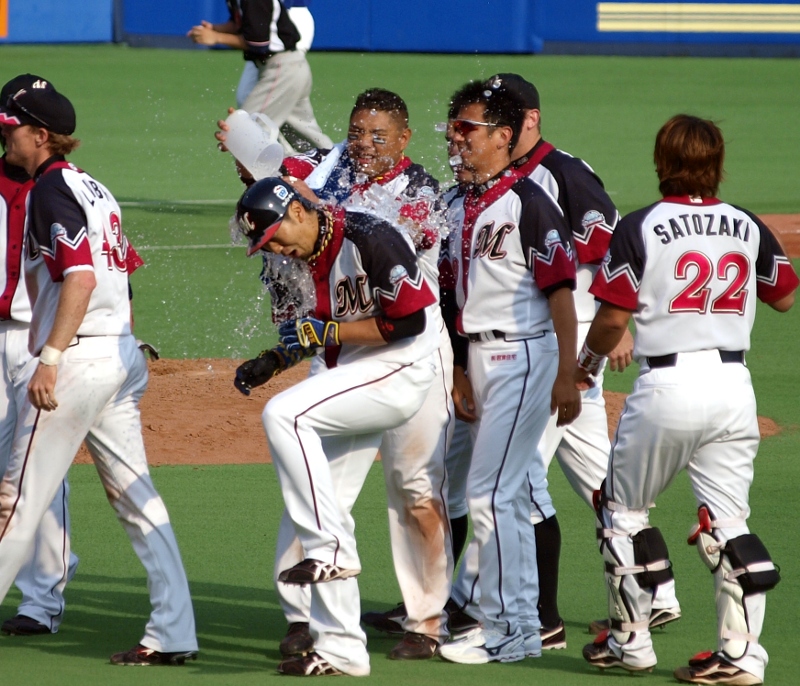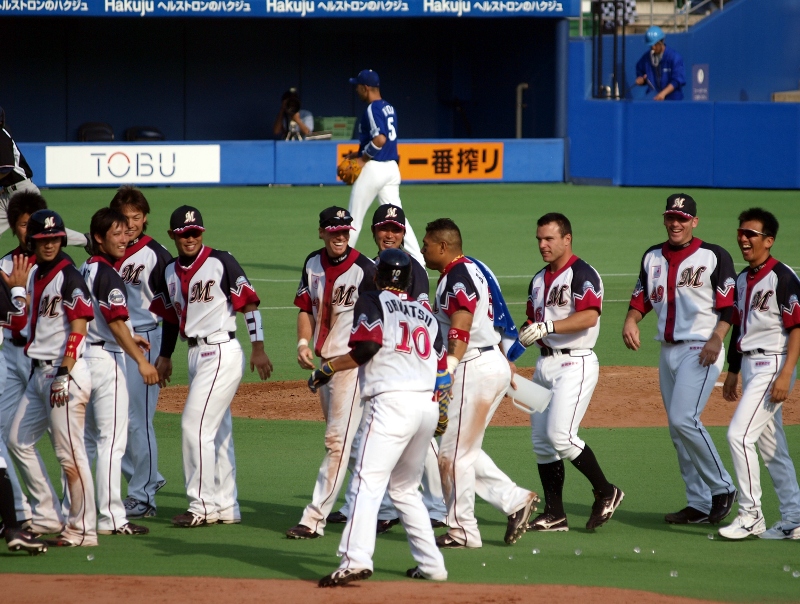 It's nice to see Ohmatsu make an impact. He's been so much better this month and I hope we can expect more dramatics from his talented bat this season.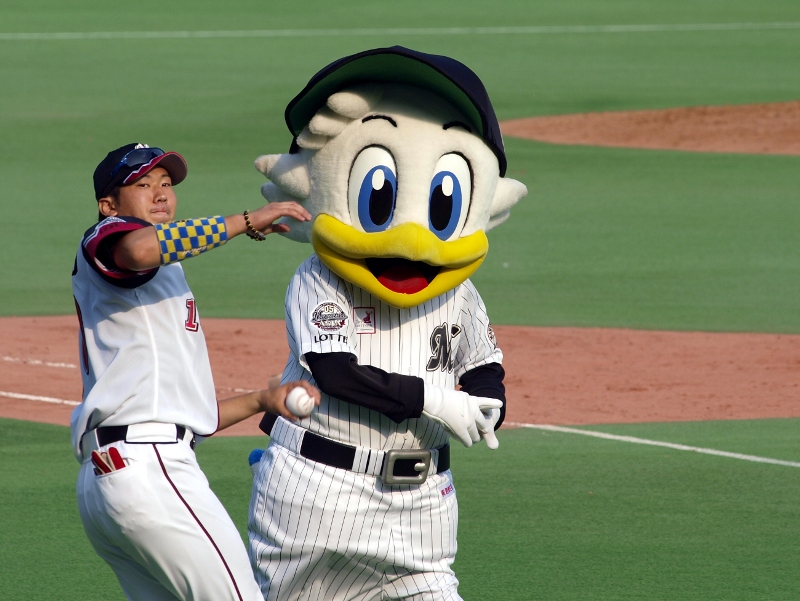 So Lotte ends it's second series in a row 1-1. The Marines shift to Koshien on Sunday for a 2 game Sunday-Monday set with Hanshin. I can verify that the Marines are in fact in Kansai (as am I), which I'll discuss in detail in a later post. We'll be there for both games in our black road uniforms, bouncing, screaming, and singing from the Koshien outfield, helping Lotte on to victory.
There's a lot going on that I won't cover in this post. I was very lucky today to meet many members of the NPB blogging community whom I hope I will have a chance to meet again in the near future. Also, it turns out I am a new local TV 'star', unbeknown to me. After the game I saw some fans taking photos of me, so I took a photo of them, smiled, and gave a thumbs up.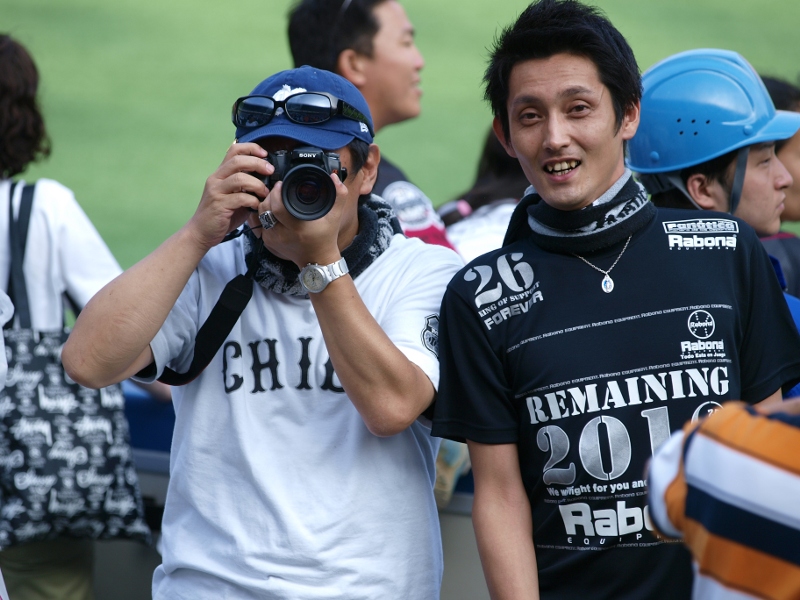 They came up to me and said "We saw you on Chiba TV last night! You are a Nishioka fan!" Sure enough, I wear a Nishioka jersey to games. But it's on the back, how does it get on TV, and so memorably that these fans would seek me out? I understand how I get on TV as I stick out a bit and am very vocal, but my uniform? Hmm.
In case I thought it was an isolated incident, another fan came up to me a few minutes later and told me "I saw you on TV! Nishioka!" Yes, yes. And it happened AGAIN a bit later. What could I have possibly done to be so memorable? If I were a paranoid man…