Wow, what a well-played game for both teams! The final game of 2009 between Lotte and Hanshin (barring a 2005 Japan Series rematch) had it all – a pitching duel, great defense, unexpected plays, and best of all – a clutch hit to drive in the winning run in a 4-1 Marines victory.
Lotte starter Kobayashi Hiroyuki and Hanshin starter Andoh Yuya were both on fire early. Kobayashi was making a spot start out of the pen for the injured Karakawa (apparently out with some elbow soreness) and went 8 strong innings, giving up 5 hits and only one run (on a HR by yesterday's HR hitter, Brazell).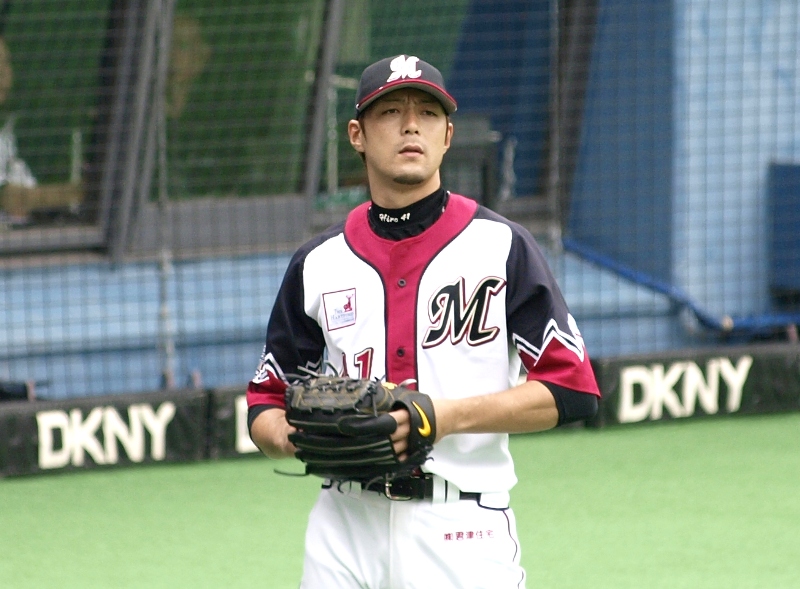 Andoh was even stronger in the early innings, not allowing a runner until the 4th (on a walk by Ohmatsu) and no hits until the 5th. Brazell hit a solo no-doubter to the Lotte fans in right to get Hanshin on the board first in the top of the 4th. In the bottom of the 5th, Satozaki broke up Andoh's no-hit bid with a very, very high HR of his own to right. I honestly said "Aaaahhh…" when the ball came off the bat as it was so high and looked to be going foul, but in a slight wind going out to right the ball hung up and carried several rows into the outfield bleachers to tie the game at 1 each.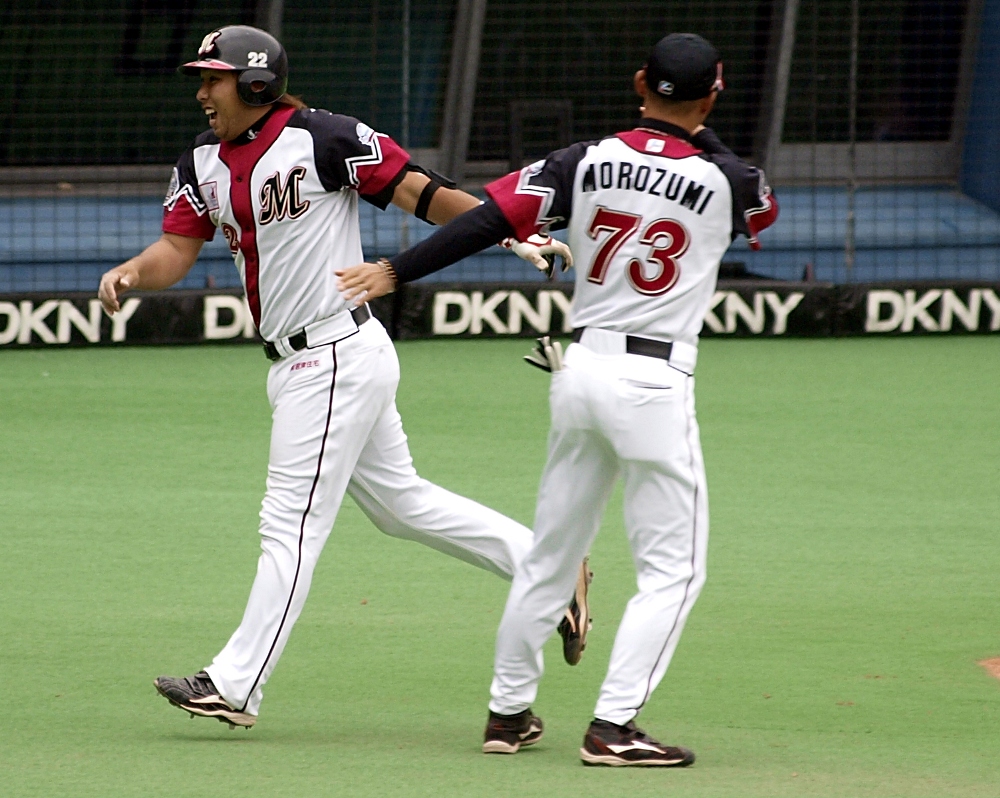 Kobayashi really knuckled down after the Sato HR. It looked for a time that he would have to leave the game due to injury as he needed to go into the locker room to fix an issue with his finger (either a blister or a fingernail, it looked like). He came back and shut down the side in order in the 5th and 7th, and got a double play in the 6th after a walk to Kanemoto.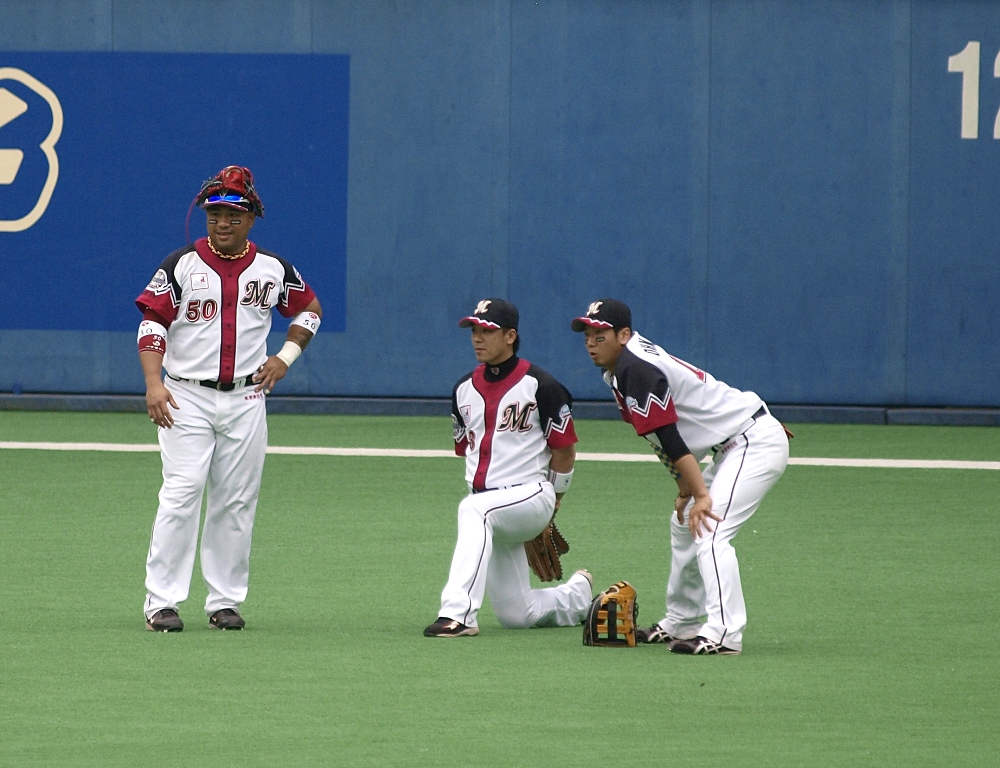 In the Hanshin 8th, Hirano got a lucky break off a ball hit back to Kobayashi. The ball went off Kobayashi's glove toward Iguchi, but Hirano ran very swiftly and dove headfirst to beat the throw. Mayumi called for a sac bunt by CF Akahoshi, and he hit possibly the worst bunt I've seen in person. It popped gently towards the first base line for Kobayashi, who snagged it on the fly, threw to Iguchi (covering 1st) to double off Hirano. I recorded the game to watch at home this evening and the bunt looked worse on TV than in person, even. Great play by Kobayashi and Iguchi to end the threat.
Over the next few innings Lotte had several chances to take the lead, but Andoh and the Hanshin defense held firm and kept any Marines from crossing the plate. In the 7th inning, Saburo and Imae singled to set up a scoring chance with runners on first and second, and with 2 outs Bobby pinch hit for Hayasaka with Hori. As the Marines fans started the Skinhead Running chance theme, Hori poked a single through the 3rd base side. Saburo hesitated a bit leaving second yet was sent home. In left, Kanemoto made a very quick pickup and a great throw to catcher Kano, who expertly blocked the plate, tagged out Saburo, and ended the Lotte scoring chance.
No such luck for Hanshin in the 8th as the newly-clutch Marines wouldn't be denied. The rally started for Lotte when Andoh was pulled for Williams to start the inning. That turned out to be the edge needed. Williams gave up a walk to Tanaka Masahiko, got Ohmatsu on a fly to center, and walked Iguchi.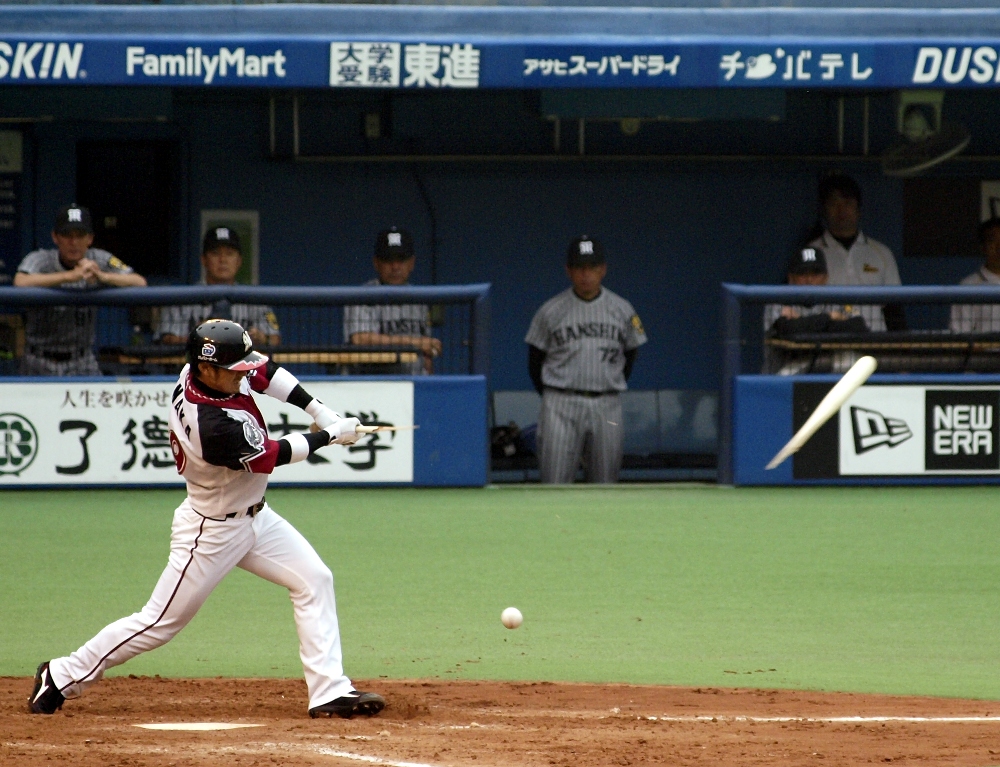 Williams spent about 70% of his time looking at Tanaka on first or throwing to first, which surely distracted him from the more important task of actually getting out the batters. Not that I'm complaining.
Mayumi had enough after Williams's two walks and pulled him for Atchison. Before the pitching change was announced Bobby pinch-hit for Hashimoto with Takehara leaving a righty-vs-righty matchup. On a 2-2 down-and-in slider, Takehara stroked one into the right field gap. Both outfielders were playing in and the ball easily got behind them allowing both Tanaka and Iguchi to score and letting Takehara make it all the way to third. 3-1 Lotte!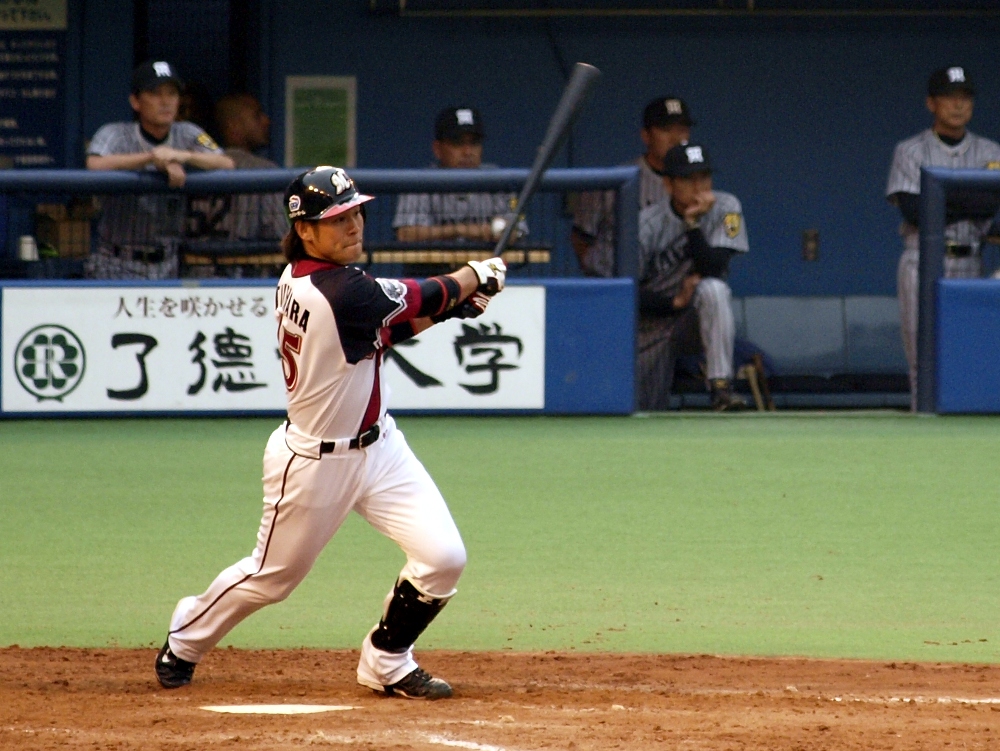 I was too busy bouncing around like an idiot, high-fiving my neighbors, and singing the Skinhead Running chance to catch the next play on film, but on a 1-ball count Satozaki laid down a brilliant and totally unexpected squeeze to score Takehara. Awesome, awesome call – 4-1 Lotte! I couldn't believe it, but was so glad it happened.
Sikorski came in for Kobayashi in the 9th, and he did what Sikorski does – shut down the Hanshin offense to close out the victory. The heroes were easy to choose, Hiroyuki for his fantastic pitching and defense, Takehara for the super clutch triple to win it. With the win Lotte sweeps Hanshin and takes the season series for their first series win since the start of Interleague.
There are two off days for Lotte now, then is the 2 game set in Jingu this week against Tokyo Yakult. Interleague wraps up next weekend with Lotte settling business with Yomiuri at the Tokyo Dome. The team couldn't be in better shape for these Kanto showdowns.