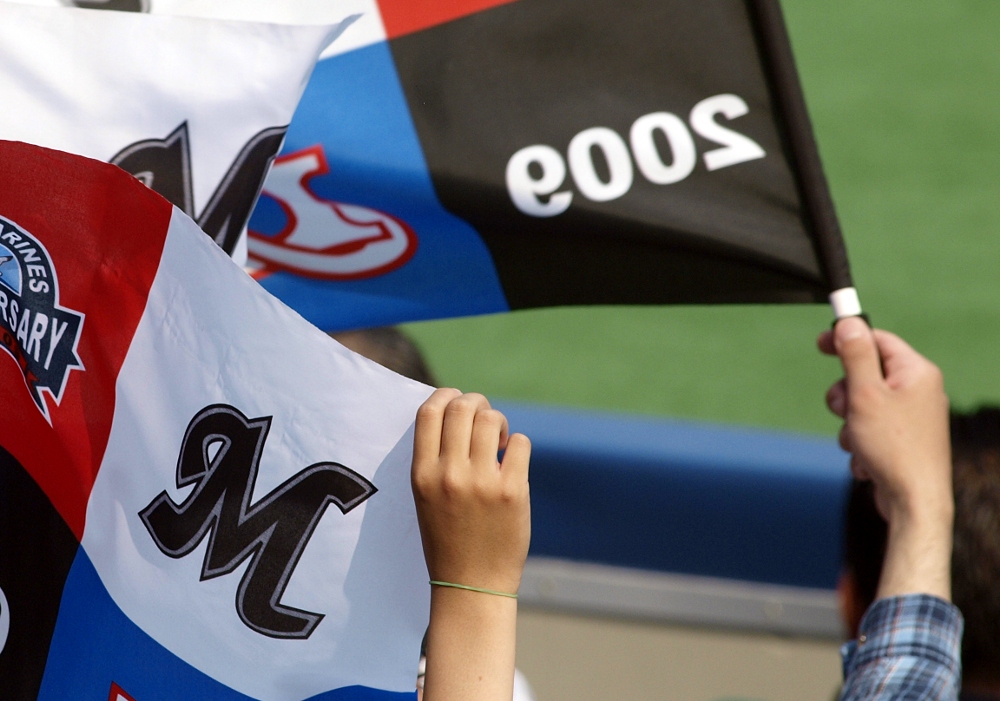 Who are these guys? Whoever they are, I like them – alot.
After weeks of frustration, missed opportunities, and men left on base like unwanted promotional items, the Lotte offense has turned into the Monsters of Makuhari. In the past week, they've put up games of 9, 23, and now 9 runs again as they beat the heck out of visiting Hanshin, 9-1.
If these are indeed monsters, then Gojira definitely is Ohmatsu. In the 5 games this week alone he has 3 HR, 10 hits, and 11 RBI. Today he was yet again the hero with a 2-4, 4 RBI performance.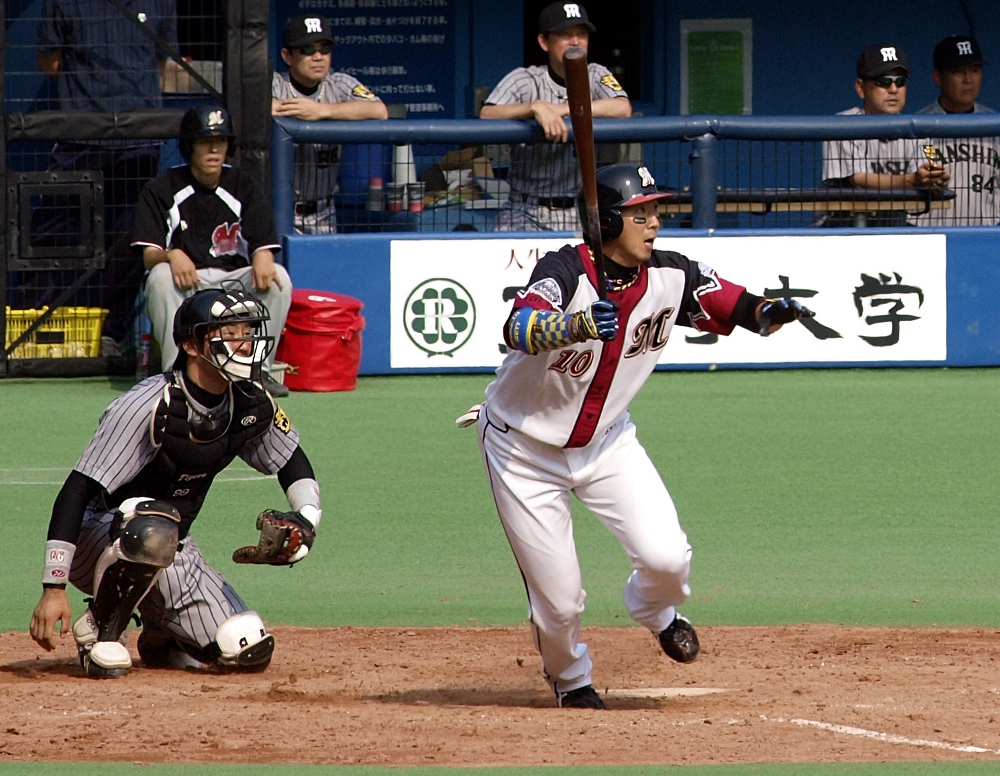 The first two innings were scoreless thanks to Lotte starter Ono Shingo and Hanshin starter Fukuhara. Lotte would get on the board first in the bottom of the third. Imae led off the frame with a single, and Hayasaka laid down a bunt to advance him to second – except Fukuhara winged the throw over second baseman Sekimoto's head and all were safe.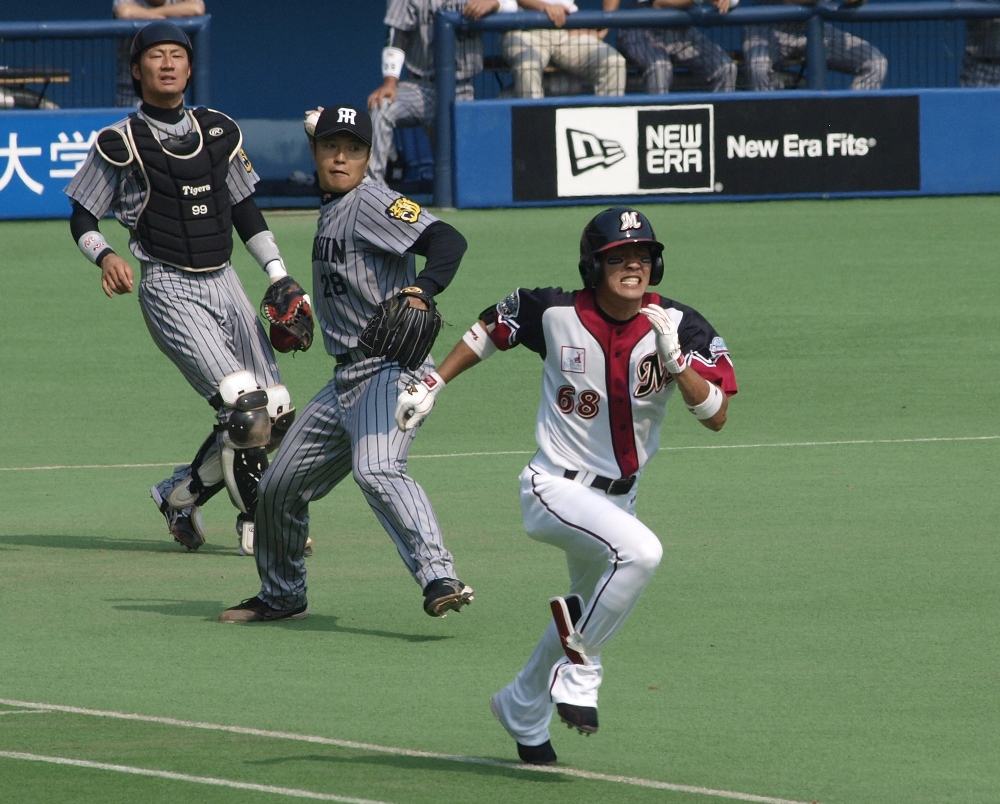 Fukuura laid down a sac bunt that was played properly this time. After a fly-out by Ohmatsu Iguchi singled home both Imae and Hayasaka to make it 2-0. DH Hashimoto walked to put two on, and Satozaki singled to bring in Iguchi to run the score to 3-0. All three runs were scored unearned, which always seems a bit dodgy to me as they were clearly attributable to Fukuhara – the error was his. But more importantly: Lotte had the lead.
In the bottom of the 4th Lotte would extend their lead. Benny dug hard for a double to lead off the inning, and Hayasaka singled to move him to third. With two outs, Ohmatsu smacked a double into the right field gap to score both. Iguchi walked, and Hashimoto singled in Ohmtasu to make it 6-0.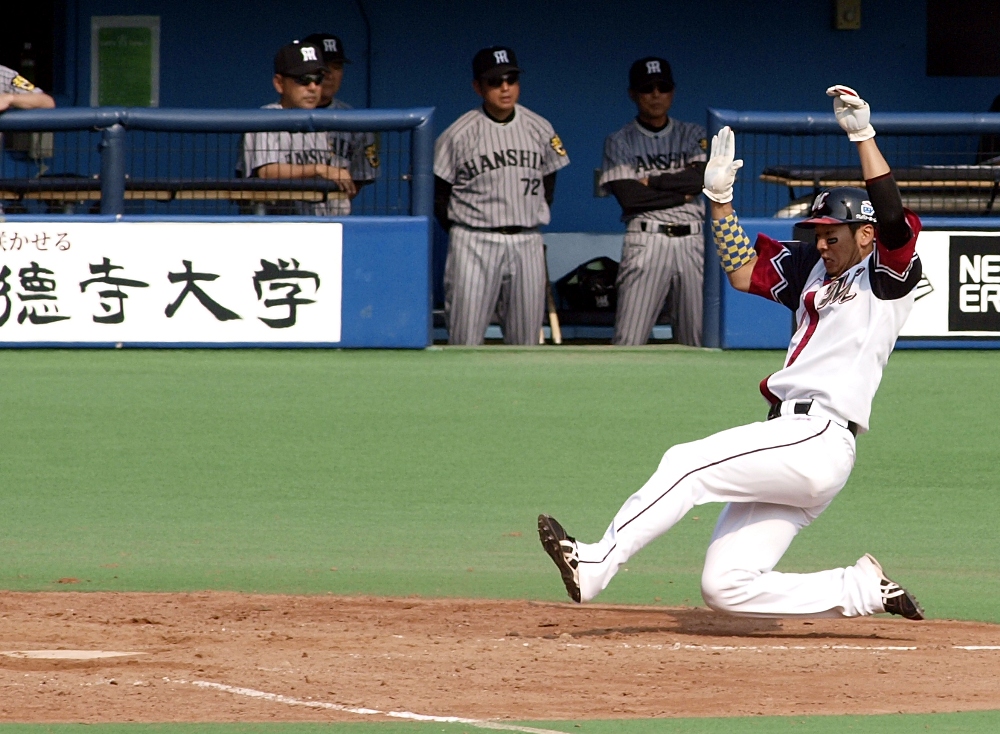 In the 5th, Saburo led off with a single, and Chase Lambin singled to move Saburo to third. Imae knocked a deep drive to left that scored Saburo on the sac fly to get the score to 7-0.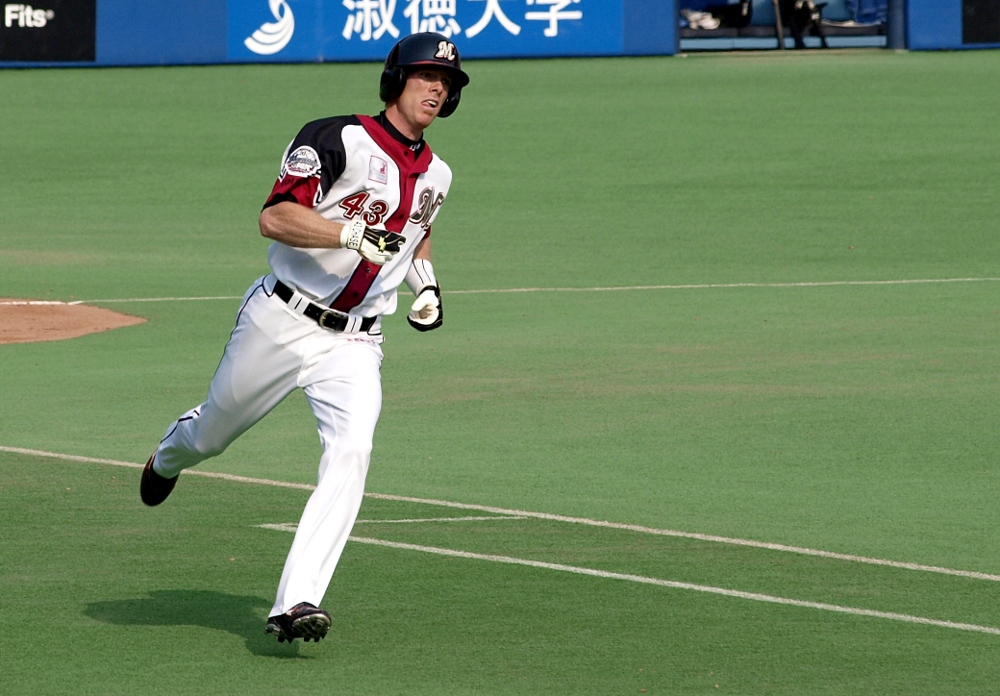 In the 7th, Hanshin scored a run to cut the lead to 7-1. Recent signee and ex-Seibu slugger Brazell fought a painful battle against Ono. He fouled a pitch off his leg, knocking him to the ground in pain. After getting back up and limping a bit, he fouled the next pitch off his leg again. He laid on the ground a while clutching his leg, and in fact the stretcher was brought out in case he couldn't walk. After a time he got back on his feet to continue his at bat.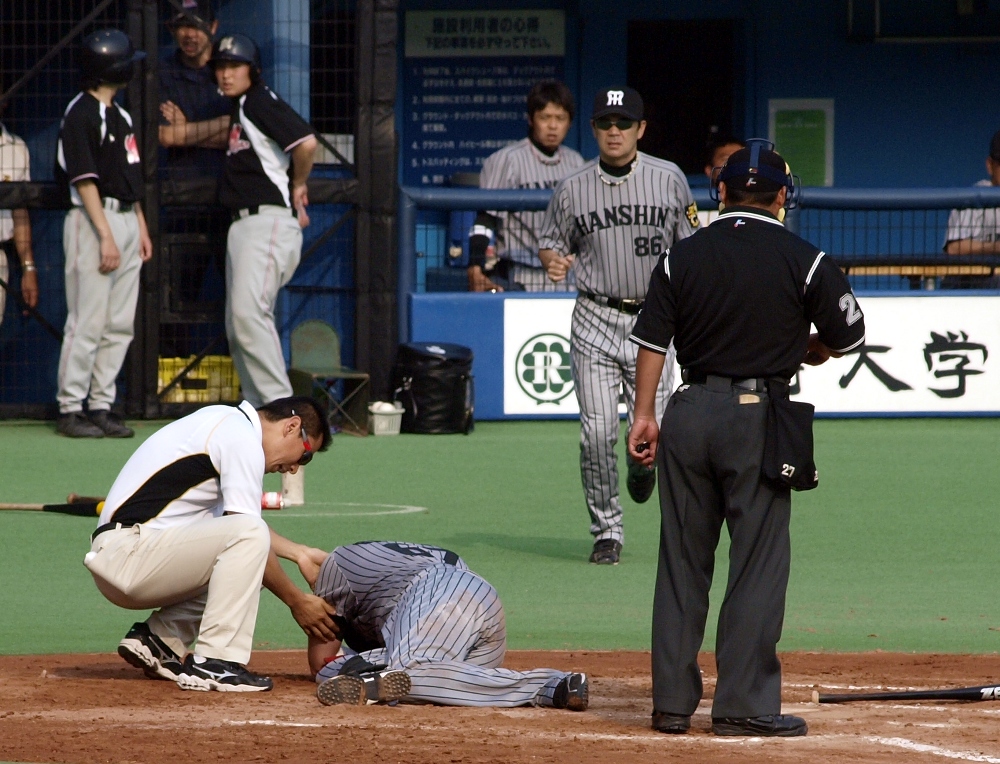 He popped the next pitch off his foot but it didn't hurt him. Ono slotted the next pitch and Brazell cranked it into the right field stand for a solo HR. I wasn't sure he was going to make it around the bases, he was obviously in so much pain. We Lotte fans applauded him for his tenacity. Quite honestly, he's normally not my favorite kind of player – ex-Seibu, low-OBP, free swinging slugger – but that was an at-bat made of pure heart.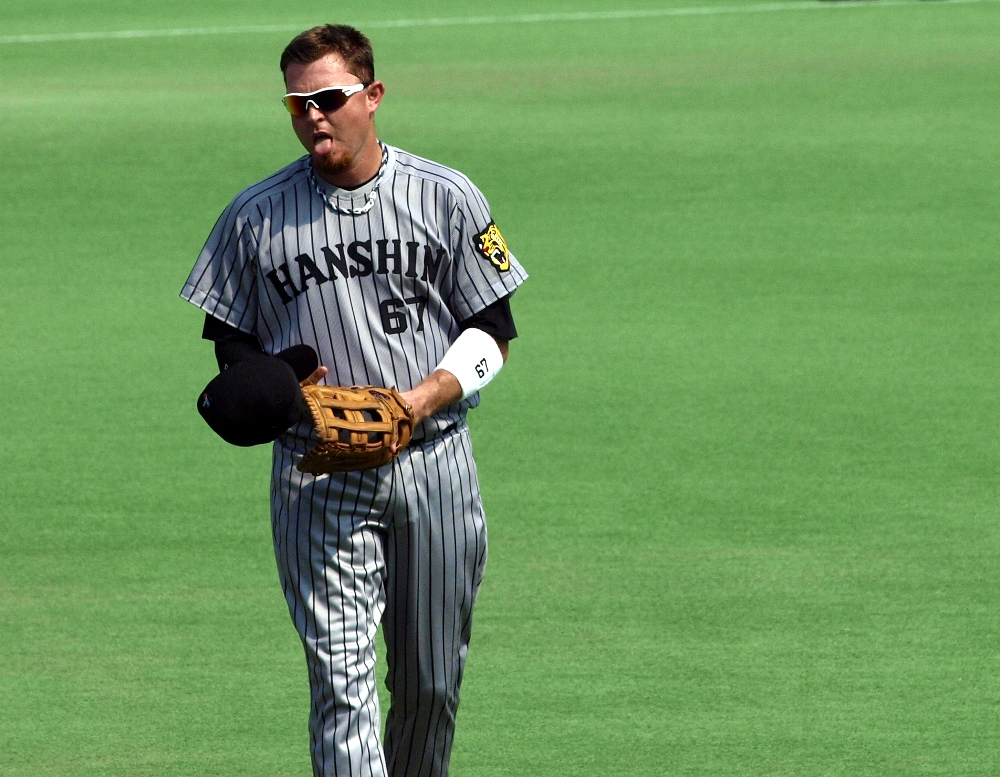 Unfortunately for Hanshin, Lotte got that run back and tacked on another in the bottom of the 7th. Imae led off with a single and both Hayasaka and Fukuura walked setting up a 2 RBI single from the red-hot Ohmatsu. That made it 9-1, which was how the game would finish.
Ono made it through the 8th and Kawasaki mopped the 9th without allowing a runner (and with 2 Ks) to seal the victory.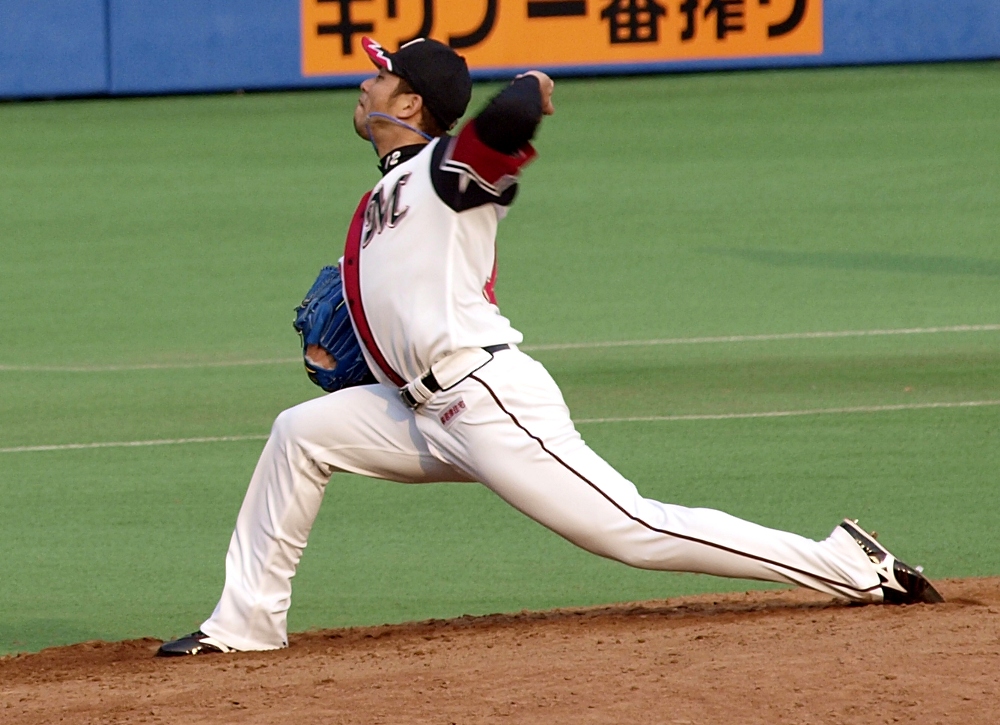 It was another fantastic victory for Lotte, with barely a chance wasted in a 13-hit attack. Ono never let Hanshin into the game, scattering 8 hits but shutting down all Tiger chances (save Brazell's HR). Lotte pitching has been solid these past few weeks and it's nice to see the offense finally kick it into gear and give the pitching the support it needs.
Tigers fans were out in force, of course, though they were quite quiet after the game got out of hand. Hanshin fans – if any of you are reading this – why only use the noisemakers and not your hands? I've never understood that. You turn out in such numbers yet use this plastic nonsense instead of your hands. It's sort of like hiring someone to cheer for you. I've got a lot of respect for the fanaticism of the Hanshin fans, but these noisemakers are like a wooden leg on a supermodel.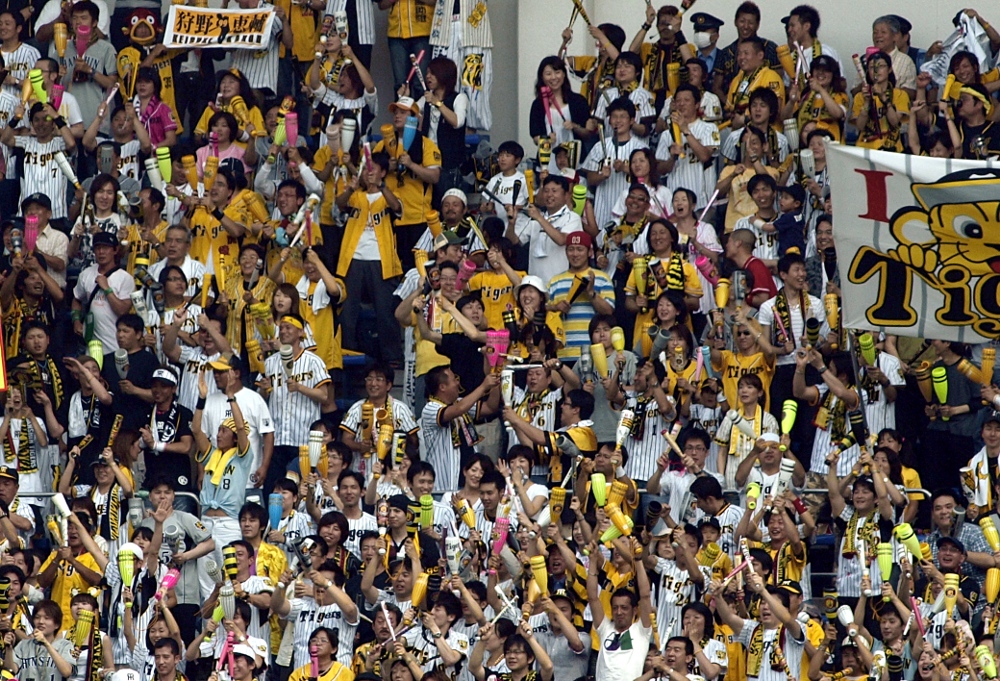 For some reason, there were some Geisha in attendance (or are they Maiko?). They were involved in the first pitch ceremony, too. Plus, instead of the "Lite 70s" music usually played outside Chiba Marine on game days, the stadium staff were playing some odd Lanna Thai-style instrumentals. I'm stumped.