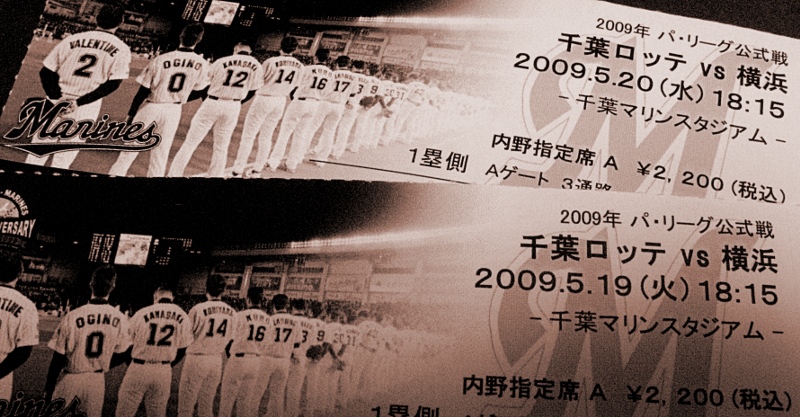 Forgive me if this sounds completely ridiculous – and believe me, I think it does, too – but despite giving up 3 HRs to the worst team in the Central League at home, Naruse Yoshihisa was really, really damn good in tonight's 4-1 loss to Yokohama.
How can that be?
Let's look at the way the game unfolded. Lotte got on the board early in the first as leadoff hitter Tsuyoshi hit a triple (pretty much a misplayed fly ball, actually). #3 hitter Saburo brought him home with a nice sac fly, and the Marines ended the first up 1-0.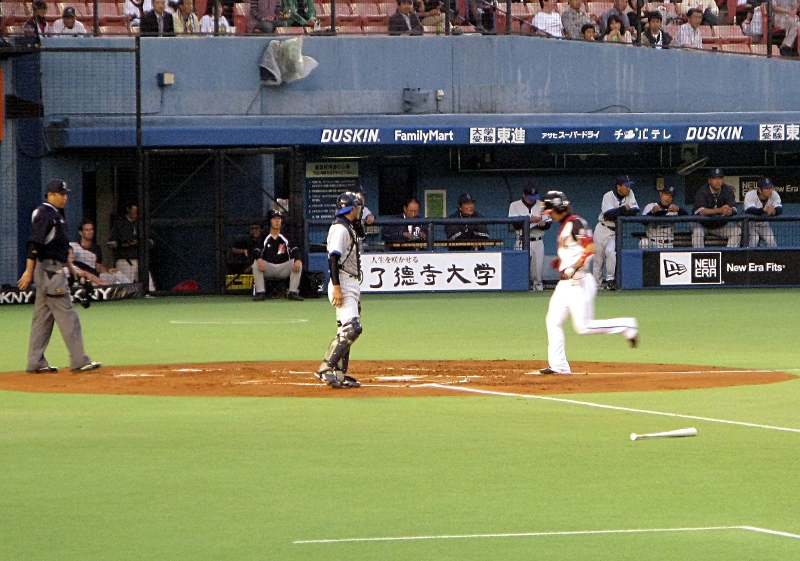 And… that's about it for the Lotte offensive highlights. Yokohama starter Waldrond was heaps more effective tonight than was last night's starter Mastny, and it showed with the lack of strong scoring chances for Lotte. Marines batters scattered a few hits, drew a couple of walks, but never got on track except for the 8th inning.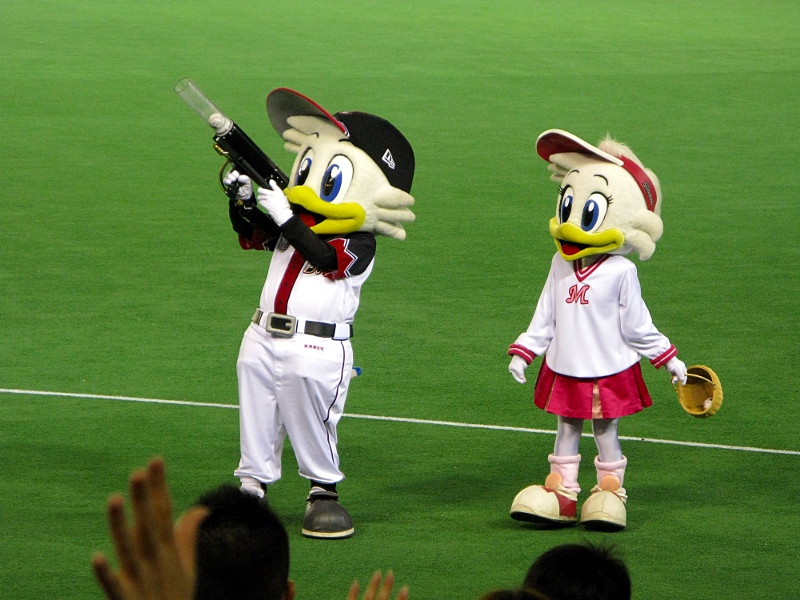 Iguchi got a rally started with a 2-out single, and Satozaki followed with a single of his own. Benny drew his second walk of the game, and Ohmatsu pinch hit for Lambin with a chance to tie or take the lead. Yokohama countered with veteran Kudo out of the pen, and he induced Ohmatsu into a inning ending groundout. It was a pretty close play, too – if it were a swifter runner such as Nishioka or Hayakawa I believe the throw would have been beaten and the run scored, but it wasn't, and it didn't.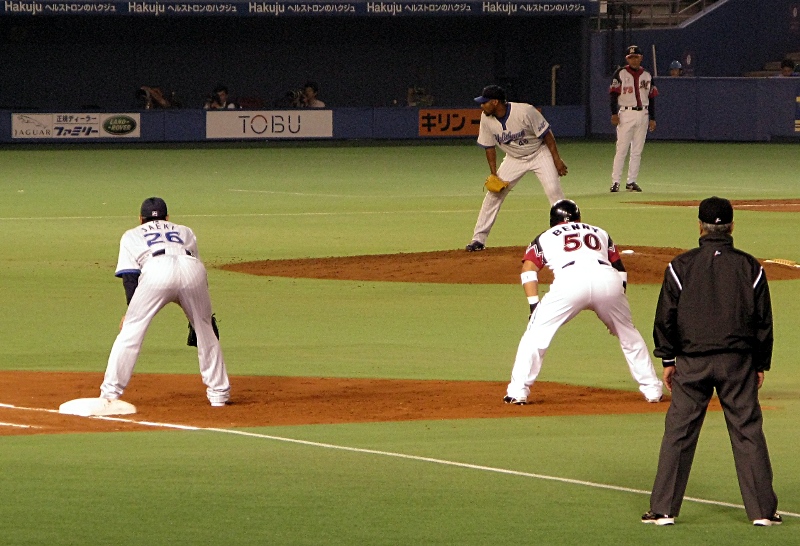 Naruse came out with guns blazing. In the first he struck out 2, but in the second he lost his touch. I don't know if he stubbed his toe on the way out of the dugout or if someone told an offensive joke, but he was a total mess in the second. World-class masher Murata pummeled a first pitch offering into the Lotte ouendan, and first baseman Saeki immediately followed with a blast of his own. The next batter Yoshimura doubled and was brought home on a single by catcher Hosoyamada. Lotte came in to the inning up 1-0 and exited down 3-1.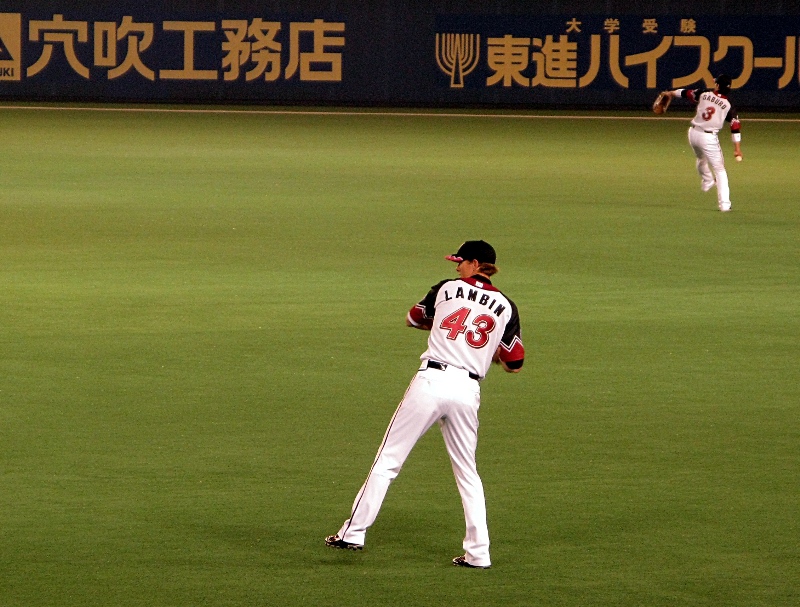 As if his stubbed toe was still smarting a bit, Naruse gave up another shot in the top of the third, a no-doubter to deep left by center fielder Kinjo. A single by Murata shocked Naruse back to life, and from that point on he pitched by pure genius. He struck out the next four batters and in fact pitched perfectly until a leadoff walk in the 9th. Except for that weird period in the second in the third it was as dominating as I have ever seen him, bringing back memories of his brilliant 2007 campaign. Even with the black mark in the box score his stat line isn't bad at all – 112 pitches, 8 Ks, 1 walk, and only 6 hits. I'd say on most nights that gives the Marines a fighting chance.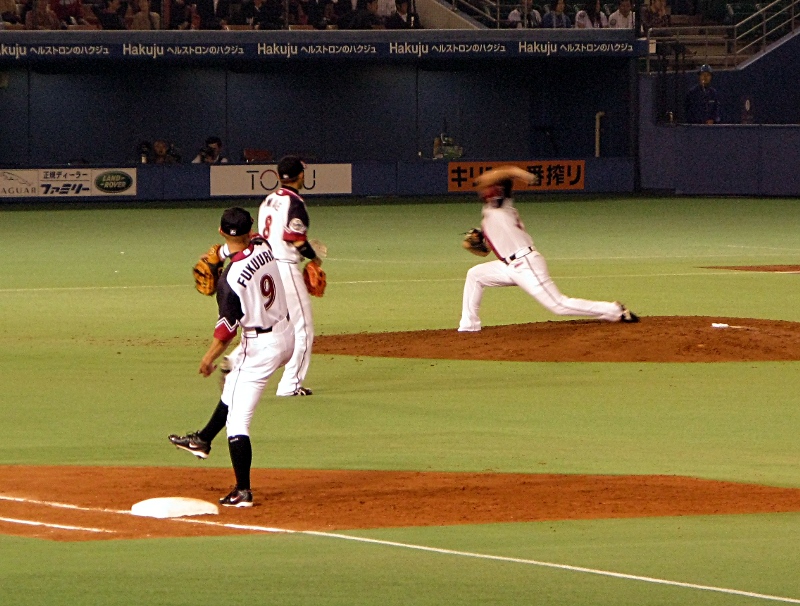 Unfortunately, there are no gold stars for effort on the diamond, so Lotte finishes the short series 1-1. The Marines were the only loser among the Pa-league teams tonight, so they slide from 3rd to 5th (but only 0.5 out of 3rd). Coming up next is a Friday-Saturday set with Chunichi at Chiba Marine – and of course I'll be at both watching Lotte getting back to the win column.