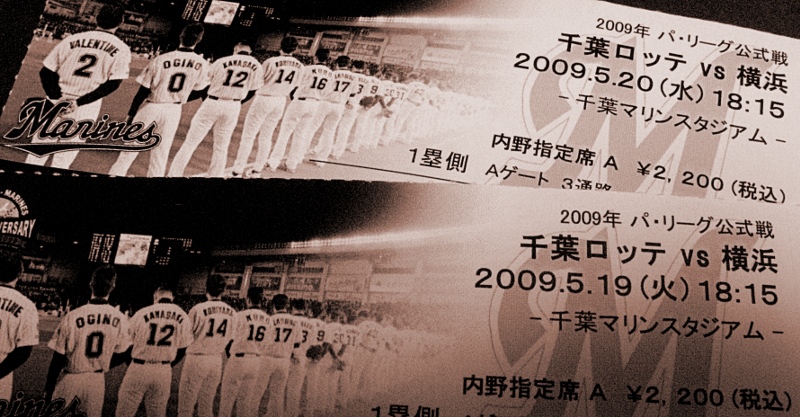 Yokohama cruised up the Shuto B today to visit Chiba Marine Stadium for the opening game of the 2009 Interleague season. Looking every bit like an escapee from one of the many school groups visiting tonight who jumped the fence, grabbed a uniform, and took the mound – 19-year old Karakawa Yuki mowed down batter after Bay Star batter en route to a 121-pitch, 5 hit, 10 strikeout (versus no walks) complete game 2-1 victory. Indeed, the Baby-Faced Killer claims another victim.
This was a very compelling game as the score was tied for most of the game, though there were several scoring chances and opportunities missed. The two starters came out completely differently — young Karakawa dominated right off the bat with a pair of Ks in the first, another in the second, 3 more in the fourth (on 11 or 12 pitches, if I remember correctly), and 2 more in the 5th. The only black mark for Karakawa on the day was the pair of doubles by Kitagawa and Uchikawa in the 3rd that led to Yokohama's only run.
Yokohama's starter Mastny, on the other hand, was getting popped from the get-go, though with little damage. Nishioka drilled the second pitch of the game to deep center but the strong wind blowing in kept the ball in. So many Lotte batters made excellent contact, but the resultant line drives went to all the right places for Yokohama fielders. Lotte's one early run came off an infield grounder by Iguchi that brought home Takehara, but the Marines weren't able to plate any more runners.
That changed in the 8th, as all Lotte fans and players in the stadium desperately wanted to see the team break the deadlock and give Karakawa the chance for victory. Hayasaka (he of the .097 batting average but blazing fast speed) was brought in to pinch hit for Burnham Jr. He smartly got on with a walk, advanced to second on Fukuura's sac bunt, and was brought home by Imae's absolutely smashed liner off the fence. Grandmothers and schoolkids, salarymen and housewives – we jumped and screamed and high fived till we were sore. I knew after that hit that Karakawa had all the lead he would need to close out his 4th win of the year.
The heroes of today's game were very clearly Imae and Karakawa. Karakawa has been great all year, but Imae had been in a pretty horrible and uncharacteristic slump, with almost no power, several fielding errors, and an average below .220. Now he's had several great recent games, solid D, and some very memorable plays (Sunday's squeeze, today's game winning double). Great to see the turnaround. Karakawa managed to follow up his last game (the complete game 11K win over Rakuten last week) with a game that was every bit its equal. He really is a joy to watch – it's a bit hard to describe but when he's on the mound he just looks like he belongs, and that he's going to win. He's now at 4-2 with a 2.00 ERA, 45 Ks in 45 IP (vs only 5 walks). I'm really going to look forward to watching him for the next few years.
I was quite excited to go to the first interleague game of the year. The problem with the small leagues is we see the same faces all the time and hear the same songs and cheers. Interleague play, while most certainly an artificial gimmick designed to boost revenues and nothing more, breaks up that rhythm and gives us a taste of the other league. I really like it, actually. Yokohama's fans were awesome – such passion and volume! I've seen the Bay Stars before but not for many years; I forgot how strong they were in their support.
I prepared well in advance for the game. I grabbed my favorite home jersey, a backup in case I changed my mind and wanted an alternate, my cap, flag, ticket holder + tickets, Team 26 card, notepad and pen, camera (with charged batery!), memory card…. Except I forgot the memory card. On a lovely night, in our special mini-package seats with great sight-lines, my camera just flashed 'no memory card'. So I decided to eschew photos (other than the lead photo) in this post as a bit of penance for idiocy, as I normally have 2 or 3 memory card stuffed in my bag and had at least one extra in the office (10 minutes away) had I bothered to check. I'll more than make up for it over the next few days.