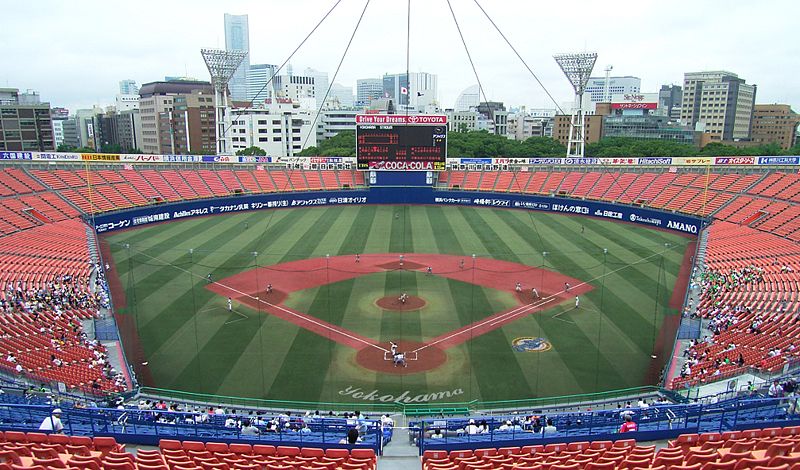 The air was still sizzling after Sunday's 7-HR slugfest between Lotte and Yokohama, but Monday's game in Yokohama provided even more fireworks as the two teams traded blasts, but with Yokohama coming out on top 4-3.
Sunday's two-HR hero Ohmatsu was at it yet again, cranking a 2-run shot – his 3rd HR in 2 days – in the top of the 4th to put Lotte up 2-0. In the 5th, yesterday's other hero – the birthday boy Chase Lambin – hit a one-out double to left and was brought home by Imae to make it a 3-0 Lotte lead.
The Yokohama attack – feared by all of baseball for it's murderer's row of mashers who can knock the cover off of the ball in the purest of fashion – would yet again make it's comeback. In the bottom of the 5th Lotte starter Ohmine would give up singles to Yokohama's Ishikawa and Niinuma. After a sacrifice by Yokohama starter Miura he plunked CF Kinjo to load the bases for the fearsome 2B Kitagawa. 30-year old Kitagawa, who in his 69 career plate appearances had a career .215 BA and career 3 extra base hits (with no HRs), proceeds to take Ohmine's 2-1 offering and deposit it nicely in center right for his first career grand slam, first career HR – hell, his first career RBIs. 4-3 Yokohama.
Kawasaki and Itoh pitched perfectly in relief but Lotte couldn't muster up any more offense. The 4-3 score stood, the chance to win a series and make up some ground on 3rd place Rakuten (who lost to the Kyojin tonight) was squandered, and Lotte comes back to Chiba Marine on Wednesday looking yet again to put some wins together to move up the standings.