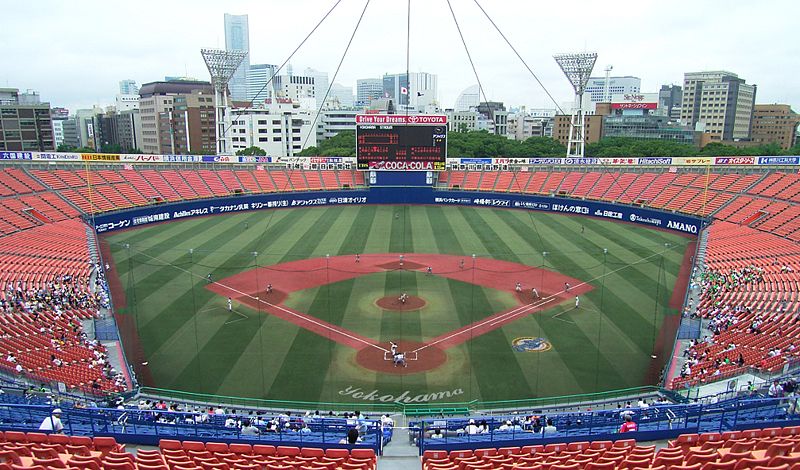 On a lovely late-spring day in beautiful downtown Yokohama both the Lotte and BayStars offenses put on a show, combining for 25 hits and 16 runs in a 9-7 Lotte victory.
Lotte jumped on former Hokkaido starter Ryan Glynn right off the bat. With one out in the top of the first Fukuura and Ohmatsu both singled. Glynn next plunked Iguchi to load up the bases. Satozaki drew a walk to make it 1-0, and with the bases still loaded Benny drew another walk to make it 2-0.
1 out, bases still loaded for Chase Lambin on his 30th birthday. He connects on a 3-2 pitch, smashing it deep into right field for a Birthday Boy Grand Slam, and putting Lotte up 6-0 before Yokohama even comes to the plate.
Yokohama bats will not be silenced, though, and even with the very big hole to dig out of they would make this game very interesting. In the bottom of the first leadoff batter Kinjo connects on a home run of his own off Lotte starter Naruse to make it 6-1. Naruse surrendered two more solo shots in the 4th to Uchikawa and Saeki, and all of a sudden Yokohama is back at only a 6-3 deficit.
Ohmatsu continued his hot hitting as of late with another solo homer in the 5th to put Lotte back up 7-3. Yokohama would keep fighting, though, scoring single runs in both the 5th and 6th to make it 7-5 going into the late innings.
Bobby shook up the pen a bit, letting Ogino work middle relief after his blown save on Saturday. He allowed two baserunners but no runs in one inning of relief. Kawasaki also worked a scoreless 8th to preserve the 7-5 lead.
Ohmatsu was at it again in the top of the 9th, hitting another homer – this one of the two-run variety – to make it a comfortable 4 run lead. Sikorski came out in the bottom of the 9th to close it out for Naruse. He's been amazingly dominant as of late, not giving up a run since mid April and sitting on a 0.79 ERA. That would change tonight, though, as leadoff batter Uchikawa doubled and Samurai Japan slugger Murata brought him home with the 7th home run of the day. That made it 9-7, but Sikorski settled down, got the final outs, and closed out the victory.
Quite obviously that's the best offensive performance in a while for the Marines – the most runs scored by Lotte since the first weekend of May against Softbank. It was remarkably efficient scoring, too – 9 runs on 9 hits, helped for sure by the very rough first by Glynn and the awesome power display by Ohmatsu and Lambin. Perhaps we're seeing the start of a renaissance for last year's player of the month for July Ohmatsu?
The season series with Yokohama finishes up at a rare Monday game. Lotte is looking for it's first series win since the Seibu series three weeks ago.