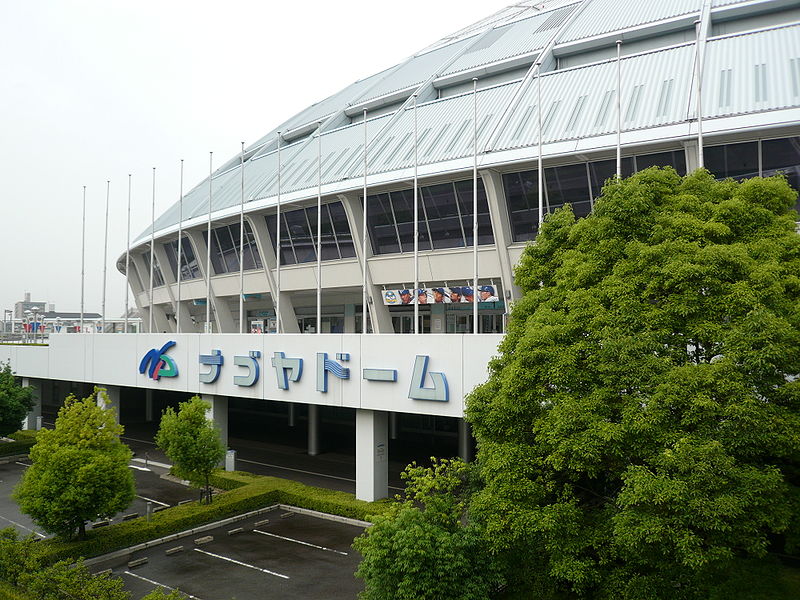 Lotte and Chunichi finished up their season series this afternoon at Nagoya Dome. For a while, it looked like I would be able to autotext the intro I used yesterday (but hoped desperately that I wouldn't get to use). By the end of the 6th inning, Lotte was down 2-0 despite a 4 hit, 6K starting effort from Karakawa Yuki. Like last night and most games in the Interleague series, the hits were few-and-far between: only 3 hits through 6 innings, including a back-to-back double and single by Satozaki and Takehara, but no runs. It seemed another good pitching effort would go for naught.
Then it all changed – in the Lotte lucky 7 a rally was born. With 1 out, consecutive singles by Satozaki, Takehara, and Benny loaded the bases. Hori popped out to make it two outs. Lately, in a situation like this a chance would be wasted with perhaps a run scored at best. But Tanaka Masahiko, the #3 catcher pinch-hitting for Karakawa, singled through the left side to tie the game 2-2. Immediately after, replacement shortstop Hayasaka hit a double to clear the bases and put Lotte up 4-2.
In came the Lotte relief corps. The usual team of Itoh and Sikorski pitched quite effectively, holding the 4-2 lead for closer Ogino with a scoreless 7th and 8th, respectively. Ogino has generally done the job this year. He had a perfect April, blew one save in horrible, sayonara-HR fashion to Softbank in May, and while not quite as dominant as earlier in the year has still been reasonably consistent finishing games. I relaxed knowing the game was in good hands.
Not tonight. After allowing a single to leadoff batter Fujii, Ogino got Fujii out on a fielder's choice, leaving Oyama at first. Pinch hitter Hirata delivered a single to left to put men on first and second. Ogino struck out Ibata for the second out, and it looked like he would escape the jam. Chunichi had other plans, though, as Araki singled to load the bases. Tragically, Dragons 3B Morino hit the 4th single of the inning to score two and tie the game at 4-4. Quickly Bobby pulled Ogino for starter-turned-reliever Kobayashi, who got a first-pitch ground-out to keep the game tied.
Here we go again.
Through myriad pitching changes and bench emptying, scattered singles and scoring chances missed, Lotte and Chunichi played 3 more innings without scoring. With two Dragons on base and two outs, Kawasaki (Lotte's 7th pitcher on the night) induced a ground-out by Fujii, ending the game and leaving Lotte with their 3rd tie in 4 games, 4-4.
This game shows exactly how much a team game baseball is. 2 role players (Hayasaka and Tanaka) deliver when their teammates need it most. 6 pitchers throw, keeping the game tight. The 7th, unfortunately, cost the rest of the team the win and the desperately-needed momentum it would have brought. That's baseball, though.
There's no rest for Lotte either, as tomorrow brings another day game, this time on the road in Yokohama. The Bay Stars yielded 12 runs today to Seibu, so hopefully some of that offense rubs off on the Marines and the guys can pull out a win. Quite frankly, Lotte could use a total-and-complete destruction of an opponent right now.