… there was nothing. In the end, too, apparently. That's what is left after 12 innings and nearly 4 hours – and still the score is 0-0. Nothing.
WARNING: Giants fans may not want to proceed further. This is a pure anti-Giants zone, always. Everyone's free to read, of course, but keep in mind this site is: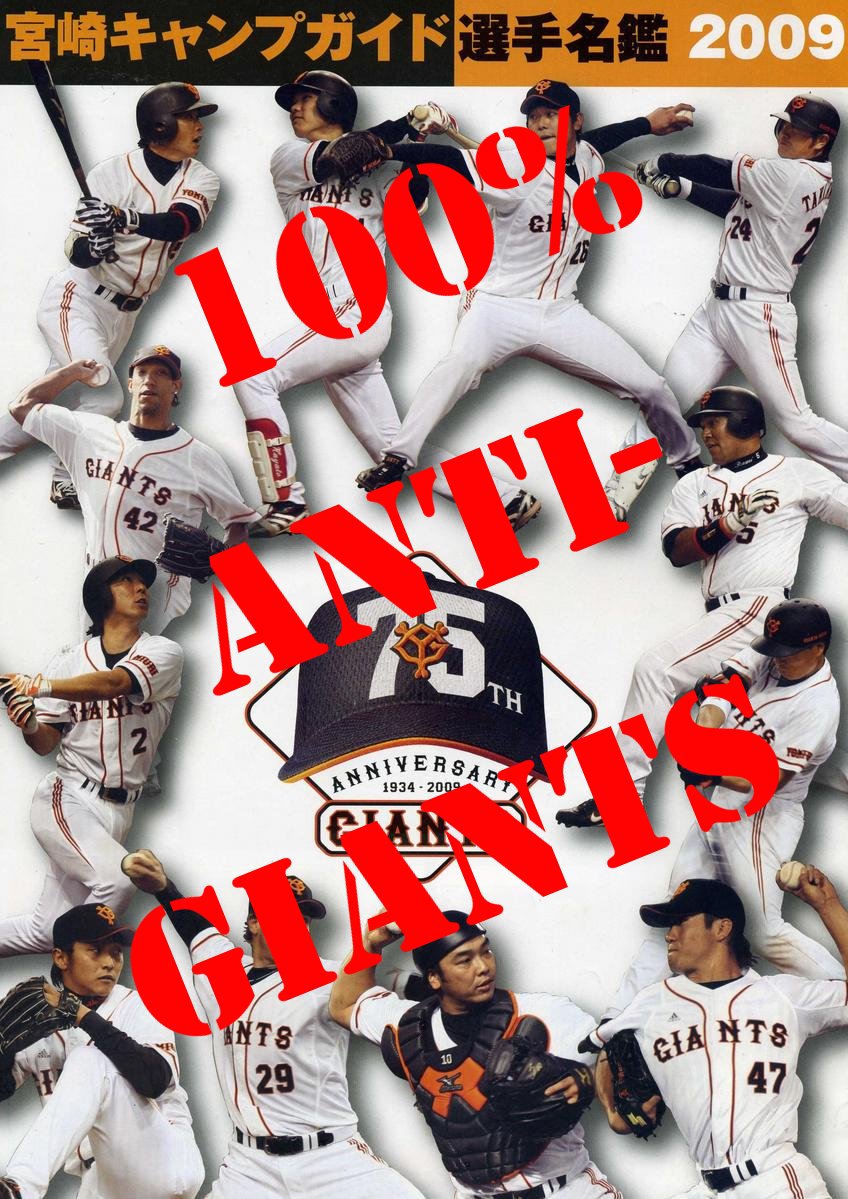 So. Let's get this out of the way first: The only people to cross the plate were those chasing foul balls, the grounds crew, and the umpire. No runs were scored in anger or otherwise. Really, it's as if nothing happened. It's a bit of a weird feeling. I've been to piles of games in Japan but this is my first tie. But yes, the hated Giants and the Marines did finish 12 innings in a 0-0 tie.
The good: Everybody's favorite submariner, Watanabe Shunsuke, was just wild and baffling enough to keep the Giants off the basepath. He went 8 innings giving up only 2 hits (but 5 walks). He only got into one jam – bases loaded in the 8th. Bobby showed the faith he normally does in his pitchers and let him work through it, and work through he did – stinking out Kudoh to end the threat.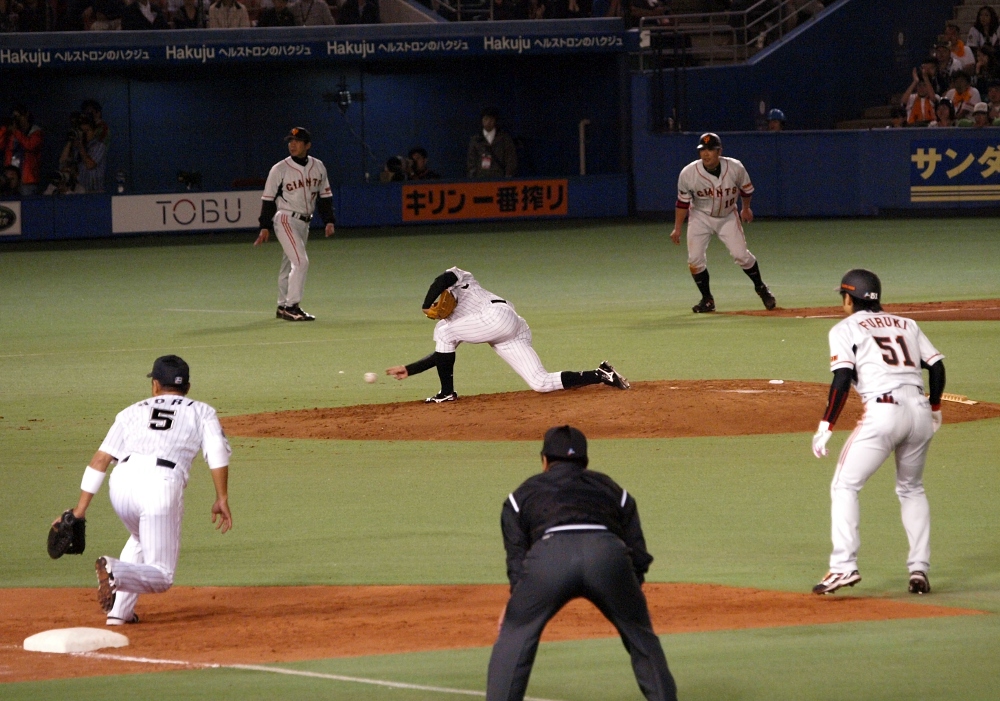 More good: What defense, on both sides! Iguchi made a huge leaping spear of a line drive. Satozaki slid for a pop behind home. Heiuchi made a great snag in extra innings. Several Giants players made highlight-reel catches, especially Kudoh's dive for a liner down the left baseline. If you liked great defense you'd be hard-pressed to see a better played game.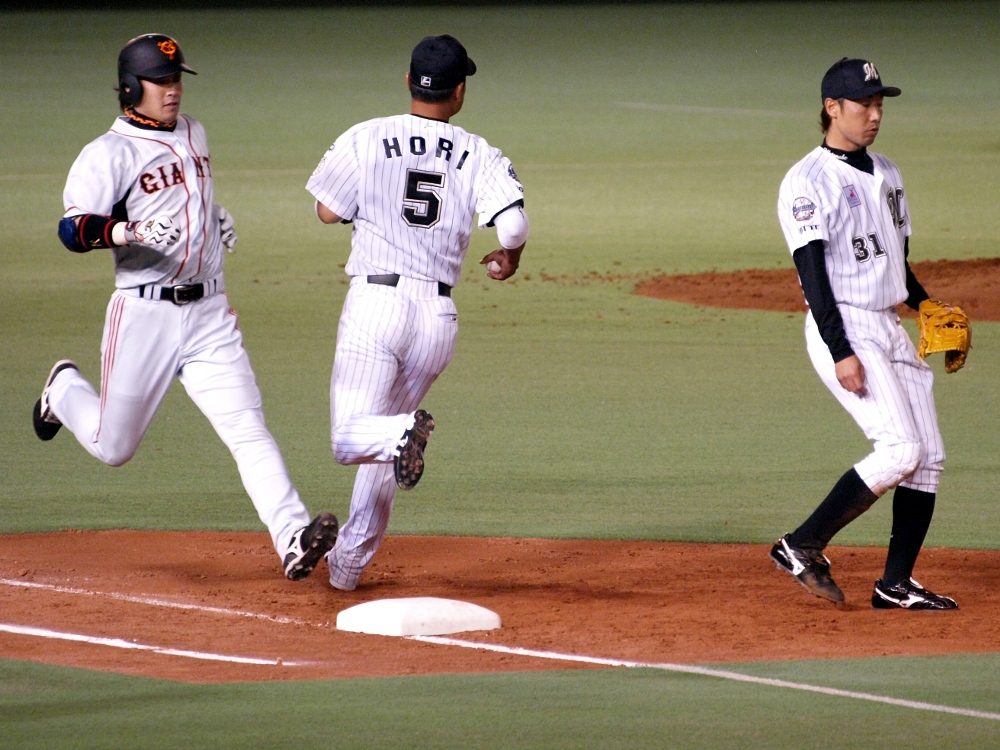 The bad: Oh my, Lotte couldn't buy a timely hit. In the 5th Benny smashed a liner off the top of the right-center fence for a double. It barely missed going out. Nobody out, man on second – unable to come home. Bottom 9 – Hori leads off with a double, Saburo is intentionally walked. Iguchi hits this ball that looks like it went off of him or the catcher but was ruled fair. It's right in front of the plate – Abe snags it, fires – 5-3 double play. Two great chances, but nothing could come of it.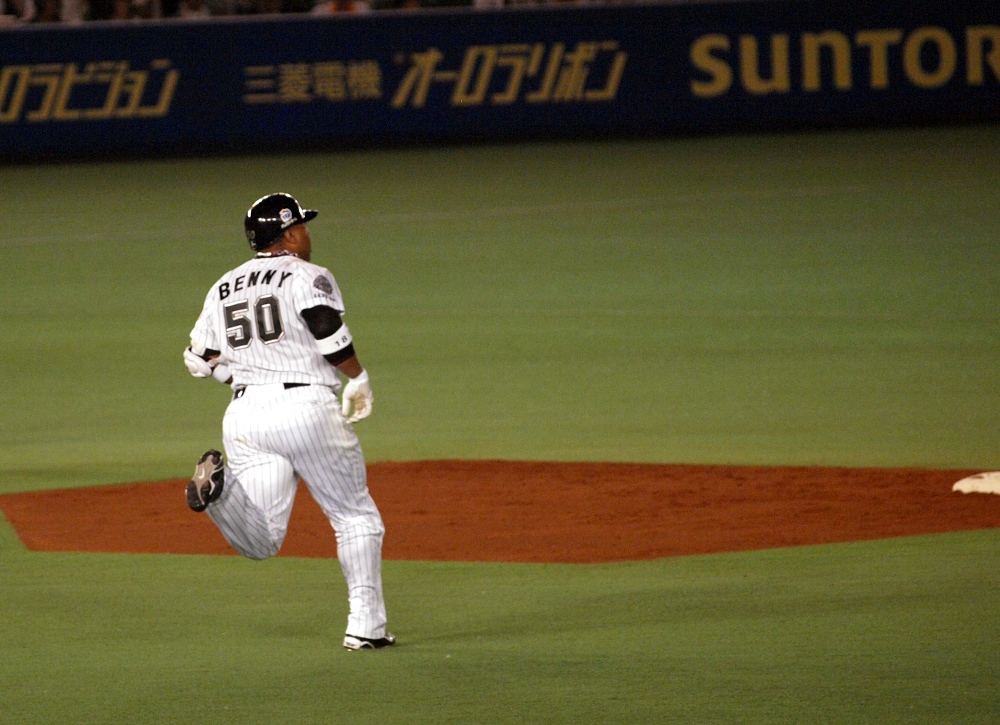 Bottom 10, 1 out: Takehara walks, Ohmatsu hits a broken-bat single, strikeout, strikeout. Threat over.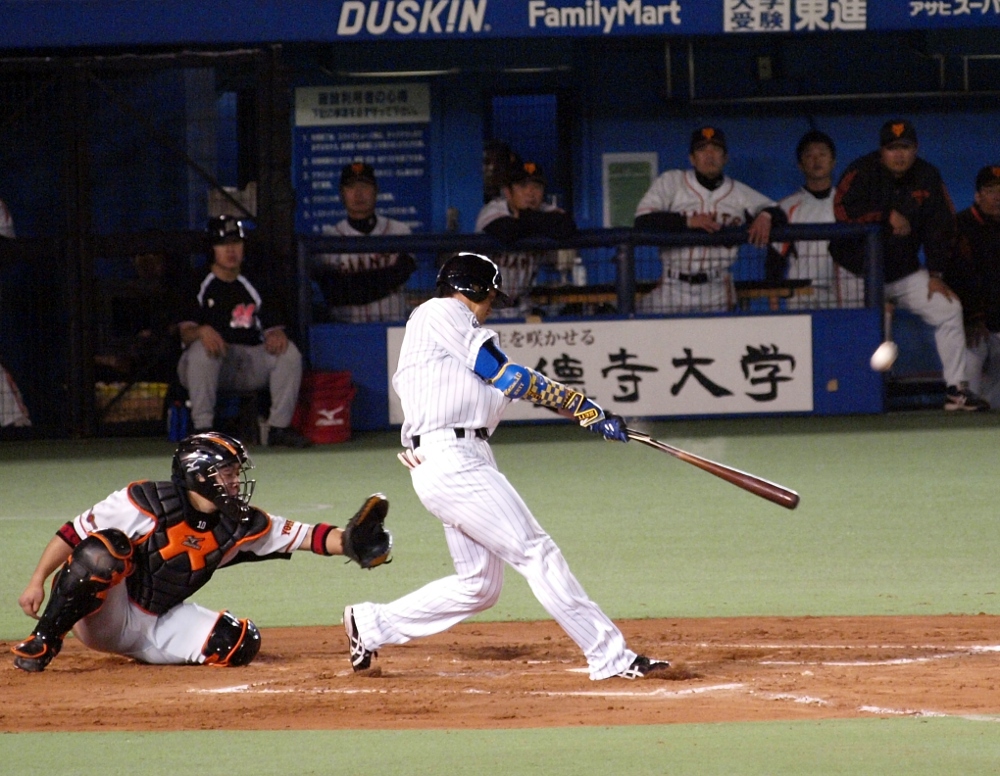 Ugly: Giants fans. A very poor showing, not very noisy ouendan, and lots of little stealthy packets of Giants supporters strewn throughout the stadium. I don't get Giants fans. They don't wear much gear, they don't tend to carry towels, hats, or noisemakers. They don't cheer when nothing is happening. You only hear them if something good happens for the Giants. It's as if they are too fashionable to cheer. I think Giants fans treat baseball fandom like something trendy and obligatory rather than something to be embraced and enjoyed.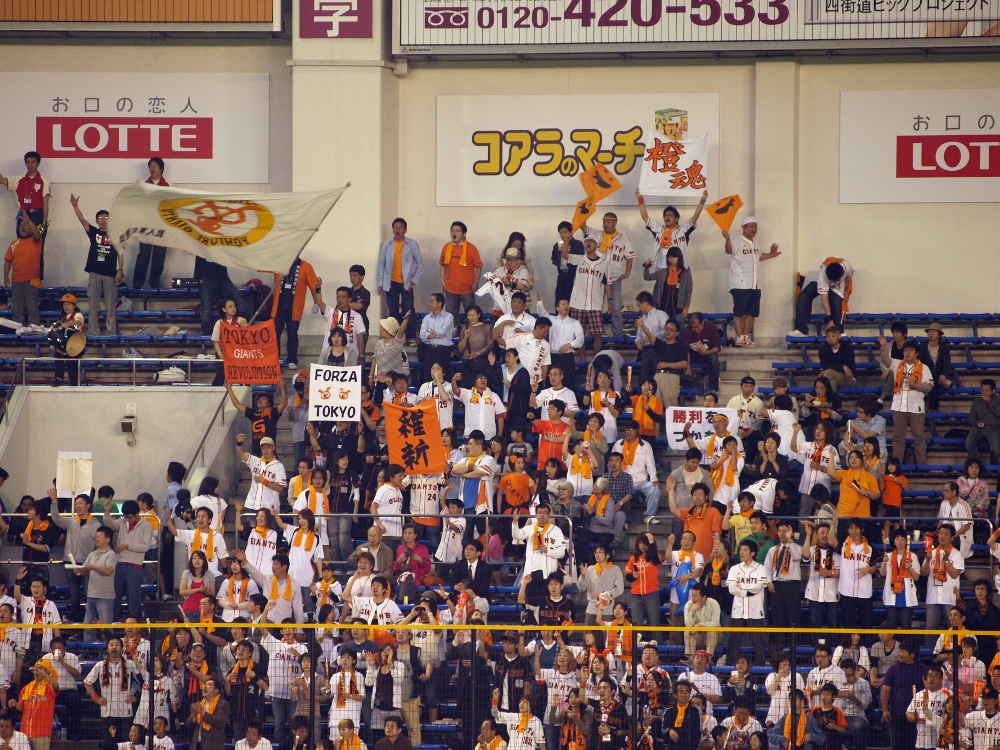 Their lineup seems to be a bunch of free-swinging bashers whose stats are only propped up by that soulless underlit bandbox of a stadium they call home. We may play in unfashionable Chiba, but Chiba Marine is a nice place to watch a game, especially when the sun is shining and the team is winning. Besides, we Marines fans have had a chance to celebrate our team's championship in the past 4 years. Perhaps the Giants' lack of titles causes their fans' gloom?
In any case, Sikorski came in for two innings of relief (getting himself very deep into trouble in the 9th with runners at second and third, but getting out of it, too) and Itoh polished off the shutout. In the bottom of the 12th with no chance to lose Benny drew a walk. Bobby let him stay on the bases (probably because the entire bench had been used by that point). Ohmatsu hit into what could have been a game-ending DP but legged it out to just beat the throw. 2 outs, last chance – I am convinced Bobby did this largely to entertain us, and to think outside the box — but he pinch-ran for Ohmatsu with… Kobayashi. I'm not sure I've seen a relatively swift outfielder getting pulled for a starting pitcher-cum-runner. I was entertained at least, though the game ended soon after on Burnham Jr's strikeout.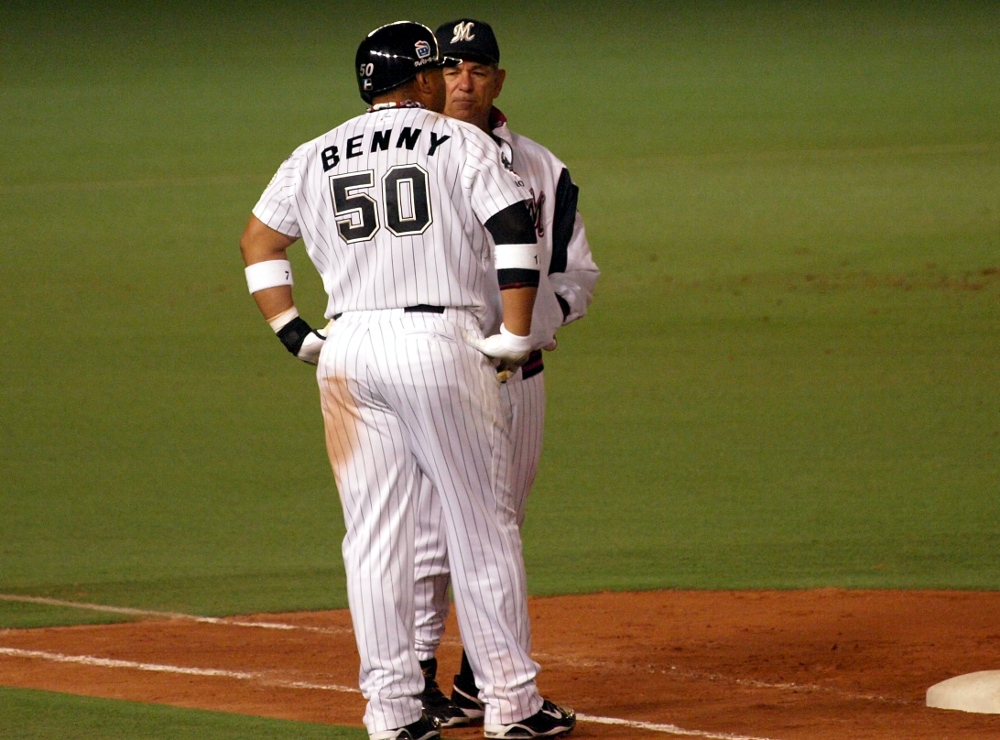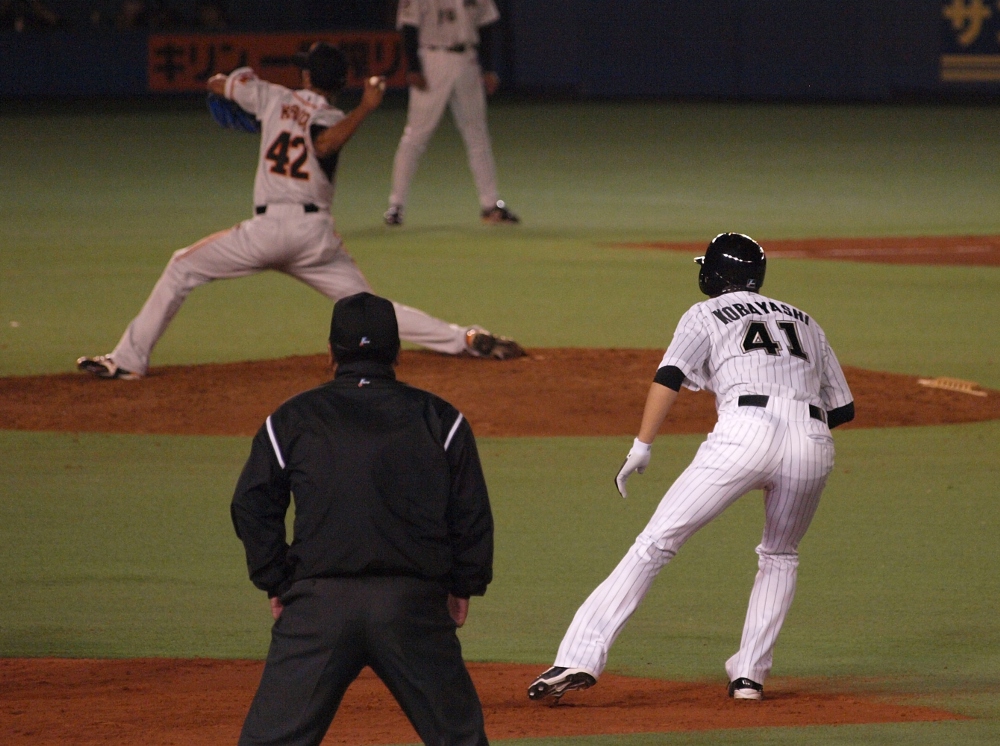 Here's some more photos from Tuesday's action.