The Kyojin and Marines met up for battle again – not at Ypres, Verdun, or the Somme, but at Chiba Marine – to finish that which was left unfinished in Tuesday's 0-0 tie. It's baseball, though, not trench warfare – so why does it feel like a battle of attrition? Surely the good guys will break through enemy lines for victory; just not today. Yes, AGAIN – after 12 innings and 4+ hours the front lines moved nary an inch, and visiting Yomiuri and Lotte play to a 1-1 tie.
Today's generals starting pitchers were Greisinger for Austria-Hungary Yomiuri and Shimizu for the Allies Lotte. In a bit of role reversal from Tuesday's game, Yomiuri got several scoring opportunities off of Shimizu but were unable to cross the plate, and Lotte was kept at bay.
Actually, Lotte could have had the first scoring chance of the evening. Hayasaka led off the bottom of the first with a single, but was promptly picked off by Greisinger. Naturally, the next batter (Fukuura) singled, but instead of runners on the corners and no out Lotte only had a runner on first with one out.
Yomiuri scored the first run in the series in the 6th with a homer off the bat of Kamei. The wind was in and across but Kamei got just enough on it to sneak it over the right field fence to put the Giants up 1-0.
Lotte finally got around to scoring a run of their own in the 7th, thanks to a fortuitous error and a timely hit. Leadoff batter Iguchi popped up between home and the pitcher's mound. Catcher Tsuruoka called for the ball and let it bounce right off his glove, leaving Iguchi on first.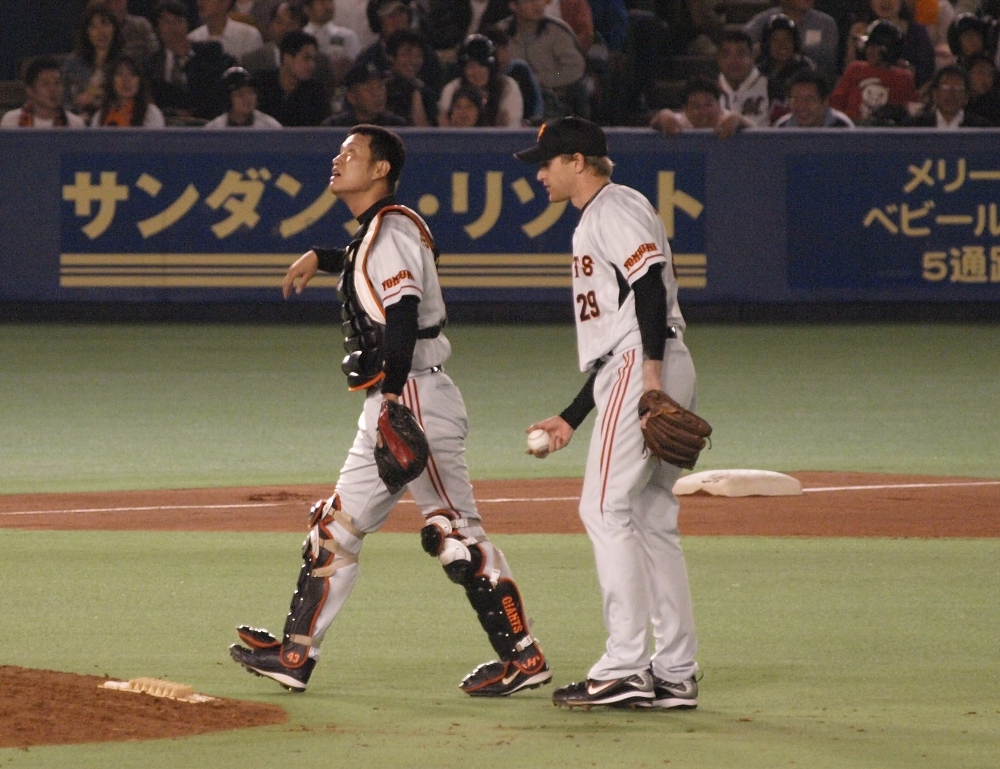 Iguchi then made a great break and snuck under the tag for a steal of second.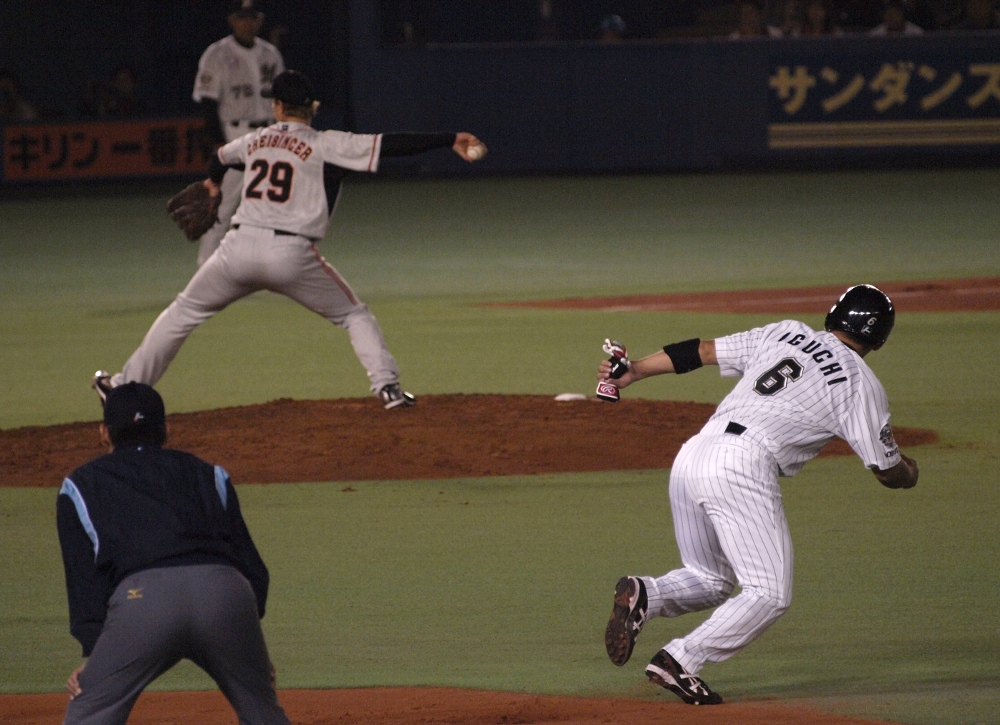 Hashimoto sends Iguchi to third on a sacrifice, Ohmatsu walks – and Satozaki comes through in the clutch to tie the game at 1 each!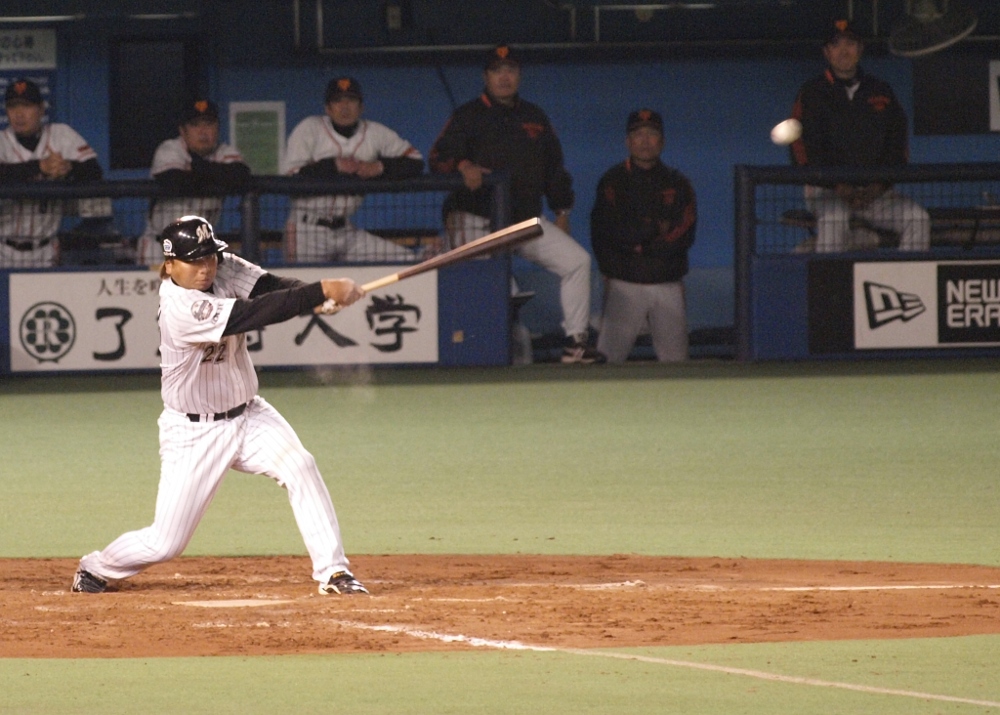 The starting pitchers are chased, and it becomes a bullpen duel for the second night in a row. Sikorski is up first for Lotte, and he mows down the first four batters he faces in 1.2 innings of work.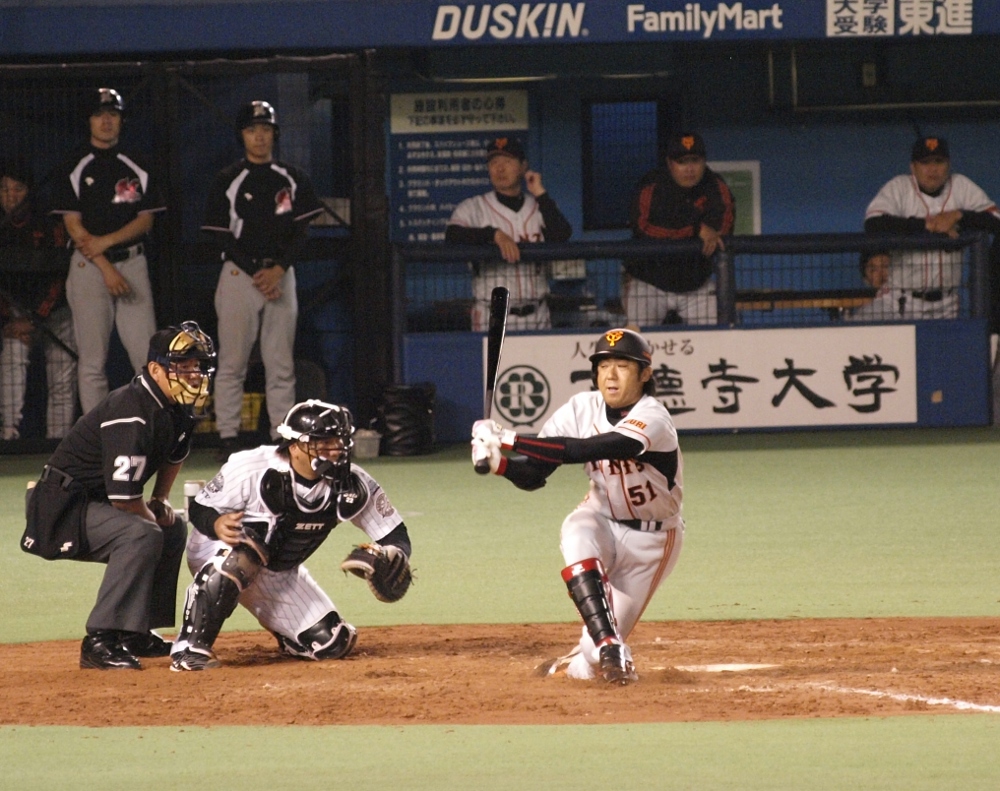 Itoh, Kobayashi, and Ogino worked run-free innings each to send it to the bottom of the 12th, still tied. After a pair of outs by Yomiuri closer Kroon, Hashimoto drew a walk. He was replaced by pinch-runner Tanaka, who was immediately moved to third on a single to right at the feet of Kamei. 1st and 3rd, 2 out, Heiuchi at the plate for his first time in 2009. He works the count, gets it full, fans going wild in anticipation – strikeout looking, game over, another tie.
Apart from the error by Yomiuri it was another very, very well played defensive game. Imae made a twisting catch to get out Ramirez early in the game.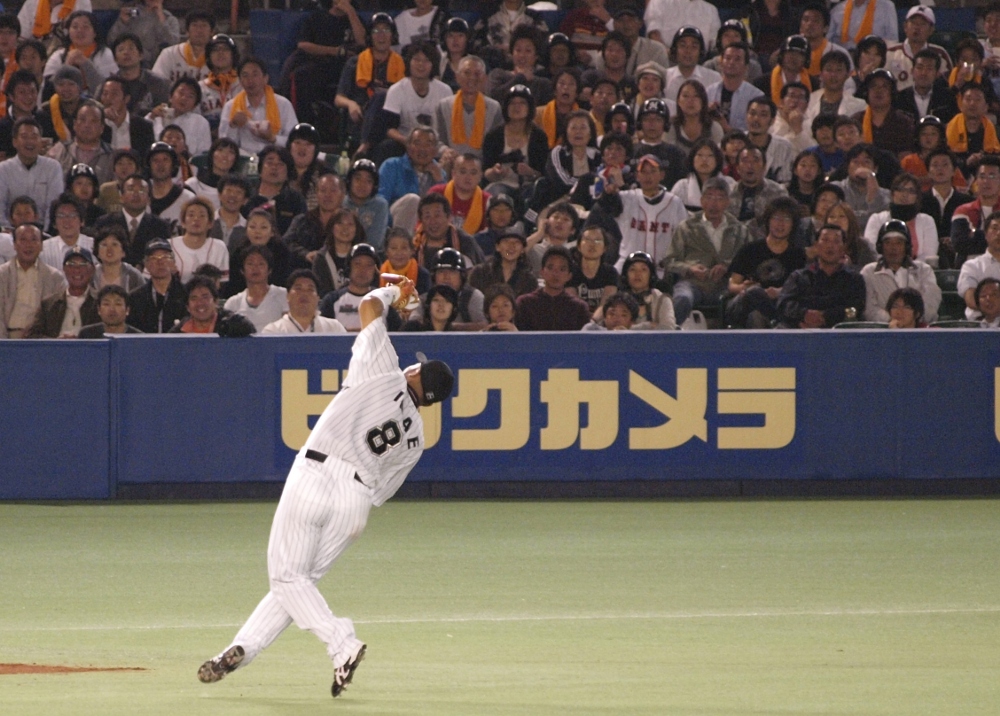 Yomiuri left fielder Kudoh made a full-tilt running catch into the left field wall; very impressive. With Ohmatsu on first, Yomiuri center fielder Matsumoto made a sprawling catch of a Imae liner to end the 5th. It was a phenomenal catch but not a very bright play in my opinion – nobody was backing him in the OF and Ohmatsu would have easily scored from first had he missed the ball.
I got a fun little chant going in my section during a Giants rally. As they sang their rally song with Ramirez at the plate I substituted "Ramirez! Ramirez!" with "Sanshin! Sanshin!" I got a few rows to join in, and while he didn't strikeout he did line out to end the inning.
So nothing resolved, the warring parties move on to their next battles. Lotte heads to Nagoya on Friday for the second half of the Chunichi series, and then it's a Sunday/Monday set with Yokohama. Lotte and Yomiuri will try to move the trenches again in the 20th/21st of June in Tokyo; I'll be there watching the good guys win.
Enjoy some more pictures from tonight's action.