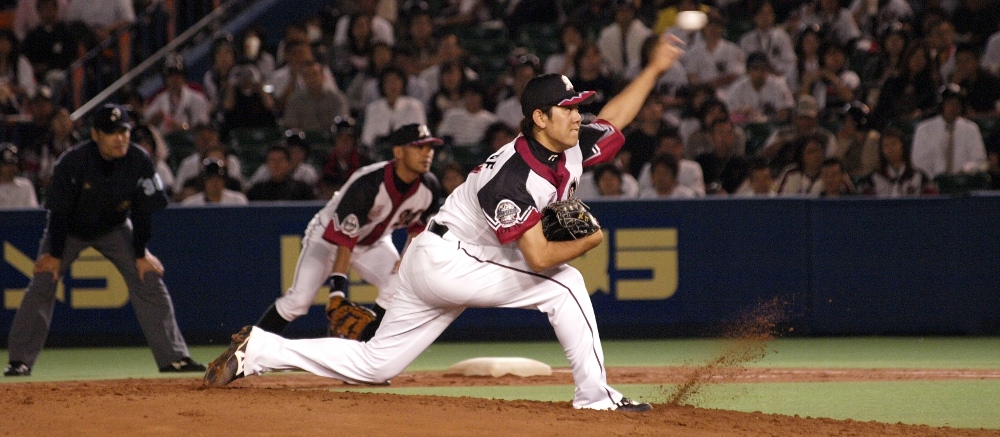 Lotte starter Yoshihisa Naruse as of late has been The Feared One. He has not been the man lurking in the shadows, sneaking up on poor, unsuspecting Pa-League batters. Oh no. He's been the crocodile in the pond, chomping everything in sight and leaving nothing but tears and woe. Let's look at the evidence – since the calendar turned to August young Naruse has won 4 of his 5 starts coming into Thursday's game (with a no decision in the fifth). His last start at home versus Nippon Ham was a pure masterpiece – a complete game, 154 pitch, 13 K 1-run beat down. His stuff was about as dominant as a pitcher's stuff could be (remember, Nippon Ham rules not only the Pa League standings this year but 3 of the top 5 and 5 of the top 11 batters in the league).
Thursday's game was quite as good as that performance but it was still damn good as Naruse pitched another complete game victory, scattering 2 runs (both very early on) on 8 hits and an astounding 12 K's to pick up his 5th win in the last 6 starts. In addition to the 5 wins since the start of August he sports a 2.06 ERA and 9.75 K/9. Memories of his 16-1 campaign in 2007, indeed. Did I mention he doesn't turn 24 until next month?
I pilfered a pair of primo seats – possibly the most primo in the house – for Thursday's game as John and I sat right next to the Daiei dugout. You'll have to excuse the rather large amount of photos of Daiei photos this post as I had to take advantage of being so close to their bench. We were also surrounded by a bunch of Daiei fans including a rather loud gent and his child sitting directly behind us. He was a fan of Daiei's starting pitcher, Shota Ohba.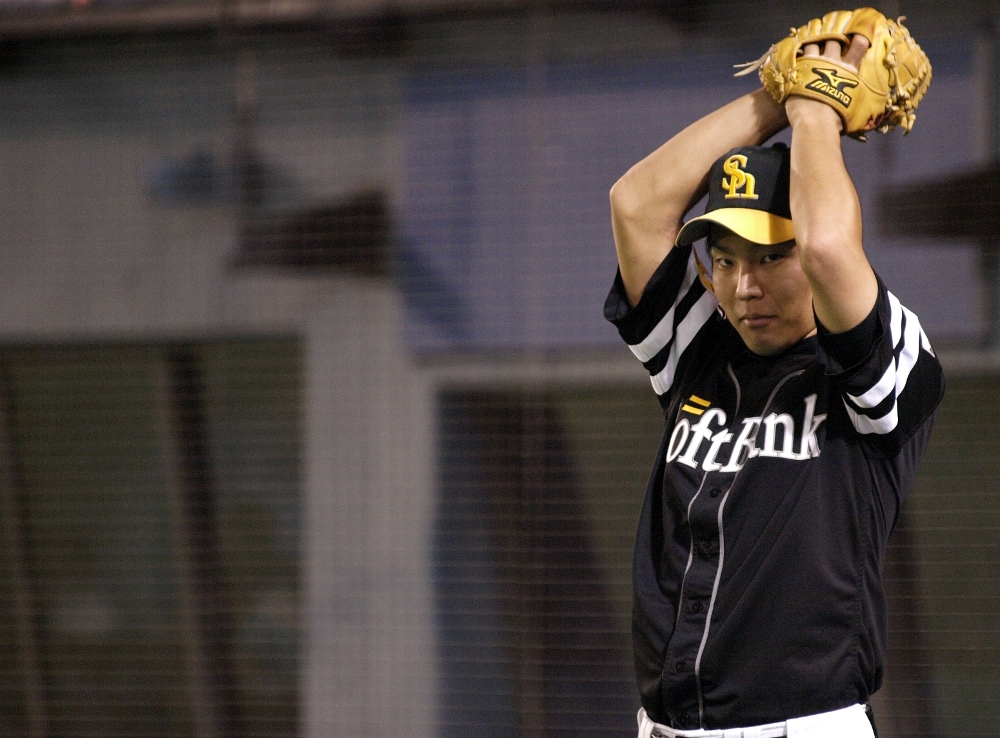 Quite creatively, while Ohba was on the mound this gent would yell – get this – "SHOTA!" Repeatedly. And again. "SHOOOOTTAAAAA!" Sigh.
Early on, the ambient Daiei fandom had much to cheer. Honda led off the game with a single off of Naruse, and Kawasaki bunted him to second. Former Lotte 2B and general nice guy Jose Ortiz got the scoring started with a clutch single to score Honda from second. 1-0 Daiei after one.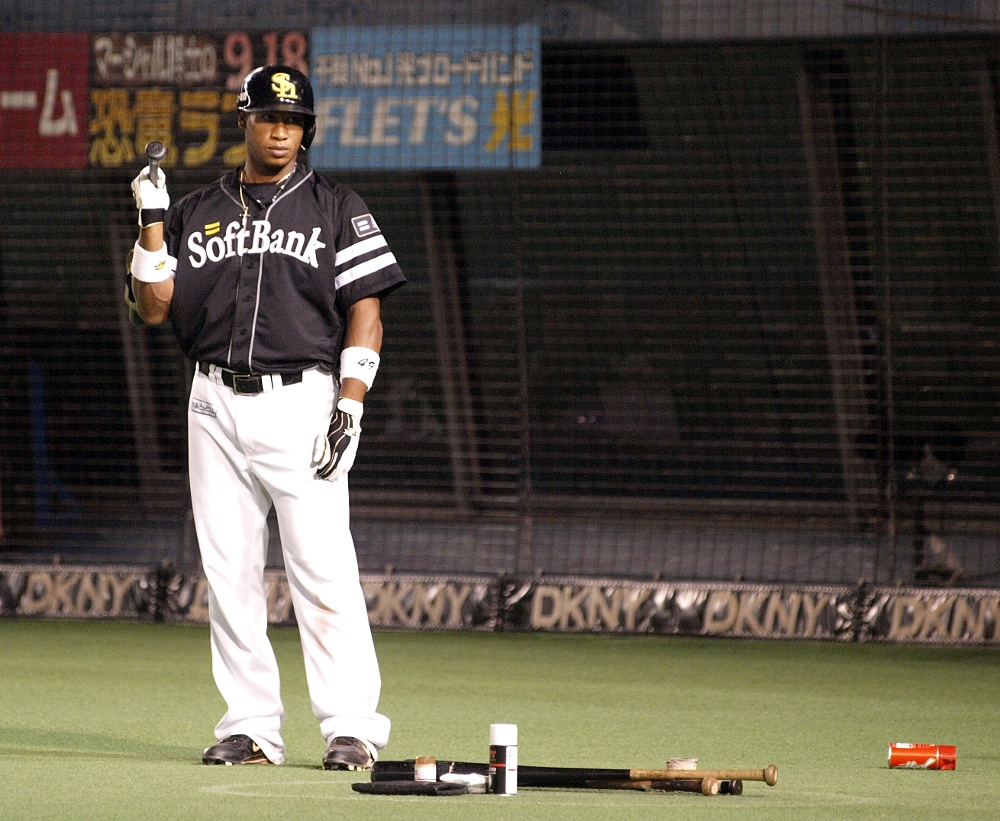 In the second Naruse looked just a wee bit shaky. A single by Hasegawa was followed by a deeeeep blast to deeeeep left by Tanoue. 3-0 Daiei after 2.
For his part, SHOTA! kept the Lotte bats in check early, giving up a double to Ohmatsu in the second by allowing no runs and striking out 3. This, of course, led to much SHOOOOTTTTAAAAA! In the Lotte third I realized I couldn't let this stand, for nobody out-louds me. As Tsuyoshi came to the plate to lead off the third another SHOOOOTTTTAAAA! was screamed, so I uncorked my best TSUYOSHI, causing much giggling among the Daiei fans. I turned to the SHOTA! fan to laugh with him but he stared ahead, grimly, joyless. But quieter.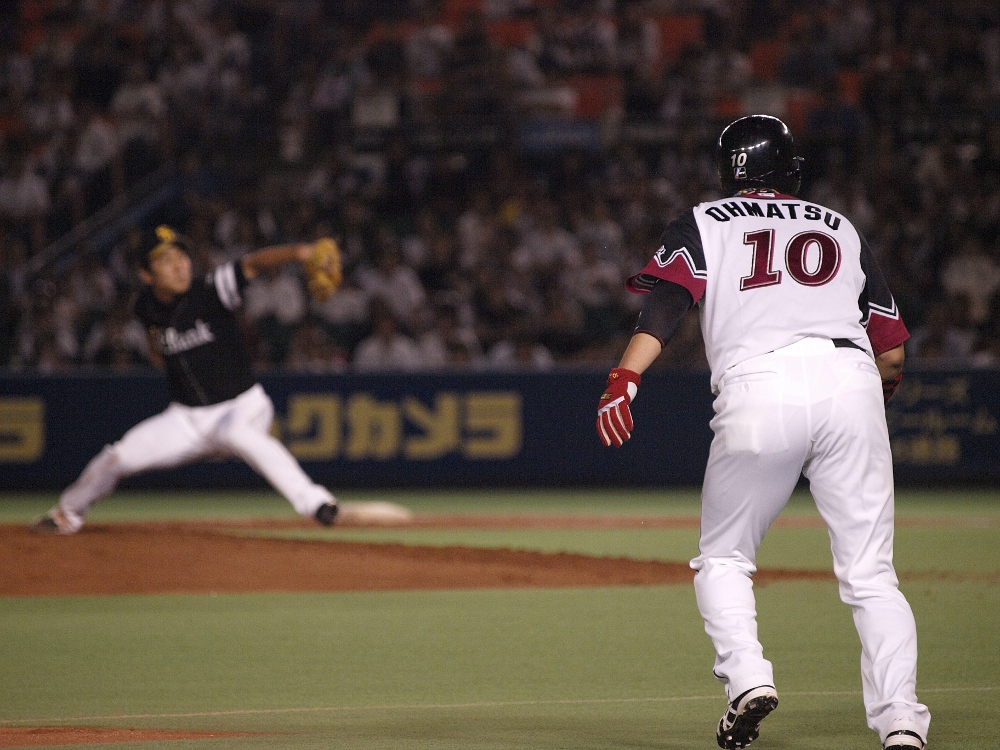 He should be glad BENNY wasn't in the lineup.
Tsuyoshi clearly heard me and responded in kind, singling to start the inning. That would go for naught this third inning but he would remember Lotte fandom and repay the cheers later – more on that soon.
Naruse was woken up by the Tanoue homer and turned the heat up to 11. Over the subsequent 7 innings Naruse scattered only 4 hits and struck out 10, totally throwing a wet blanket on the Daiei attack. At no point in time past the 2nd inning would a reasonable person have said that Daiei had a scoring chance – that's shutting a team down. Could the Lotte offense rise to support their flamethrowing young lefty?
It's now the bottom of the 4th, and SHOTA! is still on the hill. Fukuura leads off the frame with a nice double to left. Imae doubles to right and Nishimura holds Fukuura at third – runners on 2nd and 3rd with nobody out. It's SHOTA! versus Hayakawa – oops, HAYAKAWA!!! – I must do my part! Hayakawa sure does his part – he singles to right to score Fukuura for Lotte's first run of the night. Up next is Tsuyoshi! – he remembers the uplifting cheers of the faithful and delivers an RBI groundout that scores Imae. It's a one run game, folks!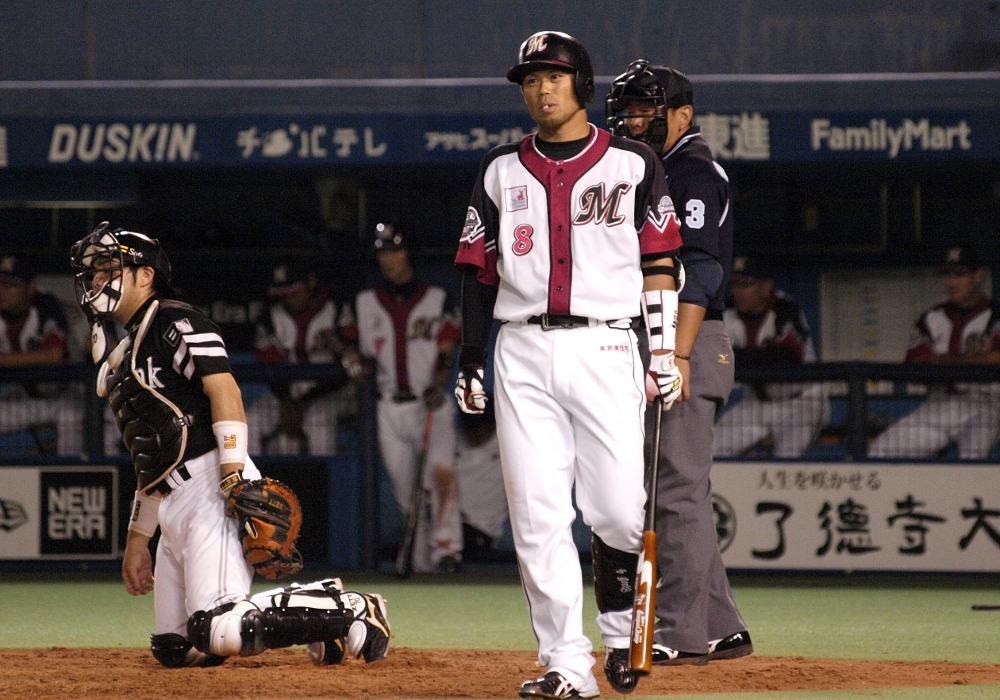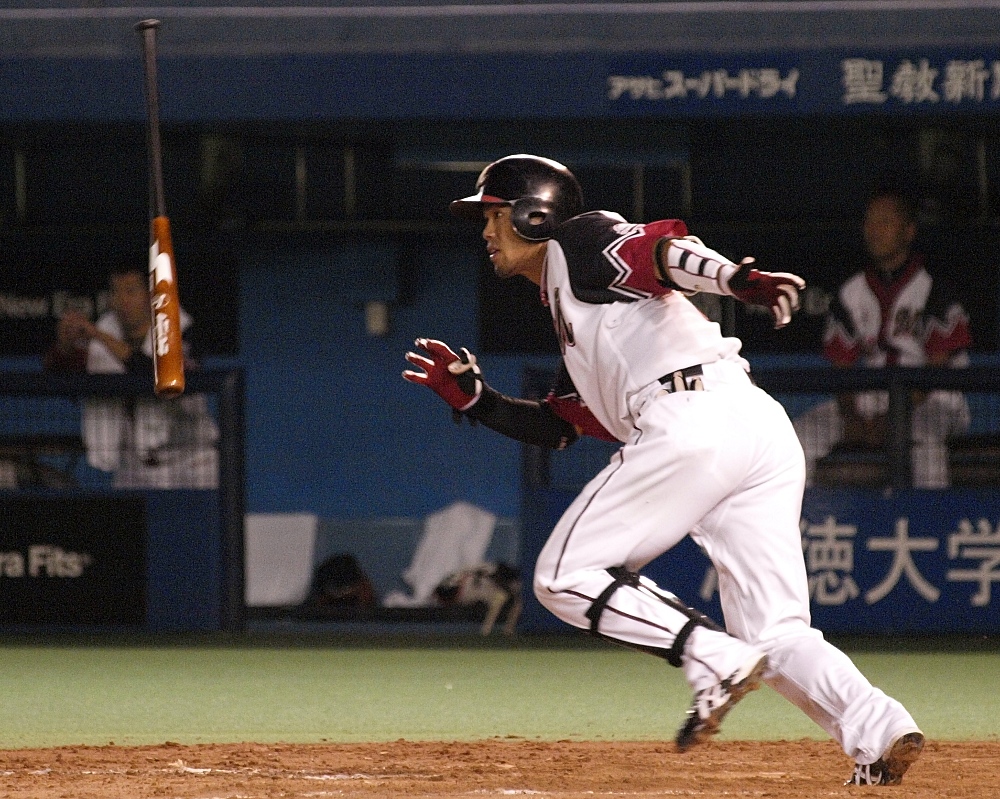 SHOTA!!! has managed to cough up 100+ pitches in 4 innings of work, so Akiyama-Kantoku pulls him for Ohtonari. My ears appreciate this greatly, as do the Lotte bats. Ohmatsu bids him hello with a single to right, Sato singles to center, and with one out Fukuura delivers a clutch RBI single! It's a 3-3 game now.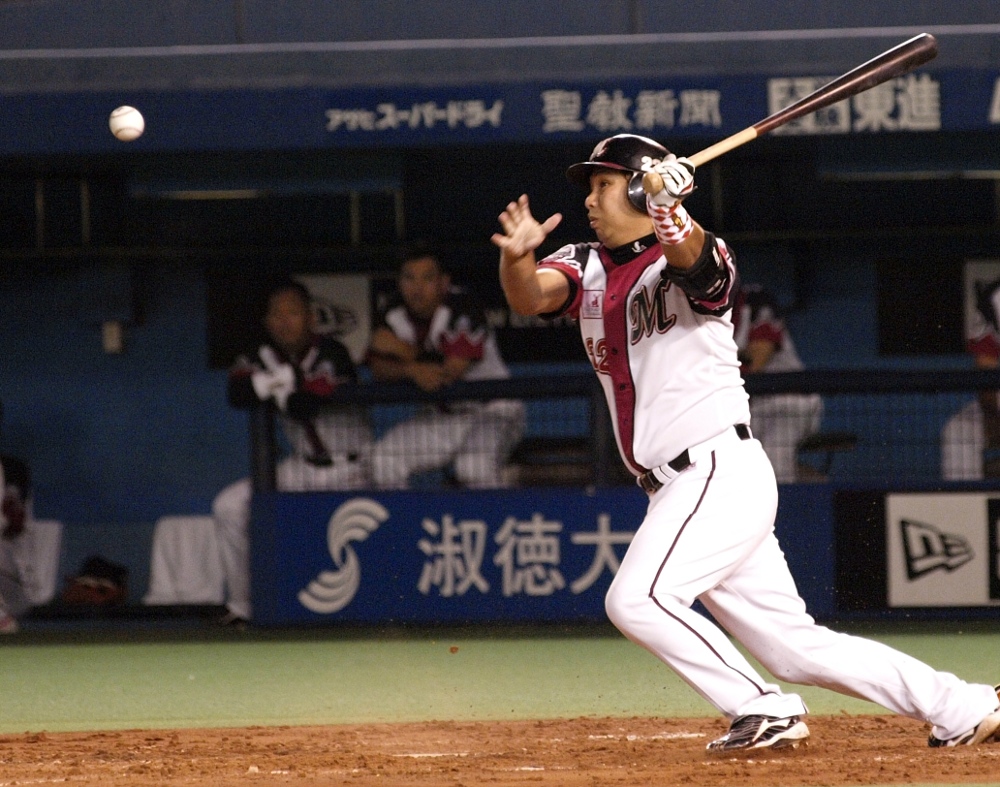 It's the 6th, and more goodness is served to the plate of Lotte bats. Tsuyoshi walks and swipes second, and Saburo also draws a walk. Satoh replaces Ohtonari, and Bobby pinch-hits Hashimoto for Iguchi, John says "He must have a hunch." A nice hunch indeed as Hashimoto delivers a tie-breaking single to score Tsuyoshi! 4-3 after 6.
What's that you say? More? Sure, there's more! In the 7th Satozaki doubles to right but is tragically cut down trying to stretch it to third. Nice hustle, though.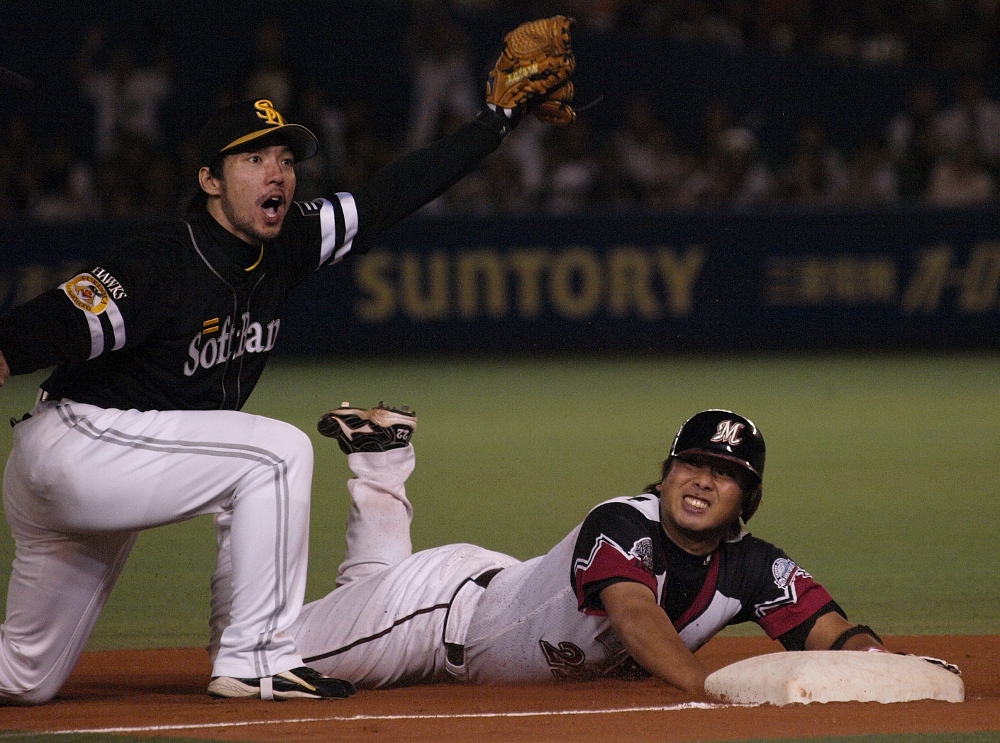 The effort is appreciated by all, except the very very quiet Daiei fans in my section. Notice I haven't mentioned the SHOTA! fan? Quiet as a church mouse. Heh. Not me, though – I'm loud as ever. Fukuura draws a walk and Imae grounds to short – two outs. Hayakawa's at the plate – blammo! An RBI double by the light-hitting but speedy outfielder! Up next is Tsuyoshi, still awash in the adulation of the adoring fans. The moon smiles upon Tsuyoshi, and he obliterates a pitch from Satoh into the frenzied Lotte ouendan! 7 unanswered runs, and a 7-3 lead!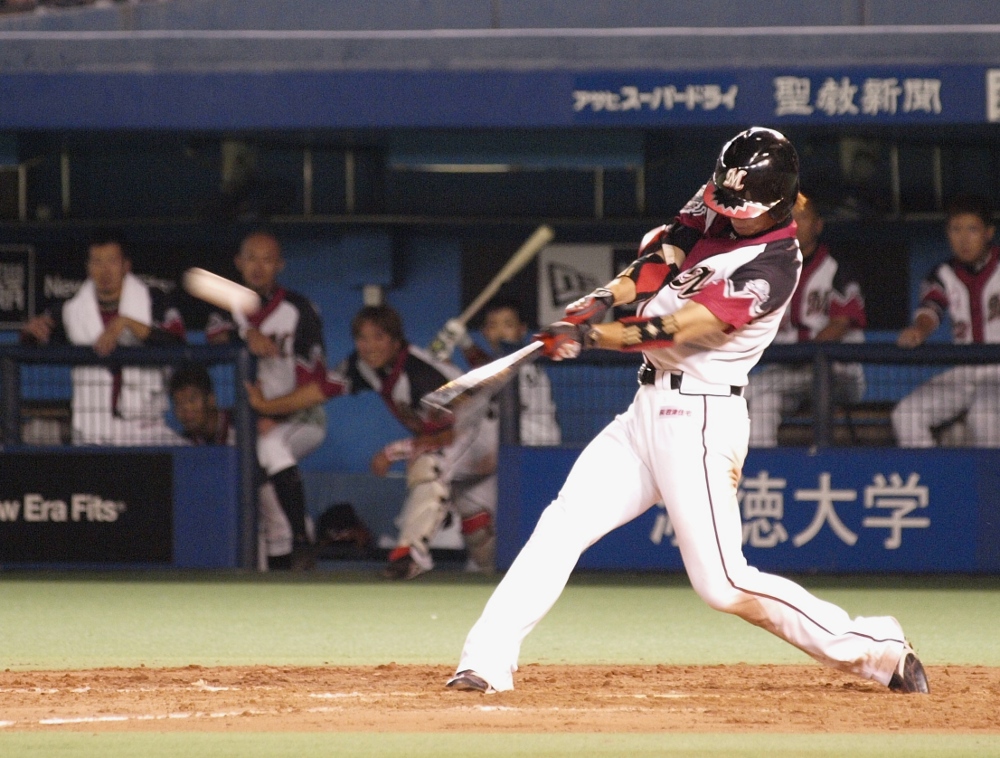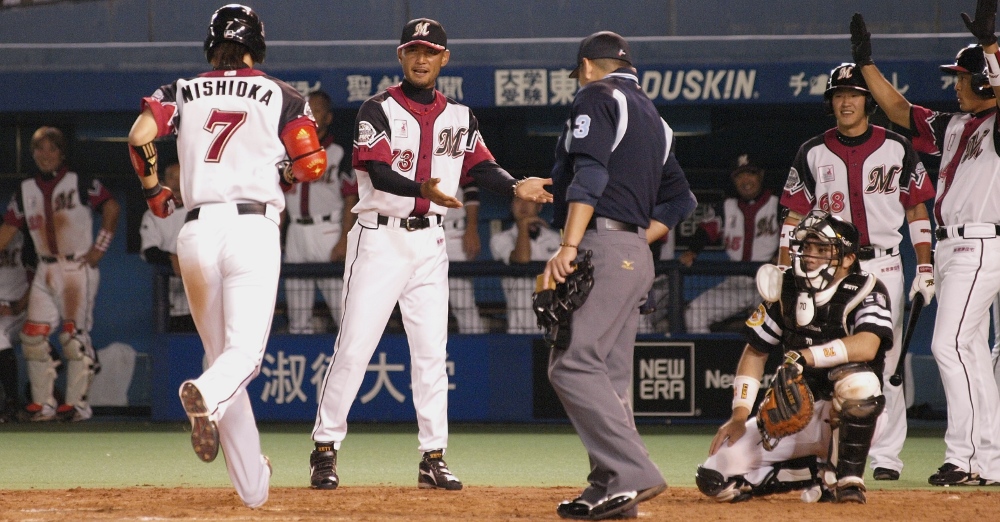 Lotte caps the scoring in the bottom of the 8th with a bases-loaded HBP on Fukuura – 8-3. That's how it would end as Lotte takes the game and the series! Next is on to Sapporo for a weekend set with the Fighters – can Lotte finally break through versus Nippon Ham?