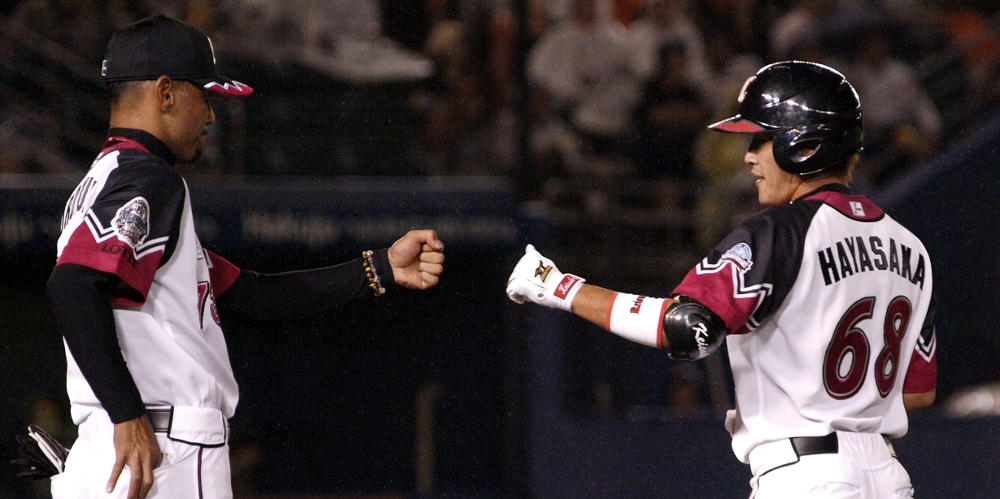 *Please note for purposes of positivity that all discussion to Tuesday's 8-4 loss to visiting Daiei will be conveniently ignored.
What better to celebrate the 9th of September – 9/9/09, as it were – than to have your favorite team beat up on their opponent by 9 runs? Or at least scoring 9 runs? What's that you say, Lotte scored 8? Oh. 9 hits? Erm.
Well, 8 runs was just plenty on this intermittently fine and nasty evening (fine on the diamond, nasty in the skies the rain came off and on despite the weather forcasters insisting it was clearing and only a 20% chance of rain. But I digress) as Our Heroes jumped all over visiting Daiei (or is it Vodafone now, I forget?) early and kept the pedal to the floor in an 8-2 victory at Chiba Marine. Lotte starter Yuta Ohmine picks up his third win in a row, going 6 1/3 innings with 2 ER on 6 hits.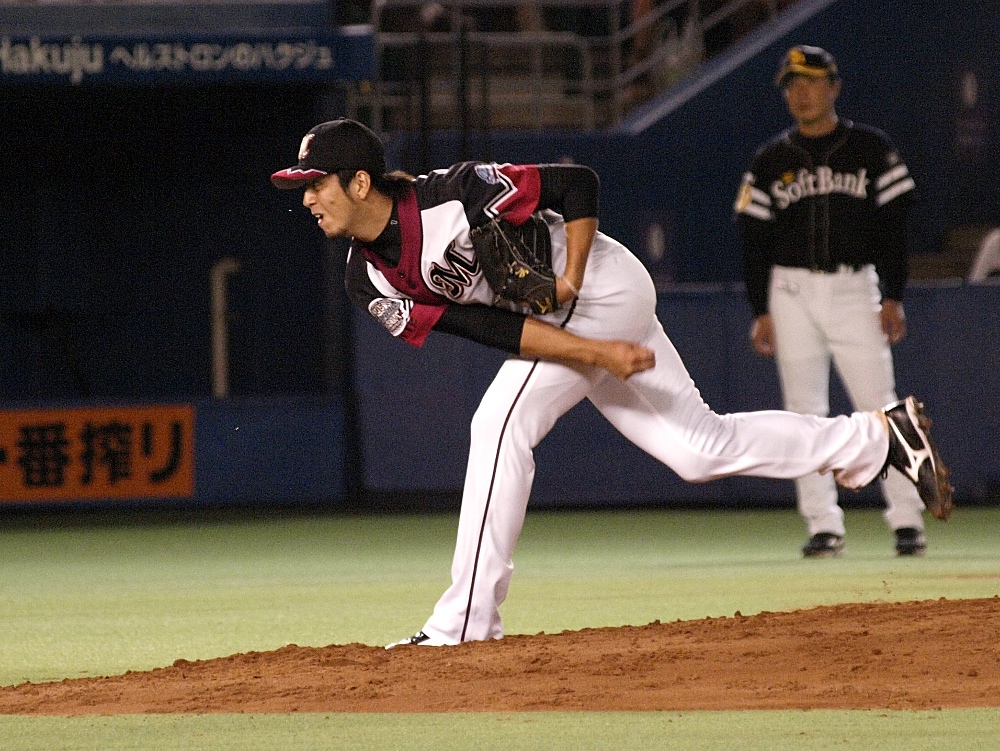 Lotte picked on Daiei star Wada in his first start since May (he's been out injured) to the tune of 6 ER in 3+. Lovely! Tsuyoshi took Wada's third pitch to the back screen to give Lotte the early 1-0 lead.
The fourth inning is where the Lotte party really got started, though. On a 2-3 count Saburo took Wada very very deep, very very straight away, dead center! A solo shot from the veteran outfielder, who's pretty much having the best season of his career at age 33.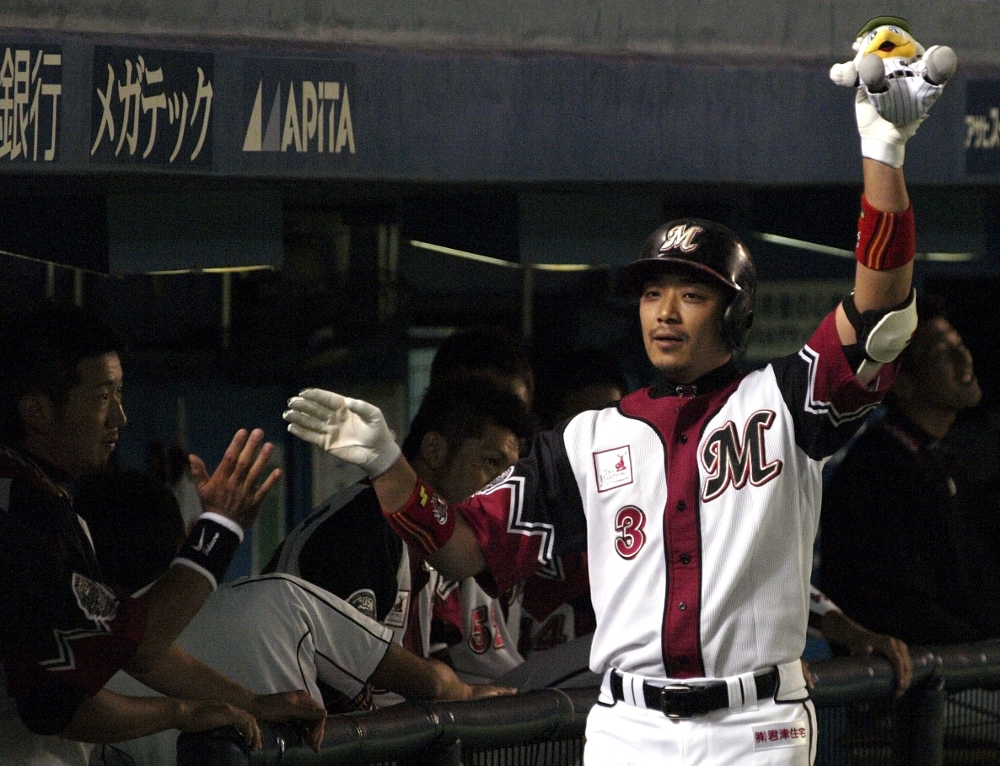 But wait, there's more! Iguchi pounds a 2-2 offering from Wada into the left field stands to make it 3-0. That's 5 HR in 3 games for Iguchi! Best player in the universe in April and September, pity about May-August….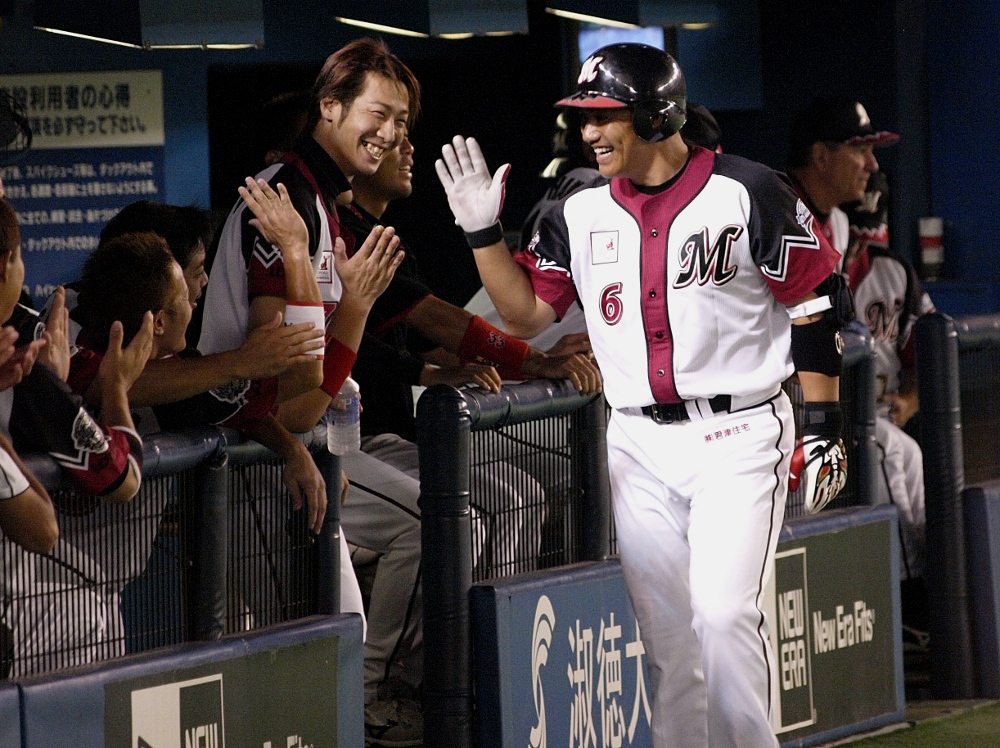 3-0 is clearly not enough; we want more. Benny delivers more with a single to left. After a Satozaki pop out Hori also gives us more – a double to left! Benny scoots to third on the play. It's one out and Hayasaka is at the plate. John and I are enjoying the game from the lovely Field Wing seats (first time in those) and have a nice vantage point for the game. We're stoked and wanting a decisive blow. John, clutching his beer, says "It's squeeze time." And indeed it is! On a very high pitch Benny's on the go. Hayasaka has to leap to get his bat on the ball, but get his bat on it he does, dropping a lovely one down as Benny slides in behind Tanoue. 4-0 Lotte!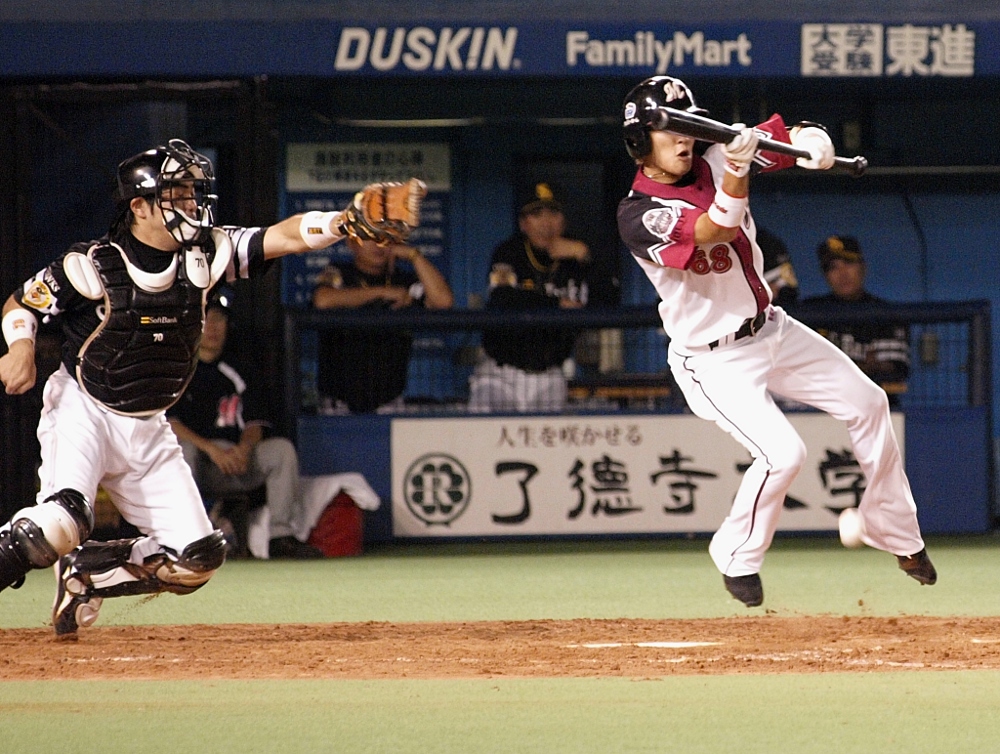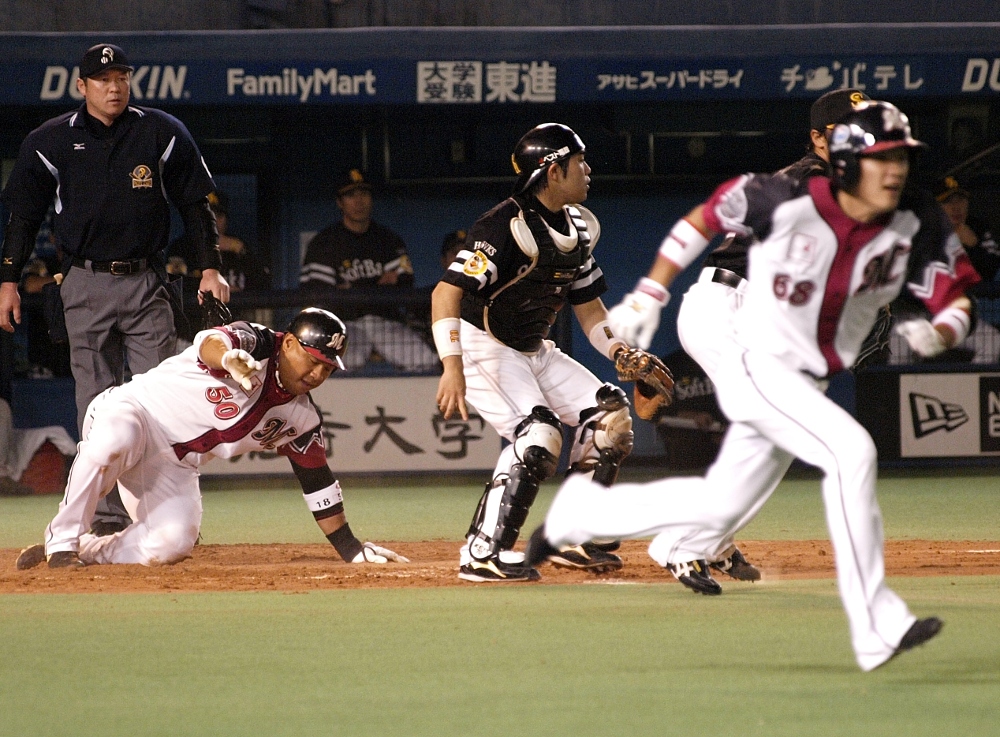 That's still not enough, folks! We want MORE. And more is coming, again! Hayakawa draws a walk, and Tsuyoshi smacks a liner into center to score Koichi and make it 5-0!
Akiyama-kantoku has seen enough and breaks out the hook. Makoto Satoh is in and he serves up the cherry on top of the 4th inning sundae – a double by Imae that easily scores Hayakawa! 6-0 Lotte and the rout is on.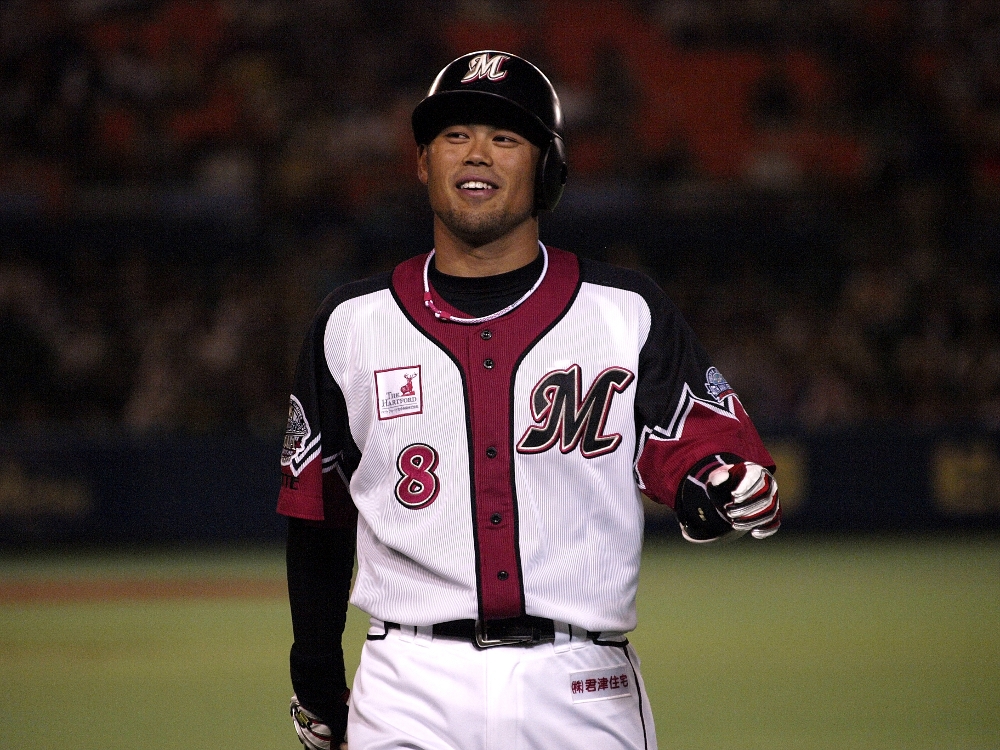 Meanwhile, Ohmine has been mowing down the Daiei offense. He gave up two hits in the first but sent down the side in order in the 2nd, 3rd, 4th, and 5th innings. Thirteen batters in a row, all in all, broken up by a massive smack by Tanoue to lead off the 6th. Daiei would get another in the 7th off Ohmine, so Bobby brings in Ogino to take over for the young starter. 6-2 Lotte after 6 1/2.
Lotte takes revenge in the bottom of the inning as Saburo draws a leadoff walk. Ohmatsu hits a deep ball to center and hauls ass for a timely triple! 7-2 Lotte.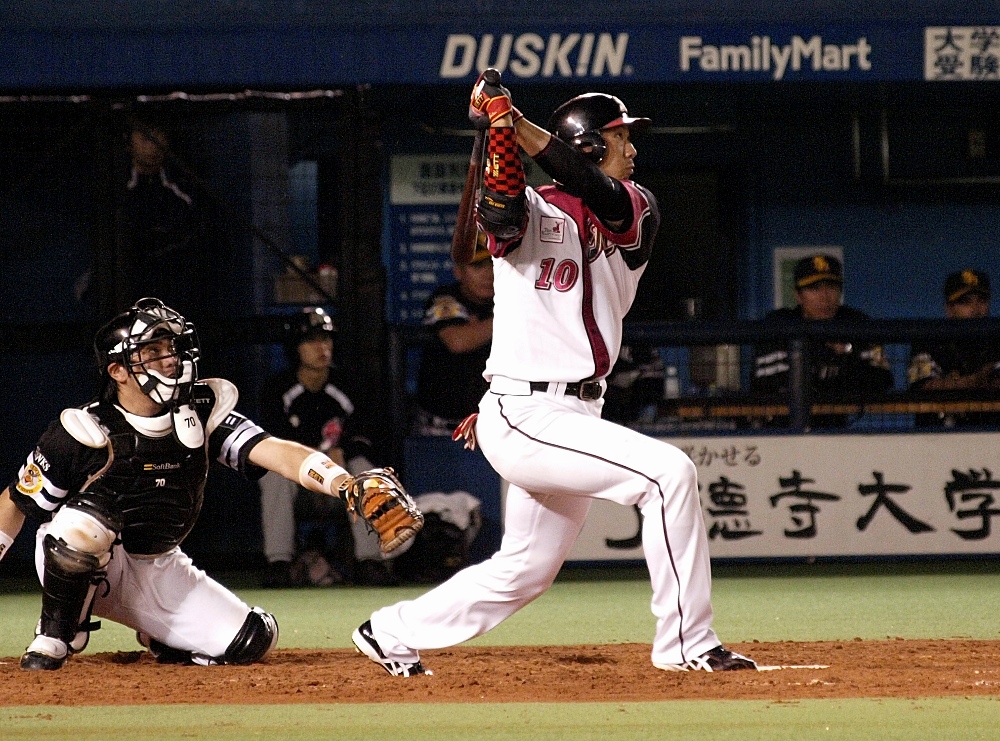 Sato nukes a ball to center that's not deep enough to leave the park but is plenty deep to score Ohmatsu (who, of course, still has his running shoes on). 8-2 Lotte!
That's how it would end. Ogino shuts down the Daiei attack in the 8th and Uchi mows down the side in the 9th to seal the victory. How sweet it is!
Lotte is playing arguably their best ball of the season in September as the offense has awakened while the starting pitching has been solid. A good run is always welcome, it's just too bad this didn't come in July or August. BUT: a win is a win and that's always a good thing!