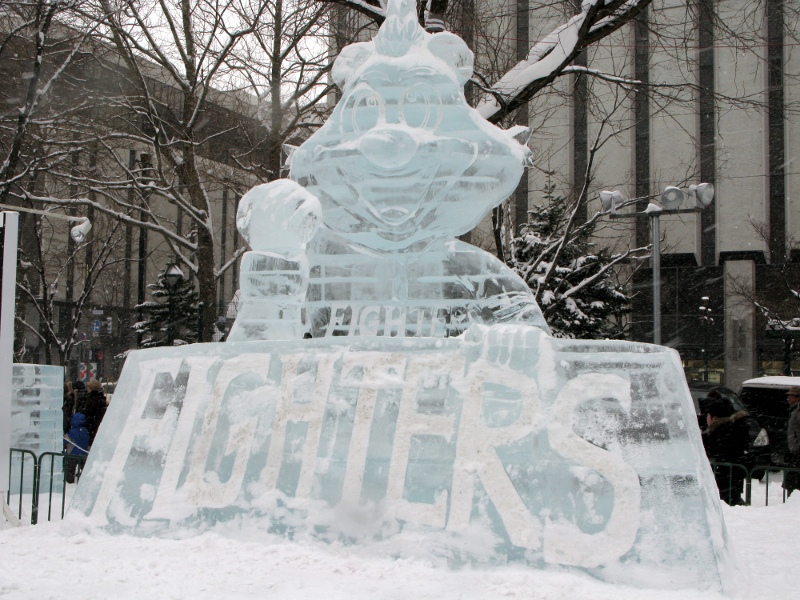 I made plans to go to Yomiuriland to see Lotte's ni-gun take on the Giants ni-gun but the weather looks truly foul (both out the window and on radar), so I've decided to stay in and do another Live Blog.
Some notes about last night's game as I didn't make a blog posting. Lotte took the first game of the three game set vs the Fighters at Sapporo Dome 3-2, which is the first road win for the Marines against Nippon Ham this year. What an awful drought that has been! The game was a tight affair as Naoyuki Shimizu dueled with Shugo Fujii. Shimizu got the better of the Fighters, going 7 strong innings while yielding both runs on 7 hits (with 6 K's). Saburo hit a solo homer in the 4th off of Fujii to take the early lead. Nippon Ham took the lead in the bottom of the 4th with a timely double by Takahashi and an RBI ground-out by Koyano.
Lotte tied it in the 5th with a jack to left by Minami (I saw him in the dugout on Thursday, which I believe was his first ichi-gun appearance of the year). Minami's got fewer than 100 ichi-gun PA's in his career and that's only his second HR; very nice to get it in such a tough place to play. Fukuura broke the tie in the 6th with a timely single to make it 3-2, which it is how it would finish. Ogino and Sikorski get the job done in the 8th and 9th, respectively.
So the stage is set for today's matchup between Yagi and my favorite, Karakawa. The Baby-Faced Killer is back on the hill looking to FINALLY get his 5th win of the year. He's got a 3.06 ERA in 17 starts this year. Shouldn't that get you more than 4 wins? He's undoubtedly the hardest-luck pitcher on our team, if not in the league.
The starting lineups:
For Lotte – Tsuyoshi (short), Imae (3rd), Saburo (center), Iguchi (2nd), Ohmatsu (left), Satozaki (catcher), Benny (DH), Fukuura (1st), and Minami (right).
For Nippon Ham – Tanaka (2nd), Itoi (center), Inaba (right), Takahashi (1st), Sledge (left), Koyano (3rd), Nioka (DH), Tsuroka (catcher), Kaneko (short)
First Inning
Two quick outs by Tsuyoshi and Imae, then Saburo laces a double down the left field line. Iguchi gives it a big jump to center – it's really well hit and deep, but Itoi makes a running catch at the fence to end the inning.
Tanaka lines to Ohmatsu in left to start the bottom of the first for Nippon Ham. Karakawa then mows down Itoi and Inaba swinging to end the inning. Very strong start for Karakawa!
Second Inning
Ohmatsu strikes out swinging. Satozaki crushes one off the top of the center field fence, Itoi reels it in off the bounce and nails Sato at second. The camera wasn't on him after it left his bat, did he slow down to admire it? Anyway, he's out. Benny flies out to end the second.
Takahashi grounds out to Fukuura for the first out, but Sledge drops a single to right in front of Minami. Koyano lines out to Minami for out two. Nioka hits a first pitch curve from Karakawa between Iguchi and Tsuyoshi for a single, and Tsuruoka hits a liner that's snagged by a leaping Iguchi for out three. 0-0 after two.
Third Inning
Ute Fukuura, Ute Fukuura – and he does, up the middle. Minami tries to bunt him over and pops the first attempt back to the fence, pokes at the second even though it's nowhere near the strike zone, and settles for a GIDP. A dire at-bat indeed. With two outs Tsuyoshi singles through the left side – wouldn't it have been nice to have a runner on? Not that it matters, as Imae floats a little pop that's snagged by Tanaka for out three.
A nice swinging K of Kaneko to start the 3rd. Tanaka pops a foul fly, Imae is running to the fence – he hauls it in with a very nice little basket catch. Itoi pops to Ohmatsu to end the third. Still 0-0.
Fourth Inning
Saburo must have eaten his natto this morning – he blasts one into the Marines ouendan to give Lotte the first lead of the game! That's 3 HR in the past 4 games and 21 on the year, 5th in the Pacific League. He's been sick lately and it hasn't hurt his game one bit. When did he turn into a slugger? Ground-outs by Iguchi and Ohmatsu and a pop out by Satozaki end the Lotte 4th.
Karakawa is cruising now. Ground-outs by Inaba and Sledge and a swinging K by Takahashi send the Fighters down in order. 4 K's for #19, and a 1-0 Lotte lead!
Fifth Inning
Benny floats a single to center to lead off the fifth. Fukuura drops a lovely bunt to sac him to second, Minami lines to Inaba to send Benny to third. The stage is set with Tsuyoshi at the plate – and he stares at strike three zipping by. Three outs, change.
Grounder by Koyano to Iguchi and a swinging third strike by Nioka – 10 in a row for the Baby-Faced Killer. A 5 pitch walk to Tsuruoka ends that string, but Kaneko conveniently grounds out to Karakawa to end the inning. Very nice outing for Karakawa, as is the norm. I will ask again, as it bears worth repeating over and over – why does he only have 4 wins on the season?!?
Sixth Inning
Imae leads with a double that's just under the glove of a sprinting Itoi. Up next is the white-hot Saburo – can he deliver again? He's down 2-0 early but works the count full, waiting for his pitch. He gets it – a slap single up the middle past a diving Kaneko! A one-man offensive powerhouse, he puts Lotte up 2-0! Iguchi lines to Sledge in left, and Ohmatsu lines to Tanaka, who whips it to first, but Saburo is back in time. Satozaki pokes a single through the left side bringing up Benny – he grounds one to Koyano to end the inning. Nice run, and it might be enough with Karakawa hot as he is.
Interestingly (well, interestingly to me) – my browser wants to correct my mistyping of grounders to gerunds. Maybe Benny did Grounding or Outing to third? I amuse myself.
A grounder to Tsuyoshi that just nips Tanaka at first, nice. Itoi lines one to Ohmatsu for out two, and Inaba flies to Saburo for the third out. Karakawa is cruising so well I could almost autotext the Fighters's frames. 2-0 after 6.
Lucky 7
A ground-out by Fukuura is followed by a Minami walk. Tsuyoshi flies to center and Nashida-kantoku is making a change. Out is Yagi and in is Tanimoto. He gets Imae swinging on a filthy fork ball in the dirt for strike three.
Takahashi grounds to Tsuyoshi, who makes a nice pick on a difficult ball to get the out. Sledge pops to Imae, who's playing where Tsuyoshi would normally be thanks to a mega-shift to the right. A liner by Koyano to Minami ends the inning. 17 batters in a row without a hit, only interrupted by the 5th inning walk. Still 2-0 Lotte!
Eighth Inning
Sensei!!! Saburo blasts another deep ball off the fence where Itoi can't get it. He's easily in for a double, but limps off with a leg injury. Hopefully it's not too bad, but he's missed some time with injuries lately, so it's of course a concern. Hayakawa fills in as pinch runner. Iguchi hits a flare to center and Tanaka makes a great jumping catch to reel it in. That was a lot of ground to cover, excellent play. Tanimoto is out and in comes Miyanishi. Ohmatsu greets him with a double to right, scoring Hayakawa easily and making it a 3-0 game! Sato singles to put runners on the corner with only one out. Benny's at the plate with a chance to bring in another run – he pops one to right, plenty deep for Ohmatsu to score from third! 4-0 Lotte. Fukuura cracks a double and Satozaki is (very unwisely) coming home. Out by 5 or 6 steps, at least, second time he's been thrown out on the bases today. But Lotte gets some much-needed insurance – a 4 run lead with Karakawa on the hill has got to be golden.
Nioka singles to left for the Fighters's first hit since the second. Inada is pinch-hitting for Tsuruoka, and he grounds one to Iguchi, who charges and flips to Tsuyoshi at second – except he is a bit off in his flip and Tsuyoshi barely, barely holds on to both ball and bag. Tsuboi pinch hits for Kaneko and singles to left – 1st and 2nd with one out.
See, here's why insurance runs are nice – Tanaka lines one down the right field line scoring Inada. Can Karakawa dig deep to get out of the jam? A grounder by Itoi to Iguchi – he flips to Tsuyoshi for one but there's no throw to first. Another run is in to make it 4-2. Fighters fans are really hyped up with Inaba at the plate – the Inaba jump is in full swing, making the cameras get all jiggly. We must quiet them. Inaba lifts one deeeep to left, but it's short of the fence – Ohmatsu is under it and hauls it in for out three. Nippon Ham gets the two runs back but Lotte still has a 2 run lead, 4-2. On to the ninth!
Ninth Inning
Hisashi Takeda is in, as is is Hayasaka (for Minami). Hayasaka greets Takeda with… a liner to Iiyama (replacing Kaneko at short). Tsuyoshi grounds out to second for out two, and Imae grounds back to Takeda for a very quick Lotte frame. It's down to the bottom of the ninth, and Lotte must protect this lead and get Karakawa the win!
Sikorski is tasked with shutting down the Fighters bats. It doesn't start well – Takahashi smashes one down the first base line and it pops off the bag, way high. Safe at first with slugger Sledge coming up. But Sledge grounds to Fukuura, who flips to Tsuyoshi, who whips it back to Sikorski for two! Niiiice. Koyano at the plate – Brian gets ahead 2-0 and whips a nasty changeup right by the swinging Koyano for strike three! A 4-2 Lotte win!!!!
The Baby-Faced Killer strikes again, and gets the WIN finally! 8 IP, 2 ER on 5 hits, 5 Ks and only one walk in 130 pitches. Very nice indeed. One can't ignore the one-man wrecking crew contributions of the awesome Saburo – 4-4 with 2 RBI and an HR. That guarantees the series win for Lotte – an amazing turnaround in fortunes as it's the second series win in a row for Lotte vs the Fighters, and the 4th consecutive series win. It also runs Lotte's record for the month to 8-3. Mathematically they are still alive for the 3rd spot… (How stupidly optimistic is that?) 16.5 back of first with 19 to play – let's do it! (OK, more like 11 back of 3rd with 19 to play)
Nippon Ham, on the other hand, is reeling. That's 6 in a row for the Fighters, but Softbank is also losing as of this writing so they won't lose any ground at the top. That probably doesn't make Fighters fans feel any better, though.