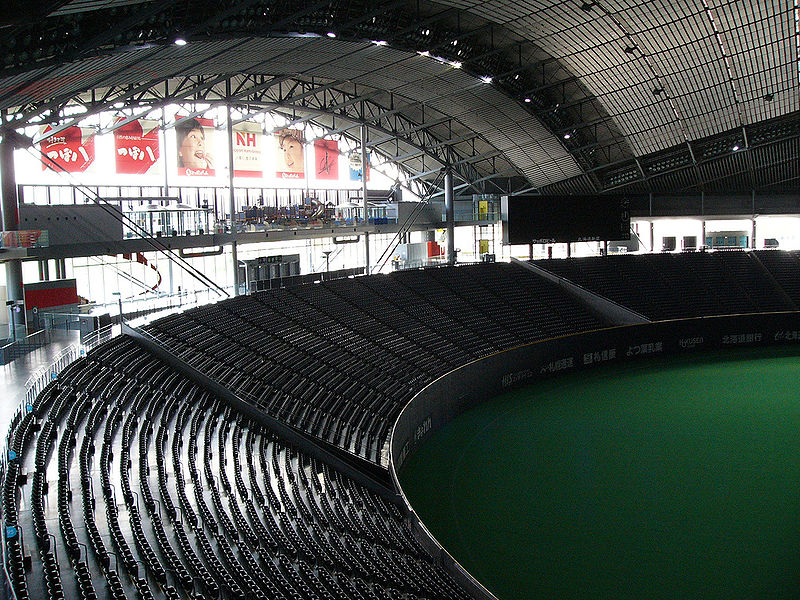 As I mentioned in my last post, I have a tendency to not write really quickly if there's not any good news to report. Since this report is written a full day after the games in question that means…. yep. Both Saturday and Sunday's games were far more interesting than Friday's one from a Lotte fan perspective (I'm sure Fighters fans loved Friday's game) but ultimately Lotte lost both games – a 6-5 defeat on Saturday and a 7-6 12-inning loss on Sunday. After last week's three game winning streak the Marines have now lost 4 in a row.
I'm not going to dwell too much on details of either game. On Saturday, Karakawa started vs Nippon Ham's Yagi, and Karakawa was knocked around similarly to the last time they met, yielding 5 ER in a little over 4 innings of work. Most of the damage came in the bottom of the third as Nippon Ham scored four off 5 hits. In the top of the inning Benny had given Lotte the early lead with a solo jack to left, but Nippon Ham's bottom of the inning made it 4-1. Satozaki tied the game in the top of the 4th with a towering 3-run HR to left – 4-4. The lead see-sawed after that with Nippon Ham retaking the lead in the 5th, Lotte re-tying it in the 6th, and Nippon Ham hopping in front again in the 7th – unfortunately staying ahead as well, 6-5 Fighters.
On Sunday Lotte looked to salvage one game from the series much as they did 2 weeks ago in Chiba Marine as Ono faced Nippon Ham's Sweeney. This one was a nailbiter that came down to the very last swing in the bottom of the 12th.
The Fighters scored all of their pre-extra innings runs courtesy of the long ball, as Kaneko connected for two solo shots and Fighters rookie catcher Ono hit a 4th inning grand slam (first by a Nippon Ham rookie in 20 years, I read on Monday). Lotte came into the 9th down 6-3 (after scoring 2 in the 4th on a pair of RBI doubles by Satozaki and Hashimoto and a third run in the 5th off a sac fly by Ohmatsu). The hit machine got cranked to 11 in the top of the inning as Lotte racked up 5 hits and 3 runs to tie it at 6-6. On to extra innings.
In extra innings Lotte's bats were stopped cold by the tough pitching of the Nippon Ham pen, especially Miyanishi, who recorded 5 of the final 6 Lotte outs by strikeout. Still the Marines had a chance to walk away with a tie, and with two runners on and two outs in the bottom of the inning things were looking promising. Itoh threw a 2-1 outside slider to pinch-hitter Nioka and Nioka made the best of it (nay, the worst of it) with a sayonara single. A most unfortunate 7-6 loss.
What I can't figure out is why Nippon Ham and Orix (!) hold such sway over Lotte. Orix is dead horrible this year; they've been missing Rhodes and Cabrera most of the season, and without the games they've played vs Lotte they are a scintillating 22-44. Nippon Ham is at least a good team, but they're not 9-2 vs Lotte good. In fact, if you look at Lotte's Pa-league record vs the other three teams it's very good indeed – 19-13. Even when you add in the interleague games Lotte's record is 28-25-3, a .528 winning percentage. The games with Orix and Nippon Ham unfortunately count in the standings so Lotte is actually 32-41-3 and in 5th.
The good news is with more games coming in the Pa-league schedule one would think things would improve as there are many more series with Seibu and Rakuten, against whom the Marines play well. The bad news is the next series starts Tuesday vs…. Orix. BUT: No time like the present to break that nasty record against the Buffaloes!