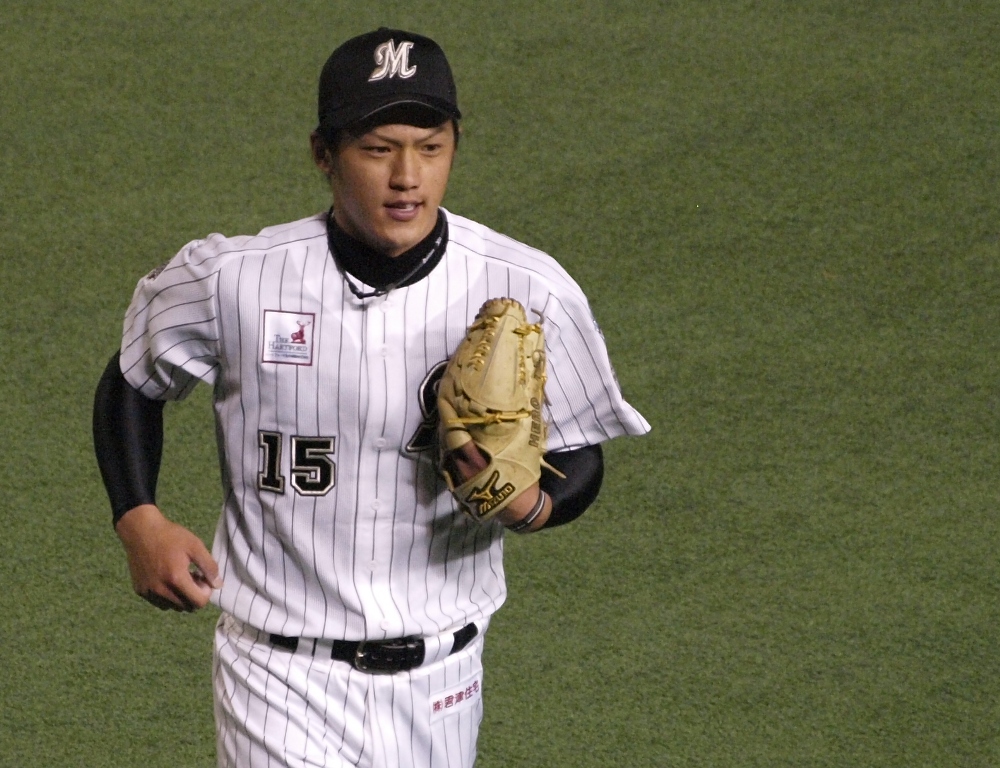 Thursday night's game left me wired. I woke up on Friday morning still thinking of the end to that game, and when I went into the office many others wanted to discuss it too. I thought it the sort of game a team could build upon, a game where you face your biggest rival in their stadium, get into situations where a lesser team would fold, yet player after player steps up to get the timely hit, make the necessary play, throw the perfect pitch.
It could still be that game; but the momentum didn't carry over to tonight as Orix came to Makuhari and beat Lotte 6-2.
Orix has been Kryptonite for Lotte so far this year; after tonight's game Lotte has only won one game so far versus the Buffaloes, a 5-2 win at Chiba Marine all the way back on April 30 (admittedly, that's also the last game these two teams have played). On the hill for Lotte was Kobayashi, who since his return to the rotation full-time is 1-1 with one great game (vs Hanshin) and another good game (but a hard luck loss vs Nippon Ham).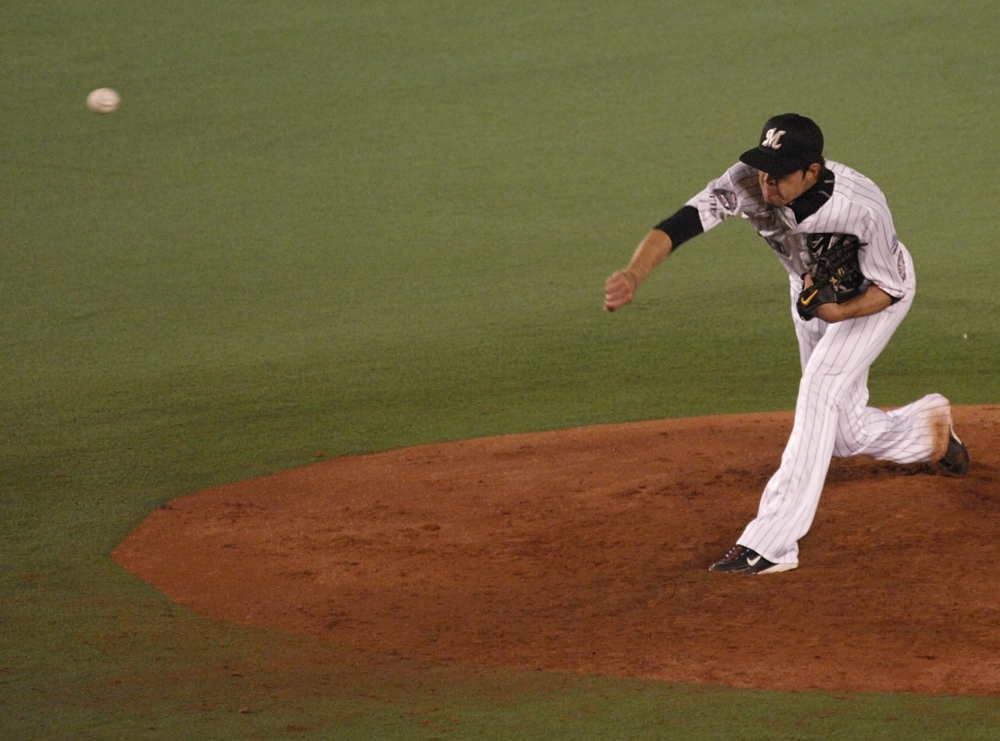 Tonight, though, was not so good. Kobayashi sailed through the first in 1-2-3 fashion, but in the second allowed the first run of the game off of back-to-back doubles by Ohmura and Hidaka. Also in the second I almost got pasted by a foul ball as I was moving seats – I never saw the ball, only heard it whiz by, but after ducking I looked around and many people were asking me "Daijoubu? Daijoubu?" Must have been really close.
In the third Kobayashi allowed another pair of singles but got out of the jam to keep the score at 1-0 Orix.
In the third Lotte got the run back an added another. Lambin led off the inning with a single, and after a ground-out by Tsuyoshi Hori hit a massive drive to center that easily cleared the fence. It's his second homer of the year – second of the week after last Saturday's huge shot to center off of Nippon Ham. 2-1 Lotte!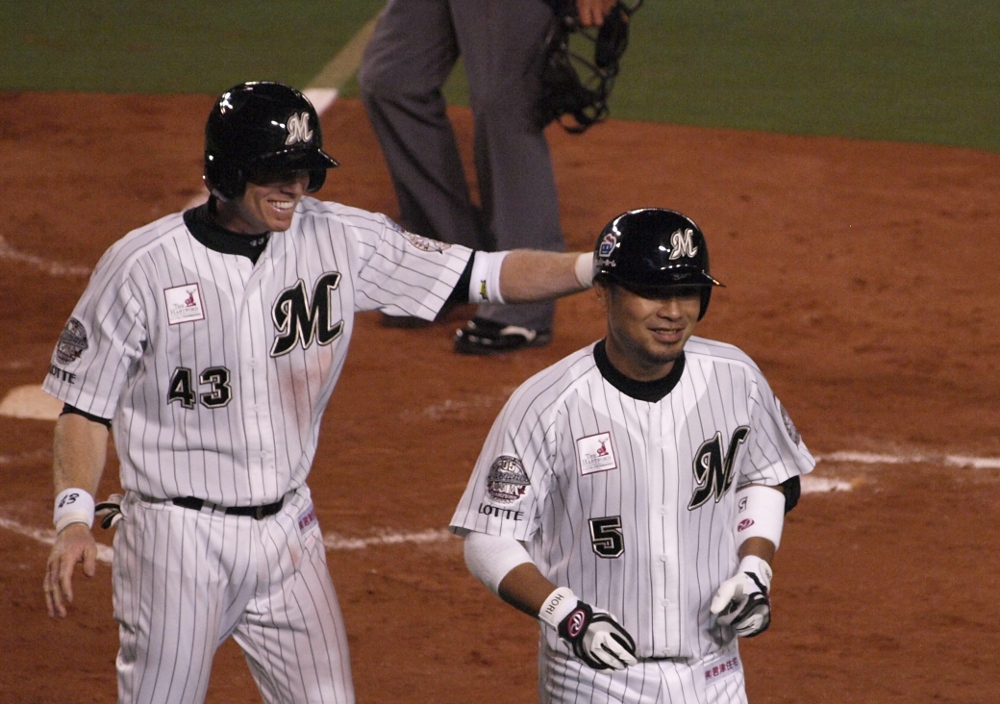 Orix would retake the lead in the top of the 4th thanks to some sloppy D. Both Tsuyoshi and Iguchi booted grounders – either of which could have ended the inning – and Orix capitalized to score 2 runs. 3-2 Orix.
Kobayashi seemed to never get back into a groove after that. Orix extended the lead in the 5th off a solo shot to right by ex-Lotte slugger Fernandez. Orix scored a single run in both the 6th and 7th each to make it 6-2.
Lotte had several chances to score again in this one but couldn't plate any more runners. In the 6th with one out and Saburo on first, Satozaki hit a towering fly to right that missed going over the fence by just a few feet. Saburo had to hold and couldn't score and Sato ended up with a double. Nobody could bring them home, though, and the Marines had to hold on 2 runs.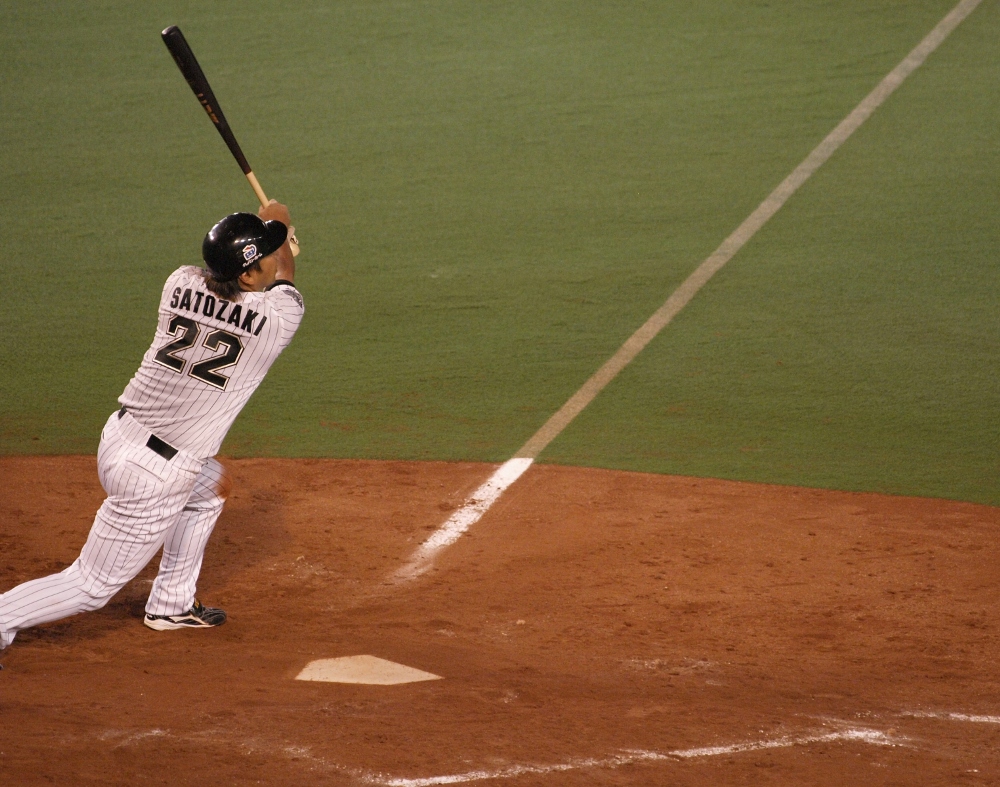 In all, Lotte had 11 hits for their 2 runs, which is nowhere like the production they managed against Seibu. Let's hope it's a 1-game anomaly.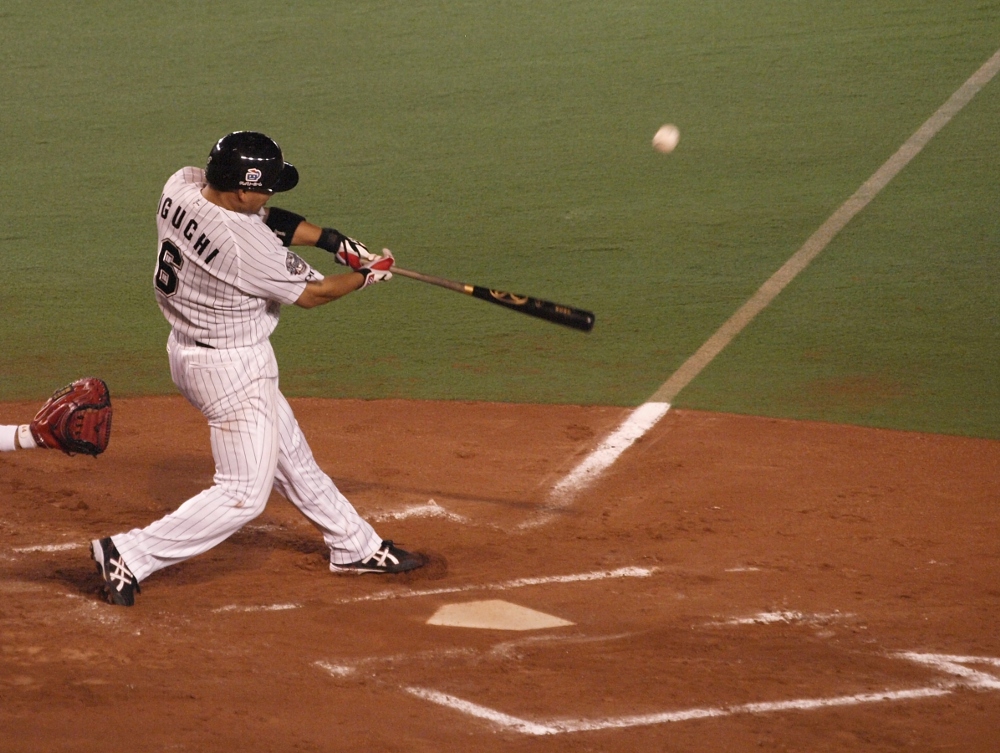 After Orix's last run, Bobby called for last year's draft pick Ueno Hiroki to make his NPB ichi-gun debut. He was activated before Thursday's epic but didn't see any action in this game. The fans really gave him a warm welcome as a slight rain started to fall. He stepped to the hill, and after warming up he brought his first pitch to the plate – a called strike to Ohmura! Good start.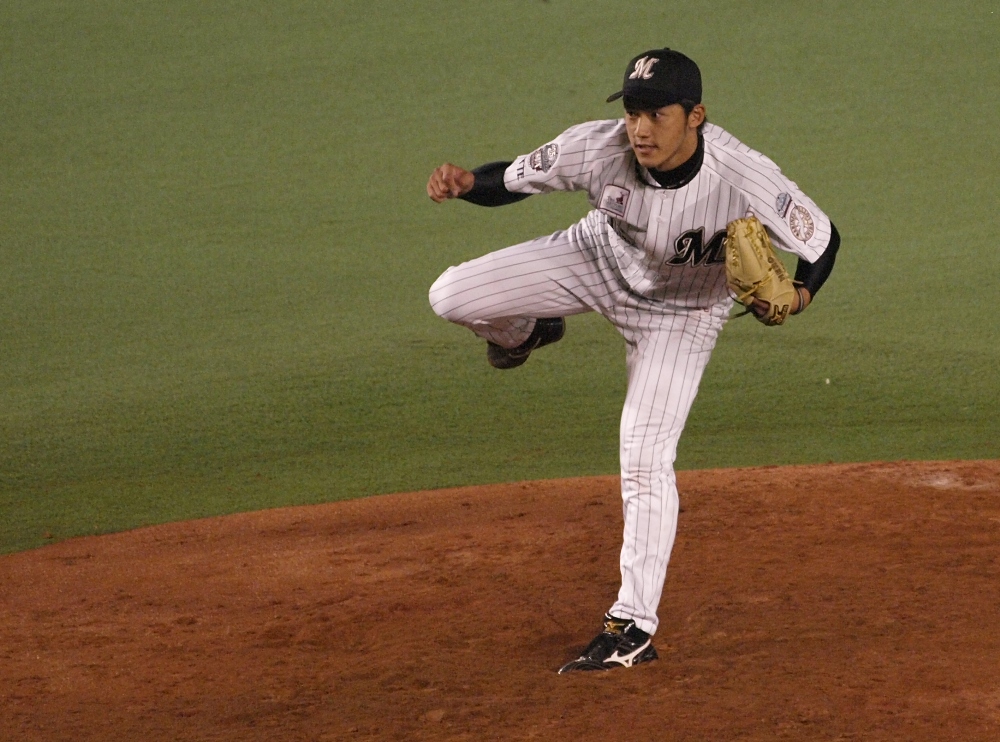 The next pitch was hit for a slow grounder through the right side to put runners at the corners. After that first hit Ueno was dominant. He struck out Suzuki and Oze to end the inning, stranding runners on second and third.
Ueno pitched both the 8th and 9th and was just as dominant in those frames, sending down the side in order in both innings and notching 2 Ks in each. For the day, he threw 41 pitches in 2 2/3 innings of work and 6 Ks. THAT'S an amazing debut – congratulations to Ueno!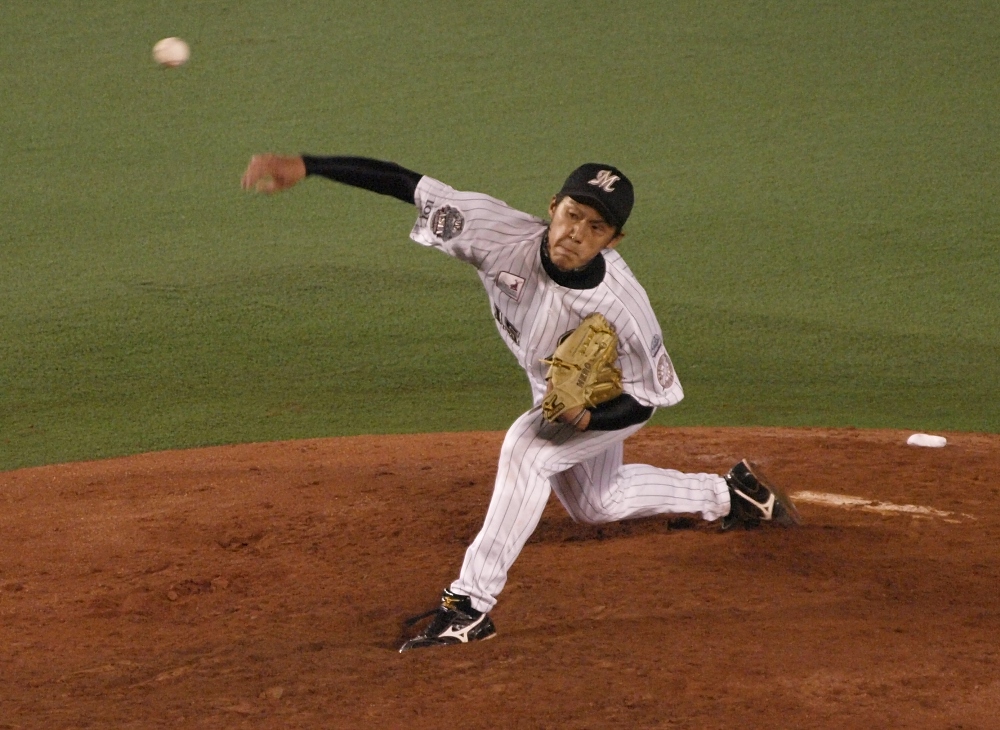 Lotte sends Karakawa to the mound on Saturday to face Kishida. I'm sure Karakawa will bounce back from last weekend's disappointing game to deliver another great performance!