This game just ended and man am I stoked!  What a nailbiter!  In what has got to be in the running for the longest 12-inning Pa-League game in history at 5:43 (by my count), Lotte and Seibu combined for 17 runs and 27 hits, many bases-loaded situations, and piles of drama much like Rocky and Apollo Creed going at it in the late rounds.  When the final bell rang it was Rocky – our men of Lotte – standing over the exhausted, abused losers of Seibu in a 9-8 victory.  It looked really touchy for a while there, but victory tonight – and in the series – is quite sweet.
The stories from this one are numerous.  There's the 4-4, 3 RBI with a homer performance of Tsuyoshi, or the even better 4-6 with 5 RBI and a jack by Ohmatsu, the pitching-in-and-out of trouble of both bullpens, or especially the amazingly gutty performance of Uchi, called into service with the bases loaded, the tying run at 3rd, winning at 2nd, 1 out in the bottom of the 12th…
From the top:  Lotte's Watanabe and Seibu's Nishiguchi got the starts in this one, but both started the game in totally different fashion.  Watanabe went the first 4 innings without giving up a hit (with three baserunners) while Nishiguchi got touched for a double by Nishioka right off the bat.  Ohmatsu and Iguchi both walked to load the bases, but Saburo and Hashimoto couldn't bring anyone home.
In the second, Tsuyoshi wouldn't allow another scoring opportunity to be wasted as he drove a Nishiguchi offering deep into the Lotte fans in right to give Lotte the early 2-0 lead.  In the 5th Lotte would add another run via an RBI single by Ohmatsu.  3-0 Lotte.
Seibu and Lotte always seem to bring out the most in each other's offenses and tonight was no different.  Seibu tied the game at three in the bottom of the 5th with a 3-run HR by Ginjiro.  I think that's the third HR of the season for Ginjiro, and I know he's had at least two of those against the Marines.  3-3.
Seibu would pull ahead in the 6th on another huuuuge HR by the huuuuuge Nakamura.  Pretty much all he does is smack homers (well, he did have a SB in the game as well) but damn if he doesn't do that one thing really, really well.  4-3 Seibu.
Lotte wouldn't allow Seibu to keep that slim lead for long, for in the top of the 7th Ohmatsu clubbed another HR – a three run job to boot – to give Lotte the 6-4 lead.
But wait, there's more.  In the bottom of the 7th Ogino relieved Watanabe and and Itoh relieved Ogino; combined, the two yielded another 3 runs on a Kataoka RBI single and a Nakajima 2-run HR.  The lead swings again: 7-6 Seibu.
We're not done yet, folks!  Tsuyoshi ties the game in the top of the 8th with another RBI single.  It's 7-7 now.  Seibu loaded the bases in the bottom of the 8th but couldn't score, and Lotte did the same in the top of the 9th – it's extra innings time again.
In the top of the 10th Lotte had a pair of singles by (who else!) Tsuyoshi and Ohmatsu – unfortunately they were separated by an Imae GIDP, so no runs could be scored.
Fast forward to the 12th.  With so much offense, and so many pitching changes (the teams combined to use 13 pitchers)  the game drifted over the 5 hour mark.  The ouendan lost the ability to use the drums and horns at 10, so both teams' cheers had a empty quality about them: not so noisy, but still plenty of passion.  Seibu Dome staff started flashing "Last train at 23:31" notices on the centerfield scoreboard.  If I had attended in person my last train would have left in the 11th inning.  That's a long, long game.
In the 12th, Seibu's Yamamoto was in his second inning of work.  He induced Tanaka Masahiko into a grounder to start the inning – 1 out.  Chase Lambin worked the count well and drew a walk; the rally was on.  Tsuyoshi drew a walk of his own – runners at second and third, 1-out, Imae coming to the plate.  Could he deliver?
A single, sharply hit to right!  Lambin makes a big turn at 3rd but is held.  It's now bases loaded with Ohmatsu at bat.  He's 3-5 at this point with several big hits.  Can he find the willpower for another?  Of course he can!  He singles to center, Lambin races home, 8-7 Lotte!
Bases are still loaded now, Iguchi at the plate.  Can he add to the lead?  He can!  Another single and Tsuyoshi comes home – 9-7 Lotte!  Takehara strikes out and Burnham Jr pops out, but Lotte has the lead they need.
In the bottom of the 12th, Kawasaki comes back for his second inning of work.  He gets leadoff batter GG Sato to ground out to Imae – 1 out.  Osaki, the second batter, rips a triple into the left field gap.  Hirao walks – runners at the corner, 1-out, and the lead looking very shaky indeed.  Pinch hitter Miura singles home Osaki – it's now 9-8 Lotte, still only one out, 2 runners on.  Uh-oh….
Kataoka comes to bat.  Kawasaki is looking visibly frustrated out there.  It's his third appearance in a row thanks to all the offense and extra innings in this series.  He's got to avoid the hit here, and he does… by walking Kataoka to load em up.  9-8 Lotte, but bases now loaded, still only one out, and Bobby calls for the bullpen one last time.
It looked like last year's draft pick Ueno might come in for his first ever ichi-gun appearance, but instead it's Uchi.  I saw him pitch at Tokyo Dome less than two weeks ago – his first ichi-gun appearance in years – and he was dominant, with 3Ks on 10 pitches.  His last two games have been pretty bad, though – he gave up 2 runs in 1/3 inning on Friday and 1 run without recording an out last night – but he's obviously got the talent.  Does he have the will?  It's into the fire to find out – into the box steps Kuriyama.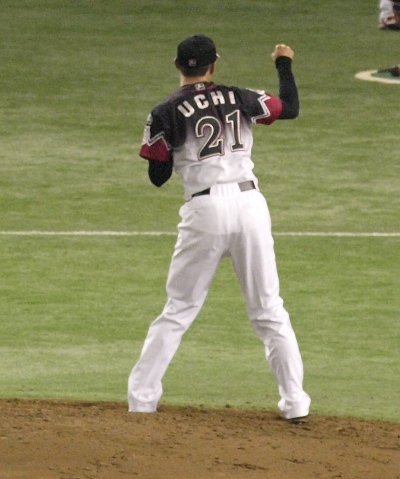 It's mano-a-mano.  Giving up an inch ties the game, a single or worse probably wins it for Seibu.  There's no room for error.  Uchi gets behind 0-1, and then 1-3.  Oh no…  He needs a pitch – it comes to the plate, Kuriyama fouls it off – 2-3.  Three more pitches come: foul, foul, foul.  Full count, Uchi needs to make a great pitch.  He shakes off one sign, then another.  Finally, pitcher and catcher agree – and it's a brutal slider that gives Kuriyama no chance!  A swinging K, and the vital second out.
It doesn't get much easier as in comes Nakajima.  He's 1-4 with a HR and two walks at this point.  He's not who you'd choose to face in this situation for sure.  But Uchi is emboldened by the last at bat, and he has no intent to yield to Seibu.  He gets Nakajima to foul off the first, and watch the second strike go by.  On 2-0 he fires a fastball near Nakajima's head.  Tanaka makes a leaping snag and reels it in, but oooh was that close to going by.  Uchi tests Nakajima to the outside on the next pitch, but he doesn't swing – 2-2.  The next pitch is high and outside but Nakajima is swinging – hitting – it's a grounder, can Tsuyoshi get to it – he can! – he fires to first, game set!  9-8 Lotte.
It's now 1.5 hours since the game ended and I am still totally juiced.  How tense, how thrilling!
Lotte takes the series in Tokorozawa 2-1, and with the Seibu loss (and the loss by Rakuten) Lotte inches to within a game of 4th and 2 of third.  They return home (hopefully not by train!) for a 3 game weekend set with Orix.  Can all the hits keep coming?  Can Uchi take this ultra-manly performace and build on it?  We'll see tomorrow.