I will freely admit it – sitting in the second deck behind home plate at Chiba Marine Stadium, watching game 6 – the decisive game of the Climax Series Final Stage, cheering loudly with my friends and fellow fans, seeing Ohmatsu golf a ball from Brian Falkenborg deep and high, being unable to tell whether it was foul or fair, waiting, hoping, seeing the camera pan back to the Lotte fans going crazy and Ohmatsu trotting slowly around the bases, coming home for the final run of a 7-run explosion –
I cried. Tears of joy, of course. The tension, it's been so much.
We watched Our Marines drag their wounded and sputtering teammates across the finish line on the last day of the season, barely scraping into the last Climax Series spot. We watched the bullpen blow game 1 in Tokorozawa only to see the offense lift the team miraculously past the Lions and not only win that game but the next, and send us into the second round. We watched Our Marines head to Fukuoka to face Daiei – well rested Daiei, Daiei of the killer pitching staff, Daiei with a 1-game automatic advantage, Daiei with 6 straight home games – and drop two out of three to teeter on the brink of elimination.
We watched them fight back. First in game 4 on the back of a rejuvenated Shunsuke Watanabe and and clutch save by Kobayashi.
We watched them get run over by the brilliance of Ohtonari in game 5, only for the bats to yet again rise up and beat the bullpen that is rarely defeated.
And tonight our game 1 hero, our Ace, our Yoshihisa Naruse took the mound a bit after 6pm and tried to pitch us into the Nippon Series. Pitching his second straight game on short rest, facing Hawks ace Sugiuchi, we needed the best we could possibly get out of Naruse.
We got it.
We needed the offense to break through against supposedly superior pitching again, score runs to back up our ace.
They did.
So in the top of the 8th when Shoitsu Ohmatsu crushed a 2-0 down and in fastball off Falkenborg inside the foul pole and over the right field fence, turning the decisive game into a 7-0 farce, I couldn't help but laugh and laugh and cry. I was not alone, believe me.
Against the longest of odds and down the most difficult of roads Our Chiba Lotte Marines beat the Fukuoka Softbank Hawks (yeah, I said Softbank) 7-0 to clinch the Pacific League crown and the first berth in the 2010 Nippon Series.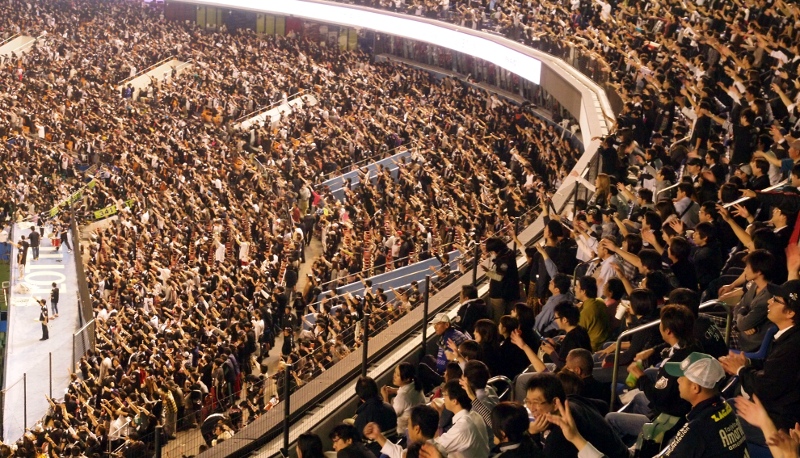 Public Viewing
I thought the public viewing at Chiba Marine would be pretty crowed but I had no idea it would be this crowded. Arriving right at first pitch, well before many could get there from work, I thought I could easily get a seat in the A seats. Not a chance – the A seats were totally filled with the ouendan. So were the S, SS, picnic boxes – anywhere you looked on the first level except a small zone reserved for Hawks fans (perhaps 10-20 showed up). Fortunately they opened the upper deck right when we got there so we snagged some nice panorama seats. It wasn't long before the entire upper deck minus the blocked off edges was full. If it was less than 15,000 chanting, singing, screaming fans I would be surprised.
This was done right. Unlike the Seibu game, there was a drum and a set of horns along with all mascots and cheerleaders. Picture the normal ouendan but more of them, jubilant, riled up, LOUD – that was the crowd tonight. As it became increasingly obvious that we were going to win the mood got real festive.
The Matchup
I was a bit worried before the start that Naruse would be tired after the last two games, in both of which he went very deep (including 130+ pitches on Thursday). No worries about that. To tell you the truth, as good as Naruse looked tonight I genuinely thought he had a chance at a no-hitter. First 11 batters up and back down. Ortiz singled in the 4th, nobody else managed to do so until the 7th. Naruse was in even better form than at Seibu Dome or in game 1. Normally he has a bit of a jolly face, noticeably exhaling before many pitches as a means to relax. From my view he looked different tonight – more determined, I guess I would say.
Sugiuchi, on the other hand, never seemed comfortable to me despite only allowing one hit through four innings. Lotte batters got good wood on his pitches, driving them deep but right at Hawks defenders. He seemed lucky, but lucky wins games too. We needed to get to him.
Fifth Inning
Two quick outs and it's Satozaki's turn. He singles to left to get things started, Tsuyoshi does as well, and Kiyota draws a walk to load them on up for Iguchi. I got video of us singing this at-bat, I'll try to have it on You Tube tomorrow. It looked like Sugiuchi winged a pitch past Iguchi and Yamazaki (starting again behind the plate) but it was ruled a HBP. Hey, we take cheap runs, too! So it's up to Saburo to break it open – Sugiuchi walks him on a full count, too! Just like that, 2-0, bases still loaded for Imae. Sugiuchi looks like he might be ill. On a 0-1 count Imae bounces one up the middle, past Sugiuchi, past Honda and Kawasaki, and on in to center! Kiyota's in. Iguchi's in. Lotte's up to a commanding 4-0 lead!
With the way Naruse was pitching I thought for sure we had it in the bag at this point. More runs would sure make me feel better, though!
More Runs
In the eighth inning Sugiuchi was long gone, as was his replacement Morifuku. Marines-killer Wada had come in for two innings and did what he does best, shut us down. He was on short rest himself, though, so he was yanked at the start of the inning for old friend Brian Falkenborg.
This went well.
An Imae single, a Heiuchi (Hisao! Hisao! Hisao! Hisao!) sac bunt, and a Kim Tae Kyun rocket off the right field wall led to the fifth Lotte run, immediately followed by the majestic and decisive blast off of the bat of one Shoitsu Ohmatsu. The funny thing about that blast was you could tell he just belted it past the fence – but what fence? On the screen at Chiba Marine it was impossible to tell. The Hawks fans were quiet. We couldn't really see the ball on the stadium screen. What was that? I heard more than one person say "foul?" but then the victory lap was shown and we were up big.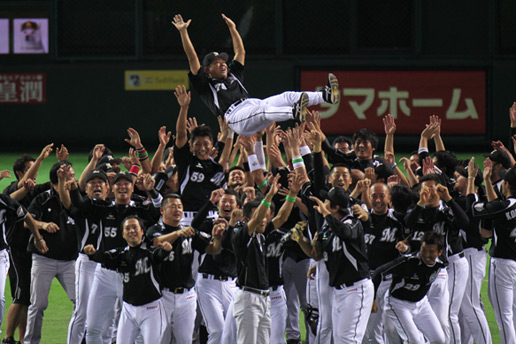 Celebrate!
I don't have to tell you that Naruse finished the complete game. You knew that already. He was the series MVP and he's most definitely the King of all Chiba now. Of course everyone knew he was an ace before – his 2007 campaign showed that in graphic detail – but we've now learned that he has the fortitude to take on the best and beat them.
It's on to the Central League winner's home park for the first two games of the Nippon Series. We don't know who that will be yet though as the CL Climax Series Final Stage has yet to start. Weird.
Unsurprisingly, the Marines rolled out the merch for the Climax victory. Me, I'll wait for the 2010 Japan Champion merch myself.
I have so much more to say but I've already gone on too long. I haven't been this stoked in a long time!!!