I'm not going to yank your chain with an extended intro – The Chiba Lotte Marines came alive late in tonight's Climax Series Final Stage Game 5, finally turning on the jets and setting fire to Hawks pitching. With great pitching and furious offense, Lotte put away the Hawks 5-2 to force a decisive game 6.
This is it; one game for a return to the Nippon Series for the first time in 5 years!
Uninspiring Start
I go through many stages while watching a game, especially a tight and essential game like tonight's. We had to have a win. As I have mentioned, the offense has been sleeping a bit as of late. Early on, this game continued that trend in the worst way. Daiei starter Ohtonari mowed down the Lotte 9 to start the game – 11 in a row, right off the bat. Ugh. The hideous streak was ended by a single to deep right off the bat of Iguchi (answer to the trivia question: "Who was the first Lotte batter in this series to realize we needed baserunners, and lots of them") Imaoka beat out an infield single in the 5th and… yup, that's what we got off Ohtonari.
I felt like crap.
Seriously, I was feeling physically ill. I didn't go to the public viewing to watch the game so I was "enjoying" the stress-filled lack of offense from the comforts of my home. I got up from the sofa, paced, turned something else on (but checked the score on my phone), turned it back, fidgeted and paced some more before resigning myself to it. Ohtonari looked great, and the later it got in the game the closer Falkenborg/Settsu/Mahara got. Nothing could get us started.
Well, except Hawks manager Koji Akiyama. For reasons that are completely inexplicable to me, Akiyama pulled Ohtonari – again, the guy who sent down 11 straight and struck out 7 in 5 innings – for Falkenborg. Is this Hubris? I think yes. Hubris has a way of biting you in the ass.
Not that I felt any better at the time. Falkenborg – perfect in 2010 against Our Marines with a 0.00 ERA in 11 appearances – blew through the lineup 1-2-3 in the 6th. I felt really, really ill. I mean, Lotte pitching was again GREAT tonight – Ohmine only went two innings and gave up a run off a double to Kokubo in the first, Ono and Uchi came in in long relief (5 IP combined 3-hit ball), and then the rest of the bullpen, I'll get to them! – but going into the Lucky 7 were were still down 1-0. A big 1-0.

Big Lumber
Falkenborg still in to start the seventh, Iguchi at the plate. Blam! A gapped double, Iguchi in to second with nobody out. Nice. Saburo comes to the plate, we need a run at least – he's squaring to bunt??? Eek. (Note: I can't think of any situation where it's justified to have your #4 hitter square up to bunt.) He offers badly, pops foul. Eek eek. Falkenborg doesn't seem to want to throw anything near the plate, so he rifles a breaking pitch into the dirt… and past catcher Yamazaki! Iguchi scoots to third making the bunt a totally useless option (thank goodness). Saburo gets into his normal stance and RIPS a double into the gap! Iguchi is home, game is tied!
Yeah! I get on the horn to Katsu, it's speaker phone the rest of the way. I gotta share this.
Falkenborg out, Settsu in (aka – the one Daiei reliever we can actually hit.) Imae sac bunts Saburo to third (oh, OK…) and Fukuura brings him home with a single of his own! We have the lead! Kim Tae Kyun singles, Ohmatsu barely beats out a double play ball bringing up Satozaki. Satozaki, hero of Tokorozawa but 0 for the series so far. Does he still have the feel for the moment? HE DOES! A double to right, Tanaka (pinch running for Fukuura) scores – 3-1! We actually load the bases for Kiyota, who lifts a fly ball to deep right, but short of the fence for out three.
3-1 after 7, yeah!
Uchi was still in for the bottom of the seventh and he made the Daiei batters look weak and distracted. The Hawks just looked rattled.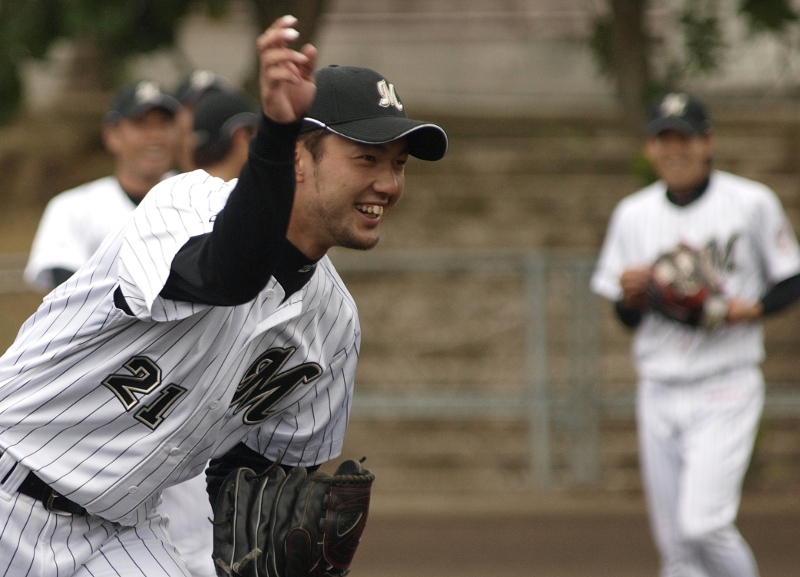 Tension and Release
Our Marines get two more runners on in the 8th off of the very stylishly coiffed Morifuku, but we can't plate anyone else. In the bottom part of the inning, Itoh takes over for Uchi. Maligning Itoh is a stadium-based hobby of mine ("That's because he was like a pitching machine early this year," Katsu said) but I must admit he's been great down the stretch and into the Climax Series. First batter Honda fouls an Itoh pitch off the ground and into his, um, delicate place. Katsu and I make unprintable jokes about what the trainers will need to do to get him back in action, but he steps back in and pokes one just past Iguchi. One on, nobody out, Ortiz up. Ortiz, whisper-quiet this series, smashes the first pitch over Imae, down the line, scoring Honda, oh no oh no.
Eek.
Itoh didn't throw such bad pitches, I thought. I thought he still looked OK. Could he pull us out of this? Kokubo, Tamura, Petagine – in order. YES. Great resilience from Itoh!
Top 9, now 3-2 Lotte looking for insurance. Morifuku is still in and makes short work of Ohmatsu and Satozaki. Tsuyoshi is in, and he's been quiet this series, too. Not tonight – a double past the third base bag! There's a chance for more runs, and it's Kiyota's time. I'm in my living room, singing Kiyota's ouenka, oblivious to my still-sore throat and open windows. Kiyota sees a first pitch fastball from Morifuku and BOOM! 12 rows deep into the Lotte ouendan! Morifuku looks like someone kicked his kitten. Akiyama-kantoku looks like they kicked it into his mouth. All gentlemen and ladies of Lotteland are going crazy. It's 5-2!
Kobayashi comes in for the 9th, but all the tension has melted away. There's no doubt he's getting those three outs, and 9 pitches later – he does. The series is now tied going into the final game (or, for those interested in reality, Lotte leads 3-2. Unfortunately NPB is not one of those believing in reality.). It's a rematch of the first game, ace battle, Naruse and Sugiuchi. Can Naruse recreate his game 1 magic? Can the Lotte offense keep it's rhythm? I'll say YES and YES, but we'll have to wait until tomorrow to find out for sure. I'll be at the viewing party with a few thousand of my friends!