On an unseasonably cool summer night the relief from the recent Lotte troubles showed up at Makuhari (the moon really was that beautiful tonight – that's an actual picture from the game). Over the last three weeks Lotte has dropped 14 or 16, including 9 in a row to Nippon Ham, but tonight good ol' Rakuten rolled into town – welcome respite from July's difficulties. Watanabe Shunsuke was tasked with the duty of getting the Marines back in the win column and he was superb. The veteran submariner went the distance, yielding only 1 run and 4 hits in a 3-1 victory.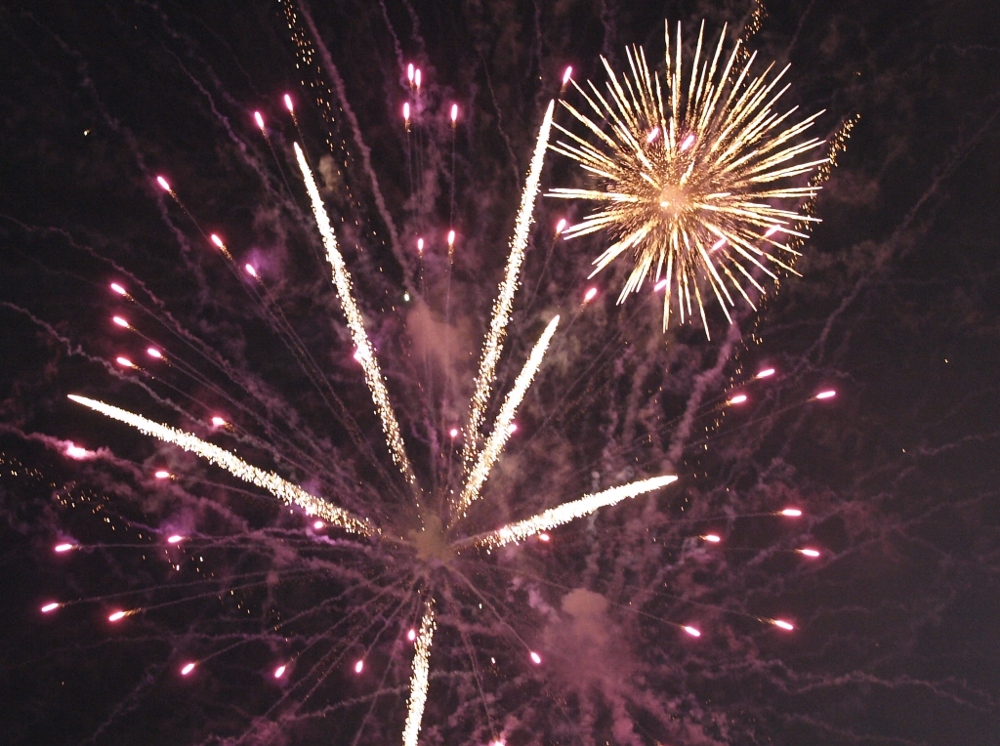 After plunking Rakuten's leadoff batter Linden to start the game Shunsuke was dominant – he didn't allow another baserunner until the 6th inning, sending the side down in order repeatedly by inducing batter after batter into weak grounders, shallow pops, and the occasional K. The no-hit bid ended with 2-out in the 6th as Linden gagued a high floater correctly and hit it to deep center. The no-hitter and the shutout were both gone as Rakuten scored their first run of the game.
Rakuten's young ace Tanaka Masahiro pitched almost as strongly early on, allowing only a single by Tsuyoshi to leadoff the bottom of the first and a single by Satozaki in the 5th – and no runs.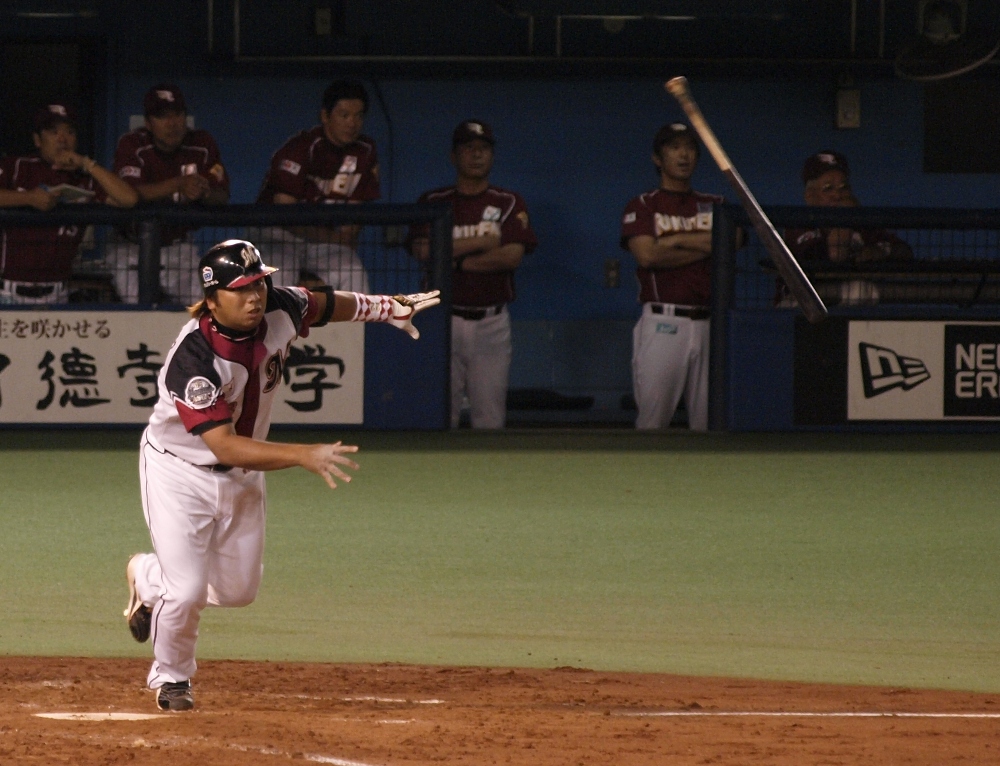 Lotte had their first real scoring chance in the 7th as both Hashimoto (starting at the DH slot) and Saburo reached, but Tanaka kept both of them from plating – so the scored stayed 1-0.
In the bottom of the 8th Lotte, buoyed by the continuing great start by Watanabe, got the offense in motion. Starting first baseman Gary Burnham Jr pummeled a 0-1 pitch deep, deep down the right field line, inside the foul pole, and far into the screaming fans to tie the game at 1-1.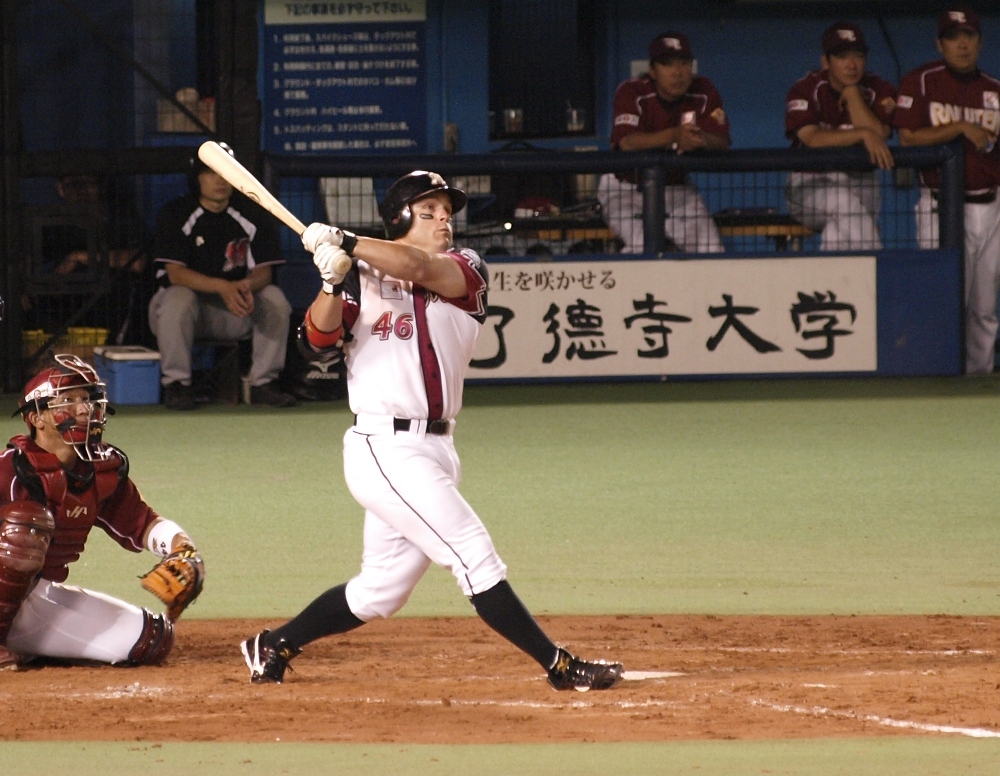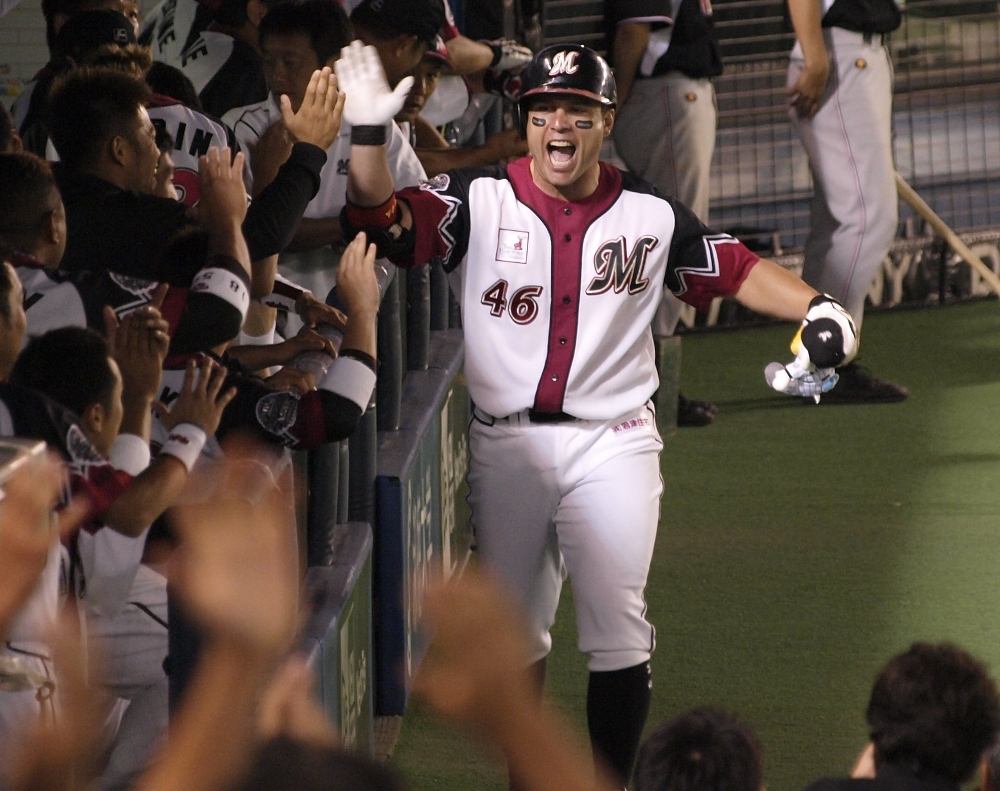 Heiuchi (getting the start at 3rd) struck out next, and Tsuyoshi crushed a 1-1 fastball far -very far – but just off the top of the center field fence for a 1-out double. It was up to Iguchi to break the tie. He grounds a 2-0 pitch over second base and into center! Tsuyoshi's a fast runner, Nishimura gives him the go sign – he's coming home. Teppei snags the grounder, fires it home, skipping it in front of backup catcher Nakatani. Tsuyoshi speeds into home, but Nakatani's in the way, so Tsuyoshi plows into him – ensuring the tag can't be made – and giving Lotte the go ahead run! 2-1 Lotte.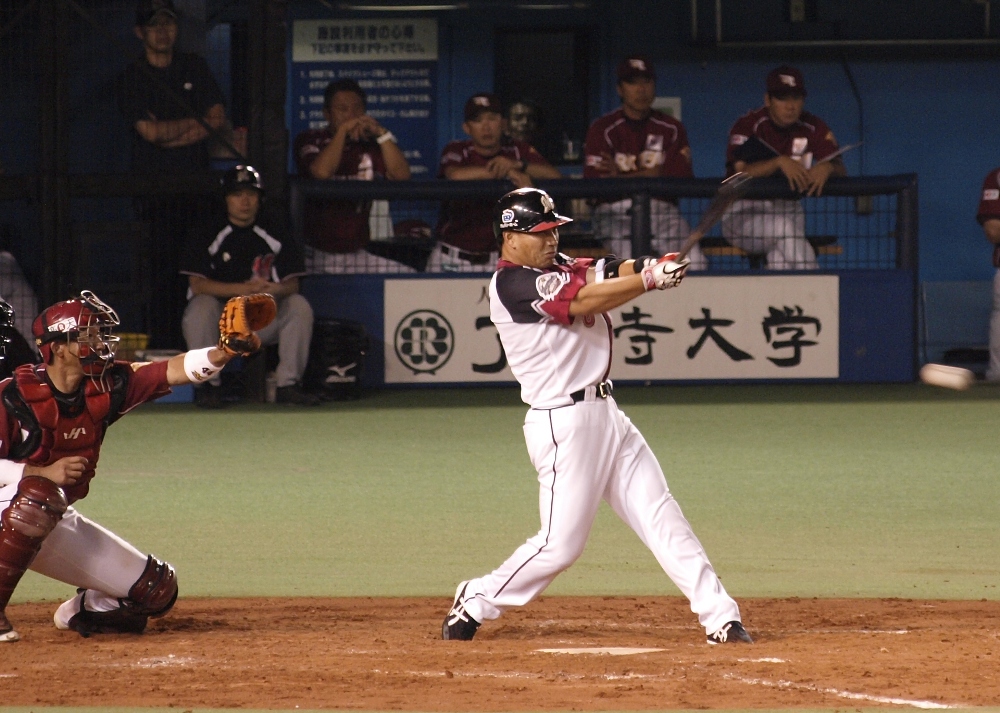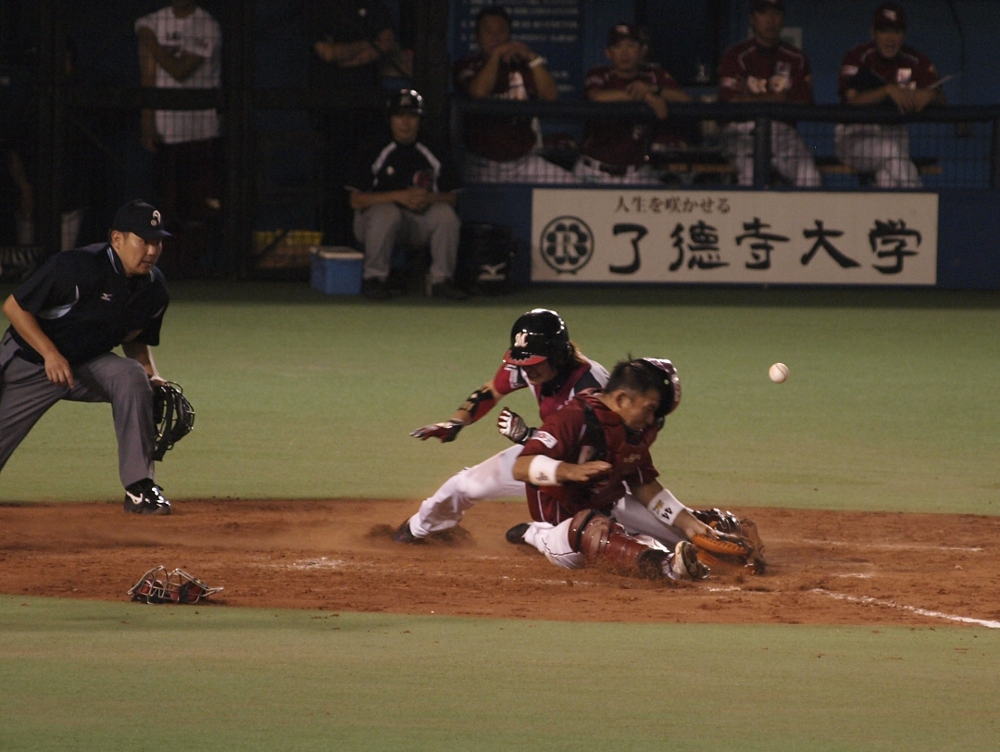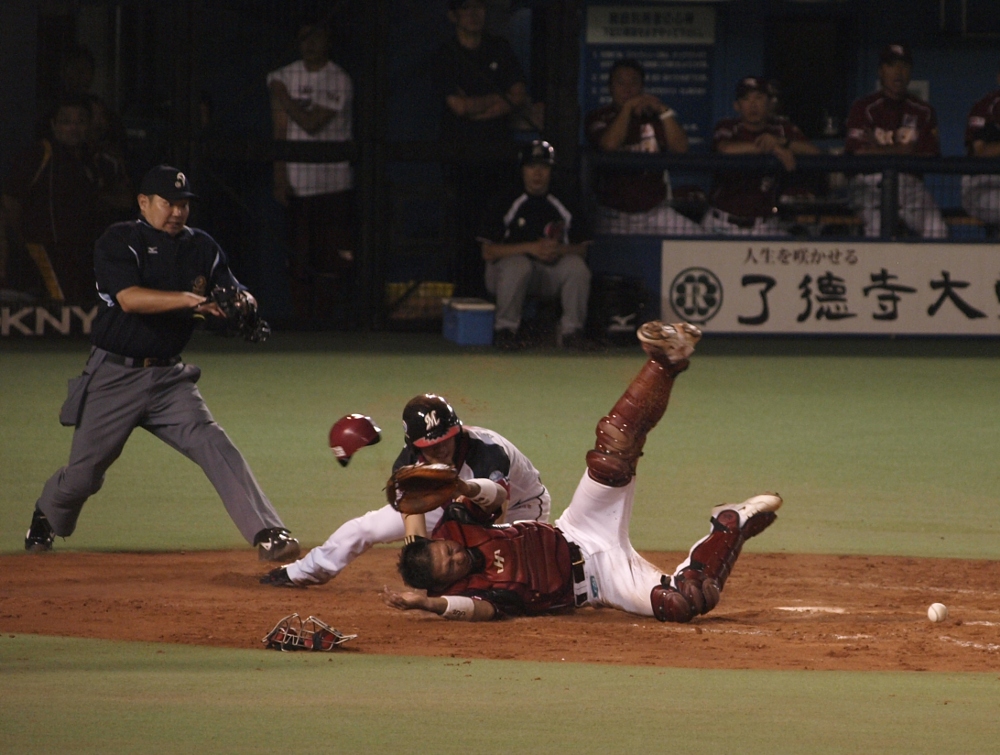 Saburo singled to send Iguchi to second, and Ohmatsu drew a walk to load the bases. Rakuten reliever Fukumori gives up a fat pitch to Takehara, who smashes it to deep center – just short of the fence, but deep enough to score Iguchi easily and make it a 3-1 lead.
On to the 9th – Shunksuke stays out with a chance to close out a complete game victory. He walks Nakamura to lead off the 9th, and Teppei singles to give Rakuten runners on first and second, nobody out. Can he do it?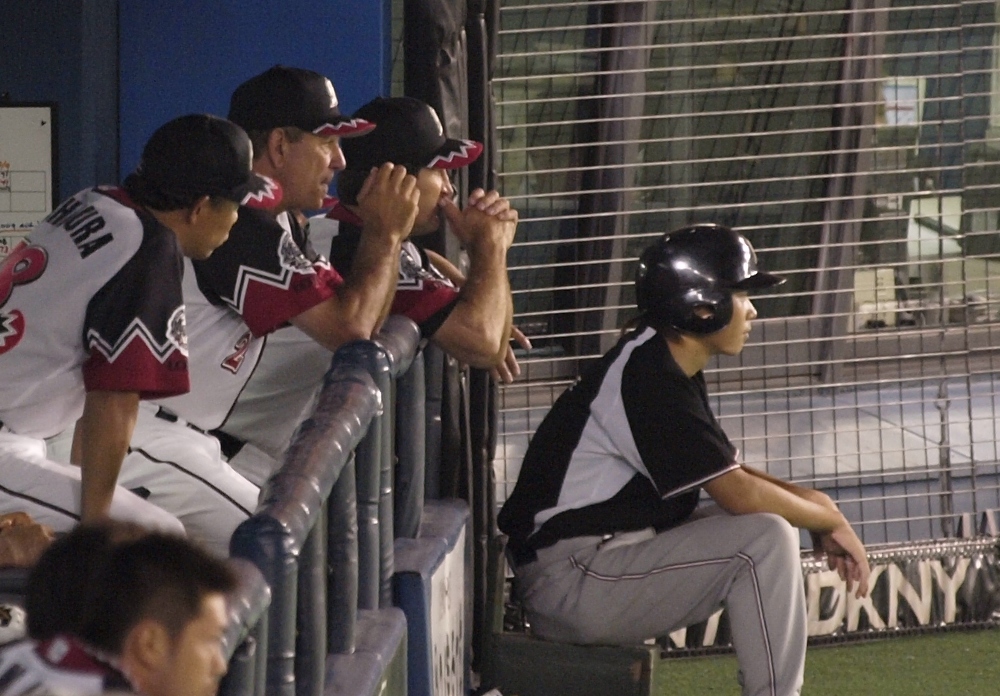 On an 0-1 pitch Watanabe induces Yamasaki into a grounder to Tsuyoshi, who flips it to Iguchi, and on to Burnham Jr! 6-4-3 DP, Nakamura to third but two outs!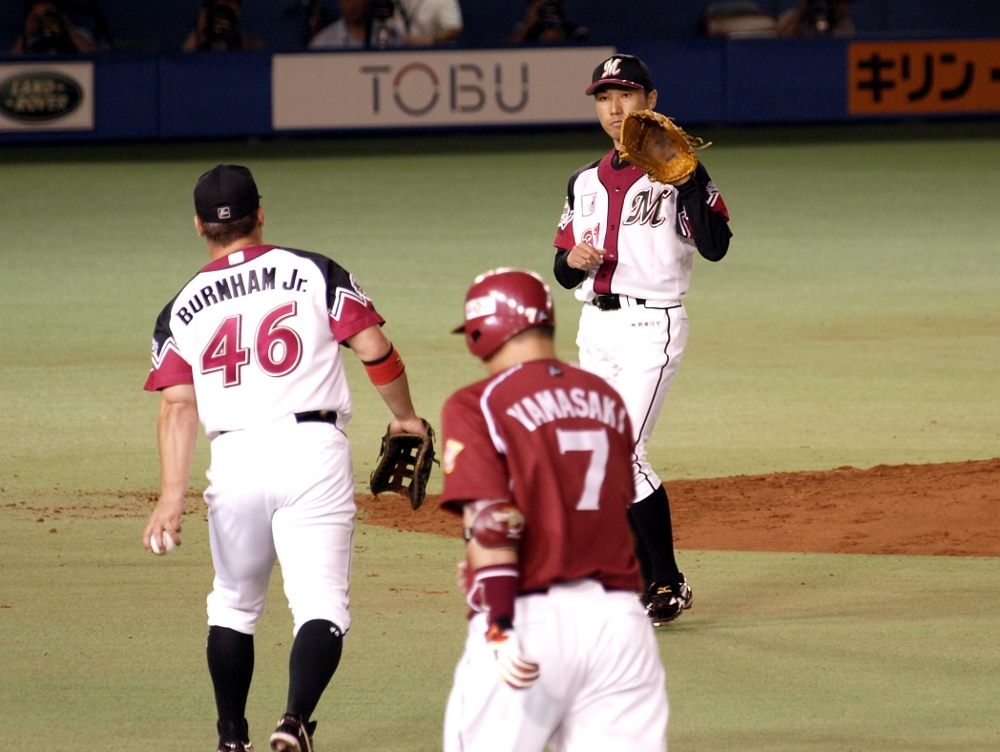 Miyade swings at Watanabe's first pitch and skies it foul – but in play. It's diving on the first base side in between first and home – Burnham Jr races full speed to make a play, and he's got it! He runs right into the camera well fencing and the Marines run back into the win column! A lovely 3-1 victory and a complete game masterpiece by Watanabe.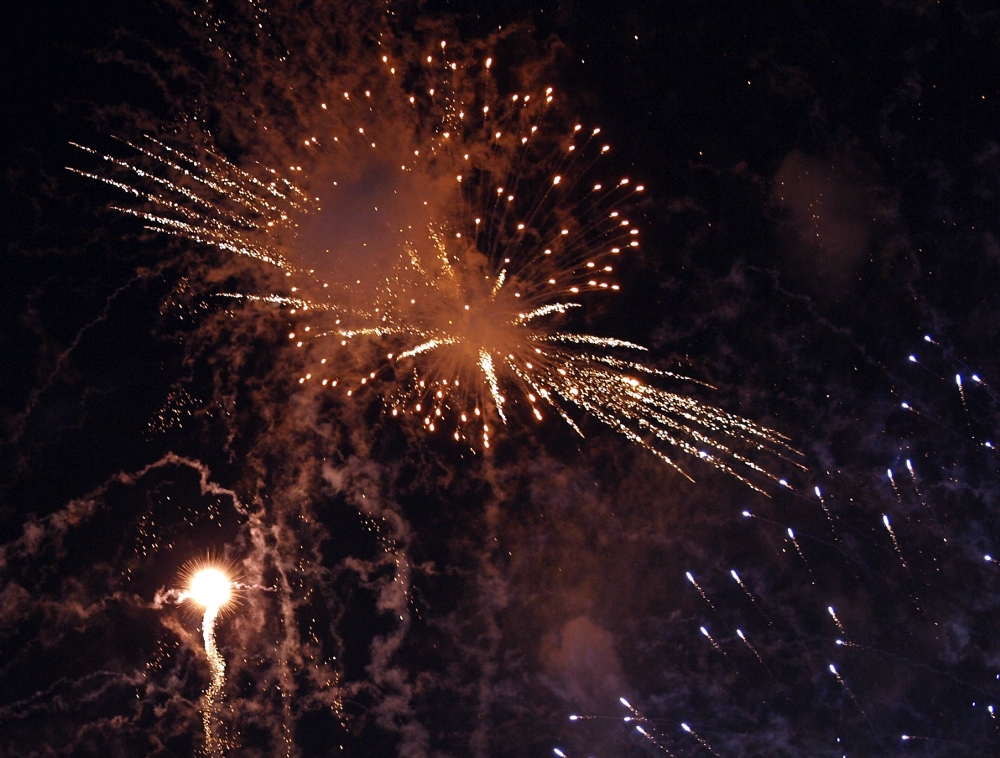 This was a very enjoyable game to watch as I always love a nice pitching duel, especially when my team wins. It's also great to see Shunsuke get back in the win column – he was 1-8 on the season coming in and hadn't looked really good in almost 2 months. Tonight he was great, though, and that gutsy performance was the impetus to propel Lotte on to the win.
After the game I ran into a friend I met in Koshien back in May who was visiting Chiba for the weekend series (she's in the picture in the link). It's a small world of fandom sometimes!
Ono and Rakuten's Nagai go at it on Saturday as Lotte looks to win their second in a row. Ono's been consistently good so I expect another winning performance!
Also, some Rakuten fans were performing Onigiri cosplay – I have no idea why.