The Ham-Free Weekend rolled on in utterly brilliant and heart-stopping fashion as both Saturday and Sunday's games went all the way to the last frames as the visiting Golden Eagles of Rakuten battled our beloved Chiba Lotte Marines. In both games Lotte overcame adversity and missed opportunities only to make the game-winning play. On Saturday Lotte bested Rakuten 5-4 on an 8th-inning double by Fukuura after Rakuten had rallied to tie in the top of the 8th, and on Sunday a heated pitchers' duel went to 11 innings with backup utility-man Hayasaka delivering a Sayonara Single with the bases loaded to give Lotte a 2-1 victory and their first three-game sweep of the year.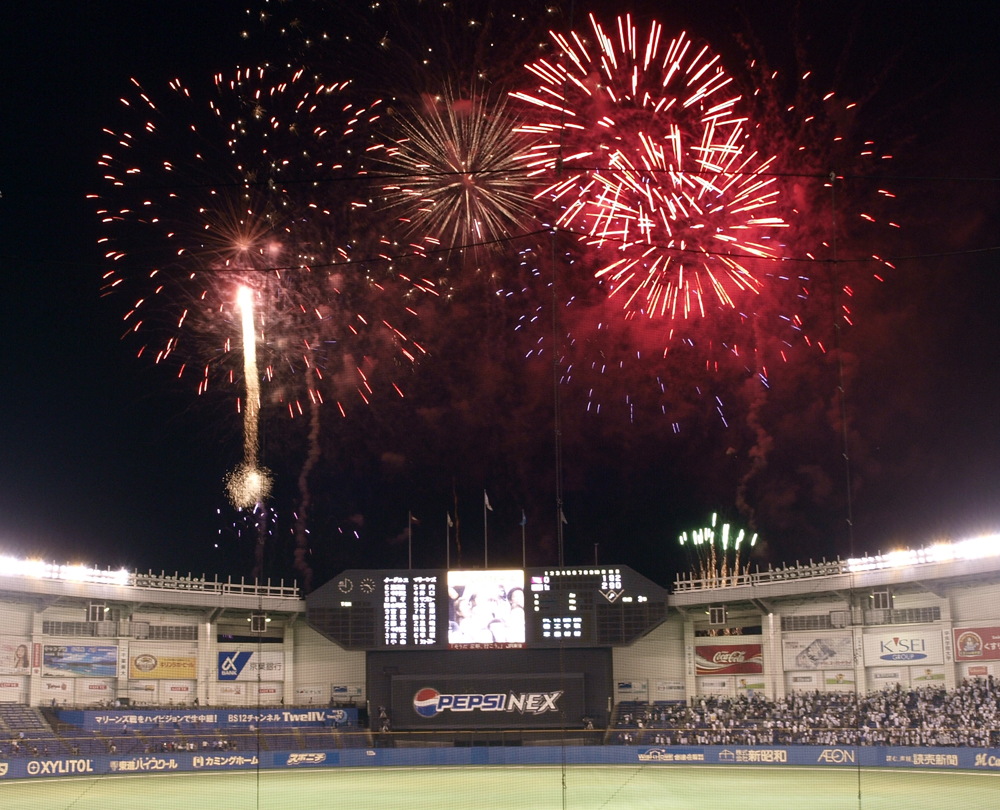 Lotte got ahead early on Saturday with a triple by Hayasaka to lead off the game and a sac fly by Saburo to bring him home. Lotte added three more runs to the lead in the third inning courtesy of a bases-loaded double by Takehara – 4-0 Lotte.
Lotte starter Ono – arguably the most consistent starter on the year for the Marines – kept Rakuten in check throughout the first seven innings, allowing but 5 hits and a single run to keep the lead at 4-1. Things got a bit out of hand in the 8th, though, as Heiuchi flubbed a ball with one out to allow Rick Short to reach, and Ono issued a walk to Watanabe to put two men on. Kawasaki came in to relieve Ono, and on his second pitch gave up a game-tying 3 run shot to Miyade. Eeek. After Teppei doubled next Uchi took over for Kawasaki and shut things down to keep the game tied.
In the Lotte 8th, Benny drew a one-out walk, and Satozaki singled to move Benny to third. Fukuura pinch-hit for Burnham Jr and nailed a 2-2 pitch for a tie-breaking double! 5-4 Lotte.
Sikorski came in to close out the 9th, and after a Hayasaka error allowed Kusano to reach he got Seguinol to ground into a DP, and then Kenshi to ground out to Fukuura to wrap up the win! A nice, tight, 5-4 victory for our Marines.
The series win was assured but of course everybody wanted more – so it was reassuring to see the starter for Sunday's game announced, the Baby-Faced Killer himself, Karakawa.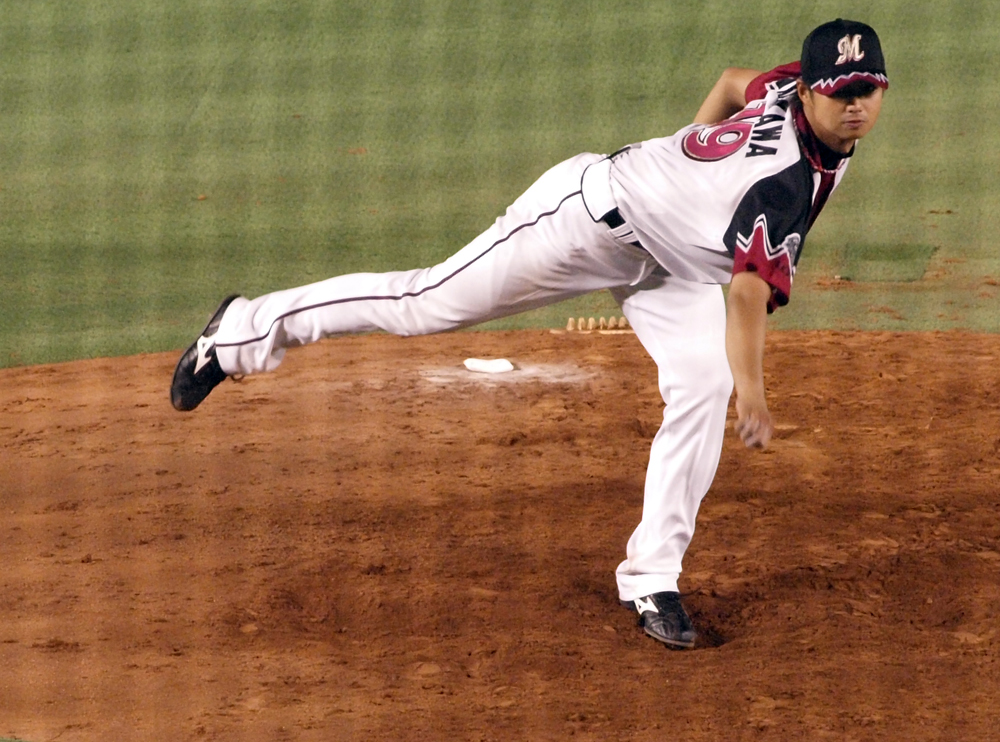 The newly-minted star of Keisei Bus ads and mover of uniform, t-shirt, and towels (ahem! including to yours truly) hadn't been nearly as effective as he was earlier in the season – he hasn't had a win since May – but he always pitches with guts and that steely look that says he's not taking any crap. On Sunday, he most definitely wasn't taking anything from anyone as he went 9 strong innings, allowing many baserunners but only one to score while throwing 153 pitches, getting in and out of tight jams, and generally refusing to blink. It took huge stones to come out with a performance like that.
Things were a bit rough for Karakawa in the first, as leadoff batter Watanabe singled. Rakuten played small-ball to perfection with a sacrifice by former Marine Kosaka and Watanabe stole third to set up a sac fly by Teppei – a quick 1-0 Rakuten lead.
Lotte had their early chances as well as they loaded the bases in the bottom of the second with only one out, but Hori grounded into a DP to end the scoring chance.
The next scoring chance was also almost wasted. Hayasaka led of the third with a single to center, and Tanaka Masahiko dropped a sac bunt. Rakuten catcher Shima ran into Tanaka fielding the bunt and winged the ball past first, allowing Hayasaka to score all the way from first on a two-base error.
But there was a discussion between the umps, eventually ruling that Tanaka interfered with Shima to negate the run. Erg. Iguchi flied to right to make it two outs, but with Saburo at the plate and two strikes Hayasaka swiped second. Saburo, grateful for the runner in scoring position, lined a single to left, and the speedy Hayasaka finally came home for good. The game was now tied at 1-1!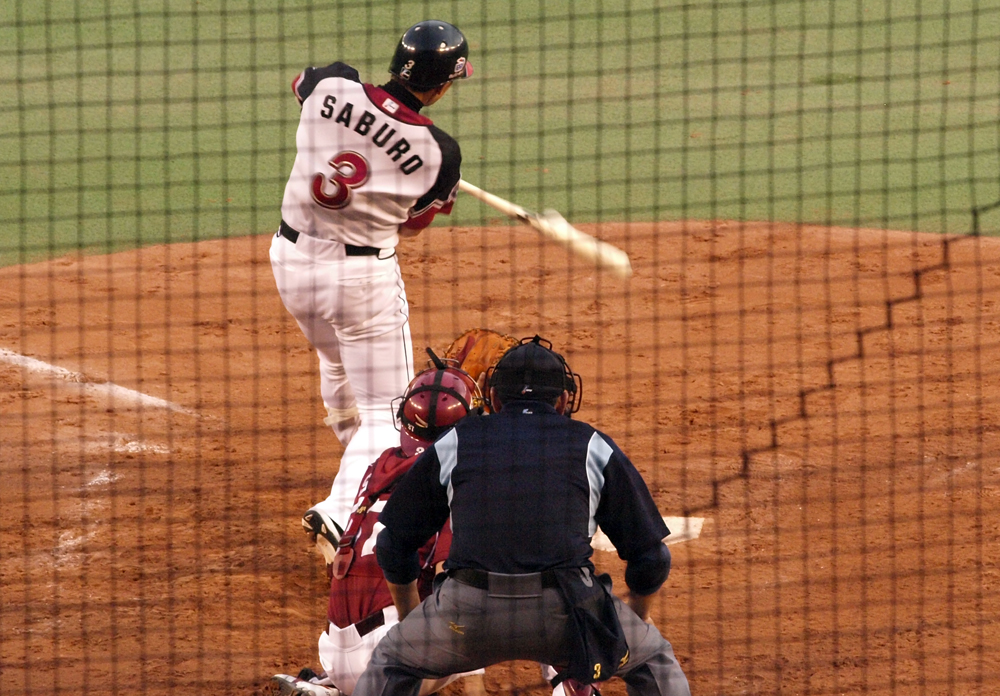 That's where things stood for a long time – though the middle and late innings were hardly free from controversy and tension. Temperatures started to rise with the second at-bat for Rakuten's Linden, as he took exception to Karakawa's brush-back pitches (and Satozaki's call of them). After strike two Karakawa brushed him back again and Linden jawed at Satozaki – you could tell he was yelling "That's twice!" I said to nobody in particular "Karakawa's totally in his head now", and sure enough the next pitch got Linden swinging for strike three. Linden quite petulantly tossed his bat and helmet as if that would erase the stink of his second consecutive K.
Things boiled over during Linden's third at-bat as he took more exception to Karakawa's brush-back pitches. After the first one he confronted Satozaki, benches cleared, much shoving ensued, and it took quite a while for things to get settled down. It looked like there might actually be punches thrown as things were really heated at the plate.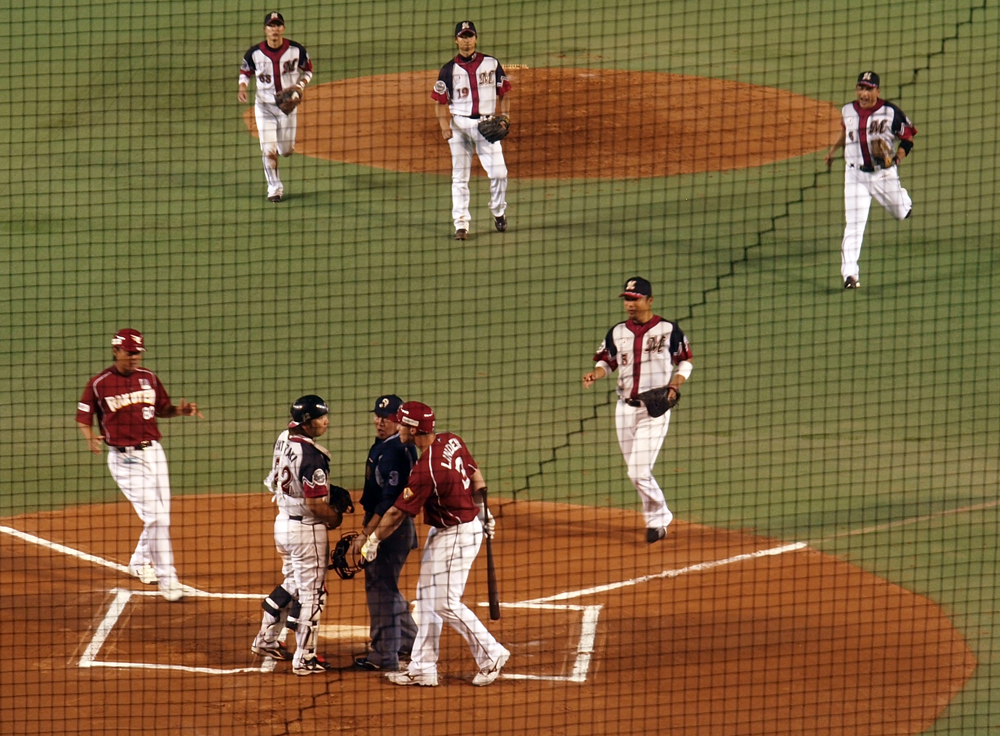 When play resumed, the Baby-Faced Killer re-took the hill, Sphinx-like as ever. You know, I know, and Linden sure knew what was coming next – yup, fastball across the letters. The out pitch was set up, and Karakawa got Linden to chase the low outside ball for strike three, still very much in Linden's head.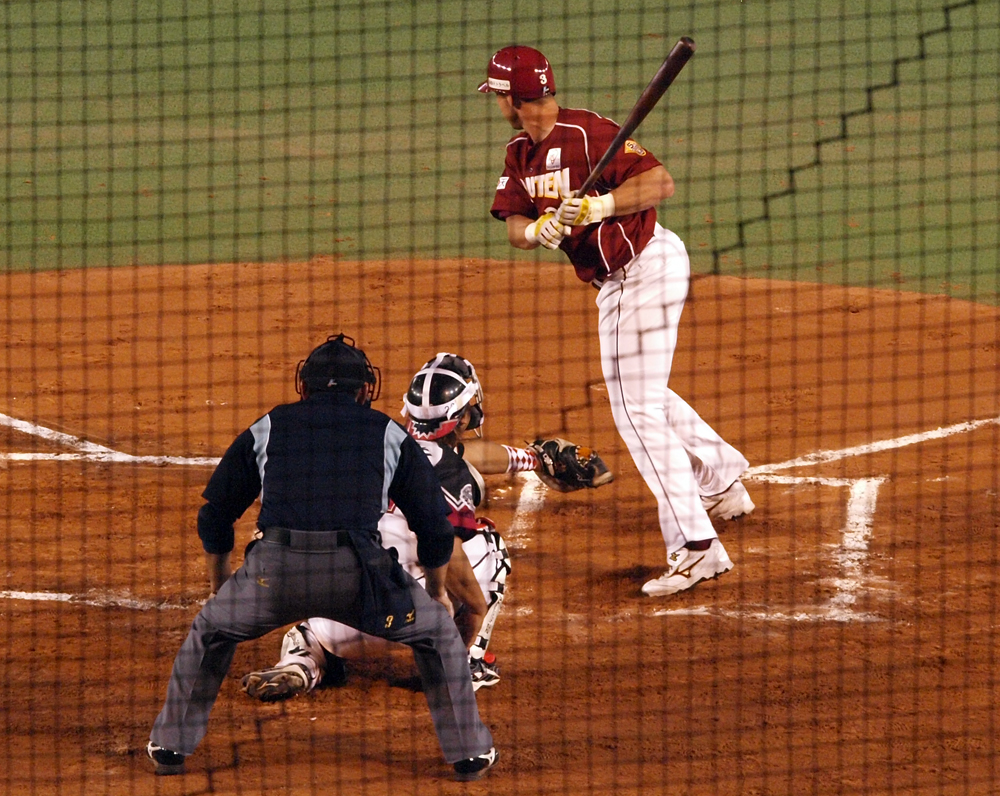 Both Karakawa and Rakuten starter Hasebe (and Eangles reliever Fukumori) kept the opposing offenses in check for the next few innings. Incidentally, the 4th Karakawa-Linden battle played out with outside-outside-outside-outside pitches, Linden hacking at two of them for a 2-2 count. Time for some more chin music! Yup, another fastball inside, leading Linden to ground out on the subsequent full count.
Karakawa worked himself into a real jam in the 9th with singles by Kusano and Nakamura with one out, but Satozaki relieved some of the pressure by gunning down a running Nakamura at second to make it two outs. Kenshi walked to put two runners back on, but Karakawa mowed down Watanabe for his 153rd pitch of the game and the third out of the 9th.
Fast forward to the 11th. Rakuten has got nothing going in extra innings thanks to great pitching by Sikorski out of the pen, and in the bottom of the inning Lotte has recorded two quick outs. Hayakawa hacked off 8 straight pitches on a full count before finally drawing a walk. Hayakawa stole second as backup catcher Fujii fumbled the ball, allowing Hayakawa to advance to third. Satozaki was at the plate, and the Rakuten pen offered some retaliation for Karakawa's brush-backs by knocking Sato completely on his back.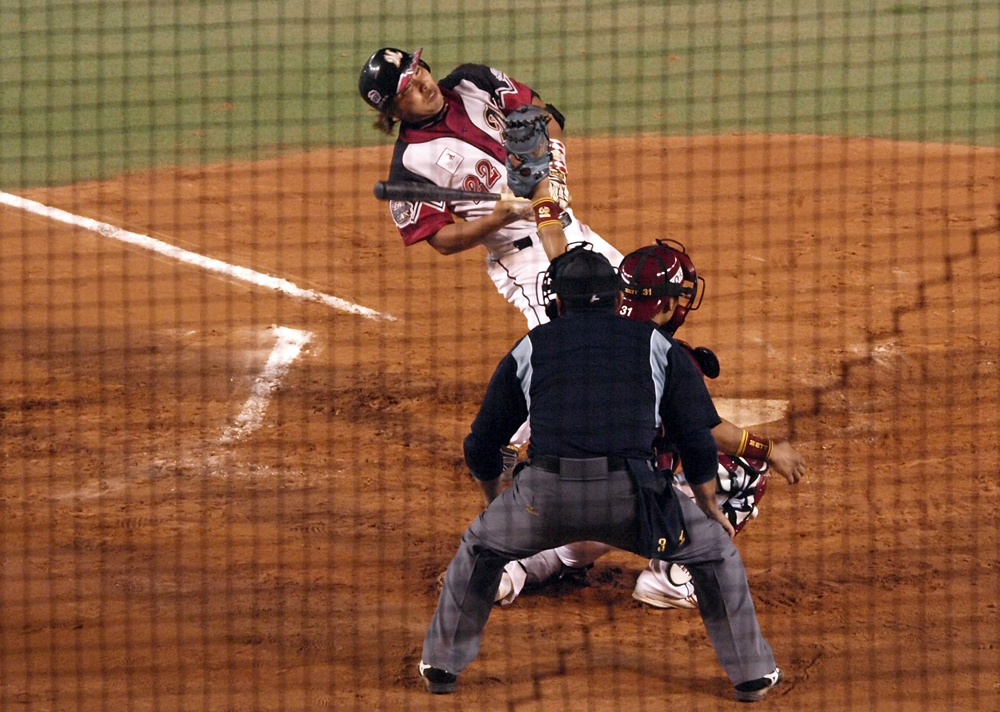 Rakuten decides to put him on intentionally after that, and Arime is brought in to pitch to the pinch-hitting Fukuura. The first pitch from Arime is straight at Fukuura's head, nailing him solidly in the shoulder. The umps convene, and Arime is rightfully ejected from the game, despite his cap-tipping to indicate he didn't mean it (!).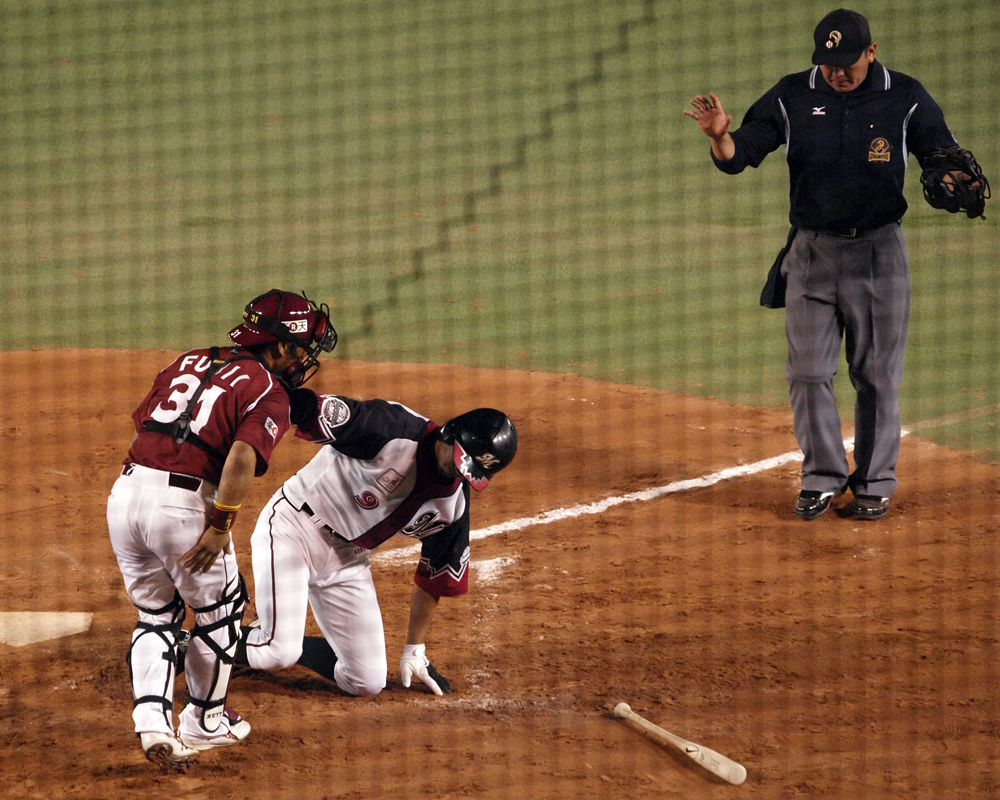 Koyama is brought in instead as Hayasaka comes to the plate. On a 1-1 count Hayasaka smacks one into right for a Sayonara Single! 2-1 Lotte! The team rushes the field to celebrate with the over-the-moon Hayasaka.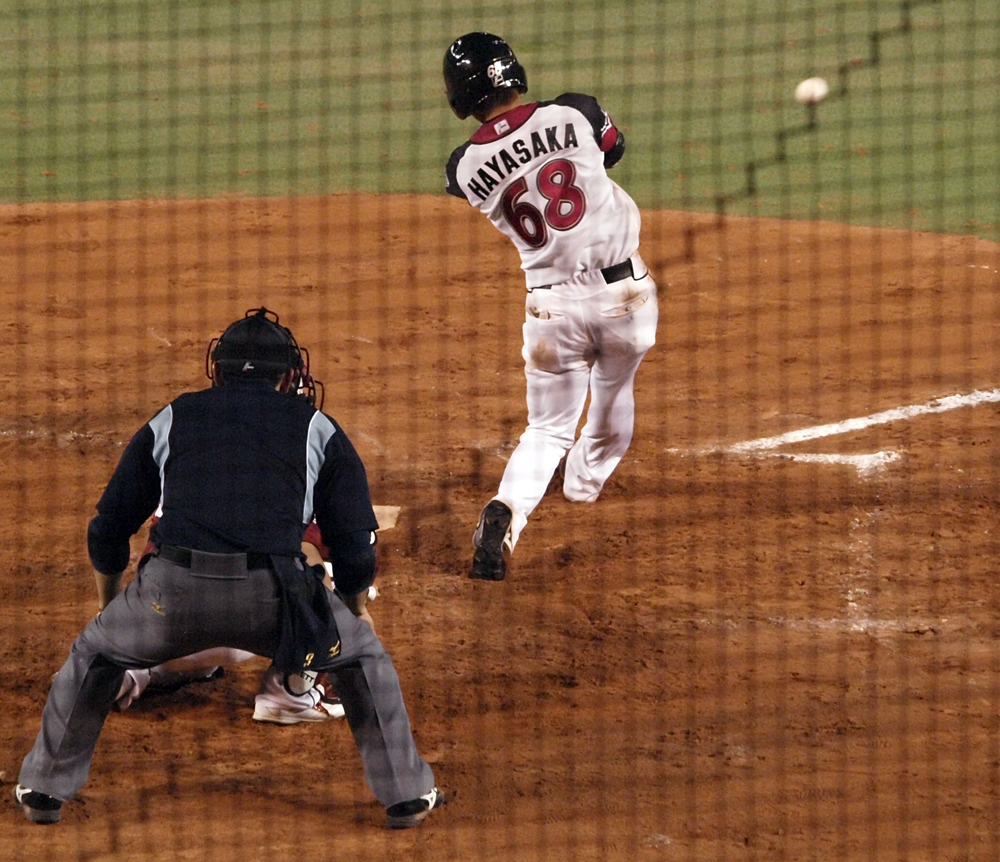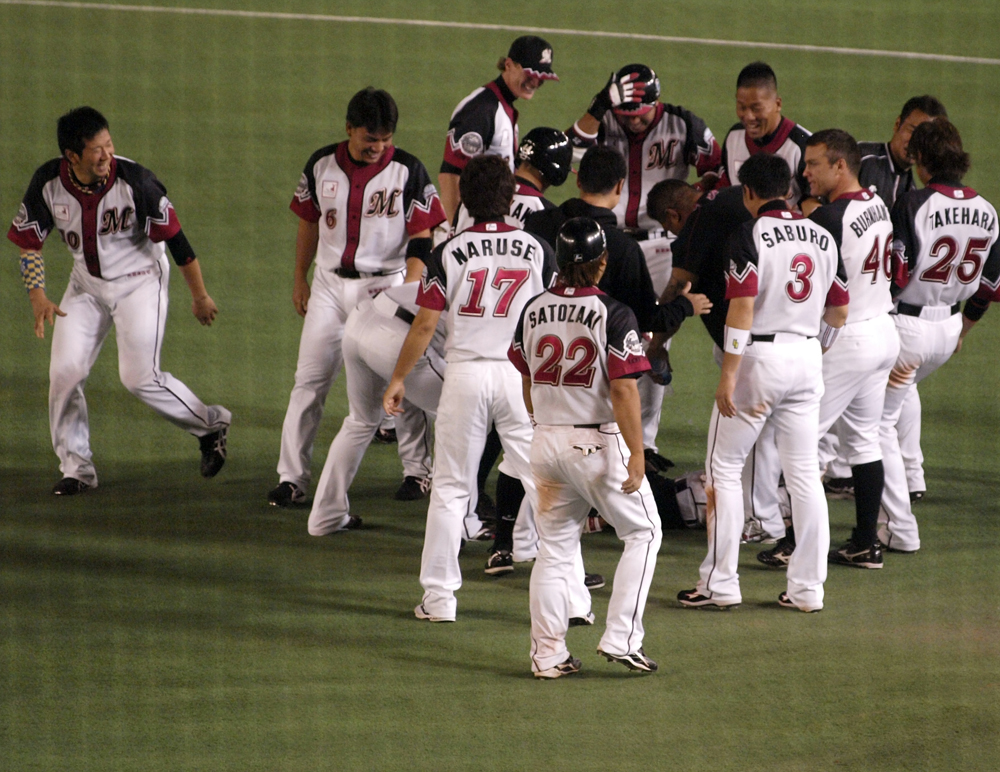 After the horrible July and all the on-and-off the field distractions Lotte showed real heart to fight and keep themselves in position to make a run at the playoffs. They could have folded after the recent bad luck but instead they fought on.
Now it's on to Fukuoka to take on the Hawks on Tuesday. A win on Tuesday gives the team the first 4-game win streak of the year, something that's WAY overdue!