Our Marines took to the road for the first time this past weekend, taking two of three games from the Orix Buffaloes in Osaka. Just like the sakura all around Chiba Prefecture, Our Marines have also blossomed quite beautifully into a first place team over the weekend, sitting atop the PL with a 5-3 record. The starting pitching has been the main story so far on the young season, with Lotte starters allowing just six earned runs in twenty innings during the three game set. Lotte hurlers as a whole currently sport an NPB low 2.03 ERA after eight games.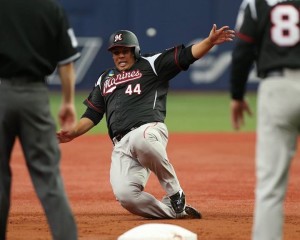 Hideaki Wakui's
7 innings of 1 run ball on Friday night led us to victory in game 1 of the series. Wakui's given up just that 1 run in 14 total innings this season, which should probably be a sufficient explanation for him earning his 2nd win in 2 starts. Well, it would be sufficient if not for the 2 unearned that sent the game into the 8th inning tied at 3-3. That's where
Captain Daichi
comes into the picture, breaking the tie with his
NPB LEADING
3rd home run of the season giving Lotte the 4-3 lead. The blue-gloved bosses of
Uchi
and
Nishino
closed out the game, preserving the win for Wakui. The duo have combined forces three times this season for the hold & save in the 8th & 9th innings, allowing 0 runs and 1 hit between them.
Yuta Ohmine bounced back from a no decision in his first start of the season, earning the victory in game 2 of the series on 6 IP and 2 ER. A 2 run Kakunaka triple (our 3rd 3B of the game) broke a 7th inning tie giving Lotte a 4-2 lead, leading to an eventual 6-2 Marines victory.
In the series finale, the Chiba bats could only plate 1 run in 9 innings versus Orix hurler Brandon Dickson. Jason Standridge drew the short end of the run support stick for the second game in a row, suffering his second loss of the season, despite giving up just 4 runs in 14 innings pitched.
Through the first eight games of the season, Kakunaka, Hosoya (KEI) and Okada have been our hottest bats at the plate. Kakunaka currently leads the PL with a .444 batting average, hitting 2 doubles, 2 triples, and adding 5 walks to boot. Hosoya (KEI) has 2 doubles and 3 triples in just 22 AB since being inserted into the #2 spot in the order, staking claim to the starting 3B spot for the time being leading team with a .779 SLG. Okada's .343 BA out the the lead off spot is good for 3rd on the team. He's also in a 3-way tie for the team RBI lead with the #CatLike Aja Inoue and the PL HR King Captain Daichi, each knocking in 5 runs apiece.
[x_share title="TELL EVERYONE" facebook="true" twitter="true" google_plus="true" reddit="true"] [x_author title="About the Author"]