So it's just not possible to fix all of the world's issues in a day. It's not possible to right all of the wrongs in the Pacific League in a night either. But boy, Rakuten has sure been Kryptonite for our season and beating the stuffing out of them by the tune of 16-6 today sure feels good.
To get you up to speed: Most of Lotte's problems with Rakuten is on the road. More specifically, Our Marines haven't won a game in Sendai since before I began this blog. In fact, I was at the last Lotte victory in Sendai way-y-y back in 2008. Yeah, it's been that long.
But more recently I sat through Tuesday's debacle at Chiba Marine. It had all the makings of a great game – 11 game winner Bill Murphy vs perennial ace Hisashi Iwakuma. Murphy didn't have much going for him on that night – getting beat up for 5 runs in 3 innings of work – and for all intents and purposes the game was over in an hour. What to do when you're at the stadium for a game like this? Chat chat chat. I chatted with the chap in front of me (a driving instructor, he told Imae and Yabuta are basically my neighbors.). I cheered with the ladies next to me (they've been to almost as many games as I have.). In a way it's more fun to be at a game where the drama is over early than a game where you're losing but not enough to be a laugher. Who am I kidding, it's not so much fun either way but you gotta make the most of what you got.
ANYWAY tonight's game with Rakuten karmically fixed some of that. On the hill – Watanabe vs Nagai. Matoba still behind the plate, Okada in center, Kiyota in right, everybody else in their normal spots.
In the first Lotte scored a bizarre little unearned run. Tsuyoshi reached on an error, swiped second, was sacrificed to third by Kiyota, and scored on an Iguchi sac fly. Just your standard one-run first inning on no hits.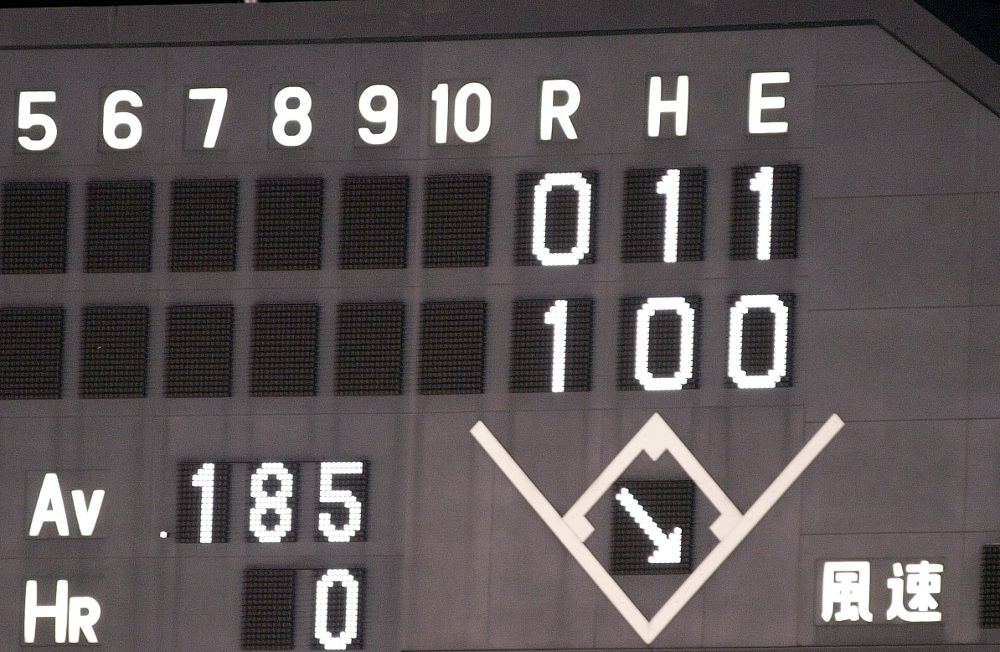 I told my friend that I would pay real money to see the game end like that.
But end like that it did not – in the bottom of the 3rd the Lotte attack sprung to life, crossing the plate 5 times on 4 hits, a walk, and another Rakuten error (as with the other error, by Ruiz at first). The big hits were Tae Kyun's RBI single (GREAT to see him smashing the ball – 3-5 with 2 RBI and just barely missed a HR late in the game) and a 2-RBI double by Imae. Incidentally, Imae was an amazing 5-5 with a pair of doubles on the evening to raise his average to a lovely .324.
I had cheered before with the two rather drunk gentlemen next to me, but I didn't realize how well they knew me. They called for a beer from a vendor I knew (who hadn't seen me sitting there) and when she got to their seats I heard them say "Hey Kanako, Steve's sitting next to us." Maybe I am a minor celebrity in the A seats.
El Submarinero Watanabe was not on his game tonight, though. Right after our 3rd inning assault on Nagai's stats, Shunsuke gave all 5 runs right back. Oh dear. I figured a 6 run lead would just be a nice cruise to the 9th inning but apparently not. 6-5 after the top of the 4th.
…But maybe it WILL be a nice cruise to the 9th after all! Matsuzaki replaced Nagai in the bottom of the 4th, and combined with more bad defense and a machine-gun assault by the Lotte bats Our Marines piled on 8 more runs in the bottom of the 4th – 18 runs combined by both teams in the span of an inning and a half! Everybody got into the act this time – Kiyota (3-4 with 2 RBI), Tsuyoshi (4-6 with 2 RBI), Ohmatsu (1-2 with an RBI in the 4th before getting pulled for Muniz), and even Matoba walked in a run. It was pure plate crossing goodness, and after the dust cleared and all the cheering ended, Lotte was up 14-5.
The benches emptied, and the rest of the game was like an exercise in Advanced Ouenkology – how many player songs do you know? Sure we all know the main stars, but how about Heiuchi's new one? Muniz? (Of course, for both) How about Masato Watanabe's? Hmm. When Masato filled in for Iguchi late in the game one of the gents next to me whipped out a Masato towel, probably the only one in the stadium, I would think.
Lotte tacked on two more runs (and Rakuten put up another) off a Muniz sac fly and a Fukuura HR to make the final 16-6. Now I feel much better about having sat through the loss on Tuesday! Combined with the Seibu win and Daiei loss the Marines are still in third but only 1 game out of first, half a game out of second. And on the really good news front, it seems that the teams below us are unable to make a move on the third spot – Orix and Nippon Ham are 4.5 back with less than 20 games left – so our spot in the climax series is looking increasingly secure.
The bad news is Karakawa is missing his planned start tonight due to elbow tightness, but it's not supposed to be anything major. Naruse takes the hill instead, hopefully we can close out this series with another win!