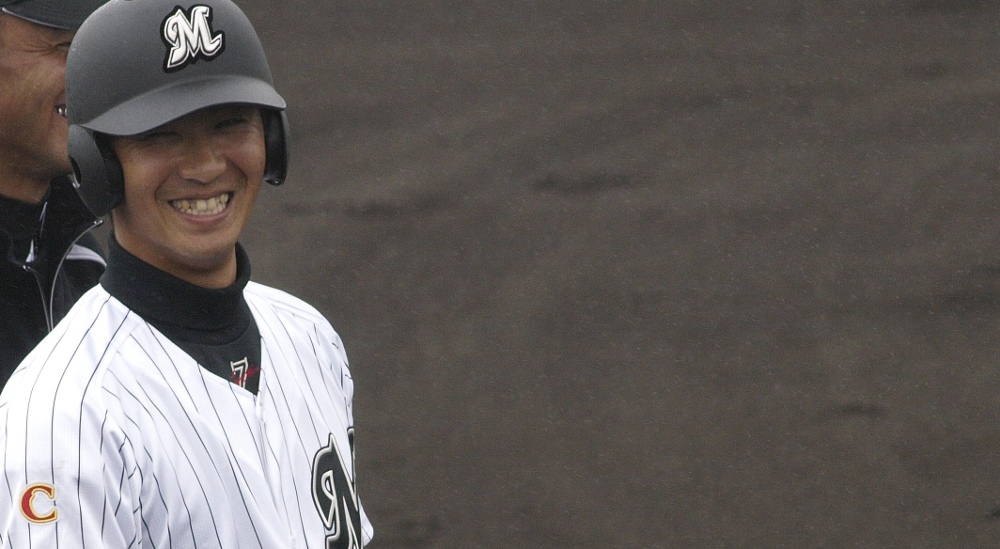 As I have much lamented lately, the Lotte offense is just plain injured. Tonight's starting lineup featured two batters well below .200 BA (Matoba at .172, Okada at .184 – the backup catcher and 6th outfielder, respectively) and had two more pinch hitters below .200 (Takehara at .145, Muniz at .136). But looky here – tonight the offense still cranked out 8 hits en route to a nice 4-2 win, and a series victory over the visiting Eagles of Tohoku.
How's that?
Modasho.
In other words, a "nice hitting game" – a game where a batter records 3 hits or more. There's been quite a few of those lately – KTK had one the other day, and Imae had a 5-hit game yesterday, which is the purfied essence of modasho. But no, there's one batter who's been Mr Modasho – Tsuyoshi Nishioka. Just last night our all-star shortstop recorded his 21st modasho of the year, a new franchise record (a considerable achievement, since the franchise has been around 60 years). Tonight Tsuyoshi went 3-3 with a walk, a single up the middle, a double to lead off the game, and a 2-run HR to score the winning runs. Yep, it was his 22nd modasho of the year. The NPB record is held by none other than Ichiro in his legendary 1996 season – he had 26 that year. Unlikely that Captain Tsuyoshi will sniff that, but consider in the last 14 games he's been hitting .415, scored 19 runs, and recorded 5 games of 3 hits or more. That's a hot streak!
All that offense from the top spot went to support our ace, Naruse, in his 24th start of the year. In many ways Naruse has been his own worst enemy this year, giving up a stupefying 27 HRs but still keeping a 3.23 ERA and a great 1.01 WHIP. Somehow those nice stats have only lead to an 11-11 record – mystifying. Tonight Naruse was in great form – he gave up only 2 ER in a bit over 7 innings of work, but both of those runs came after he was well over 120 pitches on a hot, muggy evening – excusable, in other words. The young lefty went 139 pitches on the night with 7 Ks and only 8 baserunners.
The first run was a great bit of small ball. Tsuyoshi led off with a double, was sacrificed to 3rd by Kiyota (not that I am condoning bunting in the first with a man on second with one out, but complaining about it is like whining about the outfield seats being a bit noisy), and driven in by a slow bouncing grounder to short by Iguchi. Just like that, 1-0.
Okada singled to lead off the third against Rakuten's Rasner. He swifty took second and scored on Tsuyoshi's shot to left – a ball that ju-u-ust barely hooked inside the pole and over the fence, but good enough to count. 3-0 after 3.
Tae Kyun came up with one out in the 6th and just blasted a ball off of Rasner. It was high and very deep, almost straight back center, but it just clipped the top of the fence and stayed in for a double. That's two nights in a row he's barely missed one – maybe the power is back. Fukuura took care of Tae Kyun, driving him in with a nice single to center to make it 4-0.
As I mentioned Naruse was tiring pretty well by the 8th – he got in big trouble with a double just over Tsuyoshi's head by Naoto Watanabe, a walk to Teppei, a balk, and another walk to Yamazaki. With that, Nishimura called in Ono for relief – Ono gave up two runs (charged to Naruse) but kept the lead at a manageable two runs. Kobayashi closed it out with a perfect 9th, and just like that, Lotte is a mere half game out of first!
Up next is the last series of the year with Nippon Ham. Our Marines have the chance to basically knock the Fighters out of a chance to get into the Climax Series with a good showing this weekend. The games have switched back to day games as it's supposed to be cooler now that it's September, but Saturday's forecast calls for sunny and 36C/97F. I'll be baking in the sun for both weekend games – the series starts tomorrow night with Yoshimi battling Nippon Ham's Urufu. Wait, that's supposed to be Wolfe.